Casino Detalis
Cryptocurrencies: Instant
Limitless Casino exploded onto the scene in the summer of 2022 with hundreds of online slots, a real VIP lounge, 10-minute cashouts, and an unheard-of introductory $50,000 a week withdrawal limit for players in the USA and elsewhere.
The Bitcoin-friendly gambling site also accepts Visa/Mastercard, and at least six different cryptocurrencies. Players looking to deposit for the first time can even buy crypto right inside the cashier.
The first bonus coupon I used was a 60% match with 1x playthrough and no max cashout. Max bet per hand $10, max bonus $1,000.
Is this an online gambler's dream or just too good to be true?
After three+ days of research, deposits, plenty of playtime, and 2 withdrawals I'm going to go with the former - it's pretty much a dream come true if you love Realtime Gaming slots and instant payouts as much as I do.

We'll dig into that question as deeply as we can as we explore the ins and outs of playing here. What we know and you would see simply by visiting the casino is that the games are Spinlogic creations. Spinlogic is the name of the studio(s) making RTG games these days with the Aussie slots labs stopping output when a new amendment to the gambling laws there went into effect in 2017.
We also see that the operators have chosen to keep a low profile by not listing the owners or even linking to a gambling license. That doesn't mean they don't have one, it could simply imply that they don't want authorities in the USA, Australia, or other tightly regulated jurisdictions to know who or where they are.
If that seems cloak and dagger, it kind of is. People who provide online casino services to players in the USA are not breaking any federal laws and no player in any state would break federal law by playing. However, in 2006, Congress passed and the US President signed a bill that made most forms of offshore payment processing "off-limits" to American financial institutions.
Banks were told not to process certain transactions and since they followed that "guidance" alternative payment methods had to be found. Some of those "alternative methods" could get an operator in trouble. Suffice it to say almost nobody anywhere outside of licensors and principles knows who runs any USA-facing operations.

We will be able to tell you the things you could find out for yourself if you wanted to spend half a day or so investigating. I'll use a bit of speculative license and let on who I think might be operating the gaming club, but that shouldn't be seen as an endorsement because, in the end, we really can't nail it down if the operator doesn't confirm it.
Beyond the following, we'll focus on the terms and conditions as well as the game selection, software platform, bonuses, payment processing, and customer service. With that, we will identify any potential pitfalls players might look out for, and then we'll wrap it all up with a full understanding of the gambling experience here.
There are most definitely links or shared assets here and among several other high-reputation online gaming sites. The first aesthetic impression brings to mind Brango, Extreme, and Yabby, and those properties are also known to at least coop or share some resources with Adrenaline.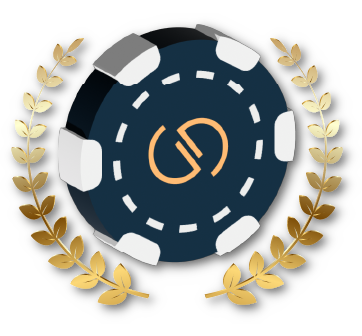 Ownership may or may not be the same among those sites just mentioned but anyone who has played at all of them knows that the sites are simply not managed the same. While the customer is always the king at Brango and Extreme and customer service agents may even be empowered to make exceptions and accommodations, at Adrenaline you are going to have to play by the book. If you miscalculated crypto fees and your deposit comes in one cent shy of the minimum deposit threshold - depending on VIP status - there's a good chance no adjustments will be made at that particular property. Adrenaline is not recommended for novice players but is 100% safe if you know and follow rules.
Another reason to assume Limitless may be under different management is that there has been a bit of "teething pain" syndrome with some document verifications taking up to 5 days to complete and of course, without document approval payouts can be delayed.
Most American may be happy with 5 days for document approval, we simply expect a premium site in every other way, to process documents faster than that.
We are seeing payouts within 15 minutes or less here for players once their identities have been confirmed. We are also seeing some players getting document approval and first payout within 2 hours of submitting docs, so your mileage may vary.
In essence, there are as many similarities as there are differences. A minor similarity such as setting up a manager's email as "[email protected]" is greatly offset by the fact that while the end result is about the same for players, the Terms and Conditions are absolutely written differently - while arriving at the same place.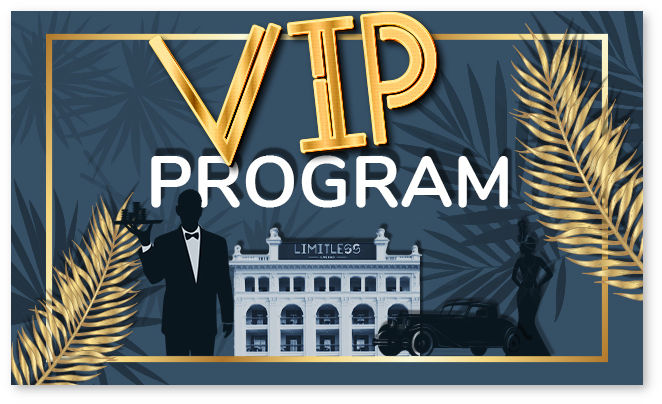 After studying the lay of the land for several days, depositing, cashing out, and processing it all on the whiteboard of my subconscious, what has bubbled out, at least for me, is that Limitless is "good to go". While I can't state it as a matter of fact, I can rely on over two decades of experience to tell myself that the site is owned by the same entity that owns Extreme et al, and it has its own "on-site" management team.
I'm confident that if what I tell myself is true the brand would not be allowed to do anything that would break the basic gambling contract which is, "A bet laid is a bet paid". There's nothing out of the ordinary or untoward about the bonus rules but we'll hammer them home here for players who enjoy the extra spins, chances at jackpots, and simply extra playtime. The offers run the gamut and should be understood not only to ensure a cashout but to shop for and choose the best bonus for you.
Software and Games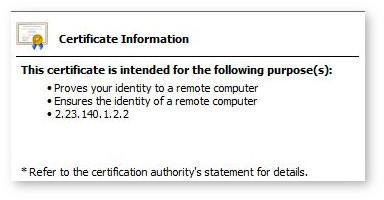 The casino lobby loads quickly on any web browser and has built-in security. There is a lot going on in the background to keep players as well as the casino's money safe. I counted 13 cookies prior to logging in and 5 more were added once I signed in. The cashier installed three - one that expires when the session ends, another that expires in about 2 hours, and one that expires at midnight.
In the security section, there were three active for "Same-site connections only". The certificate also showed the remote location (Limitless servers) where my site session data was to be stored. All comms are done through Cloudflare SSL, the same security levels your online bank uses.
There are other security features built in for players who might be absent-minded or called away from a session unexpectedly. After a short period of time with no activity, your account will be temporarily logged out. Much of the ability for players to keep their accounts safe depends on good digital hygiene, password protection, etc., just like any other online financial account.
Navigation and user interface

As mentioned earlier, the site is platformed on the RTG software and has a similar UI to Yabby and perhaps many others with the desktop version showing a menu running down the entire left side of the screen.
Here, once logged in, you'll find a large cashier button and below that three hot icons for balance, search, and "Feeling lucky". Clicking on "search" will clear the page and present a text search box, a few of the "hottest games" and an array of game categories including slots, tables, video poker, jackpots, progressives, and "my games" which will be populated by and by as you add favorites.
Clicking on "Feeling Lucky" will choose a game for you "with a high probability of success". I have no clue how they determine that and wouldn't put much weight into it working, but it's a fun way to play a random game, I guess.
The "Balance" button is not the same as the cashier - this will give you a snapshot of your real balance, bonus, playthrough, comp points, how much you can withdraw this week, and how much you can cash out daily.
Variety of games
The games are sorted into several categories so players don't have to sift through hundreds of titles to find a favorite kind of game to play. Slots are the most popular sort of game on the internet so there are a lot more slots than other types of games.
Once a game category such as slots is chosen, some sorting options are available. The default sorting is by name or title alphabetically beginning with numbers and then the letter "A", making the legacy favorite Achilles appear near the top of the list.
Games can also be sorted by the most popular, newest, or size of their jackpots. The network progressives like Aztec's Millions, Megasaur, Shopping Spree II, and Jackpot Cleopatra's Gold are found at the top of the list with some prizes well over a million dollars. Be sure to check the terms before trying to play a progressive game with any bonus money or conditions.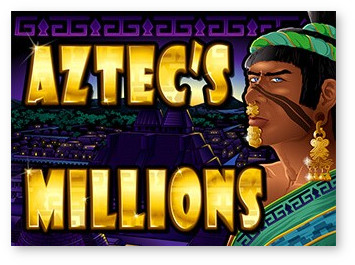 One cool thing about RTG network progressives that can't be said of all other big money slots is that you can try them in demo mode. Since the minimum stake on progressives is usually quite a bit higher than it is to play other games, that's helpful. It's also good to check the paytables and have a few spins at the same time so you can get a good "feel" for a game before investing the time and money into playing with the thought of hitting a jackpot.
Just below the big money games, you might notice there are currently three slots with the same jackpot amount. These are a group of slots with a local pooled progressive jackpot. All money bet on any of them increases the jackpot on all of them and the jackpot can climb faster and fall more often than if they weren't on a local area network.
If you want to try three similarly-themed games with the same jackpot but completely different bonuses and game mechanics the Jackie Chan branded games are a good bet - Fantasy Mission Force, Eagle Shadow Fist, and Fire Dragon.

Most, but not all RTG slots are in the Real Series and offer random jackpots. The jackpots are usually seeded at $1,000 but some start out with more. Every bet made on a spin adds a little bit to the jackpot and they can build up into the tens of thousands of dollars before they are won. They can also fall just a few dollars above their seed amount - such is the way of "randomness".
Unfortunately for fans of 3-reel games, there doesn't seem to be a way to find them here unless you already know a title such as Santastic, Double Ya Luck, or Jumping Beans - three great games if you like compact action and a lot of chances to ring the bells and blow the whistles. None of them are what you might expect, as in they are not "classic" slots, they simply happen to only have 3 reels instead of five.
New games
There's no particular category for new games here and that's okay because it is a single-software sight and you are only going to see about 2 new games per month. Some months see more released, but the extra game is usually revamped legacy slot which is being given a new lease on life by adding the "Deluxe" label.
Many of the feature mechanics will carry over from the original title (such as Achilles to Achilles Deluxe) but some of the user choices will be taken away such as the ability to reduce the number of lines staked.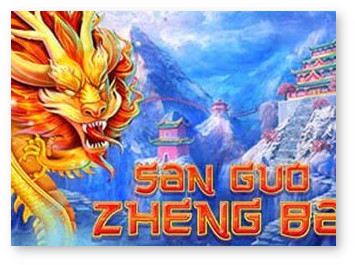 Spinlogic slots on the RTG platform cover a wide range of the most popular and innovative mechanics and features. I wouldn't say that the studios and labs that make games for Realtime Gaming have ever been Avant-garde or phenomenal innovators but there have been periods when they were ahead of the curve of competitors. Some of the Eastern-themed games that came out of RTGAsia shortly after the Aussie slots labs disbanded offer multi-level progressive bonus rounds with extremely high variance at the pinnacle.
Some of the titles mix elements of playfulness and humor with some fairly sophisticated mechanics like mega blocks that cover several reel positions and can include wild symbols. Almost every mechanic you see anywhere else also supercharges RTG slots for potential thrilling wins and memorable sessions. Easy-going games are released now and then too but the Limitless lobby and interface don't necessarily provide a way to learn about volatility or other advanced features of the games.
Table games
The fare here is primarily table poker, baccarat, several blackjack variants, and Vegas Three Card Rummy. Once you enter the table games category there isn't much use to the sorting tools since all 15 games appear on one page when using a PC or Mac browser.
Eight of the table game titles are blackjack variants including Suit 'Em Up, Perfect Pairs, Pontoon, Super 21 (RTG exclusive) Match Play 21, and Face Up 21 along with classic and Euro.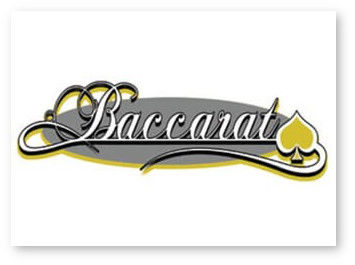 RTG Baccarat is straightforward forward and all of the nuanced rules such as extra cards are handled by the software. Players never have to bank or deal. It's super simple and the odds are just about the same as flipping a coin with a whole lot of fun in between the flip and the land. The thrill for many players is in trying to predict which way luck will break and for how long while increasing or lowering bets to catch a wave hoping not to wipe out. Statistically, the Banker bet is slightly superior for the player but it's hardly the type of game I would play simply to "lower the house edge".
Two cards are dealt to the Player and two to the Banker. Goal: predict which hand will score closest to 9. You can bet on the Player, on the Banker, or on a Tie. A hand of 8 or 9 is a natural and wins, unless there is a tie. If both hands have a natural, the one with the highest value wins. If both hands have naturals of equal value; your bet is pushed back. 3rd card dealt if no natural. Values: 2-9 = face value; 10's and Face = 0, Aces = 1
Video poker players have always loved the RTG VP paytables. However, the way the games looked and how they played didn't change for nearly 20 years. Spinlogic put a fix to that a couple of years ago and improved the interface, getting rid of all the bad and improving on all of the good.
The video poker games are now sweet and smooth and they open in just a couple of seconds on mobile or any other device. The paytables haven't changed so they are still among the most generous online with 9/6 full pay and 800:1 on Jacks or Better and 99.78% RTP for Aces & Eights (less than 1/4th of 1% House Edge).
Upon launch, only the single-hand versions had been updated to HTML5, and we didn't find a link to download the desktop client in order to get to the clunkers - the multi-hand games simply haven't been converted to instant play yet.
Bonuses and Promotions
All of the standard and commonly enforced terms and conditions are in effect such as no multi-accounting, one account per IP, family, etc. If we were to cover them all we'd have no time to get into the nitty-gritty. If you are new to the game, please see our Bonus Info - We'll cover the highlights here because there are no hidden terms or conditions, and management states in the FAQ that if a term does not appear, it does not exist - full stop.
The Universal/Basic wagering requirement is 15x d+b
Max bet with a bonus is $10
Coupons are only good for 7 days.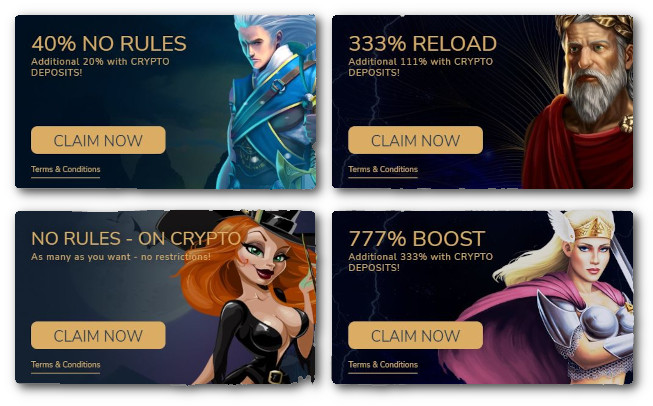 Bonus funds aren't cashable, only the winnings derived from them.
Your account has to be below $1 to claim a bonus.
The casino ranks players by a bonus to deposit ratio and can void a win based on "bonus abuse".
They can strip your account if they 'learn' that you have "a record of fraud or promotional abuse".
They go soft on that in the next sentence and say that you are a bonus abuser if you use 5 no-deposit bonuses in a row without a deposit in between.
Bonuses are only available to players in the United States, Canada, Italy, New Zealand, and nearby, Norway, and Sweden.
Make sure to zero out your account between bonuses as a regular habit everywhere. Here, your balance must drop below $1 to cancel wagering requirements from a previous bonus.
You have only 7 days to prove up your account with a verification deposit if required.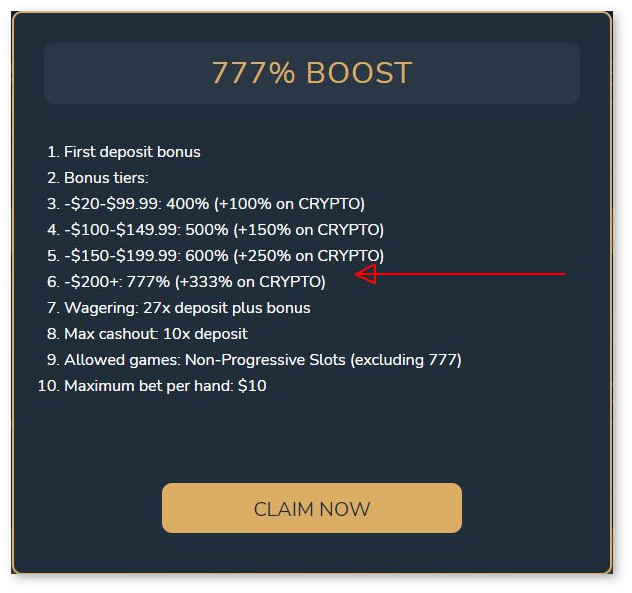 The only thing to do is for each player to examine the simple terms associated with each bonus. For me, I saw enough. If you take a look at the bonuses I'm seeing, it's obvious they want winners so they are willing to pay a little to recruit new players.
We have to keep in mind that in the long run, the casino has the edge and they will be the ones making money from anyone who continues to play on and on. That's why there are only two things to do…
Decide to play with real money for the sheer fun of it and either quit a winner or accept the cost of the entertainment over the long run
If that seems reasonable the next thing to do is decide how you want to play
I am seeing a bonus of 11xd which would give a lot of playtime - the price of it is you can only cash out 10x your deposit when you win.
I also saw a 60% match with 1x playthrough and no max cashout - if I didn't have a sense of who was offering that I would not just walk away, I would run. I took it, beat it, got paid, and I am smiling right now. It wasn't a guarantee. I've had plenty of sessions when my luck just ran downhill from the first bet. That didn't happen this time. Such is gambling!
Pitfalls
No license seal
No provable history
Limited withdrawal methods (currently crypto only)
The Final Word
Limitless Casino fills in the weak spots many RTG operators leave open. Once a player, even in the USA has been spoilt with instant withdrawals or even 24-hour payouts, it's very hard to go back to anything else. I like that about this place. I do two steps, they pay, I transfer it instantly to PayPal, and it's cash in the pocket.
I still can't say that I would endorse Limitless based on assumed associations, but it's good enough for me, personally. Extreme and Brango are two of the most highly regarded US-facing operations. It's as if they figured out that giving their customer what they want creates good relationships and loyal patrons.
Personally, I'm going to approach this place with the confidence I will have a nice streak of luck and no problems cashing out $15,000 a day up to $50,000 a week. Somehow it feels like Microgaming in 2005 around here, and I like that! In fact, it feels a little better, it usually took at least a day to get paid back then.

Review Casino

User reviews marked with this logo are syndicated from
LCB.org
There are no Casino Games for requested criteria.
Something went wrong. Please try again later.

Casino Details
Cryptocurrencies: Instant