Online casinos accepting players from Italy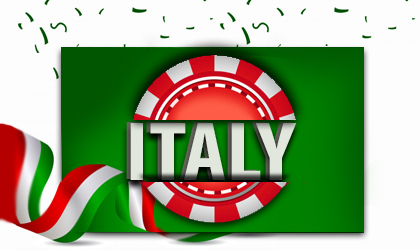 Italy is…
… one of the most beautiful countries all across the world. It has the cultural heritage, the architectural masterpieces, stunning nature and of course, the most delicious food there is. Tourists are fascinated with all the things the country has to offer and continue visiting it the first chance they get. 
Gambling…
… was spread across the country since the Roman Empire. In fact, history shows that the game of Baccarat was first invented in Italy. The game is today one of the most popular casino games that exist. Its first casino was established in 1638, called Casino di Venezia, and ever since, many land-based casinos have appeared in the country, mainly to attract tourists and show them a good time.
The "dolce vita"
… way of living was presented to tourists the best way possible, but the country experienced some serious internal issues related to gambling.
As you may know…
… Italy is also a country known for the mafia, corruption, the crime. So, it was not long until the mobsters got their hands on the gambling industry. The government, therefore, imposed very strict rules regarding gambling.
It was not until 2006…
… that gambling regulations were liberalized. The government saw improvement in the country and made sure things were cooled down before it reconsidered liberalizing the market. 
This was not…
… completely unexpected, considering the fact that Italians love to gamble, and the country has a long history of wagering. The Italian market is one of the most lucrative in Europe, mainly due to the tourism the country attracts, so operators are fighting their way to grab a slice of the action.
Therefore…
… in 2006, the government decided to introduce new regulations that allowed new and existing operators to offer sportsbetting both online and in retail locations. Ideas on legalizing online and remote gambling appeared around this time, too, but there were many restrictions to be imposed.
First…
… the Agenzia Delle Dogane e Dei Monopoly (AAMS) was made responsible for regulating the industry and issuing licenses.
Then…
… the .it domain requirement was introduced, along with the requirement for operators to locate their servers within Italian borders, with the aim to keep the revenue in the country. 500 illegal sites were blacklisted, and the internet service providers were obliged to block them by law.
After European Union proceedings, though…
… Italy was asked to remove the block and make the legislation more EU-friendly. This led to the passing of the Bersani Decree 2006. With the Decree, the market was opened to the European Economic Area (EEA) and the European Union. Licensed operators were allowed to offer their gambling services to Italian players, with a license expiring mid-2016.
Therefore, in 2007…
… Italy regulated interactive betting, and the Finance Act 2007 was introduced, and interactive tournament poker followed in 2008.
In 2011, though…
… the Cash Games Decree (Comunitaria Decree 2011) was passed into law, which allowed cash poker and casino games, subject to 20% GPT and 90% network payback in prizes. Betfair.it was removed from the Italian market under claims that it was taking bets via the Betfair.com domain to avoid gambling taxes.
Best Online Casinos for Italians
Casino
Highlights
Cashout
Bonus
View Details
Loading...
There are no available casinos for requested criteria.
Something went wrong. Please try again later.
Legal Online Gambling in Italia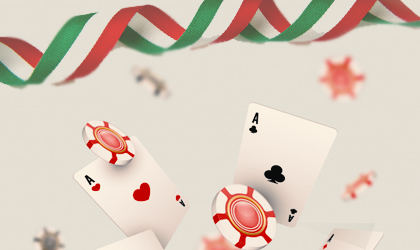 Even though…
… online gambling became officially legal and regulated in 2011, the industry went through a lot. Just the next year, the government announced it had discussed banning gambling advertising. And while a complete ban was highly unlikely, it implied implementing restrictions similar to those the UK Gambling Commission implemented for the UK market.
The mafia…
… reappeared again, and it seemed like the gambling industry had attracted increased interest from Italian organized crime bosses, so AAMS signed a Memorandum of Understanding with the National Anti-Mafia Directorate.
2012 was the year…
… when online casino and online poker were introduced and online bingo and fixed-odds virtual event betting were announced, but also the year when the country adopted the Balduzzi Decree. The Decree implied advertisement must not encourage gambling activities, and it applied both to land-based and online gambling, set to take effect from January 2014.
In the following years…
… many scandals appeared related to gambling in Italy. Professional poker players were sued for failing to declare offshore winnings, the Budget Law 2015 was implemented introducing new tax increases, operators were fined for wrongdoings, and some companies and their employees were arrested and their assets seized.
In 2017…
… Italy, Portugal, Spain, and France signed an agreement to share iPoker liquidity between their respective jurisdictions. The next year, AAMS launched the application process for 120 interactive gambling licenses. It also launched the self-exclusion programme for players, allowing vulnerable players to self-exclude from every licensed gambling operator.
It was mid-2018…
… when the government announced the strictest measure so far… it approved plans to prohibit all forms of gambling advertising. Towards the end of the year, it also implemented new tax increases.
Towards the end of 2019…
… the country finally admitted that it wanted to reduce the number of interactive gambling operators in the market from the current 85 to 50. The licenses will take effect in 2023, will be valid for nine years and will cost €2 million.
Despite all the complications…
… online gambling in Italy is legal and regulated. Both national and international operators are allowed to operate in the market, as long as they are licensed and they pay their taxes. Players in Italy can enjoy all sorts of online and land-based casino games and betting.
Italy Online Casinos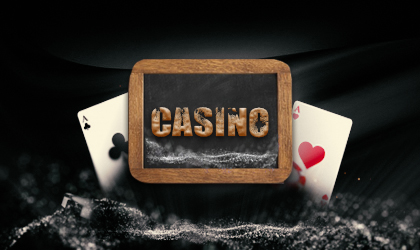 Italy is one of the biggest online gambling markets in Europe, alongside the UK, Spain and Malta. Therefore, it is only natural that players have such a freedom of choice when it comes to picking games to play, enjoying generous bonuses and promotions and having a wide range of payment methods to deposit and withdraw with.
Online casinos…
… in Italy are duly regulated by the AAMS, but that's not the only guarantee for safe and secure gambling. As you can see, the country has fought corruption, fraud, and bad influence. Players are given the chance to self-exclude, they are protected from gambling advertising, and they have the chance to play in casinos that offer the toughest measures to protect them.
Therefore…
… online casino players in Italy can enjoy all-encompassing gaming. All of the measures taken throughout the years were to impose stricter regulations on operators and a safer environment for players. Playing online casino games in Italy is, indeed, "dolce".
Casino
Slots
Roulette
Blackjack
Video Poker
Rating
Loading...
There are no available casinos for requested criteria.
Something went wrong. Please try again later.
Games at Italy Online Casinos
Since international operators are licensed to offer gambling and betting in Italy, players get to play world-class games, the most popular games.
Award-winning software developers power the game portfolios at these casinos, so the games players from all around the world enjoy can also be enjoyed by Italian players. You should expect to find games developed by the current number one provider NetEnt, the Live Casino games leader Evolution Gaming, the ever-expanding Yggdrasil, the innovative Red Tiger Gaming and the Megaways™ creator Big Time Gaming, among others.
That being said, the games you should expect to find in online casinos in Italy are:
Sportsbetting;
Virtual sports;
Table games;
Live Casino games;
Video slots;
Megaways™ slots;
Online bingo;
Other online casino games.
The Best Live Casinos in the
Best Reviewed
Casino
Rating
Interesting Games
Highlights
Casino Bonus
Loading...
There are no available casinos for requested criteria.
Something went wrong. Please try again later.
Mobile Betting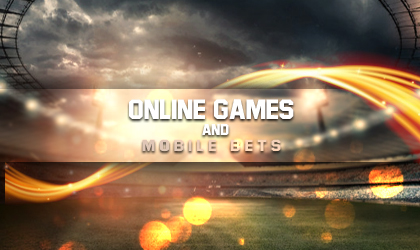 Gambling on mobile devices…
… started a new trend, a new path the online gambling industry fully embraced and called mobile gambling. Players started showing an immense interest in playing online casino games on their mobile devices, which led to the introduction of mobile-optimized solutions in the development of online casino games and their implementation in online casinos.
Moreover…
… casinos started optimizing their websites to provide these players with smooth gameplay on both desktop and mobile devices.
Some online casinos…
… had even created dedicated iOS and Android online casino apps, so that those players who wanted to download them could do so in Google Play Store or Apple Store, respectively.
Nevertheless…
… when it comes to online gambling on mobile devices, Italian players can rest assured that they will get interruption-free, HTML5-based and seamless gambling experience on any mobile device.
Italy Online Banking & Casino Payment Methods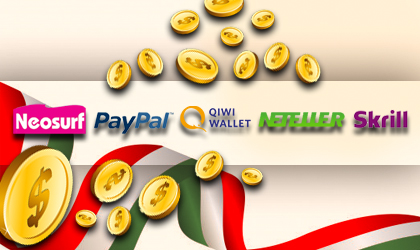 Considering Italy is a powerful European country, it should come as no surprise that you can find hundreds of payment service providers there.
And since international operators have chosen it to offer their services there, they have made the appropriate agreements with these payment service providers to allow Italian players to get the ultimate gambling.
With that in mind, these are just some of the following banking options you could find to play in online casinos in Italy:
Credit cards;
Debit cards;
Bank transfers;
Prepaid cards such as PaySafeCard;
Other options.
The euro is the official currency you can use to play online in Italy, however, there will be many other currency options you can explore, too, subject to fees.
FAQs
1. Are there online casino games available in the Italian language?
- Yes. In fact, many Live Dealer games come with Italian-speaking dealers and Italian language interface, allowing Italian players to get a next-level experience.
2. Is there an online casino that is available exclusively in Italian?
- If an online casino is multilingual and available in Italian, the minute you join it, it will automatically switch to its Italian version. If not, then you would have to play in English or any other languages offered. However, most casinos offer interfaces in the most popular world languages, the Italian included.
3. Do I have to download software to access online casino games on my phone?
- Most online casino games are developed in HTML5, allowing players to access them without downloading software. Plus, online casinos are all optimized for mobile gambling, therefore, you should experience no problems. Finally, most casinos offer apps that you could download if you wish to, but these are not mandatory.
4. Are online casinos in Italy safe, considering the Italian mafia?
- Yes. AAMS and all the other authorities in Italy make sure online casinos are safe, and the mafia has nothing to do with them, thanks to the MoU between AAMS and the National Anti-Mafia Directorate. Plus, online casinos implement their own security measures, such as firewalls and SSL encryptions to ensure no one other than the operator has access to your confidential information and transactions.
5. How can I contact the Customer Service when I experience a problem?
- Each online casino offers Customer Support, which can be available by phone, email, Live Chat, website-based contact form, Facebook, Instagram, or Twitter. You would have to look for the "Contact Us" page to learn your options. While there, check the FAQ section to see whether you can find the answer to your question there.
6. Is VISA available in Italian online casinos?
- Yes. VISA is a payment method that is available in most, if not all, online casinos, regardless of the location. It is an international method available all across the world, Italy included.
7. Can I claim a No Deposit offer in these online casinos?
- Yes, as long as the online casino you chose to join offers one. No Deposit offers are rare, because they award a bonus for which you don't need to make a deposit. Welcome Bonuses are more frequently offered. Regardless, you are eligible to claim an offer as an Italian player.
8. Can I play for free and test the games in Italian online casinos?
- Some online casinos do not allow players to try out the games in demo mode for free, but the majority of online casinos in Italy do. Therefore, you can just load the casino, find a game you want to play and press play. You will not be playing for real money winnings, though, but with "fake", demo credits.
9. Is 18 the legal gambling age in Italy?
- Yes. Just like in most European countries, the gambling age in Italy, for both land-based and online players is 18.
10. Are online casinos in Italy any different than casinos in other European countries?
- Considering the country has signed agreements with the most powerful European countries for information exchange, no major differences will be found between casinos in Italy and other countries. Only things restricted by law may be considered differences, but this is individual for each country.