Online casinos accepting players from Greece
Online gambling has offered...
... plenty of profitable opportunities to all parties involved in the industry. Starting from the game providers, through the casino, sportsbetting and poker operators running the gambling platforms, all the way to the players participating in the gameplay – there is something for everyone.
This has been a constant since the early beginnings of the industry, noted across the first few markets which readily adopted this practice. UK enthusiasts, US players, as well as those from other major economic powers were first to take part and get the industry running on their national territories. Soon afterwards, the first results came to light, making this realization all the more evident.
Nowadays, interactive gambling...
... has grown far beyond the biggest markets and is practically available for everyone, from the comfort of their own home. A lot of other features of these services have also changed throughout the years, not only their availability. Operators started differentiating between more and more niche gaming products, with much of the attention going to slots and table games.
The former developed more immersive features, in-game elements, as well as entire design makeovers, and nowadays include all kinds of 3D items, cinematographic effects and even video-game characteristics. As for the latter, table games, players' interests have sparked a whole new line of products – live casino – along with more extensive odds options, variety and payouts.
Along with older game formats...
... and those being developed at this time, the industry has amassed quite a variety of services to offer along the years. Developers grew in number and accomplishments, and so did operators on account of such advances. One other segment of this newly created market also benefited greatly from the advent of online gambling – the governments.
For the longest time...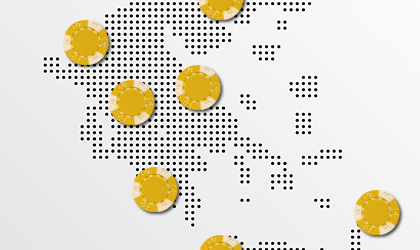 ... most of the legal systems in the world turned a blind eye at the online gambling industry. Some took to ignoring it, believing that it would disappear as suddenly as it appeared with the invention of the Internet. Others, however, were all too eager to put a stop to it themselves, and enforced regulations that prevented any such activities on the country's territories. All the while, a small group of countries readily accepted this extension of the already existing and well-known land-based gambling business, and adopted proper legal regulative for this type of entertainment.
These last ones have made the most of the industry since its earliest beginnings; nevertheless, others seem to be catching up with an increasingly rapid pace, especially in more recent years. Europe casino and gambling markets had already caught up with the craze surrounding interactive gaming, and it seems like the even the last ones of the more rigorous governments are taking a more lenient approach nowadays.
Greece has been known...
... to impose some of the harsher restrictions, tax policies and overall regulative measures on operators looking to cater to their player pool. However, as EU took a more direct involvement in the policies, they are seeing progress and opportunities as the rest of the lot. Greece regulative on online gambling is explained in greater detail below; as things stand, players and enthusiasts have a lot to choose from when it comes to their favourite pastime.
Best Online Casinos for Greeks
Casino
Highlights
Cashout
Bonus
View Details
Loading...
There are no available casinos for requested criteria.
Something went wrong. Please try again later.
Legal Online Gambling in Greece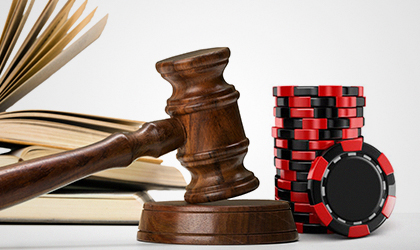 When things started going for the online gambling industry...
... Greek gambling enthusiasts were among the first looking to get in on the action. After all, the tradition for this type of entertainment in the country dates back to its ancient roots, and evidence of it are found even in the myths about deities. Apparently, even long stretches of time didn't put Greeks off this practice, and the efforts being made to develop their current industry show all the more support towards its development.
Back in 2002 the first attempts at imposing strict regulations began on behalf of the Greek government. More specifically, it was the Hellenic Gaming Commission (HGC) that is in charge of defining laws and ensuring compliance by all operators within their market. As mentioned, in 2002, Law 3037/2002 practically aimed to prohibit all online gambling on the premises. However, due to improper wording, it ended up banning land-based gambling activities in the existent establishments and even video gaming as well. Due to this, reactions from multiple operators came swarming in, and complaints were made on the lack of compliance Greek policies showed with the EU online gambling regulative.
Despite it all...
... the Greek government continued running its course towards a set destination, and the 2011 Gambling Act openly defined it as a state-run monopoly on all gambling activities. In other words, the Act aimed to give the state-run operator OPAP full power and sole authorization to provide online casino and gambling activities in the country. Bear in mind that the same operator had already been given full monopoly over land-based sportsbetting and lottery, with the only commercially operated gambling establishments being the few casino floors.
Due to such rigorous measures...
... it wasn't long before the EU Court of Justice got involved, and demanded more lenient regulations on the matter. All the while, the HCG pursued their course of action, first off by giving all other operators a deadline to remove their services from the market.
Most recently, the regulatory body also provided their state-run operator with a license for 35,000 more video lottery terminals. Taking all this into account, it very well seems like speculations regarding the state's intentions of boosting the budget through OPAP's revenue are hitting closer to home than expected.
Speaking of revenue...
... the tax policy on total operator's revenue, as well as winnings from gambling has also been a matter of great dispute. According to the legislation back in 2011/12, operators were supposed to pay extremely high taxes, and were still only given the status of 'interim', i.e. 'temporal' licenses.
It hasn't really gotten that much easier for prospective operators either, not only due to the 35% tax rate, but other costs as well. The aforementioned interim-licensed operators are finally given a chance to apply for a full license for a charge of $4.6m (£3.5m) per application, and those looking to offer services from more than one vertical need to pay an additional $1.3m. The license lasts five years, but those looking to continue it will need to re-apply a year ahead, and pay the same amount as the first time.
And with the revenue tax fee no longer being deducted from the funds before other taxes, such as corporate, are imposed, operators' interests about this market may become shaky. After all, those operators that were blacklisted during the previous legislation changes don't even qualify for the opportunity of getting a license, as is the case with UK gambling brand GVC Holdings.
Greece Online Casinos
Evidently, online casinos operating or entering the Greek market...
... are more than swarmed with regulations and difficulties. Still, due to the massive interest on behalf of the player pool, the endeavour is well worth their while. Gambling has always been a popular activity among Greece-based players, and all the more so with the added conveniences of online and mobile gambling.
As mentioned, legislation has relaxed a bit, but with the massive charges imposed by tax and other policies, it may take a while before Greeks get a well-stocked selection of onshore licensed platforms to choose from.
For the time being, a range of offshore operators seem to be making up for the difference, and making use of the large interest. Many international casino brands, as well as smaller establishments, have entered the market, and provide Greek enthusiasts with a range of services.
Security is still of the essence...
... which is why a primary consideration for all those looking to get some online casino action from Greece on these platforms are advised to look for licensed operators. Check their seals and licenses, normally displayed at the bottom of the home screen, and make sure they are regulated by a reputable authority – Curacao, Kahnawake, Gibraltar and more.
Casino
Slots
Roulette
Blackjack
Video Poker
Rating
Loading...
There are no available casinos for requested criteria.
Something went wrong. Please try again later.
Games at Greek Online Casinos
The scope of games at these casinos is much like any other of the top ranking platforms. In fact, some of them are directly available to the Greek player pool, and offer players the following selection of online casino game types:
Slots;
Scratch Cards;
Keno;
Live dealer tables and more.
The Best Live Casinos in the
Best Reviewed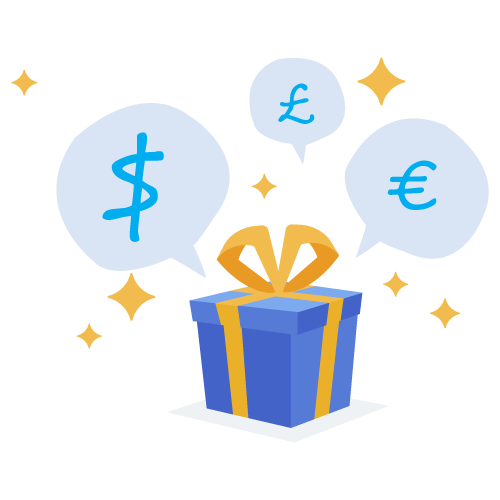 Casino
Rating
Interesting Games
Highlights
Casino Bonus
Loading...
There are no available casinos for requested criteria.
Something went wrong. Please try again later.
Mobile Betting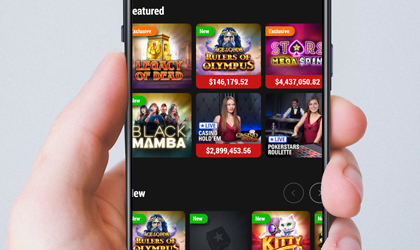 All the above-mentioned online casino game categories are nowadays available in desktop and mobile-play format. Despite the fact that most of the gameplay is done on offshore platforms, they are still keeping up with industry trends and aim to provide the best to their player pool. As a result, players on these platforms residing in Greece can enjoy playing their favourite slots or table games at chosen casino platforms anywhere on the go, as long as they have a stable Internet connection.
Operators have gone about this in two ways – either through a dedicated mobile app for the top OSs, Android or iOS. On the other hand, some operators choose to handle this through a mobile-optimized instant-play website. Either way, with the latest tech advances, both options tend to run perfectly without overcrowding your smartphone or tablet device, allowing you gameplay everywhere on the go.
Greece Online Casino Banking & Payment Methods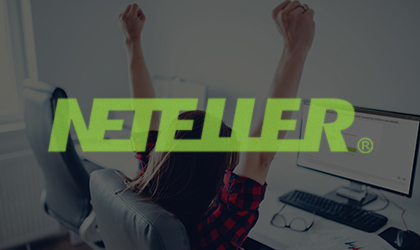 Banking was also up for discussion and regulation during the more restrictive days of legal online casino and gambling licensing in Greece. Until the situation is fully sorted out, and OPAP's monopoly is revoked in 2020, there may be some difficulties yet. Nevertheless, even as it is, online casinos catering to these players boast a satisfactory range of banking options. These include:
And with Greece being a part of the EU, players choose the EURO as their preferred currency, making them eligible to use these and other payment methods quite easily, and often without any currency exchange fees.
FAQs
1. Are there fully equipped online poker rooms available for online players from Greece?
Yes, aside from online casinos, poker rooms are also provided to these online players by international offshore operators.
2. What are the specific poker variants available at Greek online casinos?
Commonly found casino poker titles such as Casino Hold'em, 3-Card poker and Caribbean poker are also available on these sites.
3. Which online casino software providers normally feature their games at these casinos?
These online casino players feature games from online casino software companies such as NetEnt, Microgaming, Elk Studios, NextGen, 1x2 Gaming, Playtech, Wazdan, Amatic, Betsoft and more.
4. Do these players have Welcome bonuses and programs for signing up with a new casino?
Yes, players are offered all the regular incentives – No Deposit bonuses and Welcome packages, including everything from bonus spins, through first deposit matches, all the way to matching the first few account deposits up to a certain percentage.
5. Are any other types of bonuses or promos available?
Yes, players can benefit from most of the regular bonus offers and promos found at other legal marketplaces – Reload bonuses, Referral bonuses, as well as Loyalty programs.
6. What is the legal gambling age for online casino players?
According to the Gambling Law of 2011, the legal gambling age for online casino players is 21 or more.
7. What is the legal gambling age for land-based gambling establishments?
Anyone aged 18 or more can play real money games at land-based gambling establishments in the country.
8. What is the current tax rate for online casino operators specifically?
The current tax charge is still 35%, even though plenty of operators were put off by this rate in the past. Land-based operators pay turnover taxes ranging 30%-37%.
9. Are players taxed on their winnings?
Yes, they are – for winnings amounting to $116 (£89), there are no taxes; 15% tax is imposed on winnings from $116 (£89) and $580 (£446), and a 20% tax on all winnings from $580 (£446) and more. This is deducted by the operators straight upon cashout, making it their responsibility to transfer the cash to the respective tax office later on.
10. Does the state-owned operator OPAP pay taxes as well?
Yes, a third of the operator is owned by the country, and it is required to pay 35% gross profit tax rates on all operations until their monopoly status is up and running (by the end of 2020).