iPhone casinos
About iPhone casinos and games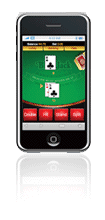 In the 1990s, the big step forward for the gambling industry was online casinos, i.e. making gambling available on the internet. That single move contributed hugely to the surging popularity of gambling all over the world today. The next logical step was to bring casino gambling to your mobile phone. With the arrival of the iPhone from Apple, it was only natural for online casinos to target it as the next delivery platform. And thus the iPhone casino was born.
iPhone casino apps are games that you can download directly to your iPhone, and casinos that give you this option are called iPhone casinos. iPhone casinos are quite similar in concept to mobile casinos, except that the phone in question here is not just any mobile phone; it is the iPhone. One of the primary reasons for the existence of iPhone casinos today is the simplicity of the device itself. It is an extremely user-friendly device with an uncomplicated interface, unlike some of the other mobile phones, and easy to use, making hassle free gaming a very realistic option. There is no download process involved, and you can play the different games available directly from the browser on your iPhone.
Industry analysts and experts recognize the potential of the iPhone turning out to be the next big thing in online/mobile gaming. Speaking about the potential of the iPhone in terms of boosting mobile-based online gambling, editor-in-chief of InterGaming Phil Clegg said this was one sector that would see something like an explosion over the next five years or so. He said the iPhone was just the beginning of a massive market opening up for the online gambling industry.
Clegg's speculation is spot on. Studies have shown that online gambling has, in recent times, seen a massive upsurge, especially with the introduction of mobile gambling. Betting on a Mobile Future, a report by Juniper Research, showed that the amount wagered through mobile phones alone in 2007 had crossed a massive $1 billion. Industry predictions indicate this number could go as high as $27.3 billion by 2013, and iPhone casinos would be substantial contributors to that revenue.
iPhone casino games
So what are the games you could expect to find at an iPhone casino? As of now, you cannot find too many games on an iPhone casino, though most of the game types available in online and mobile casinos would be there. This means you would get casino games as well as slots to play at an iPhone casino. Currently, you can play Blackjack, Roulette, slots (both standard and progressive), video poker, and also some of the popular poker games like Texas Hold'Em.
While online casinos are looking to make the transition to iPhone casinos, there have also been instances of individual online gambling games making their way on to an iPhone, thanks to hackers. The first original casino game to make its way to an iPhone was Blackjack, and the game, introduced on the iPhone by a hacker, was called iBlackjack.
Popular iPhone casinos
Two iPhone casinos available today are the All Slots iPhone casino and the Wild Jack iPhone casino. Both these casinos have been launched by Brightshare. Some of the high points of these casinos include spectacular graphics and great features and effects within the available games that give players the option of playing vertically or horizontally.
The standard games available in the All Slots and Wild Jack iPhone casinos include Blackjack, Roulette, Keno, Baccarat, Video Poker, scratch cards, and slots.
You find only European Roulette in these two iPhone casinos. The Slots games available include reel slots - 3-reel, 5-reel, and progressive slots.
In all, the two iPhone casinos mentioned here, All Slots and Wild Jack, have approximately 14 different games to start with that run on Java. These iPhone casinos are powered by Spin3 and online casino software development top gun Microgaming. Spin3 has been able to convert the online gambling software from Microgaming into a Java-based format. Both Spin3 and Microgaming have been the recipients of the award for Best Mobile Gambling System two years in a row - 2006 and 2007 - at the Mobile Entertaining Awards.
Like online and mobile casinos, iPhone casinos too have great promotions, security measures, and also banking options. Initially there was some confusion about the banking options that these iPhone casinos supported, but now it is clear that they support some of the popular transaction methods offered generally at online casinos, including credit cards, debit cards, UKash, Click2Pay, and NETeller.
In terms of security, the iPhone casinos also employ industry-standard 128-bit SSL digital encryption to ensure a completely secure environment for your online transactions at these casinos and also to ensure total safety with regard to any personal information you may give the casino, such as your bank or credit card-related information. The iPhone casinos are also certified by reliable agencies for safety and fair play on the basis of audits conducted by independent auditors.