Online casinos accepting players from China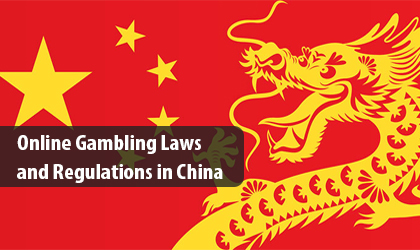 Each jurisdiction has their own unique approach to the matter of gambling nowadays. Ranging from the most liberal of policies to the most restrictive, this is a subject that has been raising debates and causing much satisfaction and dissatisfaction across the wider audience.
Asia specifically...
... is an interesting gambling market, especially due to its early origins when it comes to such practices. After all, many of the nations living there presently have been involved in one activity or another when it comes to games of luck and chance. Even more so, games like poker or mahjong that may alternatively be dubbed as games of skill were also present on these territories. The only difference being the fact that potential players are better off having some background, talent or a gift for the games, these were just as popular as the previous ones.
However...
... long before online gambling was even considered a possibility, countries, territories and provinces took to the matter of regulating this area. Back then, there were a lot of territorial and governing matters to arrange, with China ultimately remaining the dominant country on the continent. And taking into account its autonomous territories, Macau and Hong Kong, China has definitely had their hands full.
The popularity of gambling activities...
... on its land has been growing since as early as centuries back, and it was only a matter of time before they were properly addressed by the law. Gambling at that time covered land-based establishments exclusively, making it much easier to regulate or better yet, restrict their presence on specific markets. However, with the rise of online gambling and the numerous conveniences it offers, both legal forms of gameplay in the country, as well as illegal ones, are looking to cater to the enthusiastic player pool and make the most of it.
The rise of interactive gambling…
… has its toll on the regulatory policies of governments everywhere, and China is no exception. Players from this country are subject to different acts and laws; nevertheless, their wording often vaguely refers to online gambling, or neglects it altogether. Therefore, it gets difficult to determine where the line is between legal and illegal, leaving authorities with plenty of room to maneuver. The same is true for players and gaming enthusiasts alike.
The best course of action is for interested players to get as many details about the legal status of your preferred games. Check with law experts if possible in order to make sure you are not fined for your choice of pastime – all that's left after that is to sit back, log in and play to win!
Top 8 China Online Casinos
Casino
Highlights
Cashout
Bonus
View Details
Loading...
There are no available casinos for requested criteria.
Something went wrong. Please try again later.
Legal Online Gambling in China
Gambling is deeply embedded…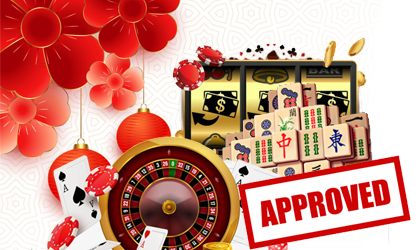 … in China's historical roots, with the earliest dynasties developing some of the popular games up until this day. Keno is one example of this – it originally came about as a form of lottery that helped rulers collect money from the people. Nowadays, there is hardly a country that doesn't have its lottery based on the Keno model.
Mahjong and other games…
… involving tiles have also been developed by the Chinese, and the culture of wagering on their outcomes came straight afterwards. For quite a long period of time, gambling was not regulated under any authoritative structure; then, in the course of the previous century, the government put forward a range of legal acts and sanctions in order to better address that question.
Basically...
... they made all gambling forms illegal and restricted players from engaging in real money gameplay by imposing heavy fines or jail time punishments. The two lotteries that existed at that time were the only ones left that could legally offer their services and operate on the Chinese marketplace. Bear in mind that this is still for land-based only, meaning players will need to visit the actual establishments in order to enjoy a gameplay. There has been lobbying from all sides to allow these operators a chance to offer services via online channels, but it's been nothing but a mute point for quite some time now.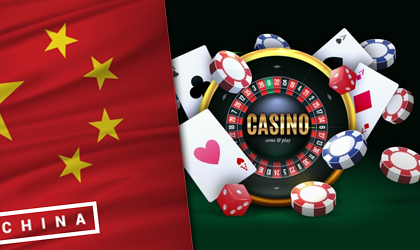 Yet, players are eligible to enjoy two forms of lottery action – the welfare lottery and the sports lottery. The former first started its business back in 1987, when they issued their first ticket, while the latter came about slightly afterwards, in 1994. Both of these are state lotteries, regulated and governed by the Ministry of Finance as the main authoritative body for this line of work. The State Council is the only other body whose authority takes precedence, mainly due to the fact that it is necessary for approval of any licensing applications they may receive in the meantime.
The welfare lottery is specifically governed by the Ministry of Civil Affairs, aside from the aforementioned departments, while the General Administration of Sport is in charge of the sports lottery. Speaking of it, it allows players to guess outcomes on most worldly sports from many various championships, with the exception of Chinese football leagues. This is mainly imposed as a regulation in order to prevent match-fixing and corruptive behaviour in one of the most popular sports across the nation.
The Criminal Law of mainland China...
... on the other hand, is the main piece of legislation when it comes to the matter of breaking these rules and engaging in illegal online gambling activities. For the most part, articles of the code dictate jail time (mostly up to three years), as well as fines, penalties and community work.
However, further complications arise when dealing with autonomous territories of the country – Hong Kong and Macau in this regard. They are still part of the republic, but have come about as autonomous regions that either stick to the English influence that was imposed on them in the past (Hong Kong), or imitate the US gambling culture (Macau).
The former is evident in the liberal gambling policies...
... even though Hong Kong is still a long way from the popularity of Macau. This territory has aimed to replicate Sin City, and have certainly managed to do that in a tenth of the surface that Las Vegas encompasses. What is more, the gambling industry in Macau, when compared to the US one, has been surpassing it significantly in terms of traffic volume, funds wagered and won and ultimately, accrued revenue.
Regardless of the fact that...
... land-based gambling is restricted to these two formats, the online sphere is flourishing with diverse content, operators and rewards alike. A massive number of offshore operators are fighting for a portion of the Chinese player pool, as big and full of potential as it may be. Just make sure to understand all about the key features of the online gambling industry in China, and there should be no question of player satisfaction.
Casino
Slots
Roulette
Blackjack
Video Poker
Rating
Loading...
There are no available casinos for requested criteria.
Something went wrong. Please try again later.
China Online Casinos
As it stands...
... players from China's mainland are able to enjoy legal gambling at the two land-based lotteries exclusively. In order to expand their horizons more, they have turned to offshore, foreign-licensed online casino platforms, as well as other gambling content. The operators run such services under the radar of the authorities, but still opt to please their target player pool, and one way they have managed to do so is through providing reliable and secure gaming environments.
Since these operators are based in offshore locations, it is understandable that they are subject to different regulations. Still, they have been issued licenses from respective authorities where regulations allow it, and Chinese players nowadays are easy to locate at a number of Curacao-licensed gambling websites.
Games at China Online Casinos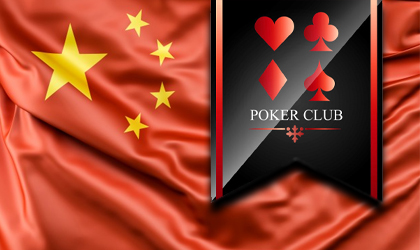 Most of these casinos are internationally oriented, so their game libraries include all the latest game categories. This may be a slight inconvenience for players looking for specific titles, especially if they aren't common among the general player pool. Nevertheless, players will still be able to enjoy multiple titles from the top providers of the following game categories:
Slots;
Bacarrat;
Roulette;
Table games;
Live dealer;
Keno.
Other forms of gambling are also available at online offshore platforms, such as sportsbetting and specialty games. The main advantages of these sites, as opposed to the legal forms of gambling available in China, as said, are the choice of better odds and wager selection, and therefore higher payouts.
The Best Live Casinos in the
Best Reviewed
Casino
Rating
Interesting Games
Highlights
Casino Bonus
Loading...
There are no available casinos for requested criteria.
Something went wrong. Please try again later.
Mobile Betting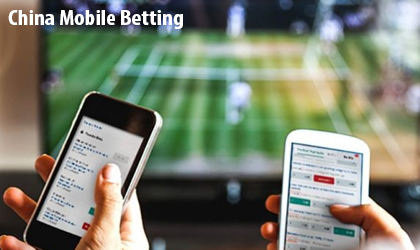 China is one of the most tech-advanced countries, which isn't a surprise for countries from the Asian portion of the world. So, it was rather illogical for the major audience as to why China hasn't yet developed a fully fledged online gambling market, and the answer lied straight ahead – due to its legal system, and the regulations imposed.
Once offshore operators started swarming the market in order to meet demand, players got their mobile betting environment as well. It allows players to access the site and games whenever they go, as long as there is a stable Internet connection. Simply log into the app on your Android device or access an instant-play variant from your iPhone or iPad browser.
China Online Banking & Casino Payment Methods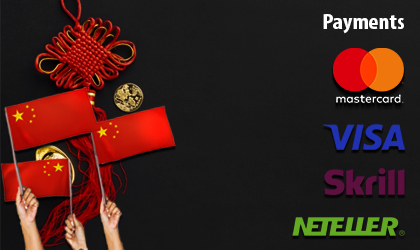 Some of the most rigorous measures that Chinese authorities have adopted in order to minimize the outflow of funds thanks to illegal offshore operators is banking. Other than restricting access, which still seems to be a measure that can be bypassed, these authorities additionally prohibit banking services and payment processors from facilitating payments to and from the sites.
Even with that, there is still enough variety of payment methods for interested players from China:
Credit cards;
E-wallets;
Online payment methods;
Prepaid cards & vouchers;
Cryptocurrency.
The last of these provides the greatest chances for success, both due to their low-cost feature and untraceable transactions.
FAQs
What are the specific legal forms of gambling in Hong Kong?
­- Lotteries and football betting are also available for Hong Kong residents, with the addition of social gambling, charitable games and horserace betting, in comparison to players from China.
Which forms of gambling are legal in Macau?
- Macau gambling establishments offer their eager enthusiasts the full scope of gambling content – slots, table games, Sic Bo, Fan Tan, Keno and more.
Is the government of China able to impose their restriction throughout the entire nation?
- No, China still consists in part of some autonomous territories – Macau and Hong Kong, where gambling is regulated separately.
What kinds of gambling verticals are present on the Chinese online gambling market?
- Other than casino, online gameplay for Chinese players includes bingo, lottery, sportsbetting and poker, along with other games and content.
Is there any poker action in China nowadays?
- Macau offers a well-developed range of poker action, aside from other forms of gambling, at its casino establishments. However, if you are looking to play poker online, it is recommendable to choose from proven operators in order to make the most of your bluffing skills.
Are players eligible to a bonus or other promotional offer at these offshore casinos?
- Yes, casino players from China are still eligible to all the regular bonuses and promo offers at these casino sites.
Can players file complaints with the respective bodies issuing the casino's license?
- This is actually the only legal entity they have in case they need to react for some action on behalf of the operator. Since the casino isn't licensed under Chinese laws, it is only held accountable before the respective authority in the offshore jurisdiction where it is located.
What is the legal gambling age in China?
­- For the sole two legal lotteries in the country, the legal gambling age at which players can engage in gameplay is 18 years.
Can I play the casino games for free?
- Yes, most of these casinos come with free-play modes and aloe people to try out the games without actually being in them. This way, there is a chance for everyone to get a feel of the site's mechanics and operations, and only later determine if they would trust them with their real money.