WebMoney Online Casinos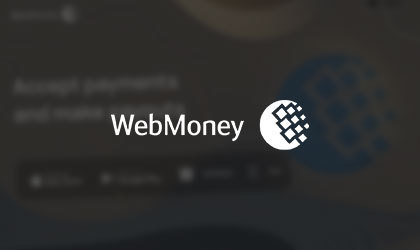 WebMoney is an eastern European-based online payment settlement system used by players in Russia and elsewhere to transact with online casinos and other internet merchants.
The service was first launched in Moscow, Russia in 1998 as a way to transfer funds in US Dollars during the Russian financial crisis. Today the service is in use globally with over 39 million users.
While the system functions much like other electronic wallets (eWallets) there are distinct and important differences. The least of which is the company's reference to "wallets" as "purses".
Participants (customers/purse holders) are able to use the service to make secure transactions, keep track of funds, settle disputes, and even attract funding. Funds are kept safe by companies called Guarantors and customers can register as many purses as they wish with any number of Guarantors.
Users have access to what is known as a "keeper" where they store purses under their 12-digit WebMoney Identification number (WMID).
Casino Transactions with WebMoney
The service is safe and expeditious for online casino deposits and withdrawals
For convenience, users can apply for physical or virtual Visa, Mastercard, or UnionPay cards to access their funds
Funds of each type (Euro, Ruble, USD, Bitcoin, etc.) are stored in their own wallet. All wallets are stored in a single 'keeper'
All transactions are completely secure and anonymous
Mobile apps and desktop interfaces (keepers) are available for free download on the site
All casinos listed on this page support the payment method
Types of Purses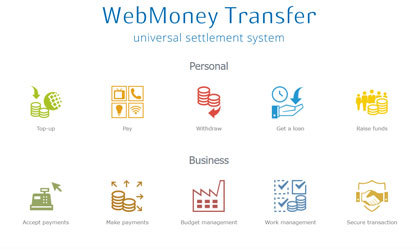 The WebMoney system currently supports ten types of purses including bearer checks in Rubles, Euro electronic money, certified gold storage certificates, US Dollar storage, Vietnamese electronic money (Dong), and three digital currency purses including BTC, Bitcoin Cash, and Litecoin among others.
Purse Management
Even users who transact using a single purse will find their property rights (assets) located in a Keeper or single storage unit. The standard keeper is accessed through a website and is compatible with any browser, mobile or otherwise.
There are also apps available for mobile users including Android, iOS, Windows Phone, and Blackberry, as well as Mac.
The WebPro keeper is also a website purse, but it provides extended functionality and security with access accomplished via a personal digital certificate. The security key for this product is stored only by the user/owner and is never transmitted over the internet. The certificate resides in your web browser and is valid for two years before it must be renewed (prolonged).
The classic WinPro keeper is a program for Microsoft Windows users who access their purse(s) using a private key. There are various secure ways to store the key.
Depending on the devices you use to access the internet as well as the level of security desired or required, one of the solutions is optimal for your use. You can learn more about WebMoney purse management here. 
WebMoney Fees
The fee structure for various transactions can be a bit complicated, but once you have decided on the best way to transact for yourself, it will be quite easy to stay on top of.
Nearly all transactions incur a 0.8% transaction fee.
The particular currency, method of deposit or withdrawal, location or process, and immediacy of the transaction, as well as individual user agreements with Guarantors or exchange agents, are all elements that can affect the fee structure.
Some transactions cost little or nothing while others, such as Russian Rubles deposited via a mobile phone account (carrier billing) demand as much as 12.5% in fees for deposits.
Recent Innovations
Sberbank customers have access to the bank's instant transfer ecosystem with seamless transfers from WebMoney purses to Sberbank cards and vice versa with only the need for a mobile phone number tied to the accounts and no other authentication.
Users with a valid national identity document and a smartphone with a camera can now verify their accounts with VideoID rather than being required to visit a notary or go through the WebMoney Verification Center.
Once you receive a passport to use the system, which we outline below, you can easily make deposits and or withdrawals from casinos on this page after funding one of your purses.
WebMoney Casino Deposits
Navigate to the cashier or payments section of your chosen casino
Click the WebMoney logo
Enter the amount you want to deposit
Click to confirm the deposit and the gateway will redirect you to WebMoney
Select a WebMoney payment method from the menu and follow the instructions on the screen to transfer the funds
Confirm the transaction
This will send you back to the cashier page and show the success status of your deposit. The money should be available instantly for play.
WebMoney Casino Withdrawals
Navigate to the cashier or payments page and click 'Withdrawal'
Click or tap the WebMoney logo
Key in the amount you want to withdraw and confirm
Your funds are now in the hands of the payment processing team. Some casino withdrawals are immediate and some may stay pending for a designated period of time.
WebMoney Passports
All system members must have a passport in order to transact on the system. The important consumer passports are:
Alias Passport
Formal Passport
Initial Passport
Personal Passport
Guarantors, service providers, developers, merchants, and operators all have their own form of a passport. There are also other specialized passports available, but we'll focus on the consumer passports used to deposit and withdraw money from online casinos.
Alias Passport: Simply registering on the system and receiving a WMID will generate an Alias Passport for you. The passport allows limited functionality within the system but will allow you to exchange value between the purses in your keeper, transfers to and from some members with certain keepers, top-up services and prepaid cards, and make secure video calls.
You may be able to deposit with this passport level but it's highly unlikely that you can receive casino withdrawals as the level of verification needed to gain the passport is minimal (email address and mobile number).
Formal Passport: After verification of your identity with the system you will receive a Formal Passport free of charge. This will allow for deposits and withdrawals at online casinos, bank transfers, and the linkage of your other-branded Visa or Mastercard for accessing funds. At this point, you can also apply for a virtual Visa, Mastercard, or Unionpay card to be used for withdrawals from some purses.
Read about all Passport levels and benefits here> https://wiki.wmtransfer.com/projects/webmoney/wiki/Passports
Initial passport: You will need to do more identity verification in order to be granted and Initial Passport. This is accomplished by visiting a verifier or using the VideoID verification system mentioned above.
Benefits of this Passport include limited automation of funds acceptance on the interface, a significant increase in the amount of money you can move to bank cards, access to the budget system, publishing rights on the blog, and more. There is a fee for this passport level.
Personal Passport: This is the main passport used to transfer value on the WebMoney system. Your issuer will determine the precise terms, but the following benefits are afforded by the system at this level:
Automated funds acceptance
Credit exchange
Create budget automation tools
Become a System Consultant
Issue Initial Passports
Star/Plus debit bank card to withdraw funds from the system
Create trading sites
Submit complaints against other system members
WebMoney Advantages
Multiple funding methods, currencies, and distinct purses for each asset
The greater region of Europe can now use this time-tested eWallet
Depending on your location and which other things you do with your funds, WebMoney can be a great payment method for online casino gamblers.
Deposits and withdrawals are safe and secure. In addition to personal security built into all keeper products, the system uses the latest in secure socket layer encryption technology for every transaction
Like most methods, deposits are instant so you can start to play right away
One top advantage is that the method can be used for withdrawals as well as deposits
WebMoney Drawbacks
Fees can be outrageous if you don't choose your internal methods carefully. Expect a fee of at least 0.8% on each transaction
Because WebMoney is so much more than a transfer system now, the site and process can be a bit overwhelming at first
Not all important web pages are available in English
Not available for USA-based players
WebMoney Conclusion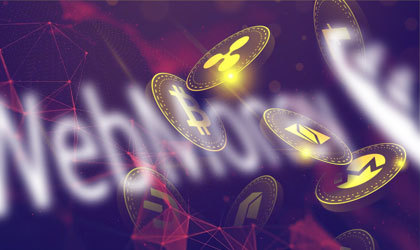 Players in the European Union and Russia have a multifaceted financial tool at their fingertips with WebMoney. While the company offers a variety of financial tools many gamblers will never use, a focused effort can help you cut through the mud and find the tools you need for casino transactions.
Once you have streamlined the process and become familiar with the associated fees as well as the casinos that support the method, it should be smooth sailing.
As a safe, secure, and anonymous payment method, WebMoney is easy to use for deposits and withdrawals.
SHOW MORE
&nbsp
Online casinos accepting WebMoney as a payment method
Loading...
There are no available casinos for requested criteria.

We're showing casinos that accept WebMoney restricted by your country. To remove that condition click here
Something went wrong. Please try again later.