paysafecard Online Casinos

Paysafecard (stylized as paysafecard) is a good option for online casino deposits and other internet purchases. The product and service are independent of the user's personal and banking information and no credit card data is associated with the product.
The "cards", based on a 16-digit PIN Code rather than a physical card, are available in multiple currencies and can be purchased from local retailers in nearly 60 countries across Europe, North and South America, Oceania, and the Middle East.
The company started in Austria in 2000 and has absorbed two former competitors; the British Ukash and Dutch Wallie prepaid. Skrill (formerly Moneybookers) acquired paysafecard in 2013 and Optimal Payments Group (Neteller) bought the company in 2015 before rebranding the parent corporation as the Paysafe Group.
Payment processing to and from online casinos may be blocked in some countries for Skrill and Neteller users. Paysafecard, on the other hand, is widely accepted even in gray markets. Many players use it as a deposit method if they have another avenue for withdrawals, such as bank wires. Consumers in Canada and Australia use the voucher system frequently.
No online casinos we are aware of offer paysafecard as a deposit method for players in the US. If a rogue operator were to try to process a paysafecard deposit for a PIN purchased in the US, the transaction would not be successful.
How Does paysafecard Work?
Find a retailer
Purchase paysafecard PIN
Pay online by entering the 16-digit PIN
Where to Find paysafecard
More than 600,000 retail outlets worldwide offer paysafecard PINs. To find a retailer near you please visit the website to enter your current address. You can also visit the App Store or the Play Store to download the app for iPhone or the Android app.


How to Buy paysafecard
Once you've found a sales outlet nearby, simply go to the retailer and ask to purchase a PIN in one of the following amounts: 10, 25, 50, or 100 USD or local currency equivalent.
If you purchase at epay or MoneyGram a fee ranging from 1.49 USD to 3.49 USD will apply at purchase.
How to Use paysafecard
Depositing with paysafecard is simple and straightforward.
Simply navigate to the casino cashier
Select paysafecard as a deposit option
Enter the amount you wish to deposit
Enter the unique 16-digit PIN
Deposit
The money should appear in your casino account immediately!
You can also pay in foreign currency. For instance, if you bought a PIN for 1.00 AUD and the casino only accepts USD you would use the Currency Calculator to determine how much dosh will appear in your casino account. A currency exchange fee is figured into the result.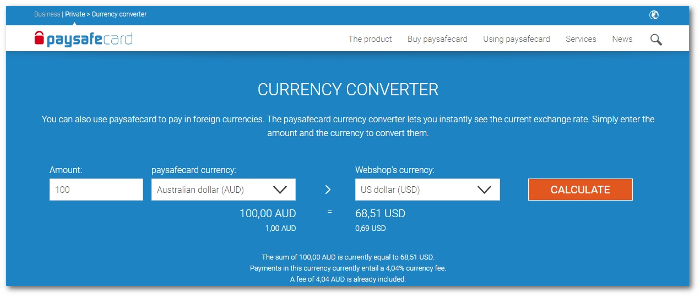 How to Withdraw to paysafecard
Unfortunately, the PINs only work in one direction - to deposit.
You'll need another withdrawal method such as bank wire, ACH, paper check, an eWallet, Cryptocurrency exchange such as Bitcoin at Coinbase, or another option arranged for your winnings. The most common method is to:
⊕ Deposit via paysafecard
⊕ Withdraw via bank wire
Your own personal circumstances, location, and preferences will determine the best course of action.
Paysafecard FAQs
Why should I use paysafecard?
Perhaps you don't have a personal credit or debit card
The financial institution that owns your branded Visa or Mastercard won't process certain online transactions for you
You want to set and maintain a gambling budget
You prefer not to divulge your banking information online
You don't want certain purchases to appear on family documents and bills
You are going to seek additional credit in the next year and don't want casino purchases to appear on your bank or credit account
Do I need to provide personal details to sign up with paysafecard?
There is no need to sign up unless you choose to use my paysafecard to consolidate balances, etc. You can easily check the balance of any PIN anonymously by visiting the website.
What are the limits?
Each country or region has its own limits on several different values.
Sign up for my paysafecard, choose your country, and find the limits for your locale.
If you have two or more PINs with remaining balances on them, you can combine them up to a certain value, depending on your location.
Following are limits for Australia and Canada. You can find your limits here.
Australia
Maximum combined PIN transaction
200 AUD
Maximum value of PINs in my paysafecard
1,000 AUD
Annual total value of used PINs in my paysafecard
6,000 AUD
---
Canada
Maximum combined PIN transaction
400 AUD
Maximum value of PINs in my paysafecard
3,500 AUD
Annual total value of used PINs in my paysafecard
6,000 AUD
If you have two or more PINs with remaining balances on them, you can combine them up to a certain value, depending on your location.
Are there any fees?
There are potential fees, however, the use of the card doesn't cost anything for normal purchases.
Some retailers may charge a fee for purchasing the PIN at their discretion
Fees will apply if you use paysafecard to top up your Skrill account
Each refund will be charged a redemption fee of 7.5%
Conversion fees will be charged if a transaction involves foreign currency (usually between 2% to 4.04%)
If a balance remains on a PIN for more than a year 2USD will be deducted as a maintenance fee each month until depleted
Which casinos accept paysafecard deposit?
All of the casinos listed on this page will accept a paysafecard deposit if players in your country are not restricted and your account is in good standing.
Screenshots

SHOW MORE
&nbsp
Online casinos accepting paysafecard as a payment method
Loading...
There are no available casinos for requested criteria.

We're showing casinos that accept paysafecard restricted by your country. To remove that condition click here
Something went wrong. Please try again later.