Interac Online Casinos

Interac is a multifaceted Canadian banking tool. The network connects Canadian banks to the international markets as conveniently as it allows ABM transfers in person.
The interbank network has several products but only two of them are of interest to offshore gamblers, and one is more universal than the other.
Interac Online is a virtual debit system. A scant few casinos outside of the Provincial Crown monopolies accept the payment method.
Interac e-Transfer is the preferred method for most gamblers. We'll detail both products in this guide.
Why is Interac e-Transfer the preferred method?
Because it works without fail and gives you the freedom to transact business with the service providers you wish to do business with. It's simply the best way for banked Canadians to deposit and withdraw from an online casino with no hassles from your financial institution.
What's the difference between Interac Online and Interac e-Transfer?
They are two entirely separate and different financial tools offered and operated by Interac Corporation.
Interac Online functions as a virtual debit facility allowing customers in Canada with online banking to make deposits at provincial Crown Corporation casinos and a few offshore venues.
When you shop for goods or services on the internet with Interac Online you pay directly from your bank or credit union account. The payment method is supported by many credit unions as well as First Nations Bank, TD Canada Trust, RBC Royal Bank, Coastal, and Luminus to name a few.
How to use Interac Online to deposit at a casino
Click the logo (it can appear as Interac Online or simply as Interac. If the icon reads "Interac e-Transfer" it is another tool. Please see below.)
You will be redirected to a secure third party processor page where you can select your financial institution
Log in to online banking and choose the account you want to use, checking, savings, etc. You'll be asked to confirm the amount you wish to deposit
You'll be returned to the casino's cashier page where you will confirm the transaction. At this point, your payment will be processed
For a complete list of participating financial institutions please visit Interac Online. 
Special notes: As of 2018, if you have a plastic card with the Interac debit logo and another payment company's brand badge on it, you will not be able to use Interac Online for that account.
You'll have the greatest success using Interac Online at provincial casinos such as PlayNow. However, a few overseas operations also accept the payment method.
If you only see the Interac logo in gold without the attendant "Online" or "e-Transfer" designation, go ahead and click through to choose the product. If Interac Online is not available for your financial institution, choose "e-Transfer" and follow the guidelines below.
Advantage of using Interac Online
Secure and easy payment method
Disadvantages of using Interac Online
Only supported by a few banks
Interac e-Transfer
Interac's e-Transfer service is a way to send money directly from your bank account to another account using your mobile or online banking facility.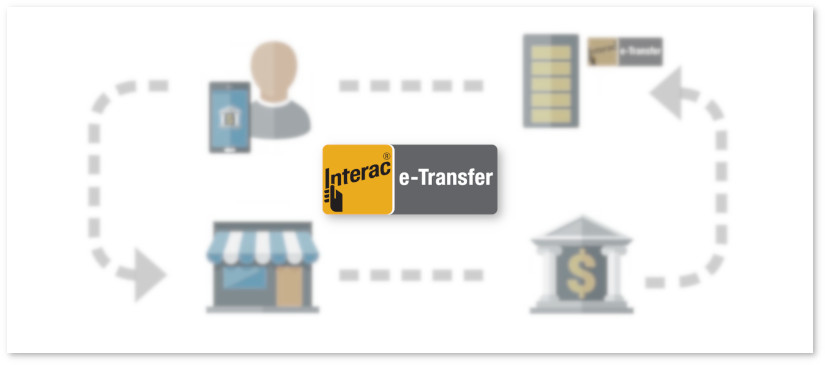 The service is often used as a cash alternative when sending gifts to family and friends, repaying an IOU, or making a charitable contribution. It's also an easy way to fund your online casino account and to withdraw your winnings.
Requirements:
You must have an account with a Canadian financial institution, and you must have an email address or Canadian mobile phone number.
To see if your bank or credit union is among the more than 250 institutions in Canada that support the method, please click here.  Alternately, simply go to one of the casinos on our list of confirmed Interac e-Transfer slots casinos online and choose the method if you already meet the requirements of having a Canadian bank or credit union account and an email address or mobile number registered in Canada.
Your virtual funds go immediately from your account into the casino's bank account if they have auto-deposit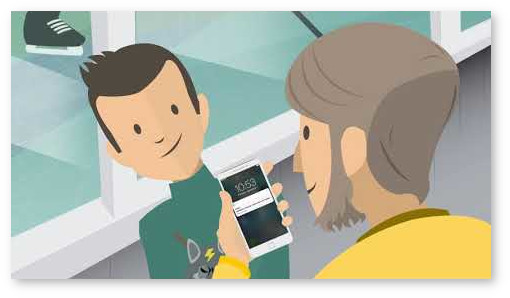 activated. If not, you will need to provide a secret question that only you know the answer to. They will be messaged by the system and must supply the answer you have shared with them in order to complete the transaction.
Please note that sending an e-Transfer is virtually the same as handing the merchant cash. There is no way to cancel or revoke an Interac e-Transfer transaction. Deposit only at trusted casinos like the ones you see on this page.
How to deposit with Interac e-Transfer
Simply navigate to the casino's cashier or payment center and choose Interac as your method of deposit.
At this point, it's also a good idea to open the withdrawals page to make sure the operator is willing to pay out your winnings using the method. If not, please make sure they offer a facility you can use to cash out. Most casinos that accept e-Transfer deposit will also offer the service for withdrawals.
Select or key in the amount you wish to deposit and click "Continue"
Confirm the deposit amount on a new screen
Select your bank from the drop-down list or by selecting the logo. You can also search for your credit union by province or territory
Once you have confirmed the deposit amount and the bank or credit union you wish to use, click "Deposit"
A processor page will appear. Most, if not all, Interac transfers are handled by GigaDat. Follow the simple instructions displayed on your screen 
One of two things can occur at this point. If the casino has Autodeposit activated (almost all do) you can proceed. A second level of security may also be in place even if auto-deposit is activated. Be sure to make a note of the security question answer provided on the page in case you are messaged (SMS or email) to provide the answer.
Click or tap "Return to Merchant" and your funds will be ready to play with. Some institutions can take up to 30 minutes to complete the transfer, but most are instant.
How to retrieve your casino winnings using Interac e-Transfer
Simply navigate to the casino cashier or payments page and select "Withdraw"
Select Interac e-Transfer
Key in the amount you wish to have sent to the bank or credit union account you used to deposit and confirm the withdrawal
Depending on the internal processing time set by your casino of choice, the funds should be available in your account in near real-time.
Special note:
In order to make the withdrawal process as easy as possible, and to avoid the step of answering a security question to complete the withdrawal process, you will want to activate Autodeposit.
Activate Interac e-Transfer Autodeposit
Go to your financial institution's online or mobile banking page and select Interac e-Transfer settings
Register your email address and link your account
Any money transfers to your email address will be now processed automatically, saving the extra step of answering a security question when you withdraw funds from an online casino
When Autodeposit is not activated
After requesting funds from the casino you will receive an email or SMS notification. The sender's name, the amount of the withdrawal, and a link to click and provide the security answer sent to you by the casino will be included in the message. 
Follow the link, choose your financial institution and account, log in, answer the question, and complete the transaction.
Interac Casinos Conclusion
Interac Online can be used at a few casinos serving Canada. Most of the major banks have opted to use co-branded debit cards, which removes the possibility of instant debits thanks to a new law in 2018 that only allows them to offer one product or the other. First Nations Bank, RBC, and TD Bank customers are the most likely to be able to use the service for deposits, but withdrawals are not possible to Interac Online bank or credit union accounts.
There are dozens of other online casino payment methods available. "Unbanked" residents can use prepaid cards like Paysafecard, and payment vouchers such as Neosurf. Canadians with bank accounts can use an eWallet like ecoPayz, a debit service like iDebit or InstaDebit, or even open a wallet on one of the Bitcoin exchanges like Coinbase to move their money in and out of an overseas casino.
Interac e-Transfer deposits and withdrawals are the most convenient, reliable, and secure way of doing business with online casinos in Canada.
After practicing the simple process once, it will become second nature and nearly as simple as pulling out your wallet or snapping open your purse to pull some money out or to stuff your winnings in.
SHOW MORE
&nbsp
Online casinos accepting Interac as a payment method
Loading...
There are no available casinos for requested criteria.

We're showing casinos that accept Interac restricted by your country. To remove that condition click here
Something went wrong. Please try again later.