InstaDebit Online Casinos

InstaDebit is an online payment method available in Canada. Many online casinos accept deposits made through InstaDebit accounts and some will also allow withdrawals to the method.
The secure system allows players to instantly access funds in their regular bank accounts for online purchases.
Players simply click on the  

  logo in the cashier section, log into their account, and approve the transaction. If you don't currently have an account you can create one in a matter of minutes by clicking the logo when you visit your favorite online gaming site or another online merchant.
Simply using the system for the first time and creating an account will allow a limited number and volume of transactions. In order to use it consistently, you need to verify your bank account.
On your first deposit, you will need to provide your date of birth to confirm that you are 18 years of age or older, as well as the last four digits of your Social Insurance Number (SIN).
How to Create an Account
Players in Canada who bank with a Canadian financial institution can go HERE to create an account or simply create it on a secure page from within the cashier section of their online merchant.
In addition to your SIN and date of birth, you will need to enter your name, address, and email address.
To connect a bank account to your InstaDebit account you will need to input your account number (up to 12 digits) along with your bank transit number and financial institution number. All of this information is found on the bottom of your physical paper checks.

If you are out of checks, simply ask your financial institution for the numbers.
You will need to make sure all of the information is correct so that your bank account can be verified. If numbers are entered incorrectly, the transaction will not go through and your account may be locked. In order to unlock your account or to change primary data, you may need to provide the security team with a voided cheque, drivers license, passport or another form of government issued ID, and a utility bill or other proof of physical address.
Confirm Bank Account
While you can make a limited number of deposits prior to bank verification, you will need to confirm the account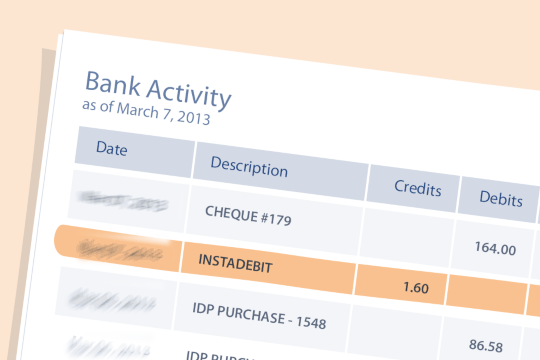 in order to raise your transaction limits as well as to withdraw to and use funds in your InstaDebit account.
When you register or make your first transaction, the processor will make a small deposit into your bank account. This is always $2 CAD or less and will appear on your online bank statement within 3-5 days under the identifier, INSTADEBIT.
You can call your bank for the amount if you don't want to wait for the deposit to appear on your statement. When the amount is known, log in to your InstaDebit account and follow the "Verify Bank Account" link and enter the exact amount. If the numbers are incorrect your account will be blocked. If that occurs please contact [email protected] for help.
Make a Deposit or Purchase
Your first transaction will be funded from your bank account as you will not have any funds in your Balance Account. You will be charged a small fee, currently $1.95, to make a payment from your bank account. There are no fees levied when you pay from your Balance Account.
When you make a withdrawal from the casino or another merchant issues a refund, there will be no fee for the transaction. To move money from your Balance Account to your bank, a fee of $2 will be charged.
Once you have completed a withdrawal, or when a merchant issues a refund, you will have funds in your Balance Account. All deposits and payments will come first from your Balance Account and then from your bank account.
Withdraw from a Casino
Log in to your casino account and visit the banking or cashier section. Choose to withdraw to InstaDebit, enter the amount, and confirm the transaction. When the cashiers standard processing time has elapsed (see specific terms and conditions, as they vary from venue to venue) the funds will become available in your Ballance Account and you will receive an email notification.
Once your Balance Account is funded you can make online purchases, including casino credits, with the funds. You can also transfer some or all of your balance to your bank account. It usually takes 3-5 days for the funds to process through the network and show up in your bank account.
Foreign Exchange and Currencies
Canadian and US dollars are the only supported currencies. You can make payments in either currency. When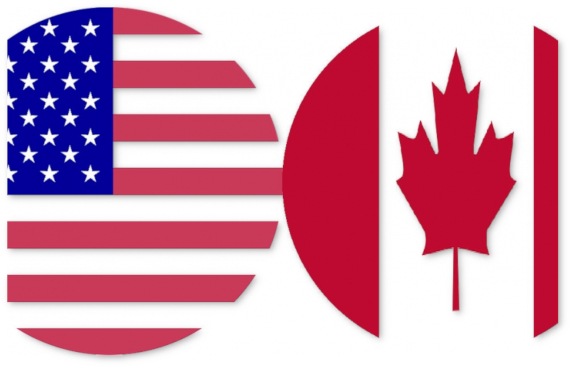 depositing or withdrawing in USD the funds will be exchanged at the current rate and a small fee will be applied.
If you withdraw in USD you can make purchases from your Balance account in USD with no fees. When you transfer USD to your CAD bank account conversion fees will apply.
Screenshots
SHOW MORE
&nbsp
Online casinos accepting InstaDebit as a payment method
Loading...
There are no available casinos for requested criteria.

We're showing casinos that accept InstaDebit restricted by your country. To remove that condition click here
Something went wrong. Please try again later.