Dash Online Casinos

Introduction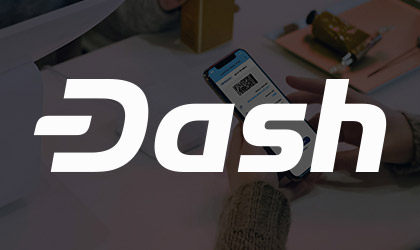 The online gambling world is constantly evolving, and in turn, the payment methods supported in this space tend to grow with it. With a new gaming age looming, many online casinos have started accepting a more recent form of payment – digital currencies. Cryptocurrencies like Dash have quickly become staples across tons of gambling venues. Of course, it's not hard to see why this is. They're modern, fast, and allow users the convenience of a fully digital banking platform they can control through their mobile devices. The subject of this text has all the hallmarks of a classic cryptocurrency and then some! Thanks to this, it's seeing more traction among online casino users by the day, gaining access to more than just dedicated crypto gambling sites. If you wish to learn more about it, stick around as we explore what it offers.
About Dash
As we already mentioned, Dash is pretty much a classic cryptocurrency. It's one of the more popular digital coins on the market, mainly due to its nature. This token is an open-source altcoin fork of the first cryptocurrency to hit the market – Bitcoin. Naturally, this has played a big part in its success, helping it reach more ears interested in the original coin. Dash is known for being a decentralized and autonomous organization. While it launched in 2014, made by Evan Duffield, it's now run by a few of its users, which can sometimes work to its benefit and others against it.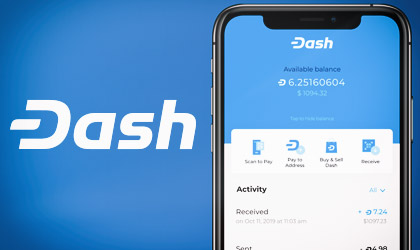 Originally, Dash was known as Xcoin. Unfortunately, it didn't have the best start when it started making rounds. Because of its rushed release, people believed it to be a classic pump and dump scheme. Essentially, people thought the coin's value was artificially inflated. Subsequently, they believed the highest volume owners would sell their shares, leaving the token worthless. These scams are sadly common in the crypto space, so this image was hard for Xcoin to shake.
To change the narrative, the coin rebranded to Darkcoin, which led to even more scrutiny! It didn't take long before it was associated with shady black market deals, which were covered heavily by traditional media outlets. Sick and tired of a few bad apples ruining the fun for everyone, the community made an effort to implement changes to the token, with solid success! The coin's name was changed to Dash, and it was removed from the dark web soon after. Nowadays, you won't find it on any darknet markets, but wariness is a consequence it still faces.
It's easy to look at this coin's negative past experiences and run for the hills, but most people overlook its good sides. Dash has plenty of positives. These are the main reason for its recent surge in popularity, especially in the online gambling space. Mainly, the token carries most of the staple perks that come from using crypto for online transacting. These include incredible speeds, transparency, and a user-friendly platform. Together, these traits make for an excellent user experience that's hard to beat.
While the traits mentioned previously do plenty to keep this cryptocurrency afloat, one of its biggest perks in the online gambling world is the anonymity it provides. It's safe to say that anonymity is a big deal for online casino fans. It grants users a higher form of protection by not sharing any of their personal information with retailers and services. This might not seem like a big deal to most, but it's very important when you consider the countless scams circulating in the space. They might not be as common as they once were, but they're still a plague that haunts many online gaming enthusiasts.
How to Start Using Dash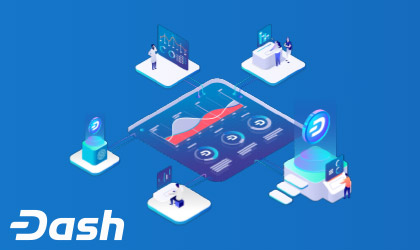 Dash might not have the best reputation, but it's slowly rebuilding. Thanks to its many efforts to right the wrongs of its past, it's become a pretty payment popular option with many online casinos, online retailers, and online service providers. To start using the service, the first thing you'll need to do is get some tokens. As you might have imagined, you can do this the old-school way by crypto mining. Most of the other methods to obtain crypto apply to this token, so you also obtain some through crypto games, crypto freelancing, crypto trading, etc.
The most popular, and easiest way to get your hands on Dash is to purchase it. Essentially, this is a form of crypto trading itself. Users trade in a specific amount in fiat currencies to obtain the equivalent in Dash coins. To start this process, you'll need to visit one of the many crypto exchanges that support these options. Some of them include Altcoin, Binance, and BQT. Generally, you'll need to open an account with one of these services before you can start trading. Once this part is over, purchasing the tokens shouldn't take longer than a minute or two.
Of course, this is just the first step in using cryptocurrencies like Dash. To use your coins, you'll need a place to store them. In many cases, the crypto exchange apps may also function as crypto wallets. You can use them to store your coins and make various transactions through the wallet IDs assigned to them. Most people use separate crypto wallet apps, as their security is on another level. Research your options and find one that suits your needs. Once you do, add your coins to your balance.
The last part of the process is transacting. This step is pretty easy. In most cases, all you need to purchase with Dash is your Wallet ID or the QR Code it provides. Enter one of these when prompted to pay and proceed to confirm the transaction from your crypto wallet app. Most of the time, the process is that simple! If a site requires you to jump through hoops and perform additional steps that seem suspicious, you've likely encountered a scam.
Depositing and Withdrawing With the Solution
If you paid attention to the last part of this text, you're already at an advantage. Using Dash in online casinos is just as easy as using it to pay anywhere else. Doing so consists of a few simple steps, so even if you're a complete newbie to cryptocurrencies, you shouldn't have a hard time following the instructions we've laid out here:
Head to the casino's Cashier/Banking/ Payment Methods page and find the Dash logo.
Click on the logo, and once prompted, enter your wallet ID or scan the QR Code.
Enter the desired deposit amount and confirm the transaction.
The money will be transferred to your online casino balance instantly!
Withdrawing through Dash takes just as much effort as depositing, which is practically none at all! To withdraw through the digital currency, all you have to do is follow the same steps in the list above, with a few changes in the last steps. As you can see, there are some massive perks to using this service for depositing and withdrawing. Mainly, doing so is instant! You don't have to deal with waiting times when transacting with most cryptocurrencies, so when depositing and withdrawing, all you need to factor in is the imposed processing time from your chosen operator.
A helpful tip we should mention is taking advantage of your operator's Customer Support when needed. If you're unsure how to proceed during any part of the depositing or withdrawal process, don't hesitate to contact Customer Care. In most cases, the representative on the other end will guide you through the steps until the transaction is complete. Similarly, you can contact the casino if run into any issues during the process. The Customer Support Team will work hard to find a solution to your query.
Coverage and Restrictions
When Dash coverage and restrictions come into play, there's plenty to talk about. As you probably already know, cryptocurrency is one of the most controversial topics worldwide. The technology is still fairly new, and many world governments aren't sure of its potential. Unfortunately, digital coins haven't had the best start reputation-wise. Since many of them were used for scams, illegal activities, and other shady purposes, they're viewed negatively by a large portion of people across the globe. This bad press has affected how countries react to crypto, and generally, it's not positive.
It's safe to say that there's no consensus on whether cryptocurrencies are good or bad. While some countries are completely against their use, others have welcomed them without hesitation, integrating them into everyday life. As a rule of thumb, it's best to check the crypto and crypto gambling laws and regulations in your country to see if using crypto is a good idea. Some countries, such as South Korea, China, Egypt, and India have banned cryptocurrencies altogether. Others, such as El Salvador, Malta, and Paraguay have legalized crypto, giving it a chance to thrive in their large markets! Of course, some fall somewhere in the middle, like the US and the UK. These countries haven't banned crypto, but their crypto-related regulations can be restrictive. 
Fees and Additional Charges
When Dash fees are in question, we've got great news! Like most cryptocurrencies, this token doesn't come with inherent fees. Users might experience currency conversion fees when trying to purchase the token from a crypto exchange, but that's all a standard part of the process. Something to look out for when using Dash for online gambling is fees imposed by the operator you choose. Most online casinos won't charge a dime for depositing or withdrawing, but rarely, you might run into an operator that applies such charges.
Accepted Currencies
Since Dash is a form of currency itself, it's a bit silly to talk about accepted currencies in regards to it. While this might be redundant, it might be helpful to say a thing or two about the accepted currencies on most of the popular crypto exchanges that support it. When purchasing Dash, using a currency accepted by the crypto exchange platform can save you some money in currency conversion fees. Because of this, it's best to use options that are popular worldwide, as they're viable on most of these apps. They include the US dollar,Euro, British pound, and in some cases, the Canadian dollar.
Customer Support
With Dash being a currency, Customer Support isn't something you'd expect it to have. While it doesn't have a traditional Customer Care Team you can reach out to, it does have an excellent community tab on its official website. Here, you can find helpful tips, articles, learning resources, and even social media groups where you can connect with other users. In many cases, these resources can be more than enough to help you resolve any issue you've run into when using the currency.
Conclusion
Using Dash as your primary casino payment option comes with a long list of perks that nearly no online gambling aficionado can resist. The service offers users heightened anonymity, instant transactions, an easy-to-use platform, and top-notch security. You'll undoubtedly revel in many positives when paying through this crypto token, but that doesn't mean you should overlook some of its flaws. Since it is a cryptocurrency, its legality can vary depending on your location. Additionally, its former bad reputation can lead to heavy restrictions when using it outside of the online gambling world.
FAQs
Is Dash legal?
That depends on your location. Check the laws and regulations related to crypto and crypto gambling in your country to get a clearer picture of whether you can use the token.
Can I purchase Dash online?
Yes, you can. Dash is a digital currency, so purchasing it online is a core part of the experience. You can obtain the currency through a supported crypto exchange.
Can I Withdraw with Dash?
Yes, Dash withdrawals are available in most online casinos that support the token. What's better, they're instant!
Do I need an account to use the token?
While you don't need a traditional account to use Dash, you will need a crypto wallet to store your coins and transact.
Can I mine Dash?
Yes, you can. While Dash mining is an option, it's worth noting that doing so is a lengthy process that requires expensive equipment. It's usually not a worthwhile investment for solo ventures.
SHOW MORE
&nbsp
Online casinos accepting Dash as a payment method
Loading...
There are no available casinos for requested criteria.

We're showing casinos that accept Dash restricted by your country. To remove that condition click here
Something went wrong. Please try again later.