MoonPay Online Casinos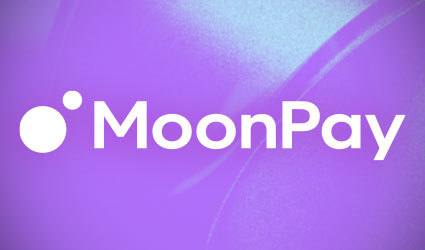 One of the main reasons why online casino players refrain from using cryptocurrencies is the fact that getting started with them could be really confusing, but with MoonPay, you can get an exceptionally easy experience. This is a service provider that allows you to purchase crypto using many fiat currencies on the spot; it was designed to help newbies and all crypto enthusiasts convert fiat to crypto in the blink of an eye. Once you get started with it, you can use it for seamless transactions right away. What is MoonPay and why use it as your payment method across online casinos?
About MoonPay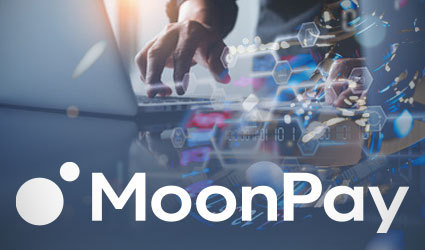 If you're into crypto and an online casino player, you know by now that Malta is one of the first countries to embrace and encourage the use of cryptocurrencies. It is one of those countries that have welcomed crypto and it is also an online gambling hub. Therefore, it should come as no surprise that a Maltese company, called Moon Pay Limited, designed a payment solution that would fuse the two; it created a fiat-to-crypto service that would make the lives of many online casino players easier since it allows them to convert fiat currencies to crypto in the most effortless way.
MoonPay, therefore, was designed with crypto users in mind, allowing them to avoid the lengthy and annoying process they usually need to go through to get a hold of some crypto coins. The company crafted it to be incredibly user-friendly and built it on payment infrastructure for crypto, allowing users to use over 160 fiat currencies to purchase over 90 cryptocurrencies.
What it does is, it facilitates the purchasing process by allowing users to purchase crypto on the spot, using all kinds of worldwide used solutions such as Google Pay, Apple Pay, Samsung Pay, bank transfers and credit cards, among other popular solutions. The entire purchasing process would be in less than 30 minutes, and once you've purchased your coins, you can start using them right away, for all kinds of payments and purchases, including online casino deposits.
The company behind it was pre-equipped with the regulatory permissions to launch the solution and had the right knowledge and experience on the scene to craft the product as it is. Achieving its goal, the company managed to partner with over 250 wallets, websites, apps and exchange platforms to offer the solution. Among these, of course, are some of the top online casinos that support crypto transactions. Therefore, if you're intrigued with what it has to offer and would like to give it a try, make sure you continue reading to find out how to start using it.
How to Start Using MoonPay
As said, this is a fiat-to-crypto service provider, not a crypto wallet; you won't be able to store coins on it. Instead, the solution will help you purchase digital currencies using fiat, in a blink of an eye. Offering the intermediary service, it helps you get to some crypto coins in the most seamless way possible. It uses a user-friendly approach to guide you through all the steps, as you'll learn when you visit its official website.
First, you'd need to buy your first crypto with it. To do it, either visit the buy.moonpay.com page or use one of the partnered eWallets. The following are the steps you need to make:
From the drop-down menu, check out the cryptocurrencies offered and choose the one you'd want to purchase.
Choose the fiat currency you'd like to use for the purchase and specify how much you'd want to buy.
You won't need to enter the eWallet's address here if you went with a partnered wallet, since it will be automatically sent to the service.
You'll receive an email with a four-digit code. Copy the code and enter it for verification in the required field.
Enter your residence address, date of birth and full name and accept the T&C.
Verify your identity by attaching any ID document, be it a residence permit, an ID, a passport or a driver's license.
Again, you'll receive an order confirmation email containing a tracker.
In less than 30 minutes, the currency you ordered will arrive.
Once your currency arrives, you will be able to start using it right away, across any website that accepts the solution. Since we're interested in online casino deposits, let's see how you can start using it next.
Depositing and Withdrawing with the Solution
There are several premier online casinos that accept MoonPay nowadays, but the solution is yet to get into the spotlight, therefore, you should expect it to be added to the list of accepted methods across many other sites soon. Going live on Bitcasino.io, the solution is one of the most popular payment methods there, and the casino even offers a detailed guideline on how to start using it for deposits and withdrawals. Other options to consider, reviewed here on our site, are BitStarz Casino and Eldoah Casino. Make sure you continue searching for sites, though, as you'll find plenty of other options to consider.
As soon as you've joined a site, to make a deposit with MoonPay, you'd need to do the following:
Visit the casino's Deposits page.
Look for the "Purchase crypto with MoonPay" option and press it.
Enter the amount of coins you'd want to buy on the spot and deposit on your balance.
Check the exchange rate.
Go to the "Send your crypto deposit to" field on the right corner of the page, at the top, and copy the address.
In MoonPay's frame, on the left, right under the "Wallet Address" field, paste the address.
The crypto will arrive in less than 30 minutes.
Go to your email and copy the one-time code, to paste it in the "Verification code" section.
Confirm the payment and the coins will arrive on your casino balance.
We should mention here that MoonPay is mostly popular for deposits across online casinos, even though offered for withdrawals across most sites, too. The procedure for requesting a withdrawal is similar, but the cashout would take longer, up to 48 hours. The casino would need to check whether you have enough coins to cash out and whether you have any unmet wagering requirements. As long as everything is in order, your coins will arrive on your chosen wallet in a few days.
Coverage and Restrictions
You should know that this is a truly global payment solution, offered in more than 160 countries and territories. There's a transparent list of restricted countries and states, too, which you can explore in detail when you go to its official website.
For reference, Iceland, China, US Virgin Islands, Rhode Island, New York, American Samoa and Venezuela are just some of the restricted countries and states, but there are 28 other where the solution is not offered.
Fees and Additional Charges
You should know that the solution does charge fees, which depend on several factors. Fees depend on whether you're purchasing or selling crypto and on the payment methods you're using. Some limits apply which depend on whether you're a non-US or a US citizen and on your tier. You can discover more about these on its official website.
To give you an idea of what types of fees are charged, we'll give you some examples. When buying or selling crypto using a bank transfer, you pay a 1% processing fee and a dynamic network fee, while with credit cards a 4.5% processing and a dynamic network fee. The dynamic network fee depends on the blockchain network conditions so its value varies according to the market. When selling crypto, using US/UK/EU bank transfer, there's a 1% processing fee. You can sell crypto, however, only if you're holding Bitcoin Cash or Bitcoin coins. The minimum transaction limit is 0.08 BCH and 0.001 BTC, while the maximum €2,000 daily and €10,000 monthly.
When it comes to purchasing limits, we mentioned they depend on your tier and your country of residence. The tier depends on the ID document you provided when you started using it. Make sure you check them out on the website.
Accepted Currencies
We mentioned that with this solution, you can purchase 90 cryptocurrencies using over 160 fiat currencies. So, let's see some of your choices.
When it comes to cryptocurrencies, you can purchase Bitcoin, Ethereum, Bitcoin Cash, TRON, Dogecoin, Litecoin, Dash, Tether, XRP, EOS, among others.
As far as fiat currencies you can use, you have the euro, the UK pound, the New Zealand dollar, the US, Canadian and Australian dollar, the Czech koruna, the Swedish krona and Danish krone, to name a few.
Customer Support
You know that, when it comes to cryptocurrencies, there's never Customer Support offered. And considering MoonPay is not a crypto itself but a provider of a service that converts fiat to crypto, it does offer a Help Center page. This is where you'll find a really thorough FAQs section, where you could type in your problem in the search bar to get answers prepared for you right away.
There's also a Contact Us page where you can see an on-site contact form which you'd need to fill out and send to the team, and you'll get your response within 24 hours. The team is available 24/7 but refrain from sending several messages because they go over the messages from oldest to newest chronologically, to attend to the questions of all users with respect.
And then, of course, you can also contact the team available at your chosen casino, especially if you're having issues with your deposits/withdrawals with this solution. They are at your disposal via email, Live Chat and even phone and social media, too, so make sure you reach out.
Conclusion
There's no doubt that MoonPay is an unusual payment solution to use, one which might solve your problems when it comes to using crypto across online casino sites. It is easy to use, and you can practically start depositing crypto with it in less than 30 minutes. It does come with fees and limits, of course, but since it is an intermediary service, these are expected. You can purchase over 90 cryptocurrencies with over 160 fiat currencies, therefore, the convenience is obvious. Since you don't need to register an account with it to use it, make sure you at least give it a try, especially if you already have an account with one of its partnered crypto wallets.
FAQs
Which are some of the apps, exchange platforms and websites I could use MoonPay at?
The solution is available across over 250 apps, exchange platforms and websites, such as Bitcoin.com, Changelly, Bitcoin.org, Trust Wallet, Bitcoin Wallet, Bequant, Bithumb, and Binance DEX, to name a few.
Is there a phone line to contact Customer Support?
No, unfortunately, you could only send the team a message via the on-site contact form. The team will make sure to give you a response within 24 hours since it works around the clock to attend to all messages.
Can I increase the purchase limits and level up?
Of course. As long as you provide further needed verification documents, you'll level up the tiers and automatically, your limits will increase.
Is bank transfer an option for any user?
No, not really. You can only use bank transfer if you have a bank account with a UK or a European bank which accepts GBP and SEPA payments.
How to know if MoonPay is safe to use?
The solution implements bullet-proof security measures for storage, data processing and collection, and measures for alteration, destruction, disclosure and unauthorized access of sensitive details and stored data, so you can rest assured it is perfectly safe to use.
SHOW MORE
&nbsp
Online casinos accepting MoonPay as a payment method
Loading...
There are no available casinos for requested criteria.

We're showing casinos that accept MoonPay restricted by your country. To remove that condition click here
Something went wrong. Please try again later.