Casino Detalis
Live Chat: Yes
Email: Contact
Email: Form
Telephone: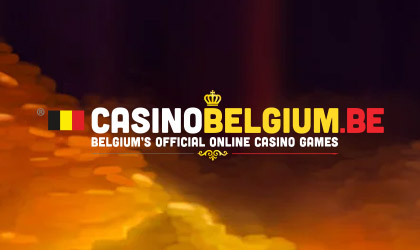 Casino Belgium is an online gaming site with a B+ license from the Belgian Gaming Commission. Visitors from other regions are welcome to play for real money here as well. Fun gaming in a secure environment is assured and winnings are guaranteed by law to be paid.
The site bills itself as having Belgium's Official Online Casino Games, and it's true that all of the offerings here have been approved by the Commission des Jeux de hasard de Belgique (Belgium Gaming Commission).
Under the B+ license designation, look for roulette, dice games, and dice slots making this an online gaming arcade rather than a full-featured online casino (A+) or sports betting site (F+). The games found here are games of chance authorized by the King, just as those games at land-based arcades are. Blackjack and video poker may also be on tap.
The site runs on the Gaming1 platform that powers 10 Belgian sites, enjoys 10 international partnerships, and 20 online websites. Other sites using the platform or services of Gaming1 include Circus, Golden Vegas, Magic Wins, and Lucky Games to name a few. The founders of Gaming1 opened their first gaming room in Liege in 1992.
The site is available in several languages including French and English.
Look for games like Adventure, Amazon Bots, Dice Evolution, Fakir, Farah's Fever Fierce, Fusion, Glam Goldwin's, Hot Night, Olympus Overseas, Pearl Plasma Slot, and Tracker Wild. If you click on a game to play and then scroll to the bottom of the page you can open it in demo mode.
Players in other jurisdictions may have access to additional game categories.
Please visit the website to see the latest up-to-the-minute welcome offer if one does not appear near the top of this page. We'll delve into the bonus rules and terms in a further section of this review.
Payment methods may vary by country but generally include bancontact Mobile, Visa, Mastercard, HiPay, Paysafecard, and Ogone.
Searching the internet and archives we find no valid complaints against the operators. That does not include less than favorable reviews from players who expected a complete Las Vegas casino experience. There are no live dealers here and the slots are arcade dice slots. More on that in a moment.
The site doesn't maintain a representative presence on any of the main online gambling boards, probably because they simply don't generate complaints.
We'll take a brief look at the games and software used to deliver them, any bonuses or promotions offered in the public domain, and banking terms and methods - all the while looking out for any potential pitfalls players may experience.
Software and Games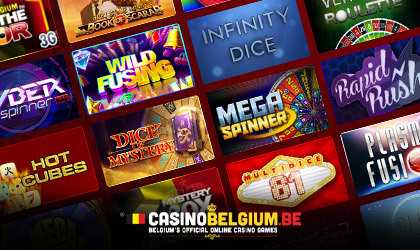 The Gaming1 platform allows visitors to play any game right in their native browser, regardless of the operating system. Mobile games are optimized as well as those for play on a larger web browser display screen. All communications and transactions are encrypted, hash thumb-printed, and secure.
The main game categories here are:
Visiting from a place other than Belgium may provide more game choices including video poker and blackjack.
Dice
The dice games are familiar to most Belgian players. There appears to be an element of skill in choosing the next move, but I haven't analyzed enough games to know for sure if that is true. In general, it seems to not matter whether you let the game pick the next move or if you do it yourself.
Hovering over a game icon will bring up more information. Some of the titles are marked as Air Dice Games (ADG) and others as Gaming1 (G1) while others still have no delineation at all. Some of those games could be from Greentube (Novomatic interactive division).
Dice Slots
Many of these games play much like a regular online slot machine. One difference is that rather than using poker card symbols such as 9, 10, J, Q, K, and A for the lower-paying symbols you might see dice with pips of 1, 2, 3, 4, 5, or 6 each instead. Additional higher-paying symbols may be added to the reels as well as bonus triggers like scatters for free spins or an expanding wild which might allow a free respin.
In essence, all of the bonus mechanics and features you find in almost any other slots can be fashioned into a dice slot.
Ruby Stone and the Book of Scarab, Machu Pacha, Plasma Fusion, Fakir Dice Slot, and Atlantis Wrath of the Ocean are among the titles found in this category.
Roulette
In addition to Vertical Roulette, Deal or No Deal, SteamPunk, and American roulette they also offer a Bonus Roulette and European roulette.
All of the games are animated digital games rather than live dealer titles. We took a closer look at Gaming1's SteamPunk. The wheel is embellished with clockwork gears beneath with a proper color palette and sound effects for the genre but it doesn't really go far enough in my opinion. There is no real ball physics but sound effects do try to mimic them.
Scene 1 - the betting table
Scene 2 - both side by side
Scene 3 - spinning wheel
Scene 4 - both side by side
Bonuses and Promotions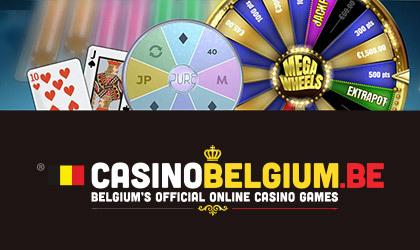 The promotional scheme here appears to be crafted in response to regulations. While some parts of Articles 1 through 5 of the Royal Decree of 25 October 2018 were modified in court there are still limits on bonuses (in a judgment of February 6, 2020, the State Council prohibited bonuses). Without delving too deeply into the law we'll just mention the way bonuses are structured here.
If you are granted a bonus you will be able to play a certain game activated for the bonus. As soon as you reach the maximum promotional value of the bonus that amount will appear in your balance, but it is not withdrawable. In order to "register" the bonus funds you need to wager the total amount 30x before they become part of your available real money balance. The wagering progress can be carried over to subsequent deposits so you will eventually get the funds if you keep playing.
Banking and Customer Service
Deposits can be made with Bancontact mobile (QR code accepted), Bancontact via Hipay, "With HiPay, make secure payments via Bancontact, ING or Belfius or directly from your HiPay wallet", Paysafecard, or Ogone (with Bancontact or Mastercard).
All deposit methods are instant or immediate.
Withdrawals can take up to six days. One day after the day you initiate a withdrawal, a one-day delay begins wherein you can still reverse withdrawals. Some banks may register payments as soon as 3 days following. Interpreting that, you can expect to wait anywhere between 2 and 6 business days for the winnings to appear in your bank account.
You won't be able to deposit again until a withdrawal is approved but may reverse the withdrawal.
The minimum deposit and withdrawal amounts are the same: €10 The most that can be withdrawn in a single transaction is €3000.
Customer care is available via an online contact form found on the website.
Pitfalls
Lack of a comprehensive bonus program
Slow approval processing (reverse withdrawal)
Up to a week to see funds in bank account (2-6 business days)
The Final Word
Casino Belgium offers players a unique online gambling experience with dice games and other random number generator-based games. Local players are limited in the amount they may deposit per month and that number still seems to be in a state of flux.
The game selection includes an interesting assortment, and according to the winner's board on the web some potentially lucrative games.
Banking is fairly limited with only bank wires available for withdrawals and the time frame is not the best. That is tempered by the fact it is a legal gaming site and winners will always be paid.
The bonus scheme will not be the element that attracts many players and that is by design. However, any additional funds that can be used for real-money gameplay with no maximum win limit will increase player odds.
The Gaming Commission suggests that players keep the following guidelines in mind in order to enjoy the entertainment of gambling without creating negative consequences:
Before starting to gamble : try to set an amount of money and time for you to gamble
Always be aware : how much time it is taking you, and How much it costs you
Don't try to recoup your losses
Don't gamble your entire winnings
Bear in mind that ultimately, you will lose more than you will win.
Review Casino

User reviews marked with this logo are syndicated from
LCB.org


Belin Da
LCB User
Posted on April 12th, 2020
Voted already


0 votes


Allstarmikey
LCB User
Posted on October 15th, 2017
Voted already


0 votes


Mojo Jojo
LCB User
Posted on October 4th, 2017
Voted already


0 votes


?princejuju?
LCB User
Posted on September 11th, 2017
Voted already


0 votes
SHOW ALL COMMENTS (4)
There are no Casino Games for requested criteria.
Something went wrong. Please try again later.

Casino Details
Live Chat: Yes
Email: Contact
Email: Form
Telephone: