Air Dice

To visit Air Dice official website, click here.
About the Company
Air Dice OY is a developer of software and games for online casinos and bingo clubs.
The privately held company was founded in Finland in 2003 and employs over a dozen specialists producing and maintaining a litany of innovative real money games.
Many of the venues hosting their games are focused on the Belgian market but also accept players in other realms.
Without knowing the studios, you may have seen their games on Unibet, Betway, Circus.be, Lucky Games, Blitz or at some of the other operators offering the games online. We find the Gaming1 platform to be the most prolific carrier of the games.
Aggregator and platform provider, iforium also carries games such as Farmer's Delight and Diamond Double Wheel.
Matti Ruottinen of Helsinki is an owner and founder of the company, along with CEO Sami Mäkinen. Another C-Suite name to know is co-owner, Teemu Teräs who is also a Creative Director and a programmer.
Avid readers of our reviews may notice that we do not mention any top-tier team member having history at legacy development firms such as Scientific Games, IGT, or any of their current subsidiaries.
One reason for this is that those conglomerates were simple players in the industry - rather than behemoths - when this firm began operations. The folks at the top have grown the company and grown with it.
This matters because it indicates that the products produced are truly unique and innovative, not reiterations of bog-standard slots models.
Indeed, here we find in the company's digital literature a reference to their birth a decade and a half ago that would be just as apropos for a start-up today:
Air Dice was born from the realization that traditional money games played over the internet have reached commercial maturity, and new directions are needed to ensure growth. Air Dice's mission is to provide the gaming community with novel game ideas that offer players much more than the current generation money games do.
As we say in the Americas, and please forgive the expression if it seems archaic or vulgar: there is more than one way to skin a cat.
Since we don't have a lens into the creators' career paths or past game builds, or even contributions such as arts, or maths, or concepts of titles players the world over might know - we'll find another way to "get a feel" for these guys before we look at their games.
In this instance, it will be their work environs... 
Now, granted, I may be on Skype right now with a crisp shirt and tie while typing in my nightwear below the camera along with untold numbers of other sometimes remote workers.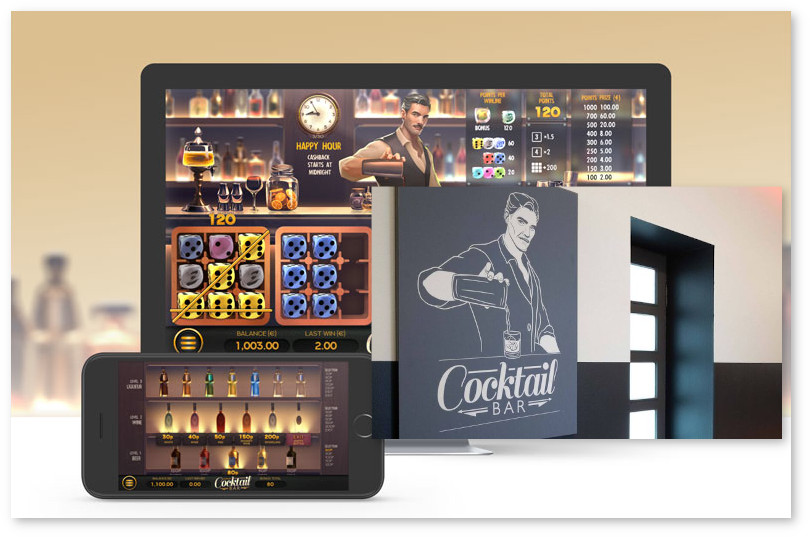 However, a look into how Air Dice - as a highly focused team works can give us a taste of their ethos, priorities, and of their passions and devotions to the creation of the games.
The well-known architectural platform, Archello tells the story of how Mint & More Creatives of Helsinki were the Architects who developed the Air Dice workspace in 2020.
They helped locate the perfect space and then made it more perfect based on how the particular work occurs. They agreed on a 1920's style building under conservation.
The well-seasoned company shares a culture and tradition but always resides on the leading edge. A marriage of a 1920s conserved space along with 2020's technological needs and the internal workflow helped determine the office layout, atmosphere, and vibe.
Beyond the acoustic challenges of scrum teams attacking opportunities, the workflow mattered and the aesthetic that greets a team member every day underlays it all.
New graphic illustrations of the company's games accent the walls and work stations invite intense challenge-specific work as well as open collaboration.
Adjacent to the work stations, separated by meaningful plant dividers, are team lounges where members can grok the meaning of the day upon arrival, break off in small groups, or gather with the Product Owner, Scrum Master, and full Development team.
Software and Games

All of the games are deployed in HTML5 with HD native resolutions. Of course, the presentation will be optimized for any device or display screen from an iPhone or Google Pixel to a 720p or HD flatscreen.
These are not your cookie-cutter, clone of a clone of a clone slots with some random, dartboard-determined mix of bonus mechanics. They are simply unique.
Not unique like 3Dice proprietary (although some games reminded) nor like Slotland/WinaDay, but another type of unique altogether...
Let's flesh that out...
We find about 40 titles as of late 2020. Many are based on "wheels" or as you may have guessed, dice. There is also a blackjack game titled, Midnight Blackjack.
Many of the games also have a progressive jackpot.
We don't see any reason these games wouldn't qualify for certification in any market. After all, the UKGC and Malta allow AWP spinning games to masquerade as "video slots" as long the actual RTP falls within the mean (with the standard deviation determined by volatility) of the theoretical return to player percentages.
In "About our games" we see...
From sounds and graphics to presentation to game interaction, our offering gives the player a deeper immersion into the game. All of our games are provided as fully hosted applications under several jurisdictions.
However, dice games with various playing fields combining an element of luck with skill don't seem to have a specific category under Gambling Commission regulations. Jurisdictions like Nevada and New Jersey in the USA dealt with this by a number of mechanisms for their land-based casino skill/luck games - in a nutshell, skill or lack of skill can't determine the outcome of a game outside of a certain range.
Dice bonus games

The "game type" is described on some of the titles as a "Belgian-style Dice Placement Game".
That is the case with the *Spirit Sisters* title.
With an eye toward giving players the best bang for their buck, the games allow three choices in graphics and sound qualities - low (no sound), medium, and high.
Players are presented with four boxes and may place the 3 random dice that appear in the center into one of the boxes.
If three matching dice end up in a diagonal or horizontal line in one of those boxes, you win points. The rarer dice award higher rewards.
You'll need to amass at least 100 points to win any prize.
Paytables and point accumulations are visible and the gameplay becomes second nature very quickly.
Would you like to give it a try in demo mode?
Spirit Sisters Spirit Bonus Blast
Simply land three bonus symbols on a win-line to trigger the feature game. Potential outcomes from pressing the "spin" button after triggering the bonus are:
Win cash
Get more points
Trigger 30 Mystery Games
Win a progressive Jackpot
Here's where it gets really interesting...
The bonus round is somewhat like a wheel of fortune, except there is no wheel - simply ethereal awards ranging from small to large plus bonus enhancements.
There is a "pool of opportunities". If you don't like the results of a bonus spin you can reject it and it evaporates from the pool. You can reject up to 4 results, but you are stuck with the fifth if you do so. Accept or reject any spin result to try again - except the fifth and final.
Mystery games are triggered in their own sectors. Two of them offer 1-6 Mystery Games and the other contains 30. During any Mystery Game, all winning combinations pay 100x your bet.
Another sector is the Jackpot sector. It contains the full jackpot prize.
Each box of the four can trigger the bonus game, but any one can only trigger it once per game.
Wheel bonus games
These are similar to the dice bonus games with the same match-3 criteria, except the bonus game is played on a Mystery Wheel.
Trigger the Mega Wheels bonus game to spin.
When the wheel lands on a money win, additional points, or Mystery Games, you can accept or reject the prize up to 4 times.
Of course, if the wheel lands on the Extra Pot or the Progressive Jackpot your choices are taken away in order to prevent an operator error - you will win the prize directly.
Octane Overdrive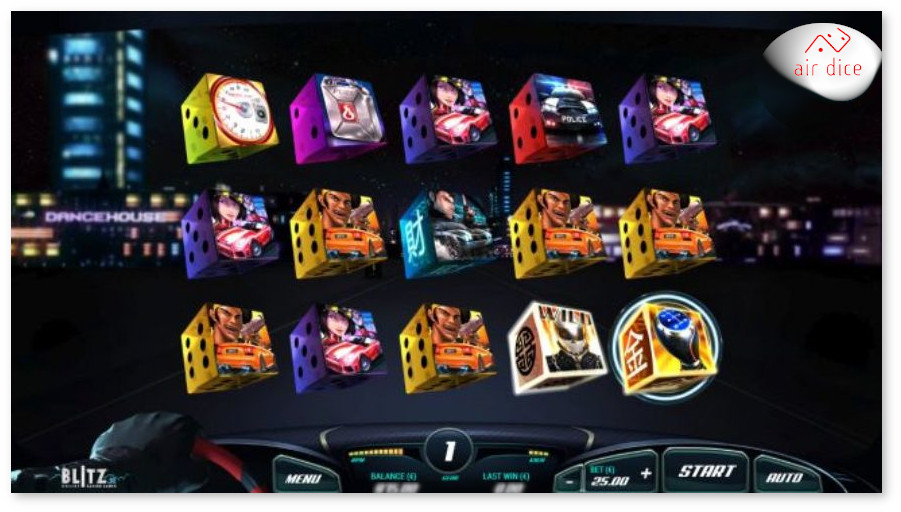 This game is a bit of an anomaly. We would love to look into the engine of this game described as a "Dice slot or standard slot".
We've seen the mechanic of dice icons turning on individual reel positions, resulting in a regular game icon before in Asian games. It's unclear just who developed the concept, but this one is certainly "done right".
This is a game that reminds us of the 3Dice proprietary title, StickShifter, but the mechanics are definitely unique and different from that.
The dashboard seems familiar but in this game, each winning spin increases the multiplier (Gearing Up), and two non-winning spins reduce it (Gearing Down).
Recall the payline configuration of Spirit Sisters - a bog-standard 5 payline "slot". We find the same pay line whether dice are involved in the visuals or not.

The Final Analysis
Air Dice is an inimitable developer with a passion for maths and a devotion to their flagship maths models. These games are not sometimes copied and never imitated.
Novomatic/Greentube offers "dice slots" like Book of Ra Dice, Dice Winner, Double Dice, and Jackpot Dice as well as "cubes" games, but that's just a huge multinational corporation trying to shoulder their way in to the "little guys" space as far as we can see. They don't offer the same maths and mechanics even when deployed in the same markets.
We appreciate the underdogs - they are the incubators of true innovation and we especially appreciate game-changers who outlast the hands of time, becoming bolder and more confident with each new release.
Good things come to those who wait. Very few "slots" these days are actually built on a reel strip to maths model with most of them being more like amusement with prizes (AWP) or even fixed-odds models that happen to have pretty pictures, animations, and sounds.
Air Dice is a true pioneer who seems to be staying close to their roots and doing things "their way".
Air Dice Games
Currently, we have

casino games

available to play and over

casino software developers

. Let's get started!
Casino Games
&nbsp
Air Dice powered online casinos
Loading...
There are no available casinos for requested criteria.

We're showing casinos that accept Air Dice restricted by your country. To remove that condition click here
Something went wrong. Please try again later.