Jeton Online Casinos

Introduction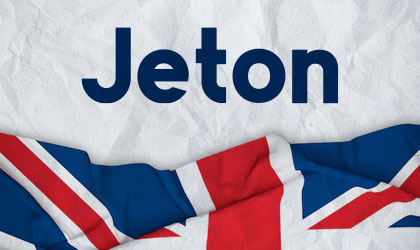 It's safe to say that the online gambling scene is pretty diverse. While this can be a perk in many ways, it's also a con in some. Plenty of operators these days work exclusively with specific types of payment methods. Some tend to be crypto only, some bank on the speed of eWallets, while others rely on the anonymity of prepaid methods to relay the best user experience. It's easy to see that this can limit access for a chunk of casino fans, which is why payment solutions like Jeton are such a huge success. This method is known for offering several top-tier perks, but what sets it apart is its multi-purpose approach. It offers several different payment services users can go for, making it easy for players to find an option that fits their needs. If you're interested in learning more about Jeton and its unique approach to banking, keep reading.
About Jeton
Some people might be surprised to learn that Jeton has only been around for a few years. The UK-based payment company debuted its service in 2016, making it one of the most recent payment solutions to garner big-scale success. Of course, it's not hard to see why. The payment method takes a well-rounded approach that puts users first. Instead of offering a single service like most other payment methods, it has three options to choose from. These include a classic eWallet, a rechargeable prepaid voucher, and an online transfer service for P2P transactions.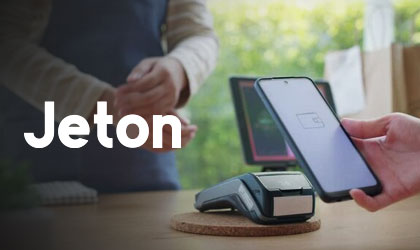 It's easy to see that convenience is a big part of the Jeton brand. First, offering several payment options gives it a massive head-start from the get-go. If you're a casino user, this gives you chance to choose a deposit method that best suits your needs. For example, if you value privacy above all else, you can use the solution's prepaid card option to deposit at your chosen operator. If you're in a hurry and need something that can foster lightning-quick transactions, you can go for the eWallet service and get things done in no time!
As you can probably guess, Jeton's versatility has made it a staple in many online gambling venues. Taking things a step further, this approach has given it access to countless online and physical shops too! Users shouldn't have much trouble finding supported services and retailers when using this payment method, but why stop there? To expand its reach even further, the payment method has integrated crypto into its platform. Of course, it's worth noting that this feature is limited to only a few locations where it makes sense. UK users, for example, don't have access to this feature.
Jeton's diversity brings with it a different set of perks for every service it boasts. These can range from speed to ease of use, but the one thing that stays universal between all of them is security. The payment method doesn't mess around when user safety is in question. The method employs Anti-Money Laundering policies (AML) and Know Your Customer (KYC) identification procedures to keep things in check. On top of this, it's governed by the UK's Financial Conduct Authority (FCA), an independent body that ensures service providers stick to a high industry standard.
Before we move on to the next section of this text, there are a few small things about the service we'd like to note. It's good to remember that while using Jeton is free, you might run into some additional charges under specific circumstances. For example, you may be charged a small fee for funding the service with a local payment option. Crypto withdrawals have a similar charge attached, so make sure to remember that before you proceed to use the feature. Another thing to watch for is the limits. While deposit and withdrawal limits aren't uncommon, Jeton's thresholds are somewhat more restrictive than what you'll encounter with most competitors. 
How to Start Using Jeton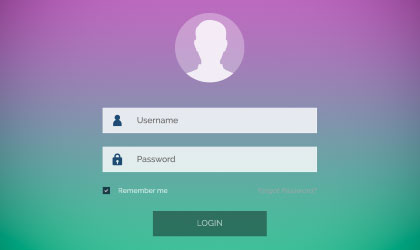 Using Jeton is a simple task, but the initial setup for the service can be a bit time-consuming. The account creation process includes a few security steps that prolong the process, so be ready to spend a bit more time than you're usually used to when you get to it. We'll get right into how the entire ordeal goes. The first step is visiting the service's official website and clicking the "Sign Up" button at the top right corner. This will prompt a form to appear, one with several empty fields users will need to fill out.
The registration form is similar to what you'd typically see with services like this one. It requests the user's personal information, such as their email address, phone number, and other details. Once the form is filled out, you can move on to the next step. Here, you'll need to confirm your phone number. Essentially, the service will send you a verification code via SMS. You'll need to enter this code on the website or app when prompted. If all goes as planned, you'll be redirected to another short form that requires your address.
If you've completed the previous steps, your account should now be live. Of course, there are still a few steps you'll need to complete before you can unlock all of its features. This is where the identity verification step comes into play. To verify their identity in compliance with KYC rules, users must submit a valid form of photo ID when prompted. A driving license, government-issued ID, or passport are viable options. You'll also need to submit proof of residence. This requires submitting a recent document where your address is visible. A few options include a utility bill, bank statement, or residency permit.
When you complete the identity verification requirements, you're nearly done. The last thing to do is fund your account! There are a few ways to do so, but keep in mind that some might incur additional charges. You can top up your account via bank transfer, credit or debit card, or even a Jeton prepaid card. Now that your account is loaded, you can proceed to use the service as needed. You can make purchases easily by entering the required account details and confirming the transaction at checkout when shopping online. You can also send money directly using the phone, user ID, or email of the recipient.
Depositing and Withdrawing With the Solution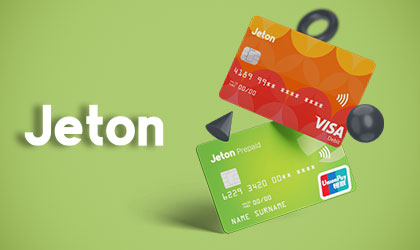 With the somewhat grueling account creation process out of the way, you can proceed to use Jeton as you please in the online gambling venue of your choice. Doing this should be easy. Since the service is only growing in popularity as time passes, its availability grows too. You can find tons of casinos that support Jeton payment, but you should invest some time into finding a venue that suits your needs. After you find an appropriate pick, here's how you can use the service to deposit:
Head to the operator's Banking/Payment Methods/Cashier section and locate the Jeton logo.
Click the logo and choose the Jeton service you'd like to proceed with. If you've chosen the eWallet or classic money transfer service, you'll need to enter your login credentials. If you're using a Jeton prepaid card, you'll be prompted to enter the security code.
Enter the desired deposit amount and confirm the transaction.
The funds should arrive on your casino balance in just a few minutes!
Withdrawing through Jeton is also an option in most online casinos. It's nearly identical to depositing, so you shouldn't have any trouble throughout it. It's worth noting that once the money's in your account, you can further withdraw from Jeton to a different banking option. This process is a bit different from the usual casino withdrawal, and there are three ways to approach it.
The first is withdrawing to a prepaid card – JetonCash. Essentially, the amount you withdraw is loaded to a new prepaid card by the service and sent your way. Once the card is created and loaded with funds, you can find its info in your account and use it for all kinds of transactions! The second method is making a manual bank transfer through Jeton. To do this, all you need is to enter your bank credentials and wait for the money to roll in. It's worth noting that this method is a bit slower than the other two and is limited to only a few locations. Finally, you can withdraw to your crypto wallet. These transactions usually take a few hours to process and are the quickest of the bunch.
Coverage and Restrictions
As we've already mentioned in this text, Jeton is one of the most popular payment options you'll run into these days. The service's versatility makes it a top pick for tons of online shoppers and gamblers alike, so reaching as many territories as possible is key to its wide-scale success. The UK-based service has done an excellent job of covering key markets and expanding to include new ones over the years. While it initially made a boom in Europe, it's now available globally!
You might be surprised by Jeton's current reach. The service is available in over 100 countries that span Europe, Asia, Africa, SouthAmerica, North America, and Australia. These territories include Switzerland, Sweden, Russia, Norway, Germany, Malta, Japan, China, Chile, Bolivia, Brazil, Canada, and more! It's worth noting that while the solution is available worldwide, the US market isn't covered by it yet. We're sure if the service plans to do so in the future, but it is a possibility.
Fees and Additional Charges
Jeton might be one of the best picks for online casino fans, but it's not without its flaws. One of the biggest downsides to using the service is the fees. While you won't be charged a dime when topping up your wallet through JetonCash and crypto, there is a 3% sender fee for debit/credit card transactions. When withdrawing through the service comes into play, only crypto withdrawals are subject to a 1% fee. Transfer fees also apply, so you can expect a 2% charge when sending money to other users.
Accepted Currencies
With an impressive coverage that spans over 100 countries, it's easy to assume that Jeton supports many currencies too. You'd be right in your assumption. The service supportsabout 50 currencies, giving users a chance to make worldwide transfers without experiencing currency conversion fees. Among the many supported currencies on the solutions list, you'll find the Czech koruna, Japanese yen, US dollar, euro, Australian dollar, Canadian dollar, Brazilian real, Mexican peso, Danish krone, Serbian dinar, and more!
Customer Support
While Jeton doesn't offer as many Customer Support contact options as most users might like, the ones it does have on deck are top-notch. To reach out to the service, users can visit the solution's official website and click on the support button in the bottom right corner. This will redirect them to the solution's ZenDesk page, where they can write down their inquiry and wait for an answer. Replies tend to be prompt and detailed, so you won't have to wait long before a well-trained Customer Care Agent gets back to you.
Conclusion
Jeton is a modern payment solution that puts users first. Its excellent approach lands it at the top of the list for many online gamblers, and it's easy to see why. The versatility of the method's services gives everyone a chance to find their perfect banking match. From a prepaid card to an eWallet, the solution has it all! Despite its near-endless pros, it's still good to remember the flaws that come with using Jeton. Mainly, be mindful of the fees associated with transfers, as they can put a damper on your overall user experience.
FAQs
Is Jeton safe?
Yes, Jeton is safe. The solution's prepaid card offers users anonymity and the method employs Anti-Money Laundering policies (AML) and Know Your Customer (KYC) identification procedures. Additionally, it's governed by the UK's Financial Conduct Authority (FCA).
Where is Jeton available?
Jeton has impressive coverage that includes over 100 countries! These include territories in Europe, Asia, Africa, South America, North America, and Australia.
Can I Withdraw through Jeton?
Yes, Jeton withdrawals are available in most online casinos that support the service.
Do I need an account to use the service?
Yes, registering a Jeton account is essential to using the service. You can do so by visiting the solution's official website and clicking the "Sign Up" button.
Do I need a bank card to use Jeton?
No, you don't. While you can choose to fund your Jeton wallet through a bank card, it's not a prerequisite to using the service.
SHOW MORE
&nbsp
Online casinos accepting Jeton as a payment method
Loading...
There are no available casinos for requested criteria.

We're showing casinos that accept Jeton restricted by your country. To remove that condition click here
Something went wrong. Please try again later.