Online casinos accepting players from Armenia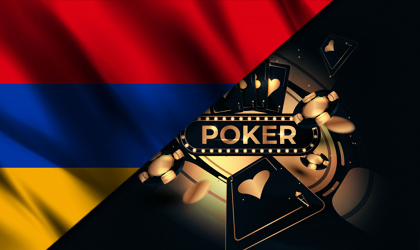 When it comes to online gambling, it has been widely accepted by some countries, and strongly frowned upon by others. But there are also countries that belong in this grey area, which have not explicitly regulated it but also have not done anything to stop players from gambling.
Looking back historically, Armenia was one of those countries where land-based gambling was regulated and legal, but not online gambling. Things have changed drastically throughout the years, and recent developments in the country show that actually, things are to continue changing.
… legalized land-based gambling in the mid-2000s, and introduced licensing fees that have remained static throughout the years. The country allowed operators interested in opening brick-and-mortar casinos and betting shops to apply for a license and run a legal gambling business, monitored and controlled by the Ministry of Finance.
The national gambling laws explicitly said that online gambling was forbidden at that point, even though there were land-based operators that were running online gambling sites licensed offshore and not in the country.
The government…
… has been putting in efforts to control this and crack down operators who were offering illegal online gambling, but had been failing continuously. This had been going on for more than a decade until the government decided it was better to legalize and regulate online gambling instead of trying to stop illegal online gambling. 
In 2014…
… therefore, the first online operations were licensed. Since then, operators interested in obtaining an online gambling license to operate in Armenia were allowed to, only after they paid the proper fees and license prices.
In addition, even though the country allowed Armenian players to play across online casinos licensed in the country, it strictly forbids them to join international online casino sites, operated by companies who were not licensed in Armenia. But the trend continues to this day, and players still have access to such sites, which only further proves that the Armenian government has still not managed to get full control over online gambling in the country.
Best Online Casinos for Armenia
Casino
Highlights
Cashout
Bonus
Loading...
There are no available casinos for requested criteria.
Something went wrong. Please try again later.
Legal Online Gambling in Armenia
As introduced…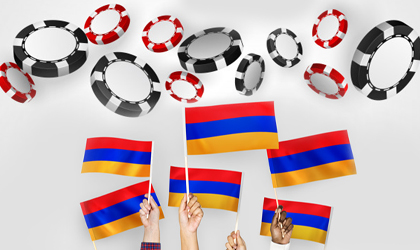 … while online gambling was illegal in Armenia for a long time, since 2014 it has been legalized. However, since the government did not get ahold of the control as it expected to, it has constantly been changing and amending laws in order to put stricter regulations on both land-based and online gambling and gambling advertising. 
In January 2017…
… the Armenian government proposed a five-fold license fee increase when it comes to fees that applied to online gambling operators, with the aim to boost treasury income. The plan was to increase the fee to €1 million. Karen Tamazyan, the Finance Minister, said that the changes to fees were necessary since they have remained static long enough, ever since gambling became legal in the mid-2000s.
The legislation was passed…
… in July, however, guaranteeing a casino license for casino projects that were considered as major developments for the country. An investor or a group of investors were now allowed to receive a license for the construction and operation of a major casino if the projected cost of its construction and running was of €83.5 million or more. The Finance Minister at this point said that as long as developers were ready to commit to major investments, they would be able to proceed with their plans for construction.
In September 2018…
… the country changed the legal gambling age limit. While previously, Armenian players were allowed to engage in gambling activities as long as they were 18 or older, since 2018, the law changed and now they must be at least 21 years of age.
In addition to the age limit change, with the new amendment, casino operators were legally obliged to get a provision to check the age of their visitors, both on-spot at land-based casinos and across online casinos.
Moreover…
… in 2018, the Armenian authorities stated that they would systematically tighten legislation related to both offline and online gambling, adding that they were even considering the possibility of restricting the activities of foreign online casinos. Until then, foreign operators that wanted to get a license to operate in the country were allowed to if paying the dues and respecting the laws on gambling.
However, among the main amendments that were approved in September were also those that would restrict radio and TV adverts to between midnight and 6 am. The Finance Minister Atom Janjughazyan, according to Armenian local sources and media reports, had put forward in parliament the wide-reaching proposals on the 20th, which were immediately granted approval by the government. The new drafts were estimated to take six to 12 months to become law. Among the other proposed measures, gambling ads were required to indicate clearly that they were for people aged 21 or more. And, only local operators were allowed to advertise in the country.
And then…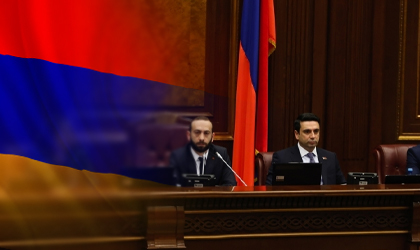 … in May 2019, as soon as the government announced the restrictive amendments to the country's gambling laws, Armenian casino and betting shop operators started protesting on the streets, arguing that thousands of people would lose their jobs over that.
The proposed restrictive amendments were set to change the Laws on Gambling, Internet Winning Games and Casinos, and on Lotteries. They were proposed as the government's effort to tackle gambling-related harms in the country. Limiting players' ability to participate in online totalisers through bookmakers and gaming halls, traditional lotteries and video lottery terminals (VLTs) across the country was necessary, lawmakers believed, and the aim of restricting gambling-related harms could only be achieved like that.
Protestors…
… were claiming that thousands of Armenians would be left jobless if the lawmakers and the government pursued more restrictions on gambling. And true, the gambling industry being a major employer in Armenia, this was expected. However, protestors were not considering the fact that Armenian organized crime outfits were believed to be involved in match-fixing schemes.
In fact…
… just in June 2020, the police arrested another bunch of protestors who were rebelling after HAAT (National Security Service) searched the home and office of an opposition leader Gagik Tsarukian, who was allegedly conducting unlicensed gambling activities that deprived the government of tens of millions of euros in tax revenue.
As you can see, it is clear that Armenia has a long way to go in order to regulate and control online gambling activities. Until then, though, players are still able to gamble online both on local and international online gambling sites.
Armenia Online Casinos
Online casinos in Armenia exist, as concluded, both by local and foreign country-licensed operators. Therefore, if you're a player from Armenia, you have a vast choice of sites to join.
However…
… before you do, make sure you check the site for jurisdictions, for your own good. Even though access to foreign-operated sites is not limited in the country, it is best for Armenian players to still play at a licensed online casino site, with a great reputation. Sites licensed by the UK Gaming Commission, the Malta Gaming Authority and Gibraltar are those you can put your trust in.
Another thing…
… you must remember before you start your registration process with the casino is to look for its game selection. At a respected and trustworthy site, you should be able to find games by premier software developers. There are some developers which are licensed to offer their games in Armenia even, or power Armenian operators however, they are mostly well-respected software providers whose games are insanely popular among online casino players. We can mention Evolution Gaming, NetEnt, Pragmatic Play and Yggdrasil, among others, developers whose games are players' favourites.
Casino
Slots
Roulette
Blackjack
Video Poker
Rating
Loading...
There are no available casinos for requested criteria.
Something went wrong. Please try again later.
Games at Armenia Online Casinos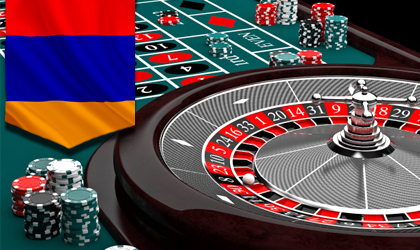 As you could conclude so far, in the local Armenian gambling scene, sportsbetting, casino and lottery are the three forms of gambling which are legal.
However, considering Armenian players can access international online casino sites, they can get access to plenty of other games. The best part about playing across online casinos that are powered by many developers is that you get a bigger choice and variety of games.
Online casino games…
… like progressive jackpot slots, online lotto, online bingo, and Live Dealer games are just some of the most desired games players from all around the world are always looking for across online casinos.
But, if you are an Armenian player looking for classic online casino games to play, you have at your disposal all kinds and variants of:
… and plenty of other game choices. If worried about the safety and fairness of these games, you should know that all online casino games use a device called Random Number Generator, which uses an algorithm that ensures all game outcomes are random and fair, and which are tested by third-party auditors, certified for the job.
The Best Live Casinos in the
Best Reviewed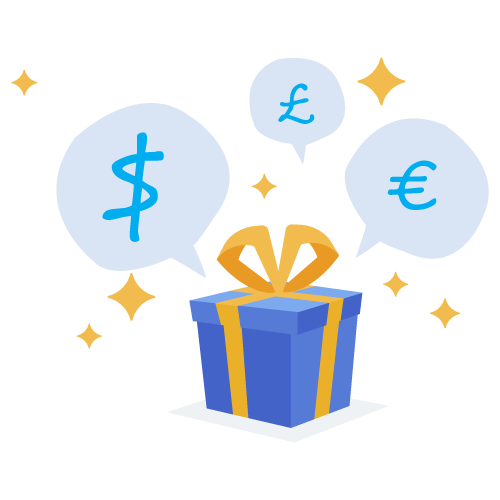 Casino
Rating
Interesting Games
Highlights
Casino Bonus
Loading...
There are no available casinos for requested criteria.
Something went wrong. Please try again later.
Mobile Betting
Considering the ever-growing popularity of mobile gambling, naturally, Armenian players love playing their games on the go. Luckily for them, they are able to, since the majority, if not all, online casinos out there are optimized for mobile gaming.
Mobile casinos…
… give players the chance to enjoy gambling on the go, by providing them with payment methods that would facilitate mobile payments and by giving them a choice of mobile casino games to play. Regardless of whether they are using iPads, Android devices, Windows devices or iPhones, players can freely load the casinos on their smartphones or tablets and play regardless of their location.
Apps…
… are also a possibility with some online casinos in Armenia, so all players wishing to have their favourite online casino on their mobile device can download them whenever it pleases them. 
Armenia Online Banking & Casino Payment Methods
In addition to traditional payment methods…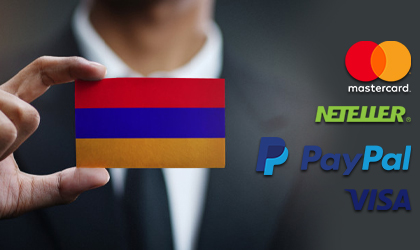 … such as credit cards, debit cards, bank transfer, prepaid cards and eWallets, which are offered in most international online casinos, Armenia-focused online casinos give players the opportunity to use a special payment method, headquartered in Yerevan, called iDram. This is a mobile wallet, which is available in the Armenian language and completely suitable for all Armenian players.
However…
… Armenian players wanting to stick with renowned and well-established payment methods can also choose from:
… among a plethora of other options. Playing with the local dram may not be an option with most of these payment solutions, however, many other currency alternatives can be used, at a cost of a conversion fee.
FAQs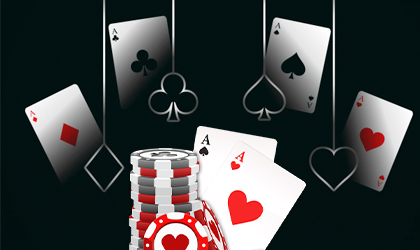 Is it likely for the gambling age in Armenia to go get back to 18 if the government changes?
- No, that's highly unlikely. Research in the country has shown that increasing the age limit was absolutely necessary to fight problem gambling, so the 21 years or older limit will most likely stay for good.
How can an Armenian player be sure about the safety across online casino sites?
- As long as the online casinos are licensed by a respected regulatory body and use security measures to protect sensitive data, Armenian players can feel safe and sure that their data would be kept safe.
If I want to play on my mobile device, must I download an app?
- No. That's entirely up to you. If the casino is optimized for mobile play, you can play via any browser, without downloading an app. If playing via an app is easier for you, you can download the app.
How to know whether Armenian players are accepted at an online casino?
- Online casinos are usually explicit and will inform you on your eligibility to join it right after you load it via your browser. If not that way, upon registration, when you write down Armenia as your country of residence.
Are there any limits related to bonuses that Armenian players can claim?
- No. As long as you join a respected and popular online casino, you will get a wide choice of bonuses and promotions to choose from and claim.
How to know which payments methods are at my disposal across online casinos?
- The accepted payment methods should be written at the bottom of a casino's homepage. If not, they should be listed on the Banking page. You can explore your options there even before you join the casino.
Are Microgaming's slots available across Armenian online casinos?
- In most of them, yes. Microgaming is a leading software developer whose games are vastly available, offered across many online casinos. Make sure you double-check with the casino whether it offers its games before you join it.
Could I join an international online casino if I'm an 18-year-old Armenian player?
- If the casino is licensed by the Armenian authorities, no. If not, you probably can. Every online casino has a different age limit, but most of them accept players which are 18 years old or older.
Are there many online casinos in the Armenian language?
- Truth be told, no, not many. However, there's a decent number of casinos that offer gambling in many languages which you can explore.
Can I play using cryptocurrencies across online casinos?
- Sure! Many online casinos, in addition to fiat currencies, also allow gambling with crypto coins. As long as you have a crypto wallet and some coins, you can play your favourite games with cryptocurrencies.