Rapid Transfer Online Casinos

Introduction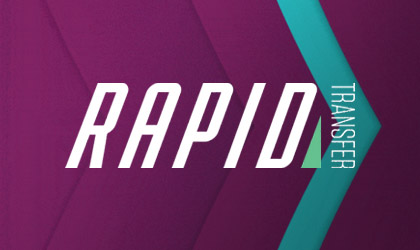 The iGaming industry has entered a new modern age. With fast-paced themed slots, action-packed Live Casino games, and advanced Poker software dominating the field, the need for a more up-to-date, quicker payment processing service is more apparent than ever. Thankfully, many fintech companies have stepped up to the plate to deliver such solutions, and Skrill's Rapid Transfer option is one of them! Backed by one of the biggest banking brands on the market, this service has quickly become a popular option among online gamblers and shoppers alike. It offers a speedy service that's hard to beat, along with countless other excellent perks that make its overall user experience smooth and hassle-free. There's plenty to say about Rapid Transfer, and much of it can be detrimental to your interactions with the service. If you care to learn more about it, stick around.
About Rapid Transfer
Rapid Transfer launched pretty recently in 2016. It's a service offered by none other than global powerhouse Skrill, a brand owned and operated by the well-known banking giant Paysafe Group. While it's only been around for a short time, it's quickly established itself as a go-to for various online transactions. Since the option is a part of the Skrill umbrella, it's not hard to assume that it works in tandem with some of its sister services too. These include PaysafeCard and Neteller, which players can expect a seamless collaboration with.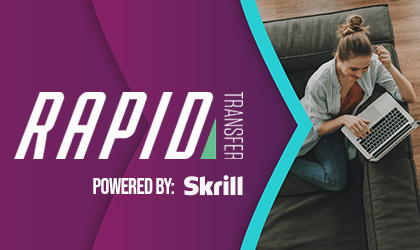 If you're wondering what Rapid Transfer itself brings to the table, we'll give you a brief rundown. Essentially, the solution acts as an intermediary between banks and merchants. It fosters quick transactions between the two sides by using your bank account as the core instigator. This might not seem like a big deal, but it does have its perks. Security, for example, is a big part of the package. Since the service operates through bank accounts, users benefit from all the top-tier security measures banks put in place to protect their users and transactions.
It would be an understatement to say that Rapid Transfer is popular. Being a part of one of the biggest eWallets in the world, the service has a wide reach that includes several European countries. What's more, it seems the solution is prepared for even more growth, as more users are ditching old-school bank transfers for this sleeker option. We're not saying that the service is completely future-proof, but at the moment, all signs are pointing towards much bigger success down the line.
We've already mentioned a few of the positives of using Rapid Transfer, but there's more to the service than meets the eye. The first, and arguably one of its biggest advantages, is its convenience. We're all familiar with how most payment methods operate. Even the most modern eWallets require a user account, which can be a hassle to open. In contrast, this solution boasts a simple, registration-free setup. The only prerequisite to using the service is a valid bank account. Most people already have one of these, so you don't have to bother with additional work.
Another massive perk of using Rapid Transfer is in its name. Rapid transfers are a core part of the experience. The instant transfer service fosters lightning-quick transactions, ensuring minimal waiting times and quick access to funds when gambling online. Since we're diving into online gambling waters, the service's security is a massive perk. All transfers are protected by high-end security, including SSL security and VeriSign. This gives players peace of mind when navigating the often dangerous cyber world. You can also enhance your experience with the service by earning loyalty points! If you join Skrill's Knect program, all Rapid Transfer payments will earn you reward points that you can exchange for sweet prizes!
The last big pro we'd like to discuss is the solution's status as a free service. Unlike many of its competitors, Rapid Transfer is a free service. Instead of charging users, it charges the banks that want to incorporate it into their system. Of course, this doesn't always mean that users won't run into fees from their banking providers. Banks and financial institutions still have the freedom to charge users a fee for using the option, so it's best to check about this with your bank before you proceed any further.
Finally, we'd like to review some of the drawbacks to using Rapid Transfer. One of the biggest cons to Rapid Transfer comes from its novelty. The service is yet to reach the level of coverage Skrill offers, and because of this, it's only available in some European countries. It excludes plenty of global markets, something we hope will change in the future. Another thing to consider is the lack of cryptocurrency support. Digital currencies are insanely trendy now, and adding the options would be hugely beneficial to them in the long run.
How to Start Using Rapid Transfer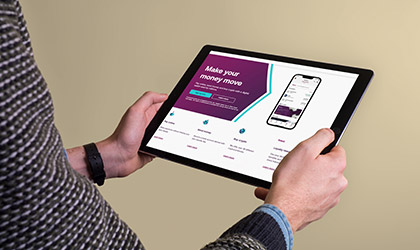 As we might have mentioned a few times by now, Rapid Transfer is easy to use. The service puts convenience at the forefront, making it easy for players to deposit at their favorite online casinos or make purchases at their go-to online retailers. Still, while the transfers are easy to perform, you might need to take additional steps before you get to them. Having a valid bank account is a must with this solution. Because of that, be prepared to open one at one of the many banks and financial institutions on the list of supported providers.
The first thing you'll need to do before setting up an account at a supported bank is some thorough research. These banks might share many similarities, but ultimately, they're separate entities with very different offers. See what they bring to the table and choose the one that suits you best. When you land on one you like, you can proceed to the next step. To open your account, you'll need to visit the bank's physical location and request the needed application documents from the clerk. Depending on your choice, this can be a long trip.
The registration forms can be somewhat intimidating if you haven't been through this process before. They require divulging personal information, including information about your finances, marital status, property ownership, etc. There's no need to worry about sharing this data. It's used exclusively to test your eligibility and set up your account. When you finish filling out the forms, you'll need to hand them back to the clerk, along with a valid photo identification document to verify your identity. This can be a passport, driving license, government-issued ID, etc. That about wraps it up. Your account should be live and ready to use soon, if not instantly.
Now that your account is live, you might need to opt-in for the service before you can use it. Contact your bank for more details on how to do this, as the process can vary from bank to bank. When the option is active, you proceed to the main event, using Rapid Transfer. Essentially, all you have to do here is select the service from the list of payment options at the checkout. Log in with your banking details, and once you're in confirm the transaction. You might need to go through a security check during this step, depending on your bank. That's all! When the payment is confirmed, the transaction will go through.
Depositing and Withdrawing With the Solution
Accessing online casinos through Rapid Transfer should be a piece of cake for European users. The option is supported in some of the top venues on the market, so you should have no trouble picking a top-notch provider with tons of games. Of course, we still recommend doing some research beforehand instead of rushing into things. First and foremost, ensure the casino you choose is properly licensed and fair. It's also a good idea to check out expert reviews, as they provide insight into bonuses, game selection, and other offers. When you're ready to start, here's how you can deposit using the service:
Head to the casino's cashier/banking/payment methods section and choose Rapid Transfer
Enter the desired deposit amount
From the list of banks, choose the one you have an account with
Log in using your banking details (card number, security code, etc.)
Confirm the payment with your bank
The money will arrive on your casino balance instantly!
Unfortunately, have some bad news when Rapid Transfer withdrawals come into play. The service doesn't offer this option, so looking for an alternative way to cash out your winnings is necessary. If you're using Rapid Transfer, we suggest going for one of the other services by the Paysafe group. These include PaysafeCard, Netteller and Skrill. All of these offer quick withdrawals and have low fees attached to them, so they're excellent options that won't take up much time. You can also choose cryptocurrency options like Bitcoin, Litecoin, and Ethereum if you want instant cash-outs.
No matter what you decide, it's good to remember that there's always someone to turn to for help. If any issues arise during the depositing or withdrawing process, you can reach out to the operator's Customer Support for help. Most casinos employ expert Customer Service representatives that will resolve the problem promptly.
Coverage and Restrictions
We've already mentioned that Rapid Transfer is exclusively available throughout Europe. While we're sure the service is working on expanding its network to other territories, we're not sure when this will come to fruition. Until then, users from 18 different European countries can enjoy the solution and all of its perks. These countries include Austria, Belgium, Denmark, Finland, France, Germany, Italy, Poland, Spain, the UK, and others.
Fees and Additional Charges
Rapid Transfer has a unique approach to fees. The service doesn't impose any fees of its own. It's completely free, delegating all charges to the supported banks in its network. Since participating banks need to pay to be a part of its network, some of them do charge fees for using the service. Naturally, these can vary from bank to bank, but if they're there, they're generally on the smaller end. Some banks don't impose fees for the service at all, so it's best to explore your options beforehand and choose one with the best offer.
Accepted Currencies
Since Rapid Transfers operates within Europe, the main currency on its list is the euro. Generally, this is more than enough to make most European users happy. Still, the solution goes the extra mile by offering support for the native currencies of the countries it's available in. These include the Bulgarian lev, Danish krone, Hungarian forint, Nokia Oyj, Polish zloty, Swedish krona, and Britishpound. Users don't have to worry about being charged a currency conversion fee when using any of the listed options.
Customer Support
Users have two options when Rapid Transfer Customer Support is in question. The first is reaching out to Skrill's Customer Support Team. This can be a good idea in some cases, but generally, we suggest you stick to the second option. The second option is to contact your bank. Since the service weeks through your bank account, it's more likely that issues that arise come from the bank's side. Luckily, the banks in the Rapid Transfer network are trusted providers with high-quality services. They'll offer excellent support and work tirelessly to get to the root of the problem.
Conclusion
As you've likely gathered, there's plenty to celebrate with Rapid Transfer. The service is backed by one of the most popular modern banking brands and it offers an excellent set of perks that online gamblers and shoppers can take advantage of. From high-end security to speed and convenience, there's not much the solution can't do to make your online money transfer experience easier. Of course, this doesn't mean its flaws should be overlooked. Before choosing this option, consider its lack of withdrawals in online casinos and its limited list of supported countries.
FAQs
Where is Rapid Transfer available?
The solution is currently available exclusively in 18 European countries. Some of them include the UK, Belgium, France, Sweden, and Bulgaria.
Is Rapid Transfer safe?
Yes, it is. Since Rapid Transfer operates through banks, it uses its high-end security to keep transactions safe. Some of its security protocols include SSL security and VeriSign.
Does the service offer withdrawals?
Unfortunately, no. Users will need to look for an alternative withdrawal option if they want to cash out their casino winnings.
Do I need a bank account to use it?
Yes, you do. Having an active bank account in one of the Rapid Transfer-supported banks and institutions is a prerequisite to using the service.
Are Rapid Transfer transactions instant?
In most cases, yes. As the name suggests, the solution is an instant transfer service that fosters quick transactions.
SHOW MORE
&nbsp
Online casinos accepting Rapid Transfer as a payment method
Loading...
There are no available casinos for requested criteria.

We're showing casinos that accept Rapid Transfer restricted by your country. To remove that condition click here
Something went wrong. Please try again later.