Moneta Online Casinos

Introduction
With tech changing rapidly over the past two decades, the banking sector has been the subject of many major overhauls. Most notably, online banking has taken over, becoming one of the primary ways to transact in the digital space and in-person. Generally, this is a positive change. The convenience of online banking solutions is unparalleled, so people worldwide are adjusting to these modern services with minimal pushback. Unfortunately, online gamblers in specific countries don't always have easy access to these payment methods. The popular options still exclude some places, and when they don't, their offers are limited which impairs the online gaming experience. To combat this problem, a Russian company has spawned a modern payment solution aimed at residents, Moneta, allowing them all the perks of new-age banking. Up next, we'll explore its offer.
About Moneta
While most people may think Moneta is a fairly new service, the payment method launched in 2005, not long after the first eWallets started making rounds worldwide. The rise of this method is easy to explain. After popular picks like PayPal, Neteller, and Skrill became a worldwide phenomenon, online shoppers and gamers flocked to them instantly. Unfortunately, things weren't that easy for users in Russia. Because of certain restrictions, these users couldn't enjoy all the privileges of these methods, leading to dissatisfaction and a disjointed user experience.
Because of these restrictions, users couldn't have the safe online shopping and gambling experience they hoped for. They were essentially left to revert to old-school services, many of which were prone to scams and other security issues. Of course, this didn't last long. Moneta debuted on the scene as the perfect alternative to these big-name eWallets. The service essentially offered the same scope of features as these juggernauts, but it operated on a local level, only accepting users in the region. This was a big step forward, as it led to countless new opportunities for everyone interested.
Before we discuss everything Moneta brings to the table, we should start with a warning. The service's website is only available in Russian, so our info-pack might be somewhat more limited than usual. If you understand the language or know someone that does, it's best to give the site a once-over before you proceed any further with the method. With that out of the way, the first thing to note about Moneta is its speed. Like most other eWallets, the service is known for fostering instant transfers that simplify things significantly. You can deposit at a casino in a pinch, without worrying about drawn-out waiting times.
Since we've started with the positives, we'll continue in that vein. One of the biggest perks users get with this payment method is anonymity. Moneta needs to be funded through a separate service to function, but none of that information is available to third parties or the shops and casinos you visit. Your personal information is kept private, making it a safe option that's almost impossible to take advantage of. Another big perk is the method's convenience. You can make purchases online and offline through its excellent platform, a platform that's easy to get around, even on the first try.
We've covered many of the perks of Moneta, but now it's time to go over its cons. Unfortunately, the service has a few of them. First, it's worth noting that its reach is more limited than most popular eWallets. While it operates internationally, not all online shopping and online gambling platforms support it. This means you might have to settle for your second choice in some cases, as the first one could be out of reach. What's more, many of these sites don't support Russia's nativecurrency, which could lead to hefty currency conversion fees when transacting.
On the topic of fees, we're sad to say Moneta has them. The service charges a fee for nearly alltransfers, and they can be somewhat heftier than what you'd usually expect from an eWallet. It's a good idea to review these charges before using Moneta as an online casino deposit option, as they could impact your overall gaming budget. Another thing to note is the scarcer withdrawal option on many online gambling sites. While deposits with the service are usually allowed without issue, withdrawals might not be included. Due to this, it's good to consider a few alternative withdrawal options.
How to Start Using Moneta
Some users might be discouraged by the Moneta negatives we just covered, but we're back to something positive with the method's setup process. As you can probably guess, opening an account with the service is an online ordeal. Players can start the process through the solution's website and have everything ready within minutes! Of course, before you click on the Sign-Up button, ensure your country is eligible. Other than Russia, the service also operates in a few neighboring regions where the Russian language is used frequently.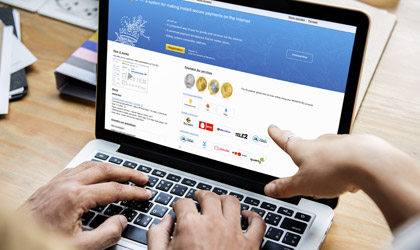 After starting the registration process through the Moneta website, you'll be led to a separate window with a registration form. This is where you enter your personal information and come up with a password for your account. Creating a unique password is the best option, but you can also choose to have one generated for you. If you choose the latter option, you'll receive this login key via email. If you want to up your account's level of protection further, you can also add a security question required for logins.
When you complete this step, you can move on to the next part of the equation – verifying your identity. This process is simple as well. To complete it, you'll need to submit a digital copy of a valid photo ID document, such as a driving license or passport. To clarify, this step isn't always necessary, so not everyone will experience it.
Your Moneta account should now be live, but before you start using the service, you'll need to fund it. The good news, you have several popular options to choose from. You can fund your account through VISA and MasterCard,bank cards, QIWI, Yandex, bank transfers, and more! The bad news is that funding your account will likely incur a fee. These fees vary depending on the option you choose, so pay attention to these differences before you proceed.
Depositing and Withdrawing With the Solution
As we've already discussed, Moneta is an excellent online casino deposit alternative for players in the Russian region who can't access other similar means. The service allows access to many international operators, but it's still more limited than most other big-name eWallets. On top of this, some of the operators that accept payment through this service aren't the most reputable. Because of this, we suggest doing thorough research before choosing an online casino. Check the operator's licenses and read expert reviews for better insight on the matter. When you find one that suits your needs, here's how to deposit:
Visit the casino's Payments/Banking/Cashier page.
Look for the Moneta logo on the list of accepted methods and click or tap on it.
In the new window, enter your Moneta login credentials and view your account.
Specify the amount of money you'd like to deposit.
Confirm the transaction, and the money will arrive in your casino balance in minutes.
On the withdrawals front, things get a bit more complicated. Not all of the operators that support Moneta allow withdrawals. It's best to check the operator's website for more information if this is an issue. On the bright side, the casinos that do support withdrawals with the service make things easy. Withdrawing is practically identical to depositing, with a slight change in one of the steps. Instead of entering their desired deposit amount, players will need to enter their desired cashout amount. Additionally, withdrawals are just as speedy as deposits, so you can expect the money in your balance in no time.
Coverage and Restrictions
We've already mentioned a few times throughout this text that Moneta is an eWallet designed to serve the Russian market. Naturally, the service is available in all parts of Russia, but things don't end there. Over the years, the solution has grown to include a few other Russian-speaking regions as well, mainly countries from the former Soviet Union. The availability of this service can depend on which area in these countries you're in, so if you're considering giving it a shot, it's best to contact the service and ask whether you're eligible for an account.
Fees and Additional Charges
To the dismay of most users, fees are a core part of Moneta. The service charges fees for nearly every feature it offers, so it's best to be careful and take this into account when making transfers. To be more specific, all transfers through the service incur a fee. This fee can depend on the size of the transaction, meaning larger ones will incur a larger fee. Another charge users will run into frequently is a funding charge. Depending on the selected method and the amount, users will be charged a fee every time they top up their eWallet balance.
Accepted Currencies
It might surprise some users to learn that Moneta supports more than just one currency. Naturally, the first option on the list is the Russian ruble. This is Russia's native currency, so it takes top priority on the platform. In addition to this option, players can also open an account in US Dollars and Euros. When using one of these accounts, you won't incur a currency conversion fee. Of course, if the site you're visiting only operates in a specific currency that isn't on this list, a currency conversion fee will apply.
Customer Support
Moneta's website might be a bit of a mystery to users that don't speak Russian, but one thing they won't have a problem with is getting more information about the service's Customer Support. The Customer Support Team from Moneta is very professional and helpful. You can contact a representative by phone and through an email contact form. Both options garner a detailed response, but the former is quicker. If you choose to reach out via email, you might need to wait a bit before you receive a response.
Conclusion
It's easy to see that Moneta has its pros and cons. On one end, the service fosters quick transactions, grants anonymity, has an easy-to-navigate platform, and is highly convenient. On the other, its reach can be a bit limited and it's loaded with practically unavoidable fees. While this is something to consider, the payment method is generally one of the best options available to Russian players! Since many other options available in the region often offer a limited service package, what you get with this solution is the cream of the crop.
FAQs
Is Moneta safe?
Yes, the service is safe. Moneta is one of the most reputable companies in the region, receiving praise from users and industry professionals alike. The method also grants users anonymity when transacting online, upping the level of security.
Can I withdraw with it?
Generally, yes. Moneta does offer a withdrawal option, but unfortunately, not all of the casinos that support this service support withdrawals through it. For more information on this, check with your casino or online gambling provider.
Where is the service available?
Moneta is primarily a Russian service available throughout the entire region. Additionally, users in some parts of other Russian-speaking countries may be eligible to use it.
Is the service instant?
Yes, it is. Moneta is an instant transfer service that allows instant or near-instant transactions for deposits and withdrawals.
Is Moneta's Customer Service available 24/7?
Yes, it is. You can contact the service around the clock through its Customer Care phone numbers and email.
SHOW MORE
&nbsp
Online casinos accepting Moneta as a payment method
Loading...
There are no available casinos for requested criteria.

We're showing casinos that accept Moneta restricted by your country. To remove that condition click here
Something went wrong. Please try again later.