Help2Pay Online Casinos
Online casino players from all around the world have a variety of payment methods to use, but these are usually global solutions that come with hefty fees. For Southeast Asian players, Help2Pay is the solution. This is a method designed to facilitate their online banking, allowing them to make fast and secure deposits using their native currencies. As such, it is a perfect solution to be used by players from the region, looking for convenient and cost-efficient methods to make their deposits and withdrawals. What is Help2Pay really and why choose it as your payment method at an online casino?
About Help2Pay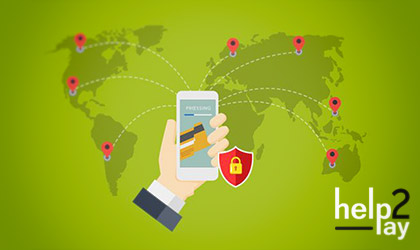 Launched in 2013 with the aim to facilitate online banking for users in Southeast Asia, Help2Pay is a market-leading payment gateway allowing for automated and fast transactions across the internet. With a team equipped with analytic reporting software, comprehensive training and long experience in the industry, the solution has managed to go places. Thanks to its advanced proprietary security protocols and the latest encryption, users can trust it to offer them the safest and most robust transactions, without their data ever being compromised.
Offering its service for nearly a decade, the solution has become one of the top payment methods in the Southeast Asian region. Thanks to it, the fees that usually go with bank transfers and credit cards are eliminated, and thanks to its automated payment acceptance software, it is capable to process millions of secure transactions.
With this in mind, you can only imagine why it has become the most popular solution across online casinos that accept players from the region. It offers players three things that they always needed: convenience, speed and security. For one, it is offered across all casinos catering to Southeast Asian players, so you don't have to spend hours to find the one for you to join. Two, you won't need to wait for days for your transaction to be processed, thanks to its infallible automated payment acceptance software, and you won't need to pay any hidden fees. Finally, your money will always be safe, thanks to the security protocols implemented. Since it is backed by the Merchant Risk Guarantee, and due to its software specialized for high-risk industries, operators are choosing it over any other solution in the region, to offer it to users from Southeast Asian countries.
So, if you like what you're reading, and you're a player from the region, stay with us to learn more about the solution, and how to get started with it and use it across online casinos for the most seamless deposits and withdrawals.
How to Start Using Help2Pay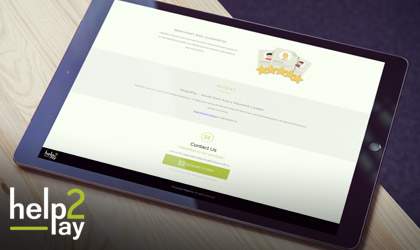 Among the benefits you get for choosing to use Help2Pay, we must mention the fact that you don't need to register for an account to use it. This adds to the convenience it offers since you won't need a bunch of new credentials to remember. Just visit its official website and you'll notice that there are no Sign-Up or Log-In buttons available, as they normally are with other payment methods.
The way the solution works is through your online banking profile. This means that you won't need to create a separate account to use it, but only log into your online banking profile to request a transaction via it and use its services.
The first step, therefore, to get started with it, is to find a site that accepts it. Once you do, you'd need to choose it as your payment method, and in the designated field, log into your online banking profile using your credentials. If you don't have an online banking profile, though, you'd need to visit your bank and request one. The bank's clerk should provide you with your credentials right away.
Assuming you have one, the next step would be requesting a transaction via Help2Pay. Your bank will send you a TAC (Transaction Authentication Code) via SMS. You'd need that code to complete the transaction and, voila, your transaction will be processed. Keep in mind here that, the bank will send you the SMS on the mobile phone number you've entered in your application when you applied for a bank account. Therefore, if you've changed the number since then or you're uncertain about it, make sure you pay your bank a visit to clear things up. You don't want the code to arrive on someone else's device since you'll need it to complete the transaction. Without it, the transaction will fail.
So, as you can see, with this solution, you'll be getting plenty of perks, one of which is saving precious time, too. Therefore, since you're probably convinced that you'd need to give it a try, let's see next how to use it across online casinos.
Depositing and Withdrawing with the Solution
Given the fact how easy it is to get started with it, and how much time you're saving by not having to create an account with it, you could get better use of your time by looking for the perfect casino to join. Since the solution is accepted across most, if not all, casinos accepting players from the region, you'll get a decent list of sites to explore before you decide on the one to join. So, do your research and find the most suitable casino to register an account with.
From there, to make a deposit with Help2Pay, you'd need to go through these steps:
Go to the casino's Banking/Cashier section and choose Help2Pay as your payment method.
Enter your online banking profile credentials in the pop-up.
When logged into your banking account, specify how much you'd like to deposit and wait for the TAC code.
Double-check the transaction details and confirm the transaction by entering the TAC code.
The money you requested will arrive on your online casino balance in real time, thanks to the automated payment acceptance software.
Withdrawals are requested in a similar fashion. You'd need to specify how much you'd like to cash out from your balance this time and wait for the casino to approve your request. The best part is, even though deposits are instant, withdrawals with Help2Pay are processed pretty quickly, too, compared to other solutions available in the region. Withdrawals to Indonesian banks take 1 to 3 hours, for instance, but believe it or not, to Malaysian banks, only 15 minutes! Compared to other solutions, which usually process withdrawals within at least 3 working days, with Help2Pay, you'll get your winnings in no time!
Coverage and Restrictions
It was clear from the beginning that Help2Pay is a method available only to certain players, players from the Southeast Asian region.
Therefore, the following are the accepted counties Vietnam, Thailand, Brunei, Indonesia, Myanmar, Malaysia, Singapore, Cambodia and the Philippines.
Even though countries from the region, though, Timor-Leste and Laos are restricted countries. Therefore, if a player from these two Southeast Asian countries, and all other countries in the world, for that matter, you won't be able to use it.
Fees and Additional Charges
It was said in the beginning that Help2Pay is one of the most cost-efficient payment solutions you'll find available in the region. That's because it charges no fees on its part, regardless of whether you're depositing or withdrawing with it.
However, keep in mind that some casinos might charge fees for making withdrawals with it. You'd need to check with your chosen casino to see whether such fees are charged.
Accepted Currencies
You won't be able to use mainstream currencies like the US dollar, the euro or the UK pound when using this solution. Since this is a method available in Southeast Asia, you'll only be able to use four currencies used in the region.
These are the Malaysian ringgit (MYR), Indonesian rupiah (IDR), Vietnamese dong (VND) and Thai baht (THB). Since to use the solution altogether, you'd need to be a player from the Southeast Asian region, you'd avoid paying currency conversion fees, as you'd be able to use your native currency.
Customer Support
The solution offers a 24/7 Customer Support service. You can get in touch with the representatives by filling out the on-site contact form. You'd need to go to the Contact Us page and press the Enquiry Form button. Once redirected to a different page, you'd need to leave some personal details, your email address and a message explaining the issue or question you might have. After the agents review it and have your answer, they'll respond as soon as they can.
Naturally, as an online casino player depositing and withdrawing with the solution, you can also contact the Customer Support team available at your chosen casino. They'd be happy to help you out with the depositing/withdrawing procedures and any issues/questions you might have related to the solution.
Conclusion
There is no doubt that, as a Southeast Asian player, you won't find a better solution to use across online casinos than Help2Pay. This is a method designed to facilitate your online banking and make it safer and most secure than ever. You'd be glad to be able to use your native currency when depositing and withdrawing across online casinos, and you'd love the fact that its Customer Support is always at your disposal. Therefore, if you haven't tried it yet, make sure you do, as it is incredibly easy to use, thorough your online banking profile, without having the need to create an account with it.
FAQs
Is its official website available in many languages?
Surprisingly, even though a solution launched for the Southeast Asian markets, its official website is not offered in Asian languages, but in English only. You won't be able to explore it in Thai, Malay, Indonesian, Burmese, Vietnamese, Khmer or Lao.
Is there an app I could download on my mobile device?
No, not really. If you wish to use the solution via your mobile device, all you'd need to do is access your online banking profile via any browser, without downloading any software or app.
Do any annual or monthly fees apply?
No, the solution does not come with any hidden fees, as explained. It does not charge any fees on its part, not annual, nor monthly, as you won't need to create an account to use it.
Are deposits with Help2Pay across online casinos really instant?
Yes, they really are! That's thanks to its automated payment acceptance software which instantly verifies and confirms your transaction, and that's why deposits with it are instant.
Is Help2Pay offered across Southeast Asian casinos only or across international casinos, too?
As said, you'll find it across most, if not all, Southeast Asian casinos. But the solution is accepted across many international online casinos, too, casinos which accept players from across the globe and cater to Southeast Asian players, as well.
SHOW MORE
&nbsp
Online casinos accepting Help2Pay as a payment method
Loading...
There are no available casinos for requested criteria.

We're showing casinos that accept Help2Pay restricted by your country. To remove that condition click here
Something went wrong. Please try again later.