Caleta Gaming

To visit Caleta Gaming official website, click here.
About the Company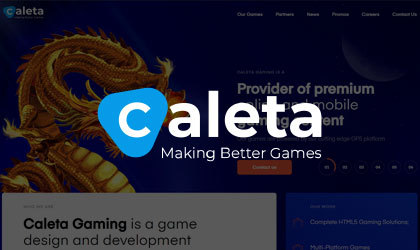 Caleta Gaming is a Brazil and Gibraltar-based online gambling game development company launched in Florianopolis in 2013. While their games have always been a hot commodity in the LATAM market, it wasn't until the last couple of years that they began receiving certifications from countries in the region as those locales adopted regulations and strengthened their regulatory bodies.
The company was founded by David Markus, Paulo Nova, and Fabiola Jaeger. As of 2020, the development team was small but agile with 10 team members who are able to respond to market demand quickly with that year showing an average of 4 games per month through the pipe. About 50 games have been produced for other companies.
After receiving BMM Test labs certification they submitted the portfolio to Colombian regulators who certified all 16 games.
While they may not have certain European licenses, the companies that distribute their products and use their services do. Some of the partners include Betconstruct, Groove Gaming, MrSlotty, Pariplay, and SoftSwiss as well as Copacabana Gaming to name a few.
The company has a complete RNG and RGS (random number generator/remote game server) solution for the online market but it is currently in the process of being certified. The platform was developed 100% in-house without 3rd party encumbrances. Caleta is currently able to integrate its games with aggregation platforms as well as work with operators or other RGS.
We first became intimately aware of them when we reviewed a joint venture between the firm and Copacabana in 2019. That start-up was known as Ipanema Gaming. Venture capitalists at Vereeni acquired a 25% share in Caleta prior to the launch and soon we began to see multiple integrations not only in the Latin American markets but elsewhere.
While Caleta does produce a few slots, their major focus in the past had been on video bingos, keno, and other numbers games like a lottery as well as a small handful of animated scratchcards.
Another of their partners is RCT Gaming, a firm that is little known outside the American markets, but one that is well known in land casinos in the south and operates in the USA, Peru, Brazil, and Mexico. Caleta has made some of the manufacturer's games available to the online marketplace. If major European aggregators and distributors such as Bet Construct incorporate those games as well as original Clatea titles into their inventory, it could create a synergy for all LATAM developers.
The company is well structured and positioned for immediate success when unified online regulation finally comes to their homeland of Brazil.
So far, the company has produced more than 70 titles. The entire portfolio is available in 12 languages. The team produced a total of 39 games in 2020 alone, including 17 slots, 18 video bingo games, 3 keno, and one new lotto game. See one of their mobile video slots below - Astro Wild.
Software and Games
The company develops all of its new HTML5 titles using the proprietary Caleta GP5 which stands for Gaming Platform HTML5. All elements of maths, engineering, game design, artwork and animation as well as soundscapes can be integrated into their unified platform. The game teams are still located in Brazil while most administrative offices and commercial operations are located in London and Gibraltar.
This is augmented by the technical ability to communicate game server to game server (RGS to RGS) with partners.
The GP5 also allows them to convert existing land-based games into instant-play online web browser titles for mobile and desktop.
The company's API integration is seamless for aggregators and operators with more than 15 plug-ins being recently completed.
One of those was with MrSlotty's GameHub. MrSlotty was founded the same year as Caleta, in 2013. GameHub is a game aggregation platform designed for near-instantly deploying new games as soon as they receive certification.
Caleta Gaming CEO, Fabíola Jaeger said of the partnership: "We are always looking to expand the reach of Caleta's leading casino content, so we are thrilled to be working with MrSlotty GameHub to precisely achieve this. We are certain that our ever-expanding collection of games will greatly enrich the fantastic range of titles available on the MrSlotty GameHub platform."
MrSlotty GameHub Director, Anatoliy Peev added: "MrSlotty GameHub values innovative casino content above all else, which is what makes Caleta Gaming such a perfect partner for us. We are delighted to be able to bring these creative titles to our operator partners and offer an even greater and diverse experience to users."
The games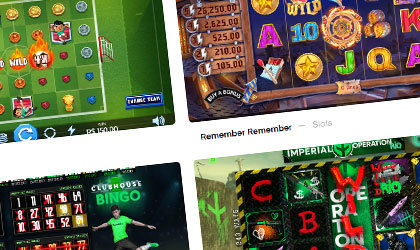 We'll take a look at a few of the different types of games produced by Caleta. One thing that all seem to have in common to one degree or another is a very Brazilian flavor. Football, sports, touring, music, culture, and folklore are recurring themes and elements that make Caleta productions unique and recognizable.
The studio currently produces the following game types:
Slots

Bingo

Keno

Lotto

Scratch Cards
Slots
While you might expect a small company to simply spin out a bunch of clones to fatten up its portfolio, we have discovered that to not be true. The most likely candidates were a handful of 3x3 games with widely diverse themes. A closer look revealed they were really nothing alike 'under the hood'.
Each title - Hurricash, Vegas Baby, and Village Brewery had different theoretical return to player percentages (RTP) ranging from 93.61% to 94.39%. Special symbols, game features, bonus mechanics, and even pay tables were all different to one degree or another from game to game with no cloning overlap detected at all.
Unfortunately, we were not privy to the actual maths or par sheets in order to determine volatility or any number of other elements that ultimately define a game. However, after a cursory examination, it was easy enough to determine that each one, is indeed, a unique creation.
That is always good to discover!
Little surprises in the feature mechanics while still maintaining a style were welcome and the win celebrations, even when 30x total bet or more were just enough to toast with you but not so over the top as to make you wish it would simply end and let you get back to playing.
Five reel slots
Some of the games are quite simple, but that's okay for me. The artwork, animations, and soundscapes remained interesting and the hit frequency and bonus frequency kept me engaged while testing several of the titles.
I found a personal favorite in "Feel the Music". The theme is just a guy in his recording studio. It's a simple but colorful 5x3 game with 243 ways to win, multiple bonus mechanics, and a Buy Bonus feature with RTP listed for each possible choice (15, 20, or 25 "free" spins). Purchasing 20 spins costs a little over 100x total bet (105.5x) so we tried that option.
Stacked wilds on reels 2, 3, and 4 - cascading reels with a decent soundtrack and game sounds built excitement for the round.
Interestingly enough, buying 25 spins costs about 3x as much but the RTP is very similar. My first thought was that this must indicate high volatility and the potential to win much more - then I noticed that the scatter pay itself accounted for over 80% of the cost so the extra 5 spins themselves were not as costly as they seemed.
With that, players might want to base a decision on whether to buy the bonus or not on current bankroll, appetite for risk, and the stated RTP of each choice after deducting the guaranteed return of the scatter win. While we can't know if volatility changes per level, all things being equal the more spins you get the closer you will come to the stated RTP, however minor that chance may be.
Video bingo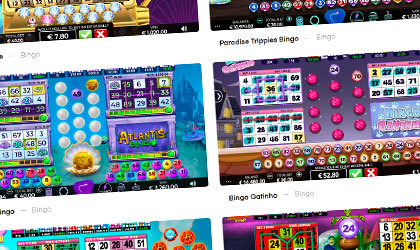 These are fun and engaging games with several layers of intrigue and levels of play.  Controls include a bet max button and turbo mode.  Interactive bonus games can be triggered and extra balls can be purchased to get you over the top when playing some of the titles.
All games have clear instructions in whatever language is dominant in your locale. This is the bread and butter of Latin American land-based gaming and the genre is very popular online as well.
The experience is more akin to a slot game (because of the player/game interface sans chat and other social aspects) than it is to traditional English bingo but many of the rules are the same, because it is, after all, bingo.
Checking some quick stats on one game we tried,  Bingo Bruxaria, we found a hit frequency of 46.1%, high volatility, and RTP at 92.91%. Personally, I rarely worry about RTP when I play a high index game because it takes millions of spins to ever get within the mean anyway - in short, the RTP can be the least important element in the short run. However, search around in the help files if you want to play games with RTP as high as 99% because Caleta produces them. 
A list containing a few of their bingo titles could include:
Boto

Catch a Fish

Bingo Tornado

Bingo Fada da Fortuna

Bingo Betina 

Señorita Calavera

Saga Loca 

Señor Taco 

Bingo Samba Rio
Keno
This selection is a crew of fun animated titles with bonus games. The help files don't refer to RTP, and that's for good reason. Each bet from 3 places to 10 places has a different volatility level as well as return to player percentage. This number overall can be quite low in most games out there, but a resourceful player might visit the Wizard of Odds Keno Calculator page in order to suss out the best games and the best bets to make for each game.
All games have clear help files and rules and all titles allow "fast pick"  for the times you simply don't want to choose numbers yourself.
Other games
When we visited the site there were also two lotto games and two scratch cards. Both variants seemed to be clones of the first release in the series with a seasonal theme being applied as the only discernible difference. Granted we did analyze the odds or go deep into any maths for the games. They seemed at first glance to be simple fixed-odds games. However, in demo mode, we did find very high bet limits and potential returns for the lotto games.
The Final Analysis
Caleta Gaming provides a nice suite of mostly LATAM-specific games but the last year or so has seen them really expand the themes to include the interests of a wider audience. I found the slots to be fun and engaging and became slightly addicted to the video bingos in short order - in fact, I played much too long for "gambling" in demo mode.
The rest of the games I could take or leave, really, but I will explore the Keno again later with the help of an odds calculator just in case they have a sweet spot somewhere in the picks. Offhand, I would guess it is 7 balls but that is only a bootstrap guess, not arrived at strictly mathematically.
The company is becoming more and more engaged with aggregations and other deals. It's always heartening to see hard work and ingenuity pay off in the long run. Caleta may become a much more well-known name if Brazil ever achieves online gambling regulation. I can see the company becoming not only a provider, but an operator in that environment and then bringing their unique flavor of gaming to other markets over the course of time. 
For now, you can try their games at any casino listed on this page. Your thoughts and comments are welcome here as well. For now... Até logo! Tchau!
Caleta Gaming Games
Currently, we have

casino games

available to play and over

casino software developers

. Let's get started!
Casino Games
&nbsp
Caleta Gaming powered online casinos
Loading...
There are no available casinos for requested criteria.

We're showing casinos that accept Caleta Gaming restricted by your country. To remove that condition click here
Something went wrong. Please try again later.