Ipanema Gaming

To visit Ipanema Gaming official website, click here.
About the Company
Ipanema Gaming is an online video slot and video bingo development company formed in late 2019.
The joint venture (JV) was created through a series of interesting mergers, acquisitions, and important tie-ups in the rapidly emerging LATAM iGaming market.
Copacabana Gaming and Caleta Gaming announced at the November SAGSE trade show in Buenos Aires that they were joining forces to provide operators and distributors a new portfolio of video bingo and video slots.
Copacabana
One month prior to the announcement Sweden's Spiffbet acquired a stake in Copacabana Gaming, already one of the most successful developers in Latin America.
Copacabana is a subsidiary of New Games Technology (NGT) a Delaware corporation in the US with offices, labs, and studios located in Brazil.
In May 2020, Spiffbet completed the acquisition of its stake giving them a greenfield advantage among Nordic companies in the market.
In June they entered the market with a game under their own brand, Breaking Lab, through a deal inked earlier with Costa Rica-based Panorama Gaming.
Spiffbet also owns STHLMGAMING of Stockholm.
Copacabana's sister company under the NGT Group is Raspinha, a developer focused on instant games for the local market.
Ipanema will benefit from Copacabana's regional experience and success in game design, colorful graphics, and localized soundscapes as well as cross-platform HTML5 development for mobile, desktop, and server-based deployment.
Caleta
Caleta Gaming was formed in 2013 and brings not only a wealth of game design, maths, art, and sound experience with it into the deal but an advanced team of technical professionals with a remote game server (RGS), and game engine they call the Caleta GP5 (Gaming Platform HTML5).
Venture Captial firm, Vereeni took a 25% stake in the company in 2019. INvestment engines like this are often responsible for helping companies like Onetouch, Sherpa, Coolbet, Global Gaming, Hexagon, The Games Company, and Kalamba Games realize expansion goals as Vereeni has done in the past.
Caleta Gaming operates out of Florianópolis in Brazil as well as in the UK and Gibraltar. The founding team consists of CEO, David Markus - Paulo Nova CTO, and Fabiola Jaeger, COO.
The London and Gibraltar offices deal with administrative and commercial concerns while all design engineering and production still occur in Brazil.
The company's game engine or HTML5 platform dubbed GP5 was created in-house and is the central core of the firm's ability to develop bingo, keno, slots, and bingo games with RGS to RGS functionality.
The engine also efficiently converts any game into HTML5.
In July 2020, the company announced it would be bringing regional land casino video bingo game favorite RCT Gaming's top five titles to the online market. RCT is a well-known manufacturer and developer founded in 1994 and operating in Brazil, Mexico, Peru, and the USA.
Software and Games
The Ipanema JV is seen to be developing its own portfolio of titles rather than shoving a new binder full of previously released games.
We know from looking at the component parts of the new company that all games will be developed and released on the HTML5 framework. This means that they will not only be played on handsets, tablets, laptops, and desktops but they could easily be reassigned to server-based land casino gaming in the future.
What we didn't go into when examining the companies was philosophies or methodologies of game creation.
We know from archives and the press that the maths are a very important element as a game comes to fruition. We know that they have explored player reactions to high volatility and low volatility models, bonus mechanics, and themes in order to tie everything up in the finished product.
We know that each game is made from scratch and that they have the most advanced tools in the industry to create unique and original games with player experience the foremost consideration.
We know that developers and designers share common culture, passions, and goals so we can assume many of the games will have a local flavor and wide appeal in the LATAM markets, especially in Brazil.
Let's look at the current portfolio and see how all of that translates on the screen.
The Games
We find an inaugural offering of four titles. The themes are varied and cover Carnival, the ocean (mermaid), folklore/fantasy, and banditry:
Alegoria - 5x3, 243 ways to win, 95.7% RTP
Aqua Fantasy - 3x3, Scatter pays, 96.55% RTP
Swirl of Tricks - 5x3, 20 paylines, 96.36% RTP
Captain Virgulino - 5x3, 30 paylines, 95.11% RTP
Unfortunately, we don't find a more in-depth analysis of hit frequency, volatility, or percentage of RTP that occurs in the base game and the feature.
It's a fool's bet to try to divine any of those things with any certainty from the pay tables, but we might be able to come up with an educated guess at volatility based on a few of the known parameters.
Alegoria seems to refer to the meanings behind the costumes and pageantry of Carnival. A skeleton who carries a scythe is an allegory of death, for example. The floats at Rio Carnival tell a story (alegoria) and the adornments (adereços) are props carried by the costumed parade participants.
Carnival is one of the most amazing social and cultural events on the planet - and we know it means something personal to the slot makers.
The game wins on the color scheme alone. The symbols float on a separate dimension from the background. The win celebrations are well executed.
In the base game as well as the bonus feature, winning symbols are paid out and then new icons drop in to replace them on the reels.
The sounds are simple, non-intrusive, and only occur
As for excitement, we have another winner! Wild symbols are stacked on reels 3, 4, and 5.
A random event feature occurs and any or all of three reels (2, 3, 4) can turn wild with a guaranteed win. It gives a quick anticipation trigger with immediate gratification every time.
Three or more free spins icons trigger 15, 20, or 25 bonus games. Each consecutive winning spin will increase payouts by 1x up to a maximum 10x. Scatter wins are multiplied up to 250x bet staked.
Aqua Fantasy presents a hostess on the right who happens to be a beautiful mermaid. Each position in the 9-spot game area spins independently, as does the separate 10th position that generates a random special symbol.
Rewards are based on matching any 3 or more symbols anywhere on the reels for scatter pays.
Match 3 or more of the 9 for a win.
Match three or more with the special symbol for a pay doubler and to lock them in for a respin. Continue to spin with locked symbols until no new wins are created. Match up to 9 symbols for the top payouts.
Win celebrations are set too low for our liking but many players will enjoy seeing "Big Win".
Three or more Bonus symbols in any position trigger a roulette bonus.
Land 3-9 Free Spins symbols to trigger between 7 and 100 extra games. All regular wins are doubled and all special symbol matching wins are quadrupled.
Swirl of Tricks may seem as if the theme is out of context to people unfamiliar with Brazilian folklore like myself. However, "fairies and elves" are found in the lore of nearly every culture and Saci Pererê is more than a mind-numbing beach cocktail, it's also the name of a playful character in local lore who can appear or disappear wherever and whenever he wants to.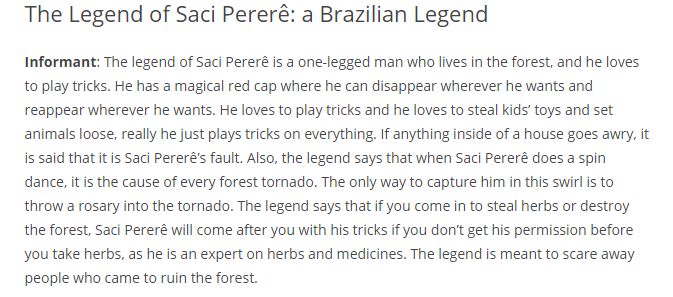 The one-legged trickster with a red cap is the main character of this game.
The wild symbol (magic mushrooms) will expand to cover the entire reel when it lands anywhere on reel 2 or reel 4.
Three or more free spins icons will trigger 8-20 free games. During bonus games any piece of a wild that appears will nudge up or down to find a place on the reel then expand to cover the entire reel. The feature can be retriggered and triggered from within the bonus round.
The bonus game is a picking feature with cash prizes, free games, and more. Pick until you find him swirling which will end the feature.
Captain Virgulino (Lampião - Virgulino Ferreira da Silva) was a bandit of the NE part of Brazil in the 1920s and 1930s. He became a folk hero in Brazil, more or less the equivalent of Jesse James in the Wild West of the USA or Pancho Villa in Mexico.
The game's artwork is simple but representative and true to the theme, and the bonus narrative is well contrived though simple in that respect.
Wild symbols appear on all reels, and three Hat scatter symbols open a picking game for up to 20x total bet, bag of money bonus symbols p[en a 'hit the target' bonus, and three or more AMulet symbols trigger 6, 15, or 30 free games with additional free spins possible in sets of 1, 2, or 3 during the feature.
The Final Analysis
Ipanema Gaming is well-positioned business-wise to take advantage of the emerging LATAM market. The two companies behind the joint venture would seem to complement each other well.
The first games released are well-executed slots with well thought out themes, maths, and mechanics that all work well together to promote an enjoyable player experience.
As of review time, we haven't seen any of their video bingo titles deployed, but both companies are well-versed in that art and science, already carry popular games, and have all the tools and talent at their disposal to make the games successful with players.
Ipanema Gaming Games
Currently, we have

casino games

available to play and over

casino software developers

. Let's get started!
Casino Games
Ipanema Gaming powered online casinos
Loading...
There are no available casinos for requested criteria.

We're showing casinos that accept Ipanema Gaming restricted by your country. To remove that condition click here
Something went wrong. Please try again later.