Bet Construct
To visit Bet Construct official website, click here.
About the Company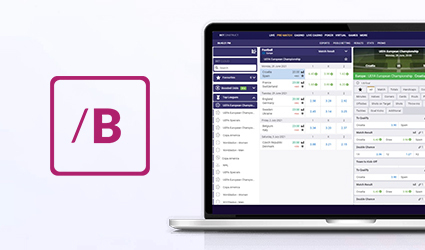 BetConstruct is a multifaceted developer and provider of solutions for online and land-based gaming.
Since its launch in 2003, the company has amassed a litany of industry awards.
Founded in Armenia and now headquartered in London, the privately held family-owned company employs over 1,000 people, most of them in Armenia. Additional locations include Ukraine, the US, Peru, the UK, Latvia, Malta, Taiwan, Cyprus, Germany, France, and Croatia.
The founder and CEO is Vigen Badalyan. He co-founded and launched Vivaro Betting LTD (VBet since 2014) in parallel with BetConstruct in late 2003 with Vahe Badalyan. Betting, poker, and casino site are very popular in Armenia.
The firm is an intellectual and technology powerhouse with verticals in every imaginable arena of betting including important disruptive industry segments such as artificial intelligence.
To illustrate an example of how effective the company is in all they do, they offer prospective customers a full-service dedicated live casino with up to 200 tables in 30 days from signing the deal to starting the streams. Imagine that. They can build a gambling hall and have it operating in 30 days.
As part of the build, completely customized to the client's brand and desires, they'll plug in dedicated customer support, licenses, games, and even custom game development for any geographic region an operator wants to target.
A comprehensive review of all of the company's services and products would take much more digital canvas than this reviewer has stretched out in front of me. For players with interest and industry visitors, I will paint some broad strokes and refer you to the company website for details on sports betting, land-based solutions, AI-based solutions, marketing, player acquisition, over-limit betting solutions through self-insurance pooling on their BetCloud, risk management, etc.
Under the trade name Soft Construct (Malta) Ltd, BetConstruct is licensed and regulated by the Gambling Commission in the UK for the provision of services to the United Kingdom.
Additional certifications and licenses for various products include ARJEL (France), ONJN (Romania), MGA (Malta), Spelinspektionen (Sweden), IOMGSC (Isle of Man), and the NGB (South Africa, Western Cape). As of the time of this review licenses from the ADD (Italy) and Spillemyndigheden (Denmark) were in the works.
Among all of the company's services, we do find game studios. Whether in-house means "on-premises" or "bespoke and by contract" we'll take the unique games not found under any other trademarks (except branded games) as their own creations and treat them as if they are indeed built "in-house".
Their game engine, Slotbuilder is most likely responsible for the in-house creations. Some games may be developed in concert with other studios, we'll make note of that when we have such information.
When we look at their slot games, if they can be segregated from the 8,000 or so other slots on their platform, we'll try to determine if there is anything special about any of them or if they appear to be random or thoughtful compilations using a set number of variables.
Software and Games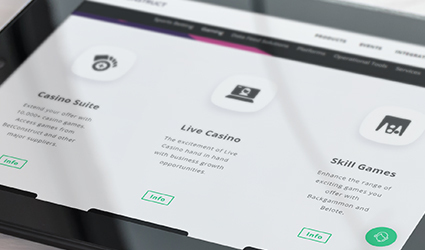 The main products provided by the company include:
Sports betting: Sportsbook, Esports, virtual sports, etc.
Gaming: Casino, slots, live dealer, skill games, etc.
Data feed solutions: Odds feeds, live scouting data, statistics, etc.
Land-based solutions: Betting terminals, cashier clients, etc
AI-based solutions: Risk management, infield sports contest analysis
Marketing solutions: CRM, agent system, affiliate marketing
Services: All back-office and support for operator betting and casino sites
Integrations
In addition to products in the categories above, the company also provides 3rd party integration on its own platform or via API on other platforms. The company has distribution deals for some 8,000 titles from developers like Microgaming, Novomatic (Greentube), Playtech, NetEnt, EGT, and Yggdrasil among many others. Nearly every major developer and studio have accepted placement on the platform.
BetConstruct platform
Underlying all or nearly all of the firm's deployments is the Spring platform launched in the early 2010s. The public-facing tool that incorporates all of the turnkey solutions for start-ups or operators wishing to convert is now called SpringBuilder.
If you've ever built a webpage with a facility such as WIX, you will be familiar with drag-and-drop capabilities for building a website. Now, imagine that each component page you create also contains all the tools necessary to actualize that element of your business. You now have a vision of SpringBuilder.
The platform allows operators to smoothly customize services and features of their site using a variety of designs or templates. No technical skills are required - what you see as you build it, is what you get.
The tool has nearly 150 pre-engineered blocks feature a multitude of web elements so each website created with the drag and drop tool is as unique as the creator wishes it to be.
Ready-made page types such as a sportsbook with European or classic views, live dealers, casino games, and even fantasy sports can be created almost on the fly.
The user interface "kit" allows creators to customize the layout, navigation, and, of course, the typography to suit the style they envision.
What does this mean for players?
All of the page coding is "responsive" so no matter what sites you visit, they will adjust to your internet device so you won't need to.
It also means that any BetConstruct game can be tailored by the operator to fit a particular market niche you may be part of.
If you like skill games and fantasy/eSPorts, you can probably find an operator who has built an offering just for you. Of course, they will want to market that product so you may find bonuses and promotions for your style of play to a "T".
It also means that you will find sites that offer - if not every slot title or live dealer table - at least every type of game you enjoy playing. The basic template structure also allows you to simply go to your game type of choice, such as slots, live dealers, and virtual sports, and never even need to wander from your preferred path. However, the category titles will be there if you ever fancy a punt on football or a flutter on a game of Mahjong or rummy.
Operators can combine the two main pillars of sportsbook-oriented betting and casino-style betting or they can choose one or the other.
The user experience is customized by the operator to the level of 3rd party integrations of things like live agent chat, forum participation, or comments. The anonymous analytics the operator gathers en masse through tools such as Google Analytics and Hotjar allow the operator to constantly tweak the little things that make your gambling experience enjoyable and memorable to provide better service.
Looking for that odd combination of elements in your favorite betting medium? The Algolia search plugin will deliver the results you are looking for with uncanny precision if it is deployed on the front end.
If used strictly as a back-office tool, it can help the operator craft your gaming experience to your liking so you return again and to where you feel most comfortable betting.
Operators are also able to offer more than 500 payment methods so no matter where you log in from, you will be able to deposit easily, and enjoy your session, and when it comes time to cash out your winnings, they can be released as easily as your stake was deposited.
The games
We first see games appearing under the BetConstruct brand in 2014. In 2016 they had nearly doubled the number of titles available and the number held through much of 2017.
We don't find much industry news about their slot games, or more importantly their game engine, but in late 2016 at EiG in Berlin, the company unveiled a heretofore unseen tool for the industry. Slotbuilder was introduced as a way to remove the burden of engineering and allow talented artists to "do their thing" and create slots.
The concept was brilliant in that it would take care of the maths and engineering side of the equation and open the doors to artists to craft a narrative, populate it with characters, enhance the idea with supporting visual arts, and submit their work for production through the Slotbuilder engine.
A no longer available article in betting-business.co.uk, the business newspaper for the betting and iGaming industry gives us a rare first-hand insight into the product by CEO Vahe "Baloulian".
He relates how authors can take finished art projects and integrate them with the logic for a slot machine by choosing the reel layout, the number of pay lines, etc., as well as tweak the user interface by moving buttons and menu sections to create a new game. Different bonus mechanics could be plugged in by using existing templates.
While that is the best description available to the layman, we can also look at a similar (or the same product under license) announced later in 2017 by WeAreCasino.
Their tool is called Slotbuilder as well and exists on their website within the same type of subdomain as BetConstruct's.
Slotbuilder.wearecasino.com appears to be a very similar product. For those highly interested in the concept, their Youtube channel holds about a dozen informative videos on their product which read like a how-to manual for creators.
Betconstruct slots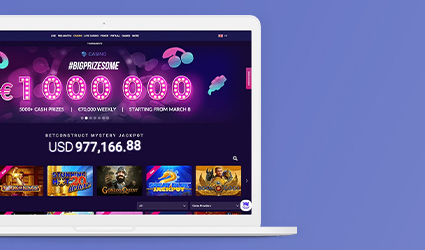 A company with so many tendrils embracing the industry or 'fingers in the pie' if you will, which also focuses on excellence and efficiency... a company with the talent to pull it off... was bound to take a little slot studio, perhaps initially outsourcing different elements, and turn that one small part of their business into a virtual slot factory operation.
Whether Slotbuilder innovation was first imagined as a revenue stream generator or simply fits nicely with the company's revenue share model of business is irrelevant. It is a B2B win/win and in many respects a win for consumers as well.
This reviewer normally praises disruptive innovation found in individual games, created by sparkling geniuses hidden from the public eye at mostly boutique studios while grudgingly accepting that it's a big market and there's room for every type of fair game.
This would tend to indicate that I would not give a tool like Slotbuilder high marks. However, as an artist and a player, I can see where it and other engines like it have opened the floodgates of creativity for the betterment of the gaming world, at least in so far as structured "time two" games.
Let's take a look at a few of the games created on Slotbuilder by 3rd party developers in association with BetConstruct.
A cursory search reveals Vegas Kings and CasinoDesignPro as development partners. We'll also take a look at bespoke games created with and for FashionTV.
Vegas Kings
Vegas Kings is a creative agency for the iGaming industry founded in 1998. In late 2018 BetConstruct announced that the firm would be developing two games on the platform focused on the African market.
While you may not be familiar with the agency's name, you have probably seen their work. If you've seen the websites or creatives (promotions, banners, etc.) for online casinos like Intertops, Mr Green, Tivoli, Foxy Bingo, Unibet, and many others along with US-regulated online casinos, you know their work.
The two games built using the BetConstruct platform are Bling Spins and Soccer Shootout.
Bling Spins is a 20 pay line, 5 reel slot with killer artwork, as expected. It's also no surprise that the mechanics of the game are on par with 90% of the video slots out there.
This game has wild symbols and scatters. There are also bonus symbols. Scatters pay decent multipliers and 3, 4, or 5 will trigger 10 free games. All wins during bonus spins are tripled. Five scatters pay 500x stake so landing scatters during bonus games would pay a handsome 1,500x total stake.
The bonus game may push the boundaries of creativity in that module. Three, four, or five Bonus symbols trigger a game with 1, 2, or 3 allowed 'fails' respectively.
The border of the second screen game is populated by reel symbols. In the center are three spinning reels with a single position each. Below those - are multipliers associated with the symbols surrounding the bonus game.
A cursor chases around the exterior symbols landing on one. If it matches one of the spinning reels, the player wins their triggering bet value times that symbol's multiplier (up to 100x).
When the cursor stops on the "exit" symbol one "life" is expended. Recall players are awarded 1, 2, or 3 fails based on the number of triggering bonus symbols. The bonus game can theoretically amass huge wins with all successful turns summed upon exit.
Soccer Shootout is well rendered but not amazingly artful. It is an exact clone of Bling Spins in every way - it just happens to have different artwork.
CasinoDesignPRO is a Lithuanian game development studio that has been creating games for over a decade. Shortly after the Vegas Kings announcement, it was learned that they would launch two titles crafted on the platform.
We especially appreciate the unique artwork and animation the studio puts into its work. With a combination of art creation using Spine, Cinema4D, Adobe After Effects, and other tools and the ability of the HTML5 integration to keep those elements lean, the game load quickly and is a joy to play if you like cool characters.
It's the sort of small, talented company that is perfectly suited to Slotbuilder.
Mystical Amber is a simple game that captures the studio's artwork well. The first impression may not seem striking, but look deep into the items captured in time and preserved on the reels and the game begins to build "feel".
The sun captured in sap a million years ago is the wild symbol and the partially encapsulated moon is a scatter. Three or more trigger 15 free games with all pays tripled.
Once again, the volatility is raised by scatters providing decent multipliers - especially during free games.
Midsummer Magical Night offers a different theme but only nine lines this time instead of 30. The bonus mechanics are the same however with wilds and scatters that trigger 15 free games and triple prizes regardless of how many icons activate the bonus round.
FashionTV Gaming Group uses the FashionTV worldwide brand recognition to promote its casino and sportsbook. In late 2018 it was announced that BetConstruct would bring five interlinked jackpot games to market for the company.
Billionaire Toys
Bikini Angels
Diamond Rush
Fashion Club
Fashion Show
As the casino portfolio continued to grow, we learned that Vegas Kings would use SlotBuilder to create two new games, Fashion Secrets and World of Diamonds.
The artwork is appropriately WOWful.
The mechanics are predictably ho-hum but the art and maths carry the day.
Fashion Secrets is a left-to-right "all ways pay" game with 243 virtual pay lines. There are wild symbols and 3 or more scatters trigger 10 free games with 3x payouts.
World of Diamonds has 20 pay lines but uses the exact same mechanics as Fashion Secrets. Scatter pays and 3 or more wild symbols in a win line blocked by scatters pay differently.
It's not clear who worked on the other FashionTV games, but as they are all BetConstruct creations they were most likely conjured through the magical Slotbuilder.
BetConstruct Live Casino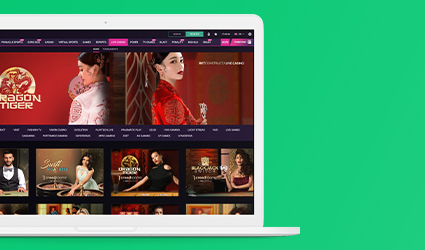 We mentioned earlier that we would need to stretch this digital canvas thin in order to cover the most important casino components for readers and the company's live dealer solutions probably deserve a separate and complete listing and review of their own.
However, we'll try to paint in some detail here, even if it is impressionistic.
The company offers three separate solutions:
Generic tables
Dedicated solutions
Online solution for land-based casinos
We'll combine them from a player's perspective and simply note that you may see felts emblazoned with your favorite casino's logo as well as other trappings such as custom backdrops, cards, etc. Depending on the venue, the live games you play may be coming directly from a casino floor rather than a studio as well.
Live games
A variety of popular live streams are available including dedicated tables and dealers for:
Auto Roulette
Baccarat
Bet-on Poker
Bet-on Teen Patti
BlackJack
Casino Hold'em and Live Keno
Double Red Dog
Dragon Tiger
Roulette
Super Six Baccarat
Many of the games allow side bets, in total there are over 30 different side bets available.
Native language interfaces and dealers speaking the dialect of local players include Arabic, Armenian, English, Farsi, Turkish, and Russian. Players may find an entire suite of one language or a good mix with Russian poker, English blackjack, etc.
Players will appreciate the well-thought-out user interface that leaves room for game action on mobile as well as desktop devices, the ability to choose the camera angles, and the option to view more than one table at a time.
Please keep in mind that not all games are operated directly by BetConstruct employees who happen to be wearing a branded pin. For instance, the FashionTV partnership allows that group to be the actual provider.
As well, if you ever find yourself in Kathmandu, drop by the Hyatt Regency to see a BetConstruct live-streaming real-time internet dealer action right on the casino floor.
The Final Analysis
BetConstruct has leveraged its revenue-sharing and efficiently priced "casino moduled" into a vast array of tools for the online gaming industry.
With each of their innovations, players are afforded better products such as fast-loading games, artificial intelligence-picked live betting offers, and competitive odds.
While the slot creations are not earth-shakingly innovative, the tools used to create them give others in the industry opportunities and offer players variety in art and theme if not advanced bonus mechanics.
The company has picked up every stitch in the journey to the top of its own "niche of everything" and holds dozens of licenses for its products in all of the currently important jurisdictions.
Bet Construct Games
Currently, we have

casino games

available to play and over

casino software developers

. Let's get started!
Casino Games
&nbsp
Bet Construct powered online casinos
Loading...
There are no available casinos for requested criteria.

We're showing casinos that accept Bet Construct restricted by your country. To remove that condition click here
Something went wrong. Please try again later.