Swintt

To visit Swintt official website, click here.
About the Company
Swintt is a game and software development studio with offices in Malta. The company is part of the Glitnor Group, a force to be reckoned with.
Founded in April of 2018, by CEO, David Flynn, and others, the firm hit the ground running with over 70 team members and partners, a portfolio of top-tier proprietary slots, and all the technology they need to help the parent company achieve their stated goal...
"Our ambition is to take global leadership and change the competitive landscape for Game Studios, Bingo and Casino."
The company was incorporated in Malta in April 2018. We do find some indicators that July 2018 was the date of first activities including business development and support personnel, with September of that year seeing the addition of finance staff and entrepreneurs coming on board before the year's end and an official launch in April 2019.

The core of the company seems to hale from Sweden. Many of the department heads have companies such as NYX and Scientific Games in their curricula vitae.
CEO, David Flynn has been involved in software and gaming since the 1990s with titles such as VP, Director (Ongame), Head of Operations (Microgaming), CEO, COO, CCO, and EVP of Business Development at NYX and NYX AB, as well as JackpotJoy during the Gamesys Vera&John era.
David Mann, Business Development Director brings over a decade of experience with such firms as William Hill, Betway, Spigo, and Wazdan.
CTO/COO, Mark Biegel founded the UK's Blue Square (1998) and brought betting to television over the Sky Open platform in 2000.
The parent company, Glitnor is referred to by the firm as, "...an investment vehicle helmed by former Vera&John chief Johan Königslehner and partner Dan Andersson."
Three of the engines running the investment steam behind the game maker are Lucky Casino, Gambola, and Dora Mahjong.
Many new firms admirably express grandiose plans. A look at the makeup of Swintt, their potential leverage, and the milestones they reached prior to coming into the public eye, signal a tale of success in the making.
Software and Games
The games are all developed for and deployed in HTML5 so they can be played on any device with a web browser.
The variety of future games and gambling offerings seems to be nearly unlimited thanks to the company's strategic partnerships.
The company not only partners with industry giants behind the scenes, but it also invests in geo-local studios and has been purchasing game developers and live game studios around the world.
We'll leave it to your imagination which Central European developer helped them form their original tranche of "premium" games in a moment. For now, we'll look at the following...
When focusing on a new potential market, they bring in more than local land-based slots studios to create compelling and successful titles.
The maths of local games, imagery, and highly refined feedback data go into the creations.
In this day and age, it is nearly impossible to divine where any given game comes from. In the old school days, an experienced eye and gut could tell you - if not from the imagery and paytables, then from the easily definable mathematics, just who had created this game or the other.
With Swintt, we're hesitant to venture a guess outside of parlor tricks and drinking games... the slots could come from any studio on earth!
For instance...
In late 2019 the firm made a strategic investment in the New Delhi-based, RNGplay in a move to expand its game portfolio with top-tier content.
RNGplay develops self-scaling game engines for multiplayer casino games in addition to their RNG table, cards, and slots games for online and land-based casinos.
Be that as it may...
We can't give away tradecraft or risk breaching independently determined 'suppositions', but we will go out on a limb and point to Amaya in re Panda Warrior. Of course, that doesn't say much about the studio locations because we have never seen an Amaya lab or studio, rather, most "Amaya" branded titles appear as licensing deals. On the same hand, it looks and feels like a highly evolved NextGen or even Genesis title.
It's a thin limb, but not too far from the ground.
The Games

The company's current portfolio consists of "Games" and "Premium Games". While we have very good reason to believe they will expand into multi-player casino and eSports games in the near future - as of early 2020, all titles in the public domain were slots.
Panda Warrior
This title's inner workings expose some of the secret sauce running through many of their games.
The build size is light for such a robust game.
What 'light build size' means to players...
The game loads quickly, it consumes few resources, and it delivers stunning animation and sound effects without bogging down memory or power usage. Players in a situation of low bandwidth can enjoy the game as well as those on 5G or with an excellent ethernet or WiFi connection.
What 'robust' means in this respect..,
Brilliant arts, maths, and an engaging user experience that includes mechanics that capture the imagination. Bonus rounds that are progressively "earned" and highly anticipated, along with a theme that carries all of the inner workings to fruition for an entertaining experience that borders on the obsessive.
You might be thinking...
Sure, but what does that mean to me? I just love great slots!
Welcome to the jungle!
The gameworld materializes and then the Panda Warrior drops in along with the logo and a heralding of some of the top features.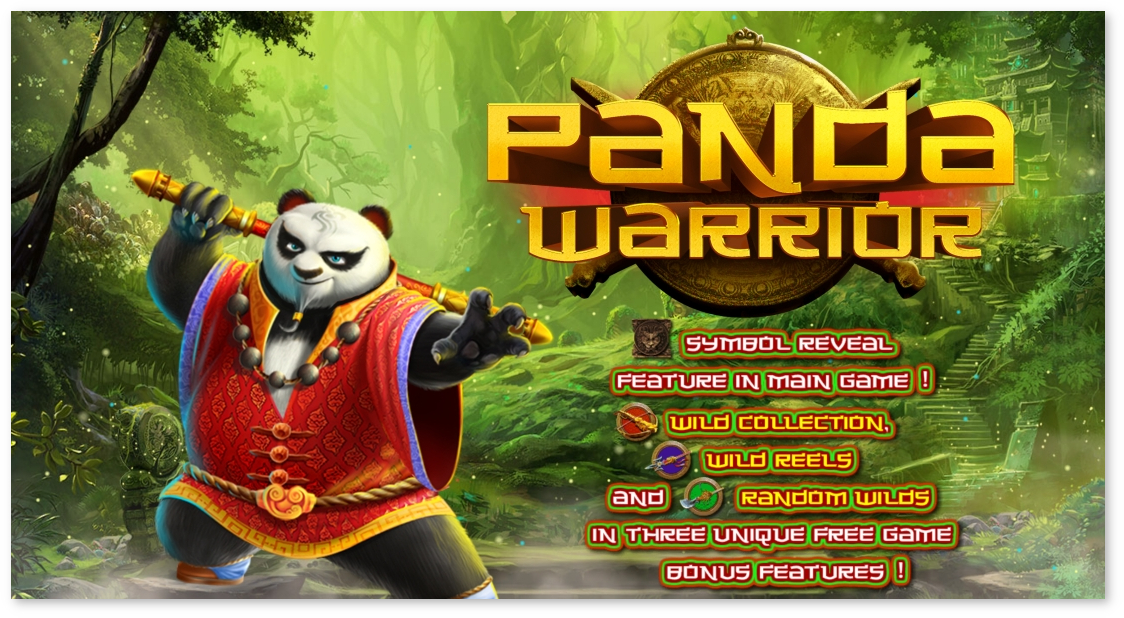 The base game appears showing a 5x3 reelset in a well-orchestrated color scheme. There are 20 fixed paylines with a bet range of 0.01 to 25.00 per line for a minimum bet of 0.20 and a max bet of 1,000.00 per spin. In addition to coin value choice, a bet multiplier (2x, 3x, 4x, etc.) is also provided. Not all casinos will allow the full bet range, some others may have additional settings for well-qualified VIP players.
In the base game, stacks of symbols can be hidden. All symbols behind the "Symbol Reveal" icon will be the same.
The wild symbols appear first, before any other symbols, building anticipation, especially when Symbol Reveal icons appear too.
To the left of the reels, you'll see three weapons. Each has an independent meter. Winning combinations that include the weapons symbols increase the meter for each of the weapons on a winning payline. When a meter is full it triggers the feature for that progression.
Progressive bonus meters
Each weapon symbol that participates in a winning line in the base game will add 'juice' to that symbol's bonus feature. Wilds do not fill the meters.
There are three meters and three bonus features: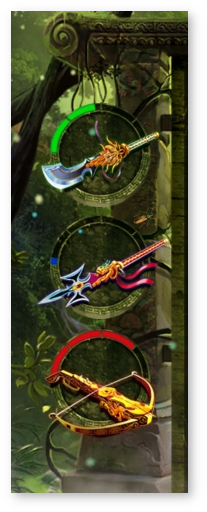 Wild Reels - 10 free games - Up to two reels will be filled completely with wilds
Random Wilds - 10 free games. Up to three icons on the reels become wild
Wild Collection - 10 initial free games. At the top of the reels are 4 blank spaces. Any wild that appears is accumulated at the top. When 4 wilds are gathered in that reel, 2 additional free spins are awarded and the 4 wild symbols appear randomly on the reels. All earned wilds stay onscreen until the end of the bonus round but move around to different positions.
Note: The game will save your state for each bet level. You can not only change bet size and return to your saved progress, but it would appear that you can also bust out your bankroll and come back later to try again!
Super note: If you have a fat bankroll and or a bankroll management system that allows it - you can bet hard and heavy, storing value in the progressive bonus feature and if things don't go your way at first, you can lower your bets and work toward completing other progressions. After a big win or two - (and it would appear that at a later time) - you can go back and try for the big ones again. If that is the case, expect this game to be excluded from most bonuses.
Extra note: In addition to storing progress per bet size, each meter is independent of the others at any given bet size. This means that you can trigger one feature and progress remains on the other two meters. Progress is not lost on other meters when one bonus feature is triggered.
Super Extra Note: Symbol Reveals can provide enough progress in a single spin to finish filling a meter and trigger that bonus feature. Extra progress, not needed to trigger that feature is held in memory and applied to the meter when you return to the base game. i.e. if you only have two or three 'clicks' to go and hit a big cluster, the additional progress will show on the meter when you return to the base game.
Wild 777
We chose this game at random to see just how deep the brilliance runs here. Granted, these games are most likely bespoke or otherwise acquired, but they represent the company's portfolio.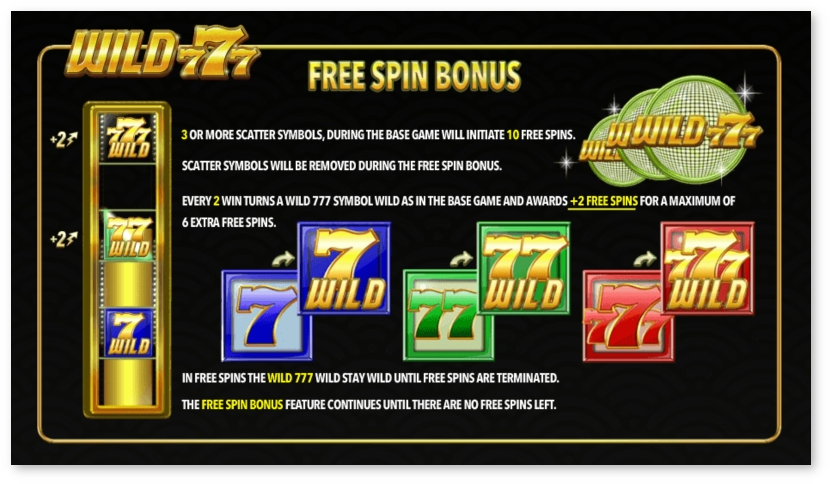 We were pleasantly surprised as this game, too, had a sort of progressive bonus feature - albeit much different than the first game we tried.
Any winning spin, including a scatter win, activates the Wild Meter. A "respin" is granted, however, there are no sticky symbols so it is more of a "free spin".
There are six positions on the meter so five subsequent wins in a row will allow the game to top out the wild meter. The meter resets or ends in the first five respins if there are no new winning spins.
Additional wild symbols are added every two steps up the meter in the following order:
Blue Wild 7
Green Wild 77
Red Wild 777
Three scatters trigger 10 free games with the scatter symbol removed from the reels.
The gameplay is not intuitive and the help files are so succinct as to confuse (or may contain typos). In a nutshell, hope for six winning spins in a row or land three scatters to enjoy the ultimate experience. Every two wins in a row, new opportunities (wilds) become available.
Surprise Series Favorites
Every game we tried, including the most basic (Monkey Luck), was about "as good as it gets" for that genre of game mechanics.
Monkey Luck - Three reels, one win line. A slight increase in RTP for betting 3 coins. No feature.
Cheeky Charlie - 50 paylines, wild doublers stacked on reels 2, 3, 4. Stacked wild free games with stacked Banana symbols on all reels.
Cheeky Charlie II - 40 paylines, wild trigger respins and walk (swing) across the reels creating enhanced wins. Third screen Treasure Hunt game to be won during free games.
"Premium Games"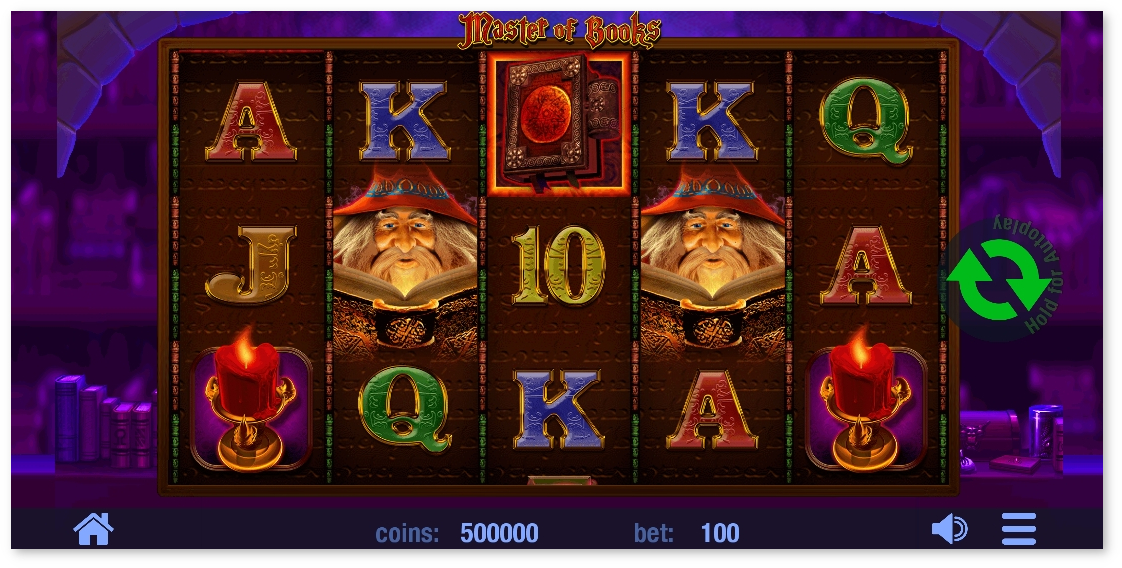 This suite is not for everybody. Personal taste will always bias this reviewer's analysis of a game aside from objective maths and other facts. Our bias is clear on this set of titles. While others may find them all to be extraordinarily enjoyable and reminiscent of a favorite game, I barely enjoyed one title and found the rest to resemble boring clones - games with a shared and in-common game engine but different themes and artwork.
The best I can say is that if I had randomly happened upon "Heart of Earth" and never played another of the premium titles, I would have been far more impressed with this collection.
These games were most likely acquired or commissioned for local appeal.
The first "Premium" game we tried was Master of Book. In all, we tested four titles from this category.
Master of Book
As mentioned, we won't try to guess whether the ultimate developer was Novomatic, Euro Game Technology (EGT), or another provider in Austria or beyond (Växjö?). They do seem to be Central Euro in flavor, theme, maths, and mechanics.
This game had excellent graphics, animations, sound effects, and slightly out of place lauditories during big win celebrations that seemed to be "slapped on" as an afterthought.
Rather than 10 paylines, there were only five and they were fixed per bet.
Scatter symbols also act as wild symbols during base-game play.
Any two icon symbols on a payline leftmost to right award the price of a single spin, except the highest paying symbol, which pays more. Otherwise, three or more are required to win (A, K, Q, etc.).
When three or more scatters are landed the book opens and cycles through all of the symbols. When it stops cycling the 'Lucky Symbol' is determined and 10 free games are awarded.
Lucky Symbols can expand to fill their entire reel and award payouts no matter where they are located even if not adjacent - as long as the required number of symbols appear on a payline.
In the instances of three triggered features, we were awarded an icon in two triggers and a letter in the other. Even if there are more letters populating the reels, they are worth less than icons are worth.
The screen filled entirely with Lucky Symbols once and the payout was... anticlimactic.
Why...?
There may have been 15 matching symbols on the screen, but they only paid on five paylines. 
We didn't bother trying to map the reels as most slots these days don't seem to work from that sort of mathematics basis. We might assume there are more Letter symbols by kind than Icon symbols... and that may be the case.
Does any of this sound familiar?
We would prefer 10 or more paylines and the ability to choose how many we stake.
Perseus
This game has beautiful artwork, animations, and sound effects. However, the paytable, mechanics, and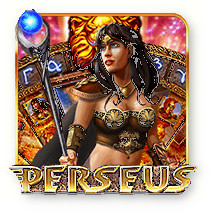 everything else about it was Master of Books in Perseus' clothing.
We can't definitively say it is a clone because we didn't map the reels and run a million simulations. The fact that there were 0 features in 300 spins and 3 features in under 200 spins on the first game doesn't really mean anything. Par for the course on medium to high volatility slots. It doesn't mean the games use different mathematics.
Not wanting to spoil the kettle, we went to the bottom of the list to find the last game to test and chose...
Highway to Win
... and were disappointed to find it is the same machine again.
The Final Analysis
We would have enjoyed delving deeper into the business mechanics, motivations, and potential of this "upstart", but space and time are limited and we review for players first and foremost.
Industry take away...
Swintt CEO, David Flynn has been 'hitting the circuit' for about a year now offering extensive inside perspectives to media. You can read an August 2018 interview on LCB.org for more insights.
Operators and others in the industry will find the company represented at all of the major trade shows and conventions. Based on the firm's rapid rise, you may have already heard from somebody there.
Player take away...
Although we tried to cover the games in-depth, we did leave out an important element - SwinttGamify. However, it's not something you can simply choose to participate in our not - it is up to the operator to offer it. We do suggest you find gamified casinos that will incorporate this lab's gamification engine and suite.
When you do, you will be able to find and join real-time tournaments on the go, compete and interact with other players, get in-game messages and notifications, meet challenges, complete missions, and claim rewards right in the activated game.
In conclusion: Swintt checks every box for success in a way we've never seen before. They seem to have put all of the elements together to create the first real "contender" since the gaming space began its evolution.
Swintt Games
Currently, we have

a large number of

casino games

available to play and over

a large number of

casino software developers

. Let's get started!
Casino Games
&nbsp
Swintt powered online casinos
Loading...
There are no available casinos for requested criteria.

We're showing casinos that accept Swintt restricted by your country. To remove that condition click here
Something went wrong. Please try again later.