Ria Online Casinos

Introduction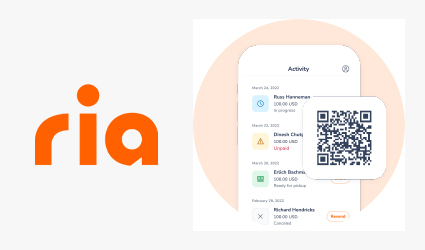 When playing across international online casino sites, US players are having trouble finding a suitable payment method, since not all methods are available in the States. But Ria most certainly is. This is a money transfer service that was created exactly with the aim to make US users' life easier, for sending money abroad. The transactions from one country to another are smooth with it and subject to a small fee, which makes this the perfect solution for online casino players not only from the States but from anywhere across the globe. What is Ria and why use it across online casinos?
About Ria
Originally from the US, Ria is an international money transfer service that was created at times when there was a huge lack of solutions that would help people from the States send money across the globe. It was launched back in 1987 and aimed at catering to those who wish to send money overseas to their families all across the world. It took off in New York, with the opening of the first store, but between 1993 and 2006, there were offices all across Europe.
Eventually, the next year, it went global when it got acquired by Euronet Worldwide, a renowned electronic transaction processing company. With its well-established reputation, the company took Ria to India and Senegal. In 2012, the RiaMoneyTransfer.com site was created and that's when the service went online. The events leading to the online presence were astonishing, too, since the service opened offices worldwide. It reached Malaysia with the acquisition of the UK HiFX, Canada with the acquisition of XE and even Middle East, with the acquisition of IME. In 2016, it arrived in Chile and got accepted across all Lider supermarkets. But it also reached great heights in the US, since it partnered with Walmart and created the Walmart-2-Walmart domestic money transfer service.
The list of newly opened offices goes on and on since the solution can be found today across over 160 countries worldwide, with over 500,000 brick-and-mortar locations and a strong online presence. You can basically drive around your town, regardless of your country of residence, and find at least one Ria office around there! With that huge success and such a strong presence, the service, naturally, was well-received by the online gambling industry. You will find hundreds of casinos offering it, considering how convenient its global coverage is. With no further ado, stay with us to learn how to start using it for deposits and withdrawals across the best online casinos out there.
How to Start Using Ria
We presented Ria to you as an international money transfer service. But, you should know that as years passed by, it also started offering many other services, such as mobile loading, prepaid debit cards, check cashing, bill payment and even money orders. In the US alone, the PayNearMe service which was launched years ago is a huge success, too. So, we'll focus on this popular service, as well as its main service, the money transfer.
Before it went online, to use the international money transfer service, you needed to go outside and find a brick-and-mortar Ria office to make the transfer. But now, all you need to do is get your desktop or mobile device and visit its official website to send money anywhere across the world. If you still want to go with the offline way, you even have the Locator tool on its website where by typing your address, a list of the nearest office locations will be generated for you.
Now, to use it online, you'd need to create an account with it, which is a several-step task. Then, to make a transfer, you'd need to complete a form entering the amount that needs to be sent, where, how the money would be delivered and who will pay for the transfer. Then, you'd need to enter the details about the receiver, exactly as written on their government-issued document, as well as their email or phone number. And finally, you'd need to specify how the receiver wants to get the transfer, via home delivery, bank deposit or cash pick up. After you're done with all of that, Ria will make sure to send the money momentarily.
We should mention here that there's also a Send Again button, which is especially convenient for online casino deposits since, with just one click or tap on your device, you can send the same amount to the same casino, if you wish to. This will greatly save you time so that you can enjoy your favourite online casino games, as you won't need to go through the above-described procedure again.
Finally, we must mention the PayNearMe function, which is incredibly convenient if you're a US player. To use it, all you need is cash; no credit card, no bank account. You need to take your cash to any 7-Eleven gas station in an instance, and use the PayNearMe barcode to send your money, and paying no fees, the money will arrive to the receiver in 15 to 20 minutes!
Depositing and Withdrawing with the Solution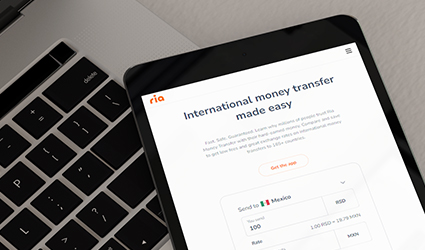 We mentioned briefly that Ria is a solution available across hundreds of casinos, and here at WorldCasinoDirectory, you will find it across the very best casinos.
The procedure for depositing was basically explained previously when we explained how to get started with it, but let's see all of the steps you need to make when it comes to casino deposits. First things first, you need to create an account with a casino that accepts it. Then, do the following:
Find Ria's logo on the casino's Cashier/Deposits/Payments page.
Click or tap on it, and start your transfer as explained previously.
The casino will probably have the receiver's info pre-filled at this point, but if not, contact its Customer Support to arrange the transfer as it suits the operator.
Enter the amount of money you'd like to transfer and confirm your transaction.
The money will be sent by the service, and in no time, it will arrive on your casino account.
About the waiting times, you can visit the solution's official website to see exactly how long it would take for the money to arrive, depending on the method used for the transfer. For instance, if sent by a debit/credit card, it will arrive in 15 minutes, while with direct bank transfer or POLi, within 24 to 48 working hours.
When it comes to withdrawals, you may have thought that they are not an option with this solution. But you'd be deadly wrong. Not only are they an option, but also quite convenient with Ria. As long as your country is on the list of receiving money countries, and the casino is based in a country that's on the list of sending money countries, you are covered.
To make a withdrawal, specify how you'd like to receive the money you've won. You can choose home delivery (an option in Peru, the Philippines, Vietnam and the Dominican Republic), bank deposit, cash pickup or withdrawal from one of the Ria stores available in your country. Make sure you visit the solution's official website to find out more about the fees involved with each option. To actually cash out your money, you'd need to provide the Ria employee with an identity document, as well as the PIN code you'll receive.
Coverage and Restrictions
Although available globally, in over 160 countries across the world, there are certain country restrictions that apply. There are restricted sending money countries and receiving money countries lists available on its official website.
For instance, you can only send money with it if you're from Australia, the US, the UK and Spain. You can receive money with it if you're from Sweden, Germany, Finland, Mexico, Switzerland and France, for example. The receiving money countries list is actually very long, so explore it to check whether your country is on this list.
Fees and Additional Charges
We said at the beginning of the article that transfers come with a small fee. But since there are many options for sending and receiving money, you would need to visit its official website and check which of these options apply to users from your country of residence.
You should know, though, that before you send a transfer after you've entered all of the transaction details, the system will calculate the exchange rate. That's another way to find out the extra charges you'd need to pay before you complete the transaction.
Finally, we should emphasize the fact that if you're using the PayNearMe service, the transfer will be fee-free. So, if a US citizen, don't overlook this fee-free option!
Accepted Currencies
Again, the currencies you can use depend on whether you're sending or receiving money via the service. If sending money, as implied by the sending money countries list, you can use UK pounds, US dollars and the euro. If receiving money, you can use many currencies, such as Canadian dollars, Indian rupees, Swedish krona and Mexican pesos, for instance.
The receiving money countries list is longer, so consequently, there's a larger choice of available currencies that users can choose from.
Customer Support
Being such incredible service, with such a huge coverage, it should come as no surprise that Ria gives you the opportunity to contact one of the best-trained Customer Support teams out there. The team is available via email and the toll-free phone line, but it has also made sure to provide you with a thorough FAQs section on the official website, so check and see whether you'll find the answer you needed there.
Of course, for any uncertainty or question regarding transfers made in brick-and-mortar offices, just consult with the kind and friendly office employees, and you'll have everything cleared out for you.
Conclusion
If you're a US player that doesn't have a bank account or a debit/credit card, or you simply don't want to share such information with the casino of your choice, make sure you go with this solution and its PayNearMe service, as you will be able to use cash to deposit, without any added fees. But even if you're a player from anywhere else, you can rest assured that by going with Ria, you will get excellent service, and your money will be moved to and from the casino in no time.
This is the perfect payment method to be used across online casinos, as it is globally available, offered across many casino sites, and it works great for both deposits and withdrawals. Make sure you give it a try at least once, to see how smooth your transactions will be. After that one try, there's no doubt that you'd want to use it again, and again!
FAQs
Can I track my transaction to see how far it has gone from the moment I sent it?
Of course. There's a Track Transfer option on its official website, where you can enter your PIN code, Order Number and reference number, to track your transaction at every moment.
Is its official website available in different languages?
But of course. Considering this is a global service, you can explore its website in Spanish and four English variants (the UK, Canadian, the US and Australian).
What can I do if I forget my Ria account password?
You would need to visit the official website and request a password reset by clicking on the Forgot Password option. You will be redirected to a new page, where you can enter a new password and be able to log into your account again.
Is there an app I can download on my phone for easier Ria transfers?
Yes, there is. In fact, there are two separate apps, one for Android and one for iOS users, which you can download correspondingly via Google Play Store and Apple App Store.
Can I review my past transfers?
Sure. You would need to log into your account and go to the Activity tab, and then click or tap on the Most to least recent tab. You will see the status of each transfer you made with the service there.
SHOW MORE
&nbsp
Online casinos accepting Ria as a payment method
Loading...
There are no available casinos for requested criteria.

We're showing casinos that accept Ria restricted by your country. To remove that condition click here
Something went wrong. Please try again later.