Poli Payments Online Casinos

POLi Payments (PayOnLine) is a Melbourne, Australia-based online payments company owned by SecurePay Holdings, a wholly-owned subsidiary of Australia Post.
Australian and New Zealand consumers with bank accounts in those countries can use the payment system to make purchases online, including at offshore casinos.
No credit card is needed and no registration with Poli is required. The funds are moved through the payment gateway via a direct connection to the user's bank account.
In addition to online casinos, the service is offered by well-known local merchants and government agencies including the NZ Transport Authority, Virgin Australia, Air New Zealand, and Jetstar, among many others.
About two dozen banks in the two countries allow customers to use the service with the only known exception being HSBC Australia, but others may have implemented bans on the service.
How POLi Works
POLi does not operate like most other payment gateways. In fact, many banks say they don't want their customers to use the service because they have no control over your actions.
The POLi website states that it is not a bank, does not necessarily have any relationship with your bank, and that it is exempt from the Australian Securities and Investments Commission (ASIC) licensing.
POLi was what's known as a "disruptor" to the online payments industry and they were in business about a decade before being acquired by Post in 2014. They simply found a way to operate while banks in the region refused to develop 3rd party secure payment gateways.
Now that Apple Pay has inked agreements with several financial institutions in the area, we can probably expect new regulations designed to "protect consumers" (fortify the franchise) to come into place. In fact, there has already been some chatter about Post shopping for a buyer for the service.
Protecting Consumers
Many banks in the region have issued alerts or public service announcements warning of the "dangers of using POLi".
Our research indicates that no customer has ever had their funds or data compromised by using the service. This is backed up by a statement by Banking Ombudsman, Nicola Sladden, in a Stuff article: "Sladden was not aware of any complaints against Poli involving losses due to fraud, although 'we do occasionally get queries about Poli Pay'."
One reason the service is so secure is that neither POLi nor the merchant can even see your user name or password and POLi does not capture or save them in any form between transactions.
In the same article referenced above, Victoria University's Associate Professor Ian Welch explained the process simple enough when he said, "Poli acts a proxy. You provide their server with your login details, it logs in on your behalf to your bank and makes a "pay anyone" or similar request. At the end it tells you what it did."
The banks do not make a profit off these sorts of transactions as they would from a branded and badged debit or credit card. Perhaps that is one reason they have discouraged their customers from using the service. As well, if they don't control the process, they would not want to reimburse a customer if their funds were compromised. In the end, according to Welch, "...Poli is "probably no more insecure than going to a bank site".
The downside to Using POLi
While there are plenty of good reasons to use the service, such as low cost or no cost transfers and the ability to actually be able to deposit at an offshore casino directly from your bank account - there are also some potential downsides to it, just like anything else.
Limited Marketplace
The only supported banks are in Australia and New Zeland and the local currencies(AUD, NZD) are most likely the only ones supported. We do see the capability to exchange currencies in some of the APIs merchants can use, but that is beyond the scope of this payment method review.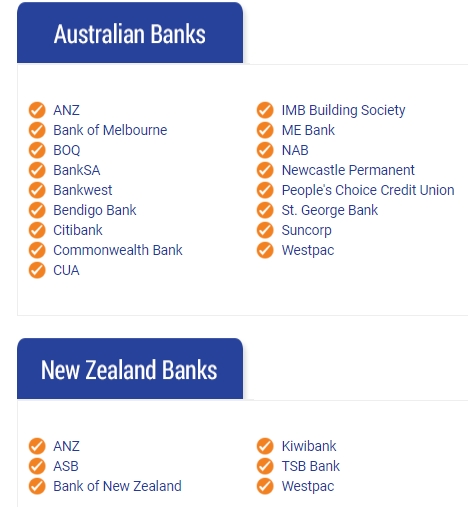 Limited Merchant Acceptance
We've identified and confirmed the top online casinos that accept transfers using this service, but it is obviously a niche product that will find most interest in the Asia Pacific region. Most Aussies and Kiwis are already aware of the payment method, but may not know that offshore casinos still accept payments through it. 
Visitors can read a review or click on through to play at any POLi casino here based on its rank and rating (3.0+)
Offshore casinos are actually listed by POLi as prohibited merchants but the ban is not enforced.
The Upside to Using POLi Payments
Historically proven safe and secure (ultimately owned by the Australian government)

Avoid high credit/debit card rates

Spend only what you have in your account

No Signup or account needed

Instant Receipt

Simple process
POLi Payments Conclusion
Most people nowadays are very careful about passwords and user names and rightly so. However, even if banks in the region do not necessarily support the service, it is as secure as the internet banking they offer. If it could be hacked, it would have been sometime in the last 15 years of operations. Of course, never say never in that regard as some of the most secure systems on earth have been hacked.
Merchants (online casinos) have three main options when they decide to integrate the service into their cashiers. They can install a plugin into their E-Commerce platform; launch a mobile app, or use an embedded integration. The behind-the-scenes process remains basically the same for all integrations, but the consumer may have a slightly different experience with each - all are equally secure. Less used options include iFrame and overlay implementations, but those will never be seen at online casinos that offer multiple deposit options.
POLi Payments FAQ
In a few words, what is POLi Payments?
It is a no-cost, instant confirmation bank transfer initiated on a merchant website.
How does POLi work?
It's easy to make a deposit with POLi Payments!
Select Internet Banking when you see the logo.

Select your bank and proceed with payment

Log into your bank directly in the provided window

Follow the simple prompts to complete the transaction (2-factor authentication may be required and you may need to choose between checking and savings)

Complete the payment

Receive your receipt
Do I need a POLi account?
No, you will log into your internet banking directly after choosing to use the service. The merchant will pay a fee to the 'acquirer", usually 1 1/2% for general sales or 2 1/2% for gaming/gambling transactions. POLi collects 1% of that.
Can I use POLi on my mobile?
Yes, of course. Simply navigate to the casino cashier on your browser and select the method to deposit directly from your bank account.
What is meant when POLi Payments is referred to as a "proxy"?
In a nutshell - when you enter your information, POLi logs into your internet banking account for you and transfers the funds on your behalf. In a decade and a half, it has proven to be a safe and secure payment method - the system simply doesn't capture or store your details, but it allows you to do something you couldn't otherwise do (deposit at an offshore casino) with the "Pay Anyone" function.
What is "Pay Anyone"?
It is an account to account transfer. While the casino will not receive your money for a couple of days (Australia) or a few days (New Zealand) they trust the service to release the funds so you are able to play right away.
SHOW MORE
&nbsp
Online casinos accepting Poli Payments as a payment method
Loading...
There are no available casinos for requested criteria.

We're showing casinos that accept Poli Payments restricted by your country. To remove that condition click here
Something went wrong. Please try again later.