Revolut Online Casinos

Introduction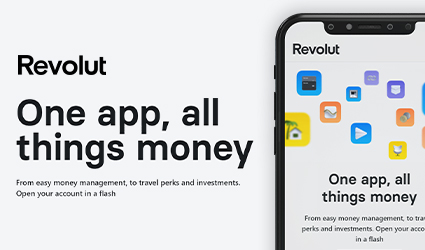 The world of banking is always looking for the next big thing. With the internet changing the shopping landscape, more people are searching for an all-encompassing service that allows in-person transactions and fosters quick online payments. These services can be hard to find, but they're there. Several big-name companies have stepped up to the plate, offering versatile solutions to these modern problems, yet the newbies are the ones making the most noise. One of these new contenders is Revolut! If you're not acquainted with this rising star in the financial technology world, it's high time you get introduced. The platform is a modern juggernaut, offering diverse payment services to make your online and offline transacting a breeze. If you want to learn more about this method, stick around as we discuss how it works and how to use it.
About Revolut
Revolut is a pretty new entry into the banking stratosphere. It was founded in mid-2015 by Nikolay Storonsky and Vlad Yatsenko, two gutsy young visionaries who weren't afraid to float their idea and attract attention. The platform made its first appearance as a concept in the Canary Wharf, a collaborative program looking for innovative financial solutions. Even as a new start-up, Revolut stood out from the crowd. Mainly, the funding it amassed was an impressive feat for any company, let alone a start-up. It secured its 'unicorn' status in 2018 by getting $250 million from DST Global, and later that year, it earned its Challenger bank license.
If you're wondering what Revolut's offer consists of, there's plenty to cover. At its core, the service is a banking solution that offers virtual andphysical cards to consumers. These are supplemented by a top-tier online banking platform that can foster transactions between different users and users and companies. Fans of the service are free to use their physical Revolut card at a selection of ATMs worldwide, while simultaneously making online transfers through their virtual one! This versatility makes it a strong contender in today's banking space, and that's just scratching the surface.
Revolut doesn't stop at being a simple transfer service. As it grew to reach a larger user base, the company expanded its offer to include a commission-free stock trading option! With a few simple clicks through the solution's app, users can access the New York Stock Exchange and Nasdaq, making global investments with massive potential returns. To top this off, the service also entered into a lucrative partnership with none other than banking legend VISA. This collaboration opened the door to 24 new markets and helped the company bring in 3,500 new employees.
The service's journey doesn't end there. This ambitious company experienced another round of funding in 2019, putting its value at £4,2 billion. Not long after, its user base grew exponentially, especially with the stay-at-home orders becoming a part of our new normal. To maximize its potential, the service applied for licenses in the USA and the UK. These led to even more mainstream success, putting its user base at a staggering 15.5 million users in 2021. The fintech firecracker is still making moves and growing as time passes, so its story is far from being over.
Now that we've covered much of Revolut's history, it's time to explore some of the pros and cons of using the service. As we already mentioned, this method is incredibly versatile, which makes it a top performer. Users don't have to bother with multiple services for their physical and online payments, instead, they can use this method's various options to get things done through one brand. The prepaid debit card is the perfect tool for ATM withdrawals and in-person purchases, while the virtual card and app make online transactions quick and easily accessible.
Other than convenience, one of Revolut's biggest perks is security. The company takes player safety seriously, holding a banking license for your peace of mind. The company is also UK-legislated, so it adheres to strict rules imposed by the UK authorities. This is just one part of the security ensemble the platform features. Since the service operates through a mobile app, it incorporates many smartphone security features to protect your account. These include a fingerprint lock and several other high-end identity verification features to keep your information private.
The lack of fees for transactions is another big perk of using Revolut. The service doesn't charge users for payments, but if you want to use some of the platform's other features, you might need to pay a monthly subscription. This subscription is exclusive to the premium app features, so most casual users can get by without it. Something else to note is withdrawal fees when you're out of the country. While you can avoid traditional withdrawal fees, you might need to pay a currency conversion fee. A fee may also apply for transactions that exceed the set withdrawal limits.
How to Start Using Revolut
As you might have noticed, Revolut is all about convenience. The service puts accessibility at the forefront, so setting up an account is an easy task. Of course, another big part of the service is security, so while the process is simple, there are a few security steps that might take some extra time. Thankfully, they're not as drawn-out as other setups we've encountered with other services. Since the entire ordeal is online, you can still finish everything up and home and have your account whipped up in a jiff.
To start the process of setting up a Revolut account, the first step is downloading the dedicatedmobile app available through the Apple App Store and Google Play Store. Make sure you have enough free storage space on your device before you start the download. When finished, launch the app and start the registration process. This is the easy part. Enter the required information in the empty fields along with your phone number. You'll be sent a 6-digit verification code via SMS to verify your account. When you're done enter some more personal information to finish up.
The next step is depositing to confirm everything is working correctly. You can do this by inputting your bank details to make a transfer. When this step is complete, it's time to move on to identity verification. Here, you'll need to share a selfie, along with a digital copy of a valid photo ID document when prompted. You can go for one of several options here, including a driving license, government-issued ID, or passport. Before the account setup is complete, you'll need to choose one of the account types offered. These include the Standard (free), Premium, or Metal account packs.
Now that your account is live, you can set up your virtual credit card or request a physical one. You can do so easily through the app. With the physical card, you'll need to wait a bit for it to be approved. Once it is, it will be sent to your location by mail. You can use this card like any other prepaid debit card, meaning you can pay in stores, at ATMs, online, and more. The same goes for virtual cards and online transactions. Simply enter your card details at checkout, enter the securitycode, and confirm the transaction through the app. It's that simple!
Depositing and Withdrawing With the Solution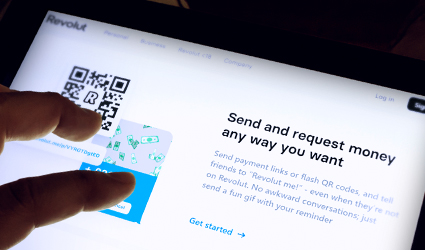 Depositing through Revolut is a much simpler process than you might have imagined. Since the service is one of the fastest-growing financial options on the market, it's available in countless online casinos and gambling sites. What's more, since it operates through cards in partnership with VISA and MasterCard, you can use it in pretty much every venue that supports these services! Before you proceed further we suggest doing some research on the available casinos. Always choose ones that are properly licensed and have positive reviews from experts. Once you find a good match, here's how to deposit:
Visit the casino's Payments/Banking/Cashier page.
Look for the Revolut logo on the list of accepted methods and click or tap on it.
Alternatively, look for the VISA or MasterCard logo, depending on your card, and click it.
In the new window, enter the card's number, expiry date, and the CCV2 number, if needed, and specify your name as the cardholder.
Specify the amount of money you'd like to deposit.
Accept the transaction, and the money will arrive in your casino balance right away.
Withdrawing is much of the same. To withdraw through Revolut, follow the same steps listed for depositing with a few small changes. Here, make sure to enter your desired withdrawal amount instead. Something to note about withdrawing through the service is withdrawals aren't instant. You'll likely need to wait a few days before your cashout arrives. Additionally, you might rack up some more waiting time from the casino's end. This is because venues usually need some time to review withdrawal requests before approving them.
Coverage and Restrictions
As we've already noted, Revolut is based in the UK. Its reach has grown to encompass much more than its home base over the years, making waves in multiple continents that can't get enough of what it brings to the table. At the moment, the service is available in the European Economic Area(EEA), Canada, Australia, Switzerland, Singapore, Japan, and the United States. Most of these regions have access to the full scope of service the payment method offers, but some may be excluded in specific areas. No worries, the traditional transacting ones are intact everywhere.
Revolut can be used anywhere in the world, so you needn't worry about using the cards when you're visiting abroad. The service might not accept users from all ends of the globe just yet, but it does cover payments nearly everywhere you can imagine.
Fees and Additional Charges
Standard depositing and withdrawing charges are something users don't have to worry about with Revolut. The service doesn't charge anything for these transactions, so you can shop your heart out without a care in the world. That said, there are some charges associated with the service, but they come from the Premiumand Metalaccount packages. These packages give users access to additional features, but if you're looking for the basics, the Standard package covers pretty much everything you need to transact online.
Accepted Currencies
Revolut issues various bank cards that players can use, and since its reach covers many countries, users can transact in the native currencies of these regions without issue. Of course, it's important to note that you should use the currency from the country your card was issued, otherwise, you might incur some currency conversion fees. The list of supported currencies for this method is very long, featuring about 19 different options. These include the British pound,US dollar, Australian dollar, euro, Hong Kong dollar, Japanese yen, and more.
Customer Support
If you run into issues while using Revolut, your best bet is to head to the "Help" sectionin the app and reach out to a Customer Care agent. Through this Live Chat option, you'll get a quick response from a friendly professional who's ready to answer all of your questions. Additionally, you can visit the service's official website for other helpful resources. These include a FAQ section, communitypage, blog, and more!
Conclusion
Revolut is the perfect mix of a traditional and modern payment method that's swept the world in the last couple of years. Its excellent perks like security, convenience, low fees, and versatility give it an edge over much of the competition, allowing it to thrive in today's banking and online casino spaces. There's not much Revolut can't do, but it's good to remember that some of these features are hidden behind a paywall. If you want to go beyond the traditional transactions and utilize the platform's full potential, you'll need to pay a monthly fee.
FAQs
Is Revolut service safe?
Yes, it is. The service holds a banking license and is legislated by the UK. It also utilizes modern smartphone features like the fingerprint sensor to keep your account under lock and key.
Are withdrawals available?
Yes, withdrawals are available through the service. Unfortunately, they're not instant. It will take a few days for your cashouts to arrive in your account.
Are transfers instant?
Yes and no. While transfers through the mobile payment service are instant, the ones made through traditional bank cards might take some time to process, especially for withdrawals.
Where is the service available?
Revolut is an international service that covers many countries. These include countries in the European Economic Area (EEA), Canada, Australia, Switzerland, Singapore, Japan, and the United States.
Can I withdraw from ATMs?
Yes, you can. You can make ATM withdrawals in over 150 countries through the physical Revolut debit card.
SHOW MORE
&nbsp
Online casinos accepting Revolut as a payment method
Loading...
There are no available casinos for requested criteria.

We're showing casinos that accept Revolut restricted by your country. To remove that condition click here
Something went wrong. Please try again later.