Noda Pay Online Casinos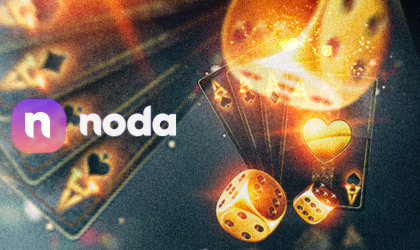 The online gambling industry in the UK is going strong, as ever, offering UK punters as many possibilities to gamble as possible, as well as excellent payment methods like Noda Pay for them to make easy and fast deposits and withdrawals. Noda Pay allows users to use all the power of the internet to make the most seamless online transactions ever. It was designed to facilitate online banking and make it as easy as possible. It is an option for deposits and withdrawals across many online casinos already, but it is yet to reach its peak. As a rising star among the list of accepted methods at online casinos, this is the solution to get started with, to experience the smoothest online gambling time. What is Noda Pay and why use it across online casinos?
About Noda Pay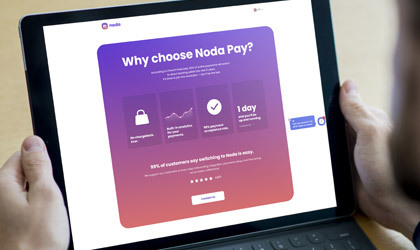 Noda Pay, as introduced, is an open banking solution which allows for cost-efficient, instantaneous and above all, smooth and easy transactions over the internet. It was launched in the UK, meaning it is available to UK players, but it has also expanded its reach across countries in the EU. With global expansion plans, the solution already has offices in Nicosia, Madrid, Prienai and Riga, but it plans on getting to Canada, ASEAN and Australia next. Considering it has been regulated by the UK's Financial Conduct Authority, the solution offers safe and regulated online banking, and thanks to its banking framework that consists of over 500 banks, it helps clients, merchants and banks better manage online transactions and get better control over their banking activities.
The intermediary service it actually offers is giving users the chance to pay using their credit/debit card or bank account directly, in a matter of seconds, eliminating any fees on the way. So, as long as you have a card or an active bank account with one of the 500 banks that collaborate with it, like Santander, UBS and Deutsche Bank, you can use its services with no issues.
To give you an idea of how this new open banking product is getting bigger popularity each day, we must say that it was launched only in 2020, and by June 2021, 10 countries were already using its services. By May 2022, 90% of EU and UK bank users were connected to its network, plus the company behind it launched new products and programs.
Online casino operators are happy to offer it to players, since it is entirely customizable, offering a user-friendly interface, useful tools and account security. Therefore, you should not be surprised that it is the rising star across online casinos. Players love how convenient it is to use, and casinos prefer it over other methods as it gives them control over incoming and outgoing transactions. Therefore, if you're interested in trying it, stay with us to learn how to get started with it and use it across many online casino sites.
How to Start Using Noda Pay
In order to start using Noda Pay, you won't need to lift a finger, really. Since no prior sign-up is needed, meaning you won't need to create a separate account to use it, you'll only need to be eligible to use it, and that's it. And to be eligible to use it, you have to have an active bank account with one of the many banks that offer its services, and that's it!
The next step would be choosing it as your payment method at the online platform you're intending to pay at, or in our case, the online casino where you need to make a deposit. Assuming your chosen casino has integrated with it, all you'd need to do after you choose it as your payment method is enter your card/bank account details and via the direct payment tab on its app/web, you can make an easy transaction. Of course, when the casino integrates with it, it will need to create an account with it. If it hasn't, and Noda Pay's logo is not offered among the accepted payment methods, you won't be able to use its services, as the casino won't be able to accept payments via its system.
To sum up, as long as the casino offers the solution, you have an active bank account with one of the accepted banks, and naturally, money on that account, you'll be pre-set to start using the solution for easy transactions. That's what we'll cover next, actually.
Depositing and Withdrawing with the Solution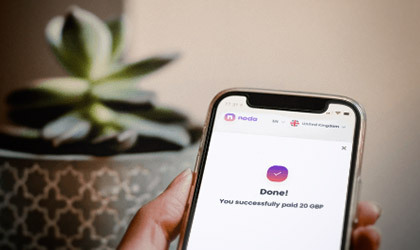 We mentioned that Noda Pay is an accepted method across many casino sites already, but it is yet to reach its peak. If you wish to explore some options, you have around a dozen of casino sites to check out already, but that number will grow soon, that's guaranteed. Considering the solution is still fairly a young player on the incredibly competitive financial scene, it has yet to reach its stellar years. For now, though, you should be satisfied with the dozen casinos that offer it. Choose the one for you from the given options, and register your account with it.
To make a deposit with Noda Pay, you would need to do the following:
Go to the casino's Payment Methods/Banking page.
Look for Noda Pay's logo on the list of accepted methods and press it.
In the new window, enter your card/bank account details.
Enter the amount of money you'd like to deposit at the casino.
Confirm the transaction and

 

within mere seconds, the money will arrive on your balance.
Deposits with this solution are truly magical, processed nearly instantly. Withdrawals, however, would take a while. Even though cashouts are an option, before the casino approves it, it needs to check whether you have as much as you've claimed to withdraw. As long as everything is okay, and your withdrawal is approved, the solution will take your winnings and put them in your bank account. The withdrawal procedure is pretty much the same as the deposit procedure, so, go through the same 3 steps, and on the 4th one, specify how much you'd like to cash out.
Coverage and Restrictions
We said that Noda Pay was launched in the UK and is already available across EU countries, but also plans on expanding to ASEAN, Australia and Canada.
At the moment, therefore, its services are available to players from Germany, Hungary, Austria, France, Belgium, Spain, Lithuania, Ireland, Estonia, Romania, and the Netherlands.
Denmark, Luxembourg, Norway, Bulgaria, Sweden, the Czech Republic, Finland, Latvia, Poland and Portugal are also on the list of accepted countries.
Fees and Additional Charges
Noda Pay was created with the aim to provide the intermediary service it does completely free of charge. And that's how it remained, a fee-free solution anyone can use. No hidden fees, no additional charges.
On its part, no fees will ever be charged. However, keep in mind that the casino you're playing at may charge fees for using the solution. These fees should be, if charged, really insignificant, though, so you shouldn't worry much about them.
Accepted Currencies
Given the fact the solution is available in the UK and the EU as primary countries, it is no wonder that the UK pound sterling and the euro are the two default currencies you can use.
But, considering its strategic expansion plans, you can rest assured that it will add other currencies, too, such as US dollars, Australian dollars, Philippine peso, Vietnamese dong and Singapore dollar, among others.
Customer Support
You should know that Noda Pay offers an exceptional website, a modern and highly informative one, which you can explore to find out all you need to know about its services. Even though the details on the site are more informative for the merchant, the online casino, you as a customer can also find useful info.
Go to the tab Get Support, and you'll find the FAQs page, where you'll find the answers to all the commonly asked questions by users. But, if you wish to get in touch with its representatives directly, you can always contact them via email, Skype or Telegram.
Conclusion
It goes without saying that Noda Pay has no flaws whatsoever. If a player from the UK or the EU, do make sure to give it a try. Since you won't need to create an account with it and you can start using it immediately as long as you have a card/bank account with one of the 500 banks that offer its services, you're good to go. It is offered across a decent number of casinos already, for both deposits and withdrawals, and you can use your native currency to transact with it. Is there anything else one could ask for? Put it on your must-try list, and the first chance you get, give it a test. You'll love the results!
FAQs
How can I be certain Noda Pay is safe?
The fact the solution is regulated by the UK Financial Conduct Authority speaks volumes about its legitimacy. Add to that the fact that the banks' security systems are in place for each transaction, and you've got yourself one of the safest solutions to use in the region.
Is its official website offered in many languages?
Because basically, this is a solution offered mostly in English-speaking countries, the website is so far only available in English. Due to its expansion plans, this may change in the future, so stay alert.
How can I be certain the casino I plan to join accepts it as a payment method?
There are three ways to know for certain: one, check the casino's homepage and at the bottom, look for its logo; two, go to the casino's Banking page and look for its logo; or three, get in touch with the casino's Customer Support to get the information about its availability first-hand.
Can I use Noda Pay to make a deposit via my smartphone?
Sure thing. Considering this is a solution that facilitates online payments, you can use it via any desktop or mobile device. Whether you have a smartphone or tablet running on Android or iOS, as long as you've joined a mobile casino, you can make deposits and withdrawals using this solution on any device.
Are cryptocurrencies an option for transactions with this solution?
As you probably assumed, no. This is a solution that works closely with banks and functions via a banking framework. Since digital currencies are decentralized and banks do not process transactions with crypto, Noda Pay does not support crypto transactions.
SHOW MORE
&nbsp
Online casinos accepting Noda Pay as a payment method
Loading...
There are no available casinos for requested criteria.

We're showing casinos that accept Noda Pay restricted by your country. To remove that condition click here
Something went wrong. Please try again later.