Moneygram Online Casinos

Introduction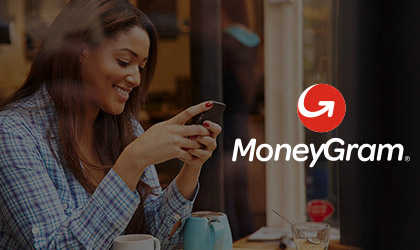 It's safe to say that today's banking landscape is full of excellent options. Most of these solutions are modern payment methods released in the last decade, vying for users' attention by adding flashy features and using intricate branding. Of course, there's another group of services that's had a much different start. If you're more of a traditionalist that takes comfort in well-established companies with long histories, MoneyGram is one of the best options you'll run into these days. Albeit a veteran with a long-standing in worldwide markets, the service isn't like many old-school payments. It's grown exponentially over the years, and we're not just referring to its user base. It's one of the few solutions to keep up with modern features, adding new and improved functionalities that change the game. If you want to learn more about this service, keep reading.
About MoneyGram
MoneyGram has an extensive history that some people are surprised by. The payment method started in the 1940s as Travellers Express, a US-based company focused on money orders. The service didn't change much for many decades, up until 1998, when it partnered with Integrated Payment Systems Inc. to transform into the powerhouse we know today. With renewed purpose, the company dipped its toes in international waters and found massive success on a global scale. To reflect its new reach, it rebranded into MoneyGram International in 2004 and added several new options that skyrocketed it to the top.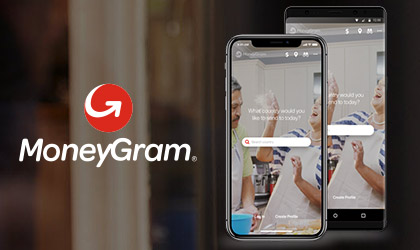 Entering the modern age on the right foot, MoneyGram became an easily recognizable brand that many users gravitated towards. It amassed more than 150 million users, and it's not hard to see why. Users will find a MoneyGram office in nearly every city or town they visit. There are countless branches globally, making it easy for users to transfer funds, no matter where they are. Of course, the payment method's land-based success is just one part of the equation. The brand now offers a digital money transfer service, a feature that's quickly become a fan favorite in the short time it's been out.
Till recently, users could only make MoneyGram transfers by visiting a physical location. While many were content with this, the service decided to up its game and modernize its offer to fit the current banking climate. Naturally, this is where the online money transfer service came into play. In practically no time, this new solution grew to become one of the leading P2P digital money transfer services available. Its convenience is unparalleled, which is a big part of what makes it so beloved. To make a payment through this service you need a viable bank account and a stable internet connection.
Now that we've covered what MoneyGram is and what it can do, it's time to discuss some of the solution's greatest perks. The first and most obvious pro of using the service is options. While many are leaving behind the traditional money transfers done through physical locations, some prefer them. If you feel like taking a walk before a shopping spree, this option is a great choice. Of course, the convenience of the online money transfer service is the other side of the coin. If you prefer to get things done from the comfort of your home, you can do so without issue.
Going a step further than the perks like safety and speed, MoneyGram offers users a few special perks that are hard to resist. Its online money transfer service comes with a rewards program that can be very worthwhile. As a start, users are treated to a 20% discount on the fees from their first transaction. Users also start earning Plus Reward points the moment they start using the solution, so they can amass a generous amount in a short time. As expected, these points can be redeemed for various prizes down the line. Given how similar this loyalty program operates to those offered in online gambling venues, it's easy to see why so many casino fans love it!
Finally, we'd like to say a word or two about the negatives of using MoneyGram. The good news is there's not much to cover here. Throughout its years on the market, the solution has ironed out most issues, giving players a chance to enjoy the service without running into serious problems. Of course, there's still one thing that most users aren't fans of - the fees. The payment method does come with various fees for using its services. These tend to be pretty reasonable, but they're an annoyance nonetheless.
How to Start Using MoneyGram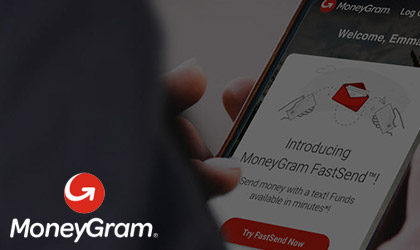 Before you start using MoneyGram, you'll need to decide which of its services you'd like to proceed with. If you'd like to use its more traditional transfer service at a physical location, keep in mind that some travel is involved. To start, open the solution's website and use the nifty locator tool to help you find a MoneyGram office nearby. Once you've found a suitable location, visit the office and chat with the clerk. All it takes to complete the transaction is some basic information. After providing this and the payment, you're done!
For users preferring a more modern approach, the online money transfer service is the best option. Using this method is much more convenient than the previous one. First, head to the Google Play Store or Apple App Store and download the dedicated MoneyGram app to your device. When the download completes, launch the app and sign up for an account with the service. This should only take a few minutes. You'll need to fill out a form with some information about yourself and potentially verify your identity down the line.
When your account is ready, you can move on to transacting. To make a transfer, you just have to enter your desired transfer amount and choose a recipient. Another step you'll need to take is choosing how the recipient will receive the money. Be careful with your choice, as the fee for the transfer can vary depending on it. Next, you'll need to pay through a bank card or bank account. That's pretty much it. When you've completed all of these steps, you'll receive a reference number that's used for cashing out. Don't forget to send this number to the recipient, as they won't be able to cash out without it.
Depositing and Withdrawing With the Solution
MoneyGram is one of the most popular payment options you'll run into nowadays, so finding an online casino that supports it shouldn't be hard. Many top-tier operators accept MoneyGram deposits, so look over your options and choose one that matches your play style best. Of course, you also keep an eye on the operator's legitimacy. We suggest checking the licenses of the casinos you're browsing and reading a few expert reviews. Once you've landed on a venue, here's how to proceed:
Visit the operator's Banking/Cashier/Payment Methods page.
Look for the MoneyGram logo and click on it.
In the pop-up window, enter your credentials to log into your account.
Specify how much you'd like to deposit, and enter the casino's receiving details if they aren't specified already.
Pay the total sum, including fees, using your bank card or bank account.
Send the reference number to the casino and wait for them to confirm the transaction. When confirmed, the money will instantly arrive on your casino balance.
Withdrawing through MoneyGram should be a viable option in most of the casinos that support it. The good news about withdrawing through this service is the high level of security. Unless someone has access to the reference number, the transaction is virtually untouchable. To withdraw through the solution, you'll need to follow the same steps listed for depositing, with a small change. In the last step, the roles are reversed. You'll need to wait for the casino to provide you with the reference number before you can cash out your winnings.
Something to keep in mind when withdrawing and depositing is that you can always reach out for help if necessary. Most casinos have a Customer Support Team to assist players if they experience issues. If you're having trouble with your transaction, get in touch with a Customer Service representative and let them look over the issue. You can also ask for help if you get stuck during some of the steps for depositing and withdrawing.
Coverage and Restrictions
MoneyGram is one of the most widespread banking options worldwide, so its list of supported countries is incredibly long. The service can be found in over a hundred territories across multiple continents. These include Asia, Europe, North America, South America, Africa, and Australia! Of course, it's worth noting that not all MoneyGram services are available in all of these locations.
While in-person transfers cover nearly every supported country, online and mobile money transfers are more limited. They include around, or just over, 30 countries each. Some include Austria, Australia, Canada, Belgium, the UK, Hong Kong, the US, Spain, and Switzerland.
Fees and Additional Charges
MoneyGram offers an excellent scope of money transfer services, but the one thing users will quickly realize is they come at a cost. Every transaction with the service incurs a fee. These fees range depending on the transfer amount and location, so they're calculated separately for every transfer. To keep track of the fees attached to your transactions, you can head to the service's official website and use the fee calculator included. Using the feature is quick and easy, as it only requires entering the transfer amount and the recipient's country.
Accepted Currencies
Since MoneyGram is a world-renowned payment option that operates in many territories, it supports a wide range of currencies to make things more convenient. You might be surprised to hear that the solution offers support for about 45 different currencies. This is one of the most extensive lists we've seen to date! Some of the currencies included here are the euro, US dollar, Canadian dollar, Danish krone, Swiss franc, Mexican peso, Polish zloty, and the South African rand.
Customer Support
One of the best things about MoneyGram is that it focuses on customer satisfaction. Because of this, the service has a top-tier Customer Support Team that's ready to help users around the clock. To reach out to a Customer Service representative, you can visit the MoneyGram website and fill out a contact form. The form is pretty detailed and helps users better explain their issues. Since getting a response in this manner can take some time, the service also includes a phone contact option. If you need help immediately, you can reach out by phone.
Conclusion
MoneyGram is easily one of the most widespread payment methods on the market. The service gives users worldwide the chance to transact without much hassle, all the while offering a plethora of excellent perks that make the process a breeze. Not only that, but the payment method offers several different services suited to different users. It's practically impossible to find a fault with MoneyGram, but if we had to nit-pick, we'd say its fees are the only downside. They're usually reasonable, but they can still put somewhat of a damper on your overall user experience.
FAQs
Is MoneyGram safe?
Yes, the service is one of the safest options on the market. Since it uses unique codes to verify transactions, it's almost impossible to crack.
Do I need an account to use the service?
Yes and no. While you don't need an account to make in-person money transfers, you do need one for the online and mobile transfer services.
Where is MoneyGram available?
MoneyGram is available in over 100 territories worldwide. Some of them include the US, the UK, Australia, Switzerland, Hong Kong, and Belgium.
Can I withdraw through the service?
Yes, you can. Remember that to withdraw through the service, you'll need to receive a reference number from the venue you're playing at.
How can I pay for MoneyGram transactions?
MoneyGram keeps things simple by offering bank card and bank account options to pay for transactions.
SHOW MORE
&nbsp
Online casinos accepting Moneygram as a payment method
Loading...
There are no available casinos for requested criteria.

We're showing casinos that accept Moneygram restricted by your country. To remove that condition click here
Something went wrong. Please try again later.