Discover Online Casinos

Introduction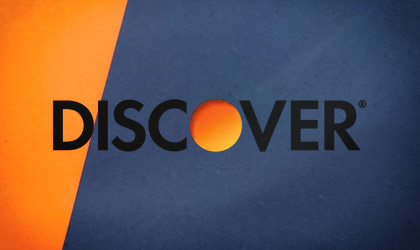 Reliability is a big deal in the online gambling space. Since the scene is constantly changing and evolving, casino aficionados try to hold on to some parts that have stuck it out throughout it all. This is where popular payment methods like the Discover bank card come in. Services like this one have been a staple in the industry for ages. Most people are familiar with what they are and how they operate, giving them a sense of familiarity and security that's hard to replace. Of course, it doesn't hurt that these payment methods have plenty to offer. They're full of top-tier features, including top-notch protection, high processing limits, and worldwide coverage! Despite being around for a long time, this payment method and others like it are still top choices, and if you wish to learn more about it, we'll dive into the details below.
About Discover
Discover is a popular credit card service that many online casino fans use regularly. It operates like most other bank cards available, but it has a few added tweaks that make it a strong competitor in today's oversaturated market. Interestingly enough, this service is much older than most people believe. It debuted in 1986 in the USA, focusing on the region before any plans of further expansion came into play.
Something to note about this service is the struggle it faced to make a name for itself in its early days. While the credit card came out earlier than most of the payment methods we use today, it was released much later than other popular bank card brands like VISA, MasterCard, and American Express. Since the field was dominated by these powerhouses, it was hard for Discover to amass a solid user base and prove to people that it was one to watch. Thankfully, it managed to persevere due to a few key factors.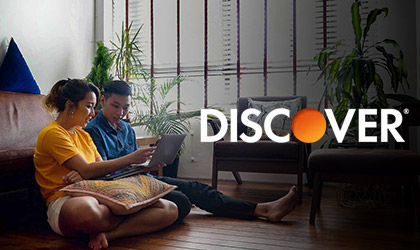 For those interested in what made Discover stand out from the crowd, the answer is simple. Unlike most bank cards available at the time, this one offered special perks that were nearly impossible to find elsewhere. One of the biggest pros of using the service is its cashback feature! Depending on their card, they can get up to 5% cashback on every payment. As you can imagine, this was a big deal to most people, especially online gamblers. This feature worked miracles when combined with some casino bonuses, giving players a hefty return that extended their playtime. On top of this, the service also lacked an annual fee and didn't require a user account. These were a big plus on the convenience front, enhancing the overall user experience.
Now that you know of the powerful arsenal Discover has under its belt, it's easy to see how it managed to thrive, despite the harsh competitive environment it was launched into. Once the service gained enough traction in the US, its expansion plans progressed. It made its way into Europe, where it started to take off! Over time, the service gained an impressive following of over 5 million users in more than 200 countries.
We've covered much of Discover's success, but the service has had a few blunders too. To keep track of orders and ensure they arrive as intended, the service uses merchant codes. These are unique codes attached to each merchant it collaborates with, making them easily identifiable. While this is generally a good thing, it was to the detriment of US online gambling fans in the past. Banks took advantage of these codes to identify online gambling transactions. Since the activity was prohibited then, they'd block these payments, leading to many disappointed casino goers.
How to Start Using Discover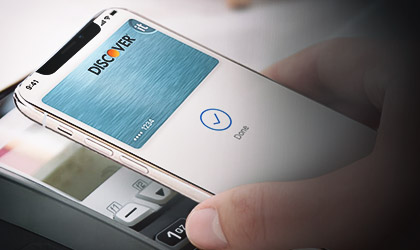 Getting started with Discover is a process many of you might already be familiar with. Since the service is a credit card, getting one isn't too different from requesting a card with any other banking provider. Of course, one difference separates this service from most competitors – the process is online! Discover values convenience, and since it operates on a separate network all to itself, it can afford to do the card application process through the World Wide Web. When applying for a card with the service, there's no need to leave your home.
Something users should do before they proceed to apply for a card is explore the various options the service offers. There are several types of Discover credit cards available on the site, and most come with different offers suited to different users. Take your time to look over what's included in each. Some might have higher cashback values, others might have higher transaction limits, while a few might target students with special learning perks.
After choosing the right fit for your needs, you can get to the main event. The application process doesn't differ from getting a bank card anywhere else. To start, you'll need to fill out a few forms with your data. The information requested here is usually personal. It can include fields related to your financial situation, marital status, family, and more. Everything you enter is used to determine your eligibility for a credit card. Of course, this data is kept confidential beyond that. Once you finish this step, you'll need to verify your identity. Once prompted submit a digital copy of a valid photo ID document to finish up. A passport or government-issued ID works best.
That's pretty much it. Once you finish the last two steps, your information will be processed, and your account will be set up after earning approval. This shouldn't take longer than a couple of days, but it can drag on for about a week. Once your card is finished, it will be sent to you via mail. This can also take some additional waiting time. In some regions, you might get the option to choose express delivery, ensuring your card arrives earlier. Of course, you might be charged a fee for this.
Depositing and Withdrawing with the Solution
We have excellent news about Discover deposits. Since the service is a pretty popular bank card, it's accepted by many merchants, service providers, and online casinos! You should have no trouble heading to an operator of your choice and depositing with it. What's better, the process of doing so is easy. It only takes a few steps, and you should be done within minutes. Here's how to start:
Locate the "Deposit with Credit/Debit Card" option on the casino's website and click it.
Select Discover from the options listed.
Enter the card information when prompted.
Enter the 3-digit verification code provided by Discover.
Specify how much you want to deposit and confirm the transaction.
The funds will arrive on your balance instantly!
As you might have assumed, withdrawals are possible through Discover. You can request one by following the same steps we just covered above, with some small intuitive changes. Unfortunately, withdrawing through the service isn't instant. Users will need to wait 5-7 days for their cash out to arrive, which is on the slow end.
Another thing we should mention is that help is available if you need it. If any issues arise during depositing or withdrawing, don't hesitate to contact the operator's Customer Support. In most cases, they'll reply quickly and do their best to find a solution to your query. Of course, you can also contact the Customer Care Team if you're unsure about some of the steps. The representative will help guide you through the process, making things a bit easier in the end.
Coverage and Restrictions
We're happy to tell you that Discover is one of the most widespread payment methods you'll encounter. The credit card has expanded exponentially throughout the years, covering multiple territories globally. Currently, the service is available in just over 200 countries. While this number is insanely impressive, it's worth noting that the solution isn't done on this front. The service plans to expand further, hoping to add even more regions to the growing Discover family.
If you want to get a better idea of the countries it covers, you can check the Discover Card International Acceptance Map on the solution's official website. The map marks all the locations accepting the service, including a few that have just started the integration process. As a glimpse into what awaits there, you'll see countries like Canada, the US, the UK, Australia, South Africa, Mexico, Brazil, Argentina, China, India, Germany, France, Italy, Romania, Sweden, Finland, and more!
Fees and Additional Charges
Fees can be a pain to deal with, and Discover knows this well. One of the biggest perks of using this payment method is the lack of an annual fee! This is a big selling point for the credit card, and it's used in most of its advertising. If you're wondering whether you'll experience other types of fees when transacting with the service, the answer is generally no. Unless you run into currency conversion fees, you should be fine to transact without issue.
Something you might want to look out for is fees imposed by the operators you choose to play at. Most casinos these days don't impose deposit and withdrawal fees. While they're uncommon, it doesn't mean they don't exist. Before you proceed to transact at a gambling venue, check the FAQs and Terms & Conditions on its page to learn more about its fees.
Accepted Currencies
Discover is an international credit card, so as you can probably guess, it accepts a variety of currencies from many different countries. As a rule of thumb, you can assume that the native currency of the country you're in is supported. Of course, this only applies if that country is on Discover's list of accepted countries. For example, if you're in the US, the US dollar is supported. The same goes for Australia with the Australian dollar, Canada with the Canadian dollar, EU countries with the Euro, and so on.
Customer Support
We have excellent news about Discover's Customer Support. The solution not only provides severalcontact options to make things easier, but it employs a highly trained Customer Support Team that's always ready to help. You can reach out to the service by phone, LiveChat, email, or even traditionalmail. Most of these garner quick responses, other than the obvious last option. In any case, you should receive detailed reports regarding your issue that are bound to move things along. If you're looking for a quick fix for a general query, you can visit the website's FAQs section for some pointers. It's pretty extensive, so you'll likely find answers to the burning questions on your mind.
Conclusion
It's easy for us to sing Discover's praises. The service is one of the best payment options you'll find on the market, offering an unparalleled reach that covers most of the world! Of course, this is just the start of what the modern credit card has to offer. Its curated list of perks gives users a chance to enjoy online transacting differently, especially when entertainment like online gambling enters the picture. Despite its overall glow, the solution does have a few things to look out for. Mainly, users should keep an eye on the slower withdrawal times, as they can be a deal-breaker.
FAQs
Where is Discover available?
Discover is one of the most widespread payment services available. It covers over 200 countries, including the US, UK, Australia, South Africa, India, China, Argentina, Brazil, Belgium, France, Sweden, and many others.
Can I apply for a card online?
Yes, you can. Discover is one of the rare few credit card providers with an online application process. The entire ordeal takes a few minutes, and your card is mailed to you when it's complete.
Can I withdraw using the service?
Yes, you can withdraw using Discover. It's worth noting that withdrawals with the bank card are somewhat slow, taking 5-7 days to arrive.
Is Discover safe?
Yes, Discover is safe. The service uses the latest encryption technology to ensure everything goes smoothly. Transactions are also covered by FDIC insurance, giving users an extra bout of security.
How much cashback does the service offer?
This can depend on the card you choose. The number varies, going up to a maximum of 5% on some transactions!
SHOW MORE
&nbsp
Online casinos accepting Discover as a payment method
Loading...
There are no available casinos for requested criteria.

We're showing casinos that accept Discover restricted by your country. To remove that condition click here
Something went wrong. Please try again later.