CashtoCode Online Casinos

Introduction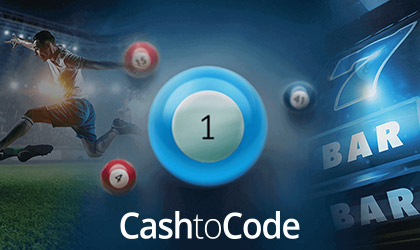 If you're active in the online gambling scene, you've likely heard of CashtoCode. There's a huge market for gambling fans looking to explore the activity in an easily accessible digital environment. The internet has seen to this through decades of development, but there's still one snag in the road that might prevent users from reaching it – payments. While many casinos support payment solutions available worldwide, their privacy isn't always put first with these services. That's where CashtoCode comes into play. Giving users the privilege to keep their private banking information to themselves, it's an excellent combination of convenience and security that every online gamer can get behind. If this short introduction to the service has piqued your interest, stick around to learn more about it and how it can work to your advantage.
About CashtoCode
The history of this popular service isn't as extensive as some might think. CashtoCode launched in 2013, backed by a team of payment industry veterans in the up-and-coming start-up Funanga AG. At its core, the idea for it is simple. Funanga AG saw a need for integration between e-commerce and cash. Many industries could take advantage of such a solution, and their theory proved correct when their new payment service picked up significant steam from the get-go!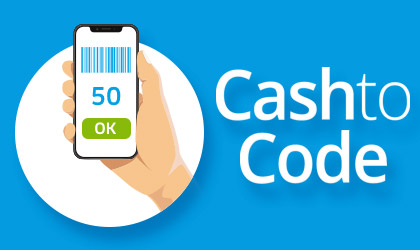 The name of this service gives away its entire shtick. Simply put, the solution connects online services and merchants with outlets in the real world. Users are free to explore the countless shopping opportunities in the online space while paying for everything with cash in person. If you're wondering how this all works, the code part of the equation is key. Once they choose a product or service in the online space, shoppers receive a code on their mobile device. They can use this code across supported merchants and pay for their purchases by visiting a physical location. 
While it might have taken a bit of time for the service to spread out and find solid ground, it's now a pretty popular option across many European countries and even a few territories outside of it too. There are over 100,000 retailers across the pond that support CashtoCode payments, and what's better, users can find them with a click of a button. To make things easier, the solution has a built-in locator tool on its official website. Using this feature pinpoints the nearest supported outlets, giving users a chance to pay for goods and services in a jiff. 
As you can probably guess, CashtoCode is very popular with online gambling fans. The main reason for this is the degree of privacy it provides. One of the biggest perks of using this service is anonymity. As the tagline says, all you need is some cash in hand to complete an online purchase. Sure, you might face the inconvenience of visiting a physical location to pay for the goods and services you desire, but your banking information and other private details are kept under lock and key throughout the process. 
Despite offering some top-tier perks, it's good to remember that CashtoCode isn't perfect. Users might run into a few issues when choosing this payment solution, although not all of them are big deal-breakers. Something to look out for is the low payment limit. As it stands, the largest single payment you can make through the service is £250. While nothing is stopping you from combining multiple payments into a larger purchase, doing this can be tedious. Another to keep in mind is the fleeting use of cash as payment. While we don't doubt the service will always attract consumers that need heightened privacy, more people are putting convenience ahead of everything else, opting for quick online payment solutions. 
How to Start Using CashtoCode
Using CashtoCode is pretty straightforward. We've already gone over the process briefly in the previous section of this text, but a more detailed explanation might give you a better idea of what to expect. The first step to using this service is finding an online store that supports it. Browse the store and find the item you're looking for. When your cart is full, and you're ready to proceed, click the checkout button and choose CashtoCode as your preferred payment option. Enter the required information in the empty fields when prompted and wait for your code to arrive. 
Now that the code is safely tucked away in your mobile device, you can proceed to the second step of the process. To complete the payment, you'll need to find a supported CashtoCode outlet near you. Doing this shouldn't be much trouble. Visit the solution's official webpage and open the locator tool. This feature should give you a list of nearby locations where you can pay for your purchase. Head to the nearest one to proceed. When you get there, ask the attendant to scan your code. Hand over the required purchase amount in cash, and voila, you're done! 
Depositing and Withdrawing With the Solution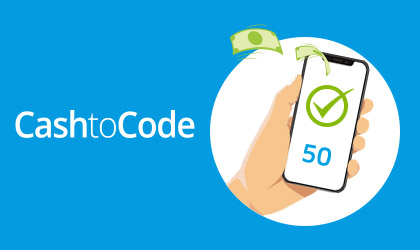 CashtoCode is undoubtedly one of the more popular payment options in the online gambling space. Thanks to its anonymity, countless European players see this service as their first choice for online gaming deposits! Thankfully, depositing through the service is easy as pie. The process is identical to using the service for any purchase, so if you paid attention to the previous section in this text, you're already ahead of the curve. Here's a step-by-step guide on how to make an online casino deposit using this solution:
Head to the casino's Cashier/Banking/ Payment Methods page and find the CashtoCode logo.
Enter the amount you wish to deposit and fill out the empty fields.
The service will generate a unique barcode that's sent to your mobile device.
Take the barcode and head to the nearest supported CashtoCode physical location.
Ask the attendant to scan the code to complete the transaction.
The money will arrive in your casino balance instantly!
Withdrawing isn't something you'll be privy to with CashtoCode. Due to the nature of how the solution operates, withdrawing from the service is impossible. This is undoubtedly a big con, but it can be remedied by choosing withdrawal alternatives that offer similar perks. Mainly, we're talking about eWallets and digital currencies. Similar to CashtoCode, these payment options usually grant heightened anonymity. This isn't always the case with the former of the two, so perform a detailed check before proceeding with your pick.
Something else to keep in mind during the depositing process is that most operators have a Customer Support Team that works around the clock. This can benefit you if you run into any issues during some of the steps mentioned above. If this happens, get in touch with the operator's Customer Support staff and let them guide you through the process from start to finish. If the problem persists, they'll work with you to find a solution.
Coverage and Restrictions
As we've already mentioned a few times throughout this text, CashtoCode has the best reach in Europe at the moment. The service originated in the continent, and it's had the most luck with gaining a player base there. Of course, this doesn't mean the service has no reach outside it. Other than Europe, the payment option can be found in Africa, the Middle East and Asia, North and South America, and Oceania.
Players in Europe can make the most out of CashtoCode. Since its presence is strongest in this region, it offers a full scope of services. In contrast, other regions might be limited to only a few features or a different kind of service altogether. In Europe, the payment solution is available in Germany, Austria, Italy, Ireland, the UK, and Russia. Players can find countless physical locations for the service in most major cities and even a few supported stores in less populated areas.
Outside of Europe, the payment solution is available in Nigeria, India, Canada, and Australia. It's worth noting that the traditional CashtoCode service is only available in two of these countries - Nigeria and Australia. India and Canada are privy to an alternative service from the same provider, which acts as an eVoucher. Essentially, users can pick up a prepaid CashtoCode voucher from authorized merchants and use it to pay online. While it has similar perks to the other option, it's not the same offer we've discussed in this text.
Fees and Additional Charges
One of the best things about using CashtoCode is the lack of fees users experience. That's right, you won't have to pay a dime extra to use the service. When you get to the physical location and pay for your transaction in cash, you won't incur additional charges than the amount needed for the product. Essentially, the only thing you sacrifice by using the service is the time it takes to walk from your home to the nearest supported outlet. 
We're happy to tell you that this lack of fees persists outside the service too. Since CashtoCode isn't connected to banking providers in any way, you can rest easy knowing that these fees are out of the equation for the get-to. On top of this, nearly all casinos that support the service don't charge a fee for transactions. The amount you want to deposit is the amount you'll have to pay in person.
Accepted Currencies
Currencies don't play too big of a role in this payment method, but they shouldn't be so easily overlooked. Since the payment is in cash, the amount you need to pay is generally converted into a local currency at the physical location. Essentially, the accepted currencies for this payment method are the native currencies in the countries it operates. These include the UK pound, Euro, Australian dollar, Russian ruble, and several others. Be mindful of where you shop, as in some cases, currency conversion fees may apply. This might not incur a hefty fee, but it can still be a significant amount. 
Customer Support
The CashtoCode Customer Support sparks some debate. On the one hand, the service employs highly professional team members that offer expert advice and are ready to help with any query around the clock. On the other hand, getting in touch with the team can be frustrating. For most countries, the only means of contact is email. This might garner detailed responses, but they can take some time. Only Germany and Austria have dedicated phone lines that make things easier. If you're in these two regions, we recommend calling the service if you run into an issue. 
Conclusion
It's not hard to see that CashtoCode is one of the best payment methods available to online gamblers. The service is highly secure, offering users the kind of anonymity other payment solutions only wish they could provide. It's a top pick for anyone that loves the idea of cash payments, but it does have a few downsides to consider. Before you move forward with the service, remember that it doesn't support withdrawals. It's also worth noting that it's only available in several countries, so check if it's supported in your region before getting your hopes up.
FAQs
Can I pay with CashtoCode online?
CashtoCode is used for online purchases, but payments must be made in person. As the name suggests, the service takes cash payments through various supported physical locations.
Is CashtoCode safe?
Yes, CashtoCode is safe. The service uses unique codes and cash payments for transactions, granting users anonymity. 
Where is CashtoCode available?
CashtoCode is available in Germany, Austria, Italy, Ireland, the UK, Russia, Nigeria, India, Canada, and Australia. It's worth noting that in India and Canada, the service looks a bit different than what you might expect. Instead of acting as what's described in this text, it's a prepaid eVoucher.
Do I need an account to use the service?
No, you don't. All you need to transact with CashtoCode is the barcode provided by the shop or service you're purchasing. 
Can I withdraw through the service?
Unfortunately, CashtoCode withdrawals aren't available. Users that want to cash out their casino winnings will need to use an alternative withdrawal method. 
SHOW MORE
&nbsp
Online casinos accepting CashtoCode as a payment method
Loading...
There are no available casinos for requested criteria.

We're showing casinos that accept CashtoCode restricted by your country. To remove that condition click here
Something went wrong. Please try again later.