Spearhead Studios

To visit Spearhead Studios official website, click here.
About the Company
Spearhead Studios was launched by EveryMatrix in November 2019. The online casino game developer comprises the former team of GiG Games, a 2017 vertical created by the Stockholm listed Gaming Innovation Group (GiG). 
Based in Marbella, Andalusia, Spain, the company is headed up by Xin Gaming founder and former Ezugi and Ho Broadcasting live dealer innovator, Mathias Larsson. 
The firm brought several already-published games with it into the deal as well as a host of tantalizing works in progress.

The sort of synergy seen here is rare for mergers and acquisitions in the industry.
Rather than a giant like Playtech buying up talent (all to often to simply disappear in all but name only), we see a brilliant repositioning of assets, intact, from a highly competent player (GiG) - to another globally positioned entity in a state of flux (EveryMatrix).
Too often, the term "synergy" in M&As means redundancy and elimination. Here, we see the true meaning of the word applied:
"...the interaction or cooperation of two or more organizations, substances, or other agents to produce a combined effect greater than the sum of their separate effects" 
While we won't delve into the whys and wherefores, nor the business mechanics of the acquisition/creation, we can easily imagine that it, at least in part, occurred due to the qualities of business sense found in Larsson's career. 
The Talent Runs Deep
Another name found at the nexus of the team is Kevin Corti. The Games Development Director at Spearhead Studios has done more than serving himself throughout a long and successful course of progress in his vocation.
Any team can claim passion in their work, but the proof is in the pudding. That quality stands out here in tenacity, innovation, selflessness, and application year after year and experience after experience.
If good luck is the residue of hard work and character is built by experience, Spearhead's most well-known talent has all the opportunities and qualities needed to change the game, rather than just create games.
Other Spearhead team members who may not be as well known but still make critical contributions to the resulting player experience include those who create concepts for games and design them in-house. Other capabilities inside the studios include digital art and animation production, audio production, user interface, and user experience modeling and deployment, JavaScript game development, QA and game testing, preparation for certification, and localization of new and existing games for specific markets.
LinkedIn members can learn about some of the other key players at the cutting edge and tip of the spear, here.
Software and Games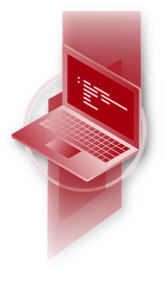 There are a few obvious components that any developer in this day needs to compete or even stay in business.
The games must:
Deploy in HTML5 (Be accessible via any consumer device)
Game Integrity
One can only imagine the stringent processes this team was held to in order to be born as a branch of the Stockholm-listed GiG (STO:GIGSEK) and launch their product in highly regulated markets. The first few games debuted at the likes of Rizk, Guts, and Metal.
All new mega-platforms that change the way the world plays games have teething pains, but the iGaming Cloud and EveryMatrix CasinoEngine have long passed the need for pacifiers or chew toys. The games have always performed handsomely even if the platforms that carried them hiccuped a few times coming out of the gate so many years ago. 
For EveryMatrix to move into game provenance after years of aggregation and platform service tells us anecdotally that they're ready for anything. To bring in a UKGC licensed suite of games and the very people who created them tells us even more.

HTML5 Cross-Platform
It almost goes without saying that every player must have a chance to play the games. Handheld Android and iOS phones and tablets use web browsers just like PC and Mac laptops and desktop systems.
The games have to be able to be played on any device and any operating system. But more than that, the games should be perfectly suited to every particular device. Users should not have to adjust anything. That's where HTML5 shines.
But everybody does that..!
GiG planned to make their gaming vertical a major player and invested heavily in a frontend HTML5 framework in order to pump out all the stuff the creative crew could throw at it.
That framework was delivered in the deal along with the human talent mentioned previously.
Here, we see the ability to throw fast-burning fuel on the fire as the games take off in popularity.
Is that a reasonable expectation in today's creator-rich environment?
We don't know, but near-infinite scalability is a comforting thought for people who hate to wait for the next great adventure.
Unique Game Appeal
The company's web literature states…
We know how every bell should ring, and how every light should blink.
Let's take a look at that!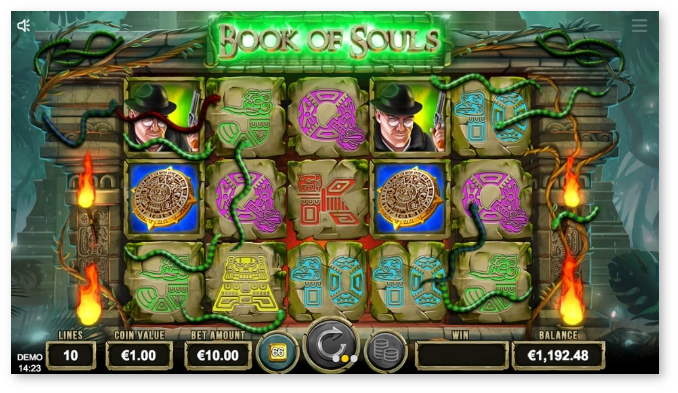 Book of Souls
This 10 payline, 5x3 cascading symbols slot with an adventurer therme was released in late 2018. The game saw over 20 million game rounds in its first 10 months of deployment. It's a highly volatile game (rarer but larger wins) that packs a punch with 96.90% RTP (theoretical return to player percentage).
With a house edge of 3.1% over millions of rounds, and an index of risk so high, don't be surprised if you wait a long time to trigger a feature and then only recoup part of your losses from it. Conversely, you could hit a feature on one of your first few spins and knock the walls of the bank down with potentially infinite free spins triggers.
We haven't seen the actual exposure data (how much a casino stands to lose on a single paid bet) but the max payout for a single payline (at max coins bet) is 500,000 coins. Taking the bonus mechanics into consideration this is obviously a potentially lucrative game to play (or bust out on quickly).
Of course, much of the game's appeal is simply in the theme and how it plays out, but we'll take a look at what can occur in the magic of the maths here.
Scatters and Wilds
In the base game wilds and scatters share the Book of Souls symbol
Look for randomly triggered "Snake Spins" with Book of Souls acting wild only
You'll hear the trigger coming and can expect anywhere from three to ten of the 15 visible symbols to become wild
High paying icons like Lara Jones (Lara [croft | indiana] Jones), and others can create huge wins on a single Snake Spin
Free Spins and Special Symbols
Land three or more scatter/wild symbols to trigger 10 free games
One of the 9 symbols will be chosen to expand on each spin
Any win involving the special symbol will cause it to expand creating more wins
Free spins can retrigger indefinitely
Consider this to be the nexus of the bonus feature's volatility. If the randomly picked symbol is a "9" or other lower paying playing card symbol, your wins could be lackluster. However, if it is one of the top paying icons and you get multiple expansions across the reels, hold onto your seat because you could be in for a wild ride.
Another element to consider is that the special symbols also pay as scatters, they don't need to be on adjacent reels.
Keep an eye on links in this space as we break down a few of the key components of more games like...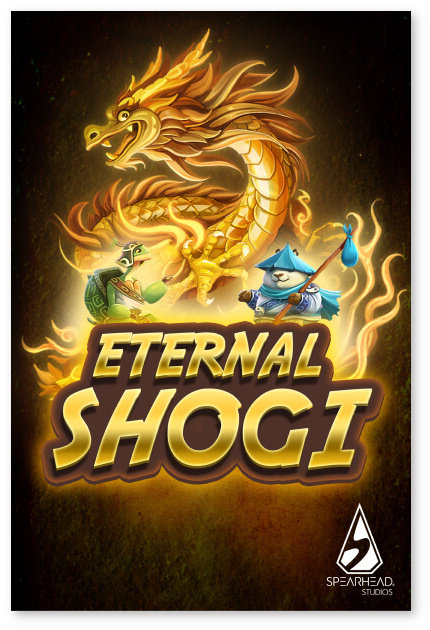 Wild Reels
Fruit Slot
PopStar
Midnight Madness
...and explore the potentials of:
Wilds of Wall Street
Pirates of the Mediterranian
Giant Panda
MegaNova
Lara Jones (is Cleopatra!)
Blackjack
Roulette
And what we hope will become a series of game-changing titles like...
Eternal Shogi!
The Final Analysis
Spearhead Studios hit the ground running with the EveryMatrix announcement. Yes, plenty of developers ink deals with the lumbering giant, but nobody outside of the actual negotiations could have imagined that one of those studios, this one, would actually become the first in-house development partner, correcting the company's trajectories for a shot at the moon and stars.
The games are 'as good as it gets' and some are much better than those of their top tier peers' offerings. The talent and leadership do not know the word "insuperable", and the studio and labs are part of a multifaceted powerhouse of integrated components that has the potential to continue disrupting the space and dominating many elements.
On this page you can find casinos that carry the games. However, if you ever happen to choose a random slot that simply looks attractive, and see the Spearhead logo on the splashscreen as the game is loading, enjoy the anticipation, we think you are going to like the game!
Spearhead Studios Games
Currently, we have

a large number of

casino games

available to play and over

a large number of

casino software developers

. Let's get started!
Casino Games
&nbsp
Spearhead Studios powered online casinos
Loading...
There are no available casinos for requested criteria.

We're showing casinos that accept Spearhead Studios restricted by your country. To remove that condition click here
Something went wrong. Please try again later.