Golden Hero

To visit Golden Hero official website, click here.
About the Company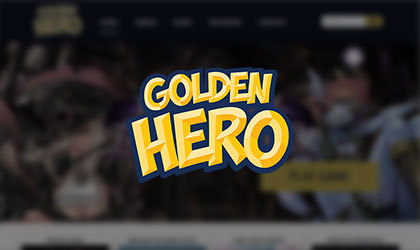 Golden Hero is a casino game developer based in the Bahamas. The company launched in 2017 and was part of the JPJ Group plc. The group uses its own proprietary gaming platform to service one of its gaming divisions. Golden Hero eventually became Gamesys's internal game studio.
A series of mergers and acquisitions occurred over the course of time with Golden Hero finally becoming part of US casino owner Bally's in 2021 when Jackpotjoy-owner Gamesys agreed to a takeover worth more than £2bn. Gamesys had revenues in 2020 of £218.3m with about a third of that coming from Asian markets.
The Vera&John division included the well-known Vera John brands and Intercasino. The division held licenses in Malta, UK, and Denmark. The Plain Gaming platform was designed for mobile, and that means HTML5. All of the new Golden Hero content is created and deployed in the future-proof cross-channel framework for play on any device.
The company's other division, Jackpotjoy, was comprised of the group's gambling sites that ran on the Gamesys Platform. Jackpotjoy, Botemania (for Spain), and Costa Bingo were the most well-known sites.
Golden Hero draws from this immense pool of experience and expertise in iGaming. InterCasino is often credited with being the first true online casino.
Innovative random number generator (RNG) slots for mobile, tablet, and desktop are the company's specialty - all in HTML5, rather than the antiquated and unstable Flash format. Anyone (of legal age in regulated markets) can play the games anywhere.
HTML5 games carry an extremely thin code that loads quickly, adjusts to any sized device from smartphone to HD big screen, and can include multiple layers used for 3D and animation plus amazing soundtracks. Any sort of bonus or feature mechanic can be written in without slowing down execution. The unique jackpot solutions designed by the company are a perfect fit for this emerging technology.
Best of all, it's stable and hacker-proof. The games are regulator compliant and certified in multiple licensing jurisdictions.
No plugins or downloads are needed as web browsers have been configured to run the framework for years now. If you visit the internet on a web browser, you can play games!
Of all Bally's extensive holdings, only three are registered in the Bahamas - Golden Hero Group Ltd., a local WagerLogic division, and Jackpotjoy Operations Ltd. Wagerlogic also maintain a Bally's-owned division in Malta. Gamesys was holding about a dozen entities in various jurisdictions, now all brought together under Bally's and found on a single filing with the US SEC.
The Gamesys acquisition which included all of the above-mentioned entities was a strategic move by Bally's to strengthen its position in regulated US online gambling markets. The company has not divested those interests but is now far more focused on land-based growth while keeping the online iron in the fire.
Golden Hero games are mostly marketed online through aggregator platforms. Solid Gaming packages and delivers the titles for distribution to Asian-facing online operators, particularly those focused on Japan and China. The company's titles known as "Pachislots" are among the most popular virtual games integrating elements of or emulating the Japanese pachinkos.
Oryx, now part of Canada's Bragg, deliver the games to players in Europe. All told, the studio produces about 10 games per year. The games appear on several other international aggregator platforms as well.
Notable Asian-facing and eastern-domiciled development partners now include Japan's Racjin, the decades-old Excubitor, and Win Fast - a developer of Japanese Pachinko games and Pachislots.
Software and Games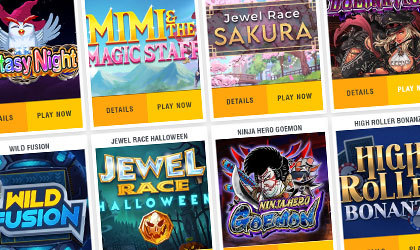 The first thing to look at in regard to game creation and delivery is security and fairness. Golden Hero's security management system is inspected annually by independent auditors. The RNG and game math are also verified and certified by SIQ test lab - one of the requirements for attaining and maintaining a license from the Malta Gaming Authority. Under its MGA license, the company provides games that comply with all legislative and regulatory requirements including player safety.
The games are built from the ground up for deployment over a multichannel environment so they play as well on a cheap handheld device as they do on the biggest desktop HD monitor - using only the resources needed to provide the optimal experience for gamers. The HTML5 framework allows optimization for specific devices, resolutions, and orientations.
All of the studio's slots and Pachislo are created as "mobile-first" so they never have to be re-engineered for the handset experience - but they also contain the coding to display full resolution in high definition. Since the coding execution happens in a markup language in the background, game engines never tax a device's computing power or even power requirements. Your device, whatever it is, will support the games as long as you have a browser and an internet connection.
The games
The company's first launch was Jewel Race, which hit the market in 2018. The title gained a respectable following but overall awareness of the company didn't occur until a later release, Hawaiian Dreams.
Jewel Race was one of the pioneer real money slots that incorporates the look, feel, and gameplay of a casual game. The gameplay cadence is ridiculously fast and the hit frequency is insane, so obviously, most of the wins are smaller in size.
Multipliers increase with each new winning combination and can go up to 8x.
It takes five or more scatters anywhere on the board to trigger a free "spins" round with a minimum of 10 and a maximum of 20 free rounds.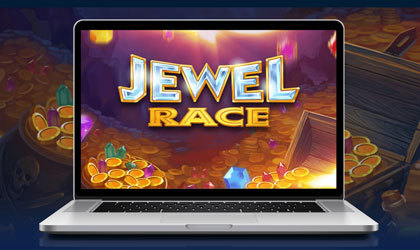 Pachislot games
Hawaiian Dream was created in association with Japan Technical Gaming (JTG) and made quite a splash when it was released. It was one of the first online games to incorporate the thrills of a pachinko pachislot and ultimately became extremely popular in Japan for its achievement.
The game is laid out as a 3x3 with simple and straightforward gameplay. Players build up streaks of free spins that occur when the flowers start to glow. The free spins have plenty of retriggers giving the Respin & Rush mechanic its name.
JTG's other brand is Win Fast and the games produced by Win Fast are intended for players in markets outside of Asia. Those games also incorporate pachislot elements as innovative and unique mechanics for games with any theme or math model.
A more intense game came later, Ninja Hero Goemon. The game is based on a legendary Japanese outlaw, Ishikawa Goemon, who stole from the rich and gave to the poor. Unlike the occidental Robin Hood, this legend's birth and death are recorded in history.
This is a 5x3 game where the player hopes to assist the Ninja Hero in the defeat of mythical enemies.
Goemon will assign certain weapons to you but only after You reach the Battle feature. All of the weapons have bonuses associated with them that are awarded after defeating enemies.
One highly sought-after weapon is the first, a Smoking Pipe. It will award a multiplier and a prize after you defeat an enemy with it. The Sword awards a prize, but no multiplier when you defeat the enemy, and the Throwing Star awards either a prize or a multiplier and becomes available after defeating enemies on levels 3 and 4.
Chest Bonuses can award multipliers up to 15x. The multiplier bonus accumulates power after each enemy is defeated and continues to build until the enemy of level 4 is defeated or when the hero is defeated.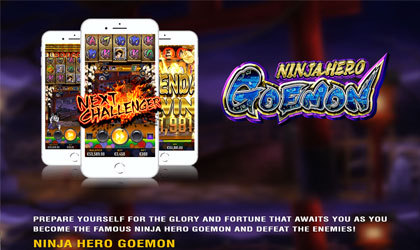 Oiran Dream is another 3x3 largely modeled after Hawaiian Dream and includes the same respin capabilities and rush of excitement. In a departure from most western-oriented games, many east-facing slot games are not shy about incorporating some "sexiness" into the mechanics or even the overall game theme.
Rather than seeing the flowers begin to glow, the respin feature is indicated to players by just how sexy the protagonist, Oiran becomes. The sexier she gets, the more payouts can be expected.
The title is loaded with bonus features and the easy-to-follow flow of the game offers the popular RESPIN&RUSH. When the Sakura flower glows, the free spins are retriggered.
Doki Doki Time is triggered if Yakumono moves around and if the Moon symbol stops, the chances of triggering Doki Doki Time increase.
Doki Doki Time is indicated by Yakumono moving around and begins when three Rainbow7 symbols land on a payline.
A hybrid roulette and dice bonus is also available called the Kamon Bonus.
As with all Pachislos, respins are key to this game. Every time three respin symbols stop on a payline, Orian will change color. As the background colors change from green, then to purple, and to red, the chance of triggering Orian Rush increases. Doki Doki Time or Orian Rush will automatically be triggered if three respin symbols land on a payline three spins in a row.
The Final Analysis
When we first came across Golden Hero several years ago, information was scarce and relationships were confusing. Now that Bally's has acquired Gamesys which included Jackpot Joy and several other related business elements, the company comes into clearer focus and some of the earlier business decisions and company path make more sense.
Vera&John has always been a successful Japanese-facing online casino. According to SemRush (as reported on sharewareriver) it is the undisputed champion of Japanese gambling websites by visitor count with over 14m visits per month. Coming from the same creators, Golden Hero was well positioned to know the potential of the Japanese slot and Pachislo market and to take advantage of it. We may not see the games at every European online casino, but players in the east are well-familiar with them.
The divergence into other-than-Pachislo-style games makes sense in order to capture more of the Euro market and the unique game mechanics incorporated into western-bound games are certainly catching on more and more as time goes by and new games are released featuring them.
Often, when a behemoth corporation acquires a smaller online brand it can get swallowed up and forgotten after the acquisition feeds to beast's synergies and the talent can get scattered throughout the larger brands and virtually disappear, never to make a mark again. We're glad to say that does not appear to be the case here.
However, as Bally's re-marshals its efforts and energies into a highly successful land-based expansion, we can only hope it won't forego existing commitments to online endeavors. Golden Hero is a unique gem.
Golden Hero Games
Currently, we have

casino games

available to play and over

casino software developers

. Let's get started!
Casino Games
&nbsp
Golden Hero powered online casinos
Loading...
There are no available casinos for requested criteria.

We're showing casinos that accept Golden Hero restricted by your country. To remove that condition click here
Something went wrong. Please try again later.