EPay Online Casinos

Online casino players are always striving to find an easy-to-use payment solution, most often an eWallet, to make international transactions, and ePay is one such method that you can use. It is a global eWallet service, available in multiple currencies, offering a safe and certified service, that you can use no matter where you're playing from. Plus, it is offered across many casino sites, so it won't take more than a few minutes to find one you'd like to join and start transacting with this eWallet. What is ePay and why choose it as your online casino payment method?
About ePay
Originating from China, ePay was established in 2014, with headquarters in Hong Kong. It was launched with the purpose of making online banking easier for Chinese users at first, but with time, it expanded its reach all across the globe and is now available in over 200 countries. The expansion started with the UK, in 2016 when its UK business entity was established. That's when the solution received its ISCCC certificate. But the solution also has a PCI certification, meaning it is completely safe to use.
Since it started offering not only fiat but also digital currencies for smooth transactions, it received the Best Blockchain Payment Service Award in 2018. In the following years, backed up with crypto, the solution arrived in Europe and the US and started offering global electronic money transactions. In 2020, it also received the National High Tech Enterprise Award for its achievements.
Its user base counts millions of people and considering it has partnered with over 150 banks and financial institutions across the world, it had to open branches in 6 different countries and regions. And today, due to the all-encompassing financial service offering, consisting of transfer, exchange and global remittance services, the solution received global success. Many industries have embraced it, the online gambling industry included.
As introduced, it is quite a young solution compared to others, but still, many online casino players are using it. It has yet to reach its peak in the industry, but there's a growing interest in it among international players. You will find it offered across dozens of casinos, and you can rest assured that the number of casinos to offer it will increasingly grow in years to come, thanks to the awesome things it has to offer. Be one step ahead of everyone and learn how to use it right away!
How to Start Using ePay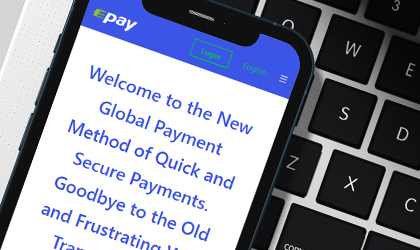 This solution offers a highly transparent service. In fact, if you explore its website, you'll learn all about the way it functions and what it has to offer, the fees included and of course, how to get started with it. So, first thing first, let's see how you can create your eWallet account.
You would need to visit its website, either via your mobile or desktop device and sign up for an account, providing the required personal details, such as full name, phone number, email address and password. Then, you'd need to verify your account, since the solution takes great care of security and safety. You will receive a verification email on the email address you provided, containing a Google Authenticator code. You'd need to download the Google Authenticator app if you don't have it on your device, and then scan the QR code you received on your email. With that, you'd have entered and verified your account with success.
But, you can also create your account via the app. You'd first need to download the app, available for both iOS and Android devices. You would need to go to Apple App Store or Google Play Store, download the app for free, and create your account, providing the same details as described above. A side note: if you've already downloaded the wallet before the 25th of September, 2021, you'd need to uninstall it and download the improved version of the app, since the old version had some system update problems.
As you could see, this step would be an easy one, and the next step would be funding your eWallet with money. Contrary to most eWallets where you can only use credit cards or bank transfer to fund your account, with this solution, you can use crypto and other eWallets, and in many currencies and cryptocurrencies. Your options will be fasapay, Payeer, Perfect Money, advcash, and wire transfer.
Depositing and Withdrawing with the Solution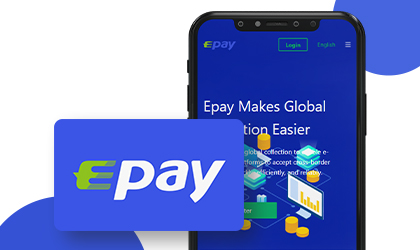 Even though, as mentioned, ePay is not that widely available compared to other eWallets, it is getting there. Today, you will find it across dozens of casinos, over 5 here on our site, so you'll still have several options to check out before you choose the one to join and start playing using this solution.
To make a deposit, you would need to do the following:
Visit the casino's Banking/Deposits/Cashier page.
Look for ePay's logo and press it.
Enter your eWallet account by providing your credentials in the new window.
Specify whether you'd like to complete the transaction via crypto wallets, other eWallets or wire transfer.
Enter the amount you'd wish to deposit.
Confirm the transaction and the money will arrive on your balance right away!
Deposits with this solution are instant, as you can see, and it won't be long after you've confirmed them that you'll find the money on your balance. Now, as a side note, we must mention that depositing via wire transfer would be fee-free, but you'd need to provide extra verification and authentication documents, such as an ID card/passport/driver's license or a utility bill/bank statement. With the other options, some fees would apply, to be covered below.
When it comes to withdrawals, you'd need to go through a similar procedure as described for depositing, only this time, you'd need to specify how much you wish to withdraw. The casino will send your winnings, after a thorough review of your request, directly on your eWallet account, so you can cash it out as it suits you. Bear in mind that it might take a while for the casino to approve your request, but as soon as it does, you'll have the money on your eWallet.
Coverage and Restrictions
Even though established in China, as said, ePay is not only available in China, but in 200 countries and territories across the globe. No matter where you're from, you can rest assured that you'll be able to use it, considering it collaborates with more than 150 financial institutions and banks globally.
There are no restricted countries mentioned anywhere on the website, so you can start registering your account right away, without experiencing any obstacles.
Fees and Additional Charges
ePay is not entirely free to use, although most of the services it offers are fee-free. In fact, funding your eWallet using a wire transfer would come with no charges at all. Downloading the mobile app would be fee-free, too. Internal transfers are free, too, as is verifying your account.
However, topping up your eWallet with the other payment options, you would have to pay some fees. There are also fees for some other services the solution offers, which go from 1% to 10%. These fees are explained in detail on the official website, so make sure you explore the Fees page to figure out which one of the offered options would suit you most.
Accepted Currencies
As mentioned, ePay allows for transactions in both fiat and digital currencies. There are over 80 currencies at your disposal, so let's check them out.
The default currencies are the pound sterling, the US dollar, the euro, the Hong Kong dollar and the Japanese yen.
Some of the other currencies you can use, for a currency conversion fee, are Australian dollars, Indian rupees, New Zealand dollars, Vietnamese dong and Sri Lankan rupee, to name a few. The supported currencies, among others, are Litecoin, Bitcoin and Ethereum.
Customer Support
ePay has the most comprehensive and transparent website out there, and you'll notice that the minute you load it. The solution keeps things clean and simple, so you can explore its many pages to figure out all about it.
In case, of course, you still have something uncertain or you'd want to ask a question, you can first check its FAQs page, which offers thorough answers to the most common questions. Or, you can always get in touch with its friendly and trained Support agents. They are available through the email address [email protected], the Live Chat option and the three phone lines, the international line +86 755 2224 8883, and the two Chinese lines 400-965-8008 and +852 39622525.
Conclusion
There's no doubt that ePay has a long way ahead, but it has so far managed to get a great reputation across industries, the online gambling industry included. It may not be as popular as other eWallets like, say, PayPal, but it is on a good track. Given all the things it has to offer, over 80 currencies and cryptocurrencies, the availability across over 200 countries and territories, and the cost-efficient features and services it offers, it should reach its peak in no time.
So, regardless of where you're from, make sure you create your ePay account before anyone else, to start enjoying the perks it offers right away. It is accepted across several casinos, it is safe and easy to use, you can make both deposits and withdrawals with it and you can rest assured that most of its services come with no cost. Give it a try by setting up your fee-free account, and you'll see that it will become your favourite method in no time!
FAQs
Is ePay's website available in several languages?
The solution, being established in China, has a website that is available in Chinese. But, considering it has expanded its reach all across the globe, it is also available in English.
Can I make a deposit with it at a casino that does not have an account with it?
No. You cannot send money to people/businesses without a valid ePay account. So, if your casino does not offer it as a payment method, it means it has no account with it, and consequently, you won't be able to make a deposit with it.
Can I reverse or cancel a payment with it?
You have to check the status of the transaction. If its status is "To be Processed", you can cancel it, but if its status is "Completed", you would need to contact the receiving party for a refund.
Is it possible to withdraw money from my eWallet directly to my bank account?
Yes. Go to the FAQs section on ePay's official website to find out the exact steps you need to make to transfer the money from your eWallet to your bank account.
What is the currency exchange rate?
The currency exchange rate is the same as the real-time mid-market rate. You can see the rate if you enter your account, press "Assets-Currency Exchange", and select the currencies you'd want to exchange. The rate will be in the right bottom corner.
SHOW MORE
&nbsp
Online casinos accepting EPay as a payment method
Loading...
There are no available casinos for requested criteria.

We're showing casinos that accept EPay restricted by your country. To remove that condition click here
Something went wrong. Please try again later.