Vega Wallet Online Casinos

Vega Wallet is a casino deposit and withdrawal app that is popular in Japan. 
Largely similar to the former Venus Point, it is a points-based wallet and payment method that is free to join and subscribe to.
Some casino operators that support Vega Wallet payments indicate that Vega Wallet is actually the "new" Venus Point. We haven't been able to confirm that independently, but the terms of service are similar except for the payment method name. As well, both companies registered to do business in the British Virgin Islands.
We have been able to confirm that Venus Point customers successfully transferred their balances to Vega Wallet. Those funds became available as of June 28, 2022. The transition period to migrate points ended on September 30, 2022.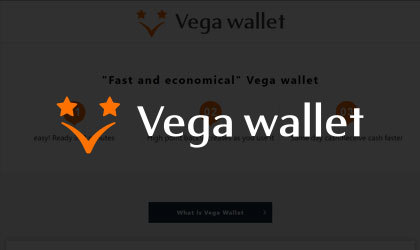 If you were familiar with Venus Point you will certainly find an abundance of similarities with this app.
One major difference from other online gambling wallets is that Vega Wallet converts money into points before you move them into a casino cashier so the service is free from interference from banks and other financial institutions.
When you withdraw from a casino your points can then be exchanged back into money that will appear directly in your bank account.
The unit price correlation is 1 point = 1 dollar making it easy to understand. You also get points back whenever you send money, up to $20,000 worth of points to use for casino deposits if you wish.
Vega Points
One thing that makes the payment method stand out from most others is Vega points. Each transaction you execute on the platform will earn points - as much as 0.6% of all spending comes back to your wallet up to 20,000 points ($) every month. These points can be used to fund your casino account with a minimum transaction of 50 points.
Since the payment method is heavily focused on players in Japan, you should look for special bonuses at participating online casinos to double up on rewards for using Vega Wallet, especially if you are in Japan.
When we reviewed the method it was only possible to fund an account on weekdays as only bank transfers were being accepted. Please visit the Vega Wallet site to see if credit and debit card funding is now available.
Getting started with Vega Wallet
Vega Wallet is a simple yet powerful mobile value-storing wallet that allows users to take their digital coin portfolio with them wherever they go. Mobile casinos and mobile payment apps work together seamlessly - but that doesn't mean you have to play on a handheld device once you have your account funded and the interface to manage your account works just as well on a laptop or desktop as it does on a mobile browser. Simply switch over to a laptop or desktop when you want to play on a bigger screen.
To get started with Vega Wallet, simply visit the website and create an account in less than 2 minutes.
On this page, you'll find casinos that have confirmed with us that they accept Vega Wallet deposits. You can click straight through to any casino on the list which could activate special bonuses, or you can read our reviews of many gaming sites on the list to learn more if the casino is not familiar to you.
How Vega Wallet Works
In the simplest terms, casino players purchase Vega Wallet points with money from their bank accounts and then deposit them at a casino that supports the method. When it's time to withdraw your winnings they will be converted back into money and sent to your bank account.
How to Deposit and Withdraw Funds Using Vega Wallet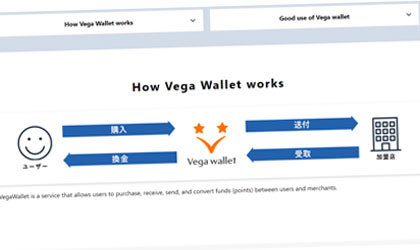 First, you'll need to register an account with Vega Wallet and fund it. Go to Vega Wallet and click "Membership Registration" at the top of the page. Enter and confirm your email address and confirm the "captcha" to prove you are not a bot and then click to send an email to your account.
Check your email and possibly your spam folder for the confirmation email and click on the link provided to confirm. When you arrive at the second stage registration page simply enter your first and last name, date of birth, password, and a secret password recovery question and answer. Now click "Register". You will be sent an email with your login ID and password.
The aforementioned process should take about 2 minutes to complete and now you should be ready to fund your account and deposit at your favorite casino that supports Vega Wallet.
In order to fund your wallet, you will need to purchase "points". These are worth one JP¥ each and are purchased in Japanese Yen. As mentioned earlier, point purchases are currently only supported through bank transfers. The daily point purchase limit is a minimum of 2,000 yen and a maximum of 500,000 yen.
When depositing to acquire points a new subcontractor will appear on the page as the beneficiary each time you buy points. Do not send to a beneficiary you have already used, rather generate a fresh deposit page each time. Each purchase will also generate a "one-time code" for that purchase which you must enter when making the deposit/purchase.
Point purchases will appear within less than 30 minutes.
The minimum amount of points you can withdraw back to your bank account is 50 points. No maximum amount is listed.
To deposit and withdraw with Vega Wallet, simply navigate to the cashier and select it on the deposit or withdrawal screen, then enter your Vega Wallet account ID and your login password and follow the step-by-step prompts.
Withdrawal redemptions back to your bank account from Vega Wallet will only be processed on banking days.
Our Final Word on Vega Wallet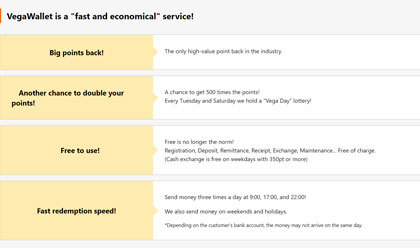 Vega Wallet is easy and free to register an account to start using the points-based method for depositing and withdrawing from online casinos. Players, especially high-rollers will enjoy the reward points that come with every transaction. The fees are low and cashouts are quick because most operators will process them quickly and the Vega Wallet system is well regimented.
We don't find information on the ownership or management of Vega Wallet but there's no reason to believe it is any different than Venus Point was. Of course, fund processing back to your bank only occurs on weekdays but most gamblers won't mind waiting for a banking day to be paid.
Vega Wallet FAQ
Is Vega Wallet safe and secure?
Yes. All indications are that it is simply a rebranded version of Venus Point. The fact that several major operators transitioned from the old point wallet to this one right on schedule tells us it is a trusted method.
Can I use Vega Wallet at online casinos?
Yes, if the method appears in the cashier or banking section you can use your new Vega Wallet account to deposit and withdraw funds. The gaming sites you see listed on this page have also confirmed that they support the wallet.
Can I deposit cash for chips with Vega Wallet?
No, but you can purchase points and then deposit or withdraw them, but only to your Vega Wallet. Points in your wallet can be converted to cash and withdrawn to your registered bank account.
How long do deposits take to show up?
Just like a credit or debit card deposit, your points should appear as funds in your account instantly.
How long do withdrawals take?
Withdrawals are processed the same day except on weekends and bank holidays.
Is Vega Wallet 100% anonymous?
Yes, and no. The British Virgin Isles company will not report any casino activity to any government. However, your banking transactions will appear as always.
Can I earn rewards by using Vega Wallet?
Yes, the maximum monthly point back is $20,000
SHOW MORE
&nbsp
Online casinos accepting Vega Wallet as a payment method
Loading...
There are no available casinos for requested criteria.

We're showing casinos that accept Vega Wallet restricted by your country. To remove that condition click here
Something went wrong. Please try again later.