Vanilla Prepaid Online Casinos

Introduction
As we enter a new digital age, more and more people are leaving behind old-school payment methods in favor of modern solutions with an online core. While it's easy to see the logic behind this move, new isn't always better, especially when niche payment comes into play. Prepaid cards are largely considered old-school payment options nowadays, and while their popularity has decreased significantly in the past couple of years, many of them are still big successes in several spheres of banking. The brand we'll be exploring today is no different. Vanilla Prepaid is a classic prepaid card through and through. It's one of the most sought-after services of its kind, offering users the staple features of this banking category, along with a few additional perks you might not have known about. In this text, we'll go over its offer to see if it's still worth your time in the current climate.
About Vanilla Prepaid
It might surprise users to learn that Vanilla Prepaid is an offshoot of a massive banking corporation that's been around for ages. The prepaid card is a part of the MasterCard Network, first introduced through a partnership with Peoples Trust, a Canadian banking institution known for its reputable practices and excellent standing among users. From the start, this should give many potential users some comfort. Both of these companies are the cream of the crop. They're as safe as can be and have a massive worldwide reach that opens the door to a ton of opportunities.
Despite the massive reach of its partner, Vanilla Prepaid is primarily a local service designed to cater to Canadian users. It's operated in the region for quite some time, establishing a solid following of users that can't get enough of what it brings to the table! With its popularity growing over time, this payment method has recently expanded its reach to several other countries besides Canada. Due to its availability in big-name markets and shops like Walmart, 7Eleven, Best Buy, Shell, Corner Store, and others, it's become a frequent go-to for online shoppers and casino fans in the USA.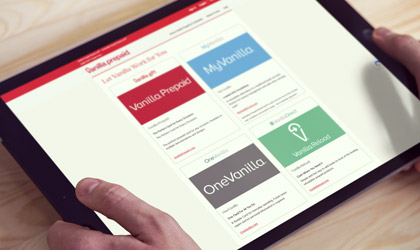 Now that you know a bit more about this method's background, it's only fitting we get to its core. Vanilla Prepaid is a classic prepaid card that operates just as most of you have imagined. Players can pick up one of these cards in a myriad of shops worldwide and use it to make purchases online and offline. What's interesting about this service is its adaptability to the modern online banking world. Not only is the service available in many physical locations, but it can be purchased online. Furthermore, players can reload their card with funds by linking it to an online account and fund it through several different banking options.
While this service started as a MasterCard offshoot, it's grown to establish partnerships with other big-name banking brands to maximize its reach and be a more convenient option for users everywhere. You can now choose between a few prepaid cards from the brand, each boasting a different offer connected to a specific brand. These partnerships include legendary banking solutions like VISA and Discover, so don't be surprised if you run into them when looking over this service.
We've covered lots of ground with this method, but we've yet to talk about its pros and cons. The positives of using Vanilla Prepaid should be pretty apparent. The biggest perk of this method is anonymity. Online gambling and shopping aren't always the safest activities. It's easy to run into scams and security issues that can lead to your personal information being misused. With this service, that's impossible. Furthermore, the card's security is up to par with the best of them. It includes top-tier encryption technology, chip readers, and PIN technology.
The perks of using Vanilla Prepaid can undoubtedly lead to a very positive user experience, but this shouldn't distract from the method's cons. Arguably the biggest downside to using this, or any prepaid service, is the lack of withdrawals. Since the service is a prepaid option, players can't cash out their casino winnings, or any of the money on their balance for that matter. What's more, the service comes with unavoidable fees, which can put a bit of a dent in your gambling budget. These include activation fees and several foreign exchange fees depending on your selected currency.
How to Start Using Vanilla Prepaid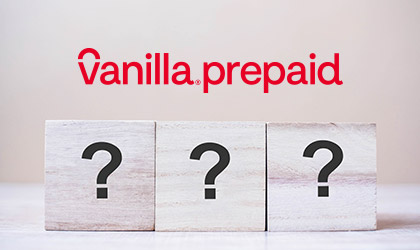 Getting started with Vanilla Prepaid is much easier than most people think. As we've already mentioned a few times throughout this text, the card is available online and offline through various retailers. These brands are mega-popular in Canada and beyond, so picking up a gift card or a prepaid card is as simple as taking a short walk outside and going to the nearest supported location. Once there, pick up a card in a denomination that suits your needs, and pay for it at checkout as you would with any other purchase.
If you choose to get a reloadable prepaid card, you've got a few options, including an online one. You can order one online by creating an account, but keep in mind you'll need to provide your address, so it can be delivered to you by mail. These cards can be topped up easily with your online account. Simply enter your credentials when logging in and choose a payment method you'd like to use to fund your prepaid card. Alternatively, you can top it up at a supported physical location too! There are some limits to look out for, so check with the clerk to learn what they are.
Something to remember about the Vanilla Prepaid cards is that they come with a strict expirationperiod. It's best to keep this in the back of your head, as once it expires, the funds on it disappear too! With that in mind, it's time to move on to the best part – using your card! This process is insanely simple. The card functions similarly to any other bank card, so you simply need to enter the required card information and PIN at checkout.
The transaction should go through instantly in most cases, but for some purchases, merchants may require preauthorization. Essentially, this means that they'll hold your funds for a couple of days before the purchase is given the go-ahead. This is pretty standard procedure, so there's nothing to worry about, even though it can be annoying. Thankfully, this is seldom the case with online casino transactions. Your deposits should go through instantly, giving you the chance to start playing at your selected venue in no time.
Depositing and Withdrawing With the Solution
Depositing at your favorite online casino with Vanilla Prepaid is a simple process. Before you get to it, you'll need to take a few precautions. First, ensure you have enough money on your prepaid card balance before you do anything. If you don't, you can top up your card online or by visiting a supported physical location. Second, choose a safe and respected casino. Although its reach is generally excellent, this method's reach in the online gambling space is somewhat limited. Explore your options carefully and choose an operator with an offer suited to your needs. Once you find a licensed venue you like, here's how to proceed:
Visit the casino's Payments/Banking/Cashier page.
Look for the Vanilla Prepaid logo on the list of accepted methods and click or tap on it.
In the new window, enter your card details (name and last name, card number, expiry date, etc.).
Specify the amount of money you'd like to deposit.
Confirm the transaction, and the money will arrive in your casino balance in no time.
Although many would like to withdraw from their selected online gambling venue with Vanilla Prepaid, that option isn't available. Since the method is a prepaid service, withdrawing online or from ATMs isn't a viable feature. With this in mind, you'll need to find an alternative withdrawal option to cash out your winnings. There are many options to choose from here, but if you're looking to get your hands on your winnings quickly, your best bet is eWallets. These online services tend to foster instant transfers, so it shouldn't be long before your withdrawal comes through.
Coverage and Restrictions
We already mentioned this at the beginning of this text, but it's worth repeating. Vanilla Prepaid was established by a Canadian banking provider in collaboration with MasterCard. The service aims to serve users in Canada first, but over the years, it's grown popular enough for players in other locations to give it a shot. This primarily focuses on the US, as most of the brands that carry Vanilla Prepaid cards tend to be based and operate in North America. Essentially, the service is easily accessible to users in Canada and the United States of America.
Fees and Additional Charges
Fees might not be too widespread in the Vanilla Prepaid ecosystem, but they are something users will encounter at a few points of their journey with the service. First, the card charges an activationfee, so you'll lose a small part of your balance in the beginning. Unfortunately, things don't end there. All transactions made in foreign currencies have a foreign exchange fee attached to them. When making a payment in a foreign currency, you'll be charged a 2.5% fee from the total transaction amount. This isn't too extravagant, but it can be a downer.
Accepted Currencies
As we've already mentioned, Vanilla prepaid mainly operates in North America. Because of this, the service supports the US dollar and Canadian dollar. We've talked about the fees attached to this service already, so as you're probably already aware, transactions in foreign currencies will incur an exchange fee. This can be a bummer, but at least users aren't limited by location when making transactions. The service is international, so you should have no trouble reaching retailers and venues based in countries outside the continent.
Customer Support
Since Vanilla Prepaid is associated with big names like VISA and MasterCard, you can expect the method's Customer Support to be top-tier. The service employs Customer Support representatives that are patient, helpful, and knowledgeable about approaching different problems and finding a quick and efficient solutions. Depending on your card type, you can reach out to several different Customer Support lines by phone with your concerns and queries. You'll get a response quickly and work through the issue with a Customer Service representative at your side from start to finish.
Conclusion
Vanilla Prepaid is undoubtedly one of the best-prepaid payment card solutions on the market. The service is a smash-hit with Canadian and US users, and with good reason! Its anonymity, international reach, and convenience make it a top choice for online gambling, but the versatility of the cards also allows them to shop online and offline without worries. Despite its top-notch perks, this service still has a few things to be wary of. Mainly, remember that withdrawals aren't available and that fees may apply, especially when transacting in foreign currencies.
FAQs
Is Vanilla Prepaid safe?
Yes, Vanilla Prepaid is safe. The service is protected by standard bank security provided by Peoples Trust, along with PINs and other necessary precautions to ensure third parties can't access your information. Additionally, the service collaborates with trustworthy brands like VISA and MasterCard and grants users anonymity when transacting.
Where does Vanilla Prepaid operate?
Vanilla Prepaid is an international service that can be used for transactions globally. The service caters to Canadian users, but people in the US can also get their hands on these prepaid cards.
Is there a casino withdrawal option?
Unfortunately, no. Since Vanilla Prepaid is a prepaid card, withdrawals aren't available. Users will need to find alternative casino withdrawal options to cash out their winnings.
How do I contact Customer Support?
Depending on the type of Vanilla Prepaid card you have, you can reach out to the method's Customer Support team by phone. You can find the corresponding numbers on the service's official website.
Can I withdraw from an ATM?
No, you can't. While you can use the service for purchases in physical stores with a PIN, the card doesn't support ATM withdrawals.
SHOW MORE
&nbsp
Online casinos accepting Vanilla Prepaid as a payment method
Loading...
There are no available casinos for requested criteria.

We're showing casinos that accept Vanilla Prepaid restricted by your country. To remove that condition click here
Something went wrong. Please try again later.