Triple Cherry

To visit Triple Cherry official website, click here.
About the Company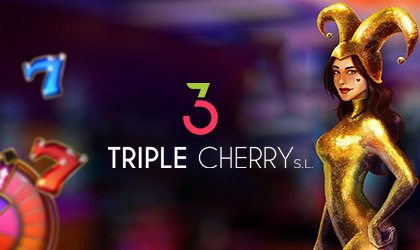 Triple Cherry (3Cherry) is an online slot developer launched in 2018 by industry veterans. The studio is based in Valencia, Spain, and creates games with simple yet effective 3D elements that work well for mobile and browser play.
Three of the four co-founders were also the creators of Akamon, a social gaming software that saw great popularity in the Spanish and Latin American markets. Millions of customers have played their social casino slots and skill games. Akamon was acquired by Tangelo Games in 2015. The Tangelo catalog no longer contains a slot portfolio.
The CEO and other co-founder is Juan Antonio Galindo, a digital media specialist, and investor as well as an accomplished artist.
The company has inked several distribution and other partnership deals to get their real money games in front of a wider audience, especially in Europe.
The UK-based BetConstruct with offices in Armenia, France, Germany, Taiwan, Uruguay, Philippines, Ukraine, South Africa, Malta, Latvia, USA, Cyprus, and Peru is distributing their titles.
BetConstruct holds licenses with the UK Gambling Commission, Romanian National Gambling Office, Malta Gaming Authority, ARJEL (France), and many other premier regulatory agencies.
Additional partnerships include those with:
We Are Casino
LatamWin
Hub88
Emara Play
SekaBet
BigBola
BetMotion
1xBet
AliraTec
Texyon
Patagonia
The Ear
Salsa Technology
More
One major advantage of releasing games on big aggregator platforms such as Slotegrator is that new games can roll out in between and on the same days as new titles from Microgaming, Amatic, and other leaders in the industry for better exposure.
As of late summer 2020, the studio had 14 games deployed in over 40 casinos with players located in almost two dozen different countries. As of review time, there were another five games in various stages of production.
The company attends events on the conference circuit with appearances at IGB Live, SIGMA, ICE, and other important industry happenings.
Look for their games at any of the casinos listed on this page. Most gaming sites will allow players to try the games in demo mode for free. Look for sites that allow you to sort video slots by the provider to zero in on Triple Cherry games. One place to try them is at BitCasino.io.
Software and Games
All of the games are created in a "mobile-first" format so they open and play in any web browser to be played on mobile, desktop, or SmartTV.
Because the 3D artwork and animations as well as the highly intricate soundscapes are delivered via the HTML5 markup language, the coding is lean and the games open fast without lag or delays, even over a low bandwidth connection.
Nearly all of the games offer well-executed mini-games with various bonus feature triggers. These mechanics can include bonus spins, extra pay lines, win multipliers, and more.
While the artwork could be described as simplistic 3D, it is probably more clear to say that it is stylized rather than "photorealistic". Art and animation are some of the most memorable aspects of the games, or at least the most available memory triggers.
The soundscapes are unique, the themes are well narrated, and the math models are varied enough to elicit distinct memories and a desire to play again. In short, the elements all work together holistically, which borders on masterful execution.
Each game offers a unique twist to be discovered and enjoyed.
One thing we liked from a technical aspect is the fact that the stated RTP is not theoretical and extracted directly from the maths model. The stated return to player percentages is derived from 1,000 million simulated spins for as near a 100% confidence interval as can be stated.
Theoretical RTP could be insignificantly higher or lower depending on the volatility of any individual game but a billion spins should put you not only in the ballpark but firmly on the home base.
That said, the RTP is a bit on the low side with most of the games. One example is the otherwise magnificent Tomoes Sushi Bar with an RTP of 95.16%. While it is a medium volatility game (6/10 on the index) we'd prefer to only see returns in that range on extremely high volatility games where a win is a win even if one in a million - lower RTP is simply not as noticeable when the index reaches 7.5 to 8 on a scale of 10, in our opinion.
The user interface is optimized for whatever type of device you are using. On a desktop or in portrait mode the spin button will be found on the bottom of the screen while tablets or a smartphone in landscape mode would display the UI on the right side of the screen.
There is no left-hand option.
After a winning spin, a graphic illustration of winning combinations is shown at the top of the screen along with the prize awarded.
The games can accept over 100 different currencies and are delivered in over 15 languages including Danish, Dutch, English, Finnish, French, German, Italian, Japanese, Norwegian, Portuguese, Russian, Spanish, Swedish, Turkish, and Mandarin.
The games
We'll select a few slot titles at random from the bottom middle and top of the catalog to take a deeper look. It's not usually necessary to do this with such a new developer, but we want to see if there has been an epiphany of creation or if all games are at the same level of quality as the most recent releases.
7's Club
This is one of their first releases, following Nile Treasures. The artwork is neon for the splash screen but the colors are more subdued in actual gameplay.
The play area is set up to look 3D with perspective on the cabinet and buttons as if you are playing on an old-style video slot in a casino.
The 3x5 layout has 25 pay lines and is available on mobile and desktop devices.
A two-stage bonus is triggered by landing three Lucky Wheel symbols. A second screen game materializes with a fortune wheel offering prizes, free spins, and multipliers.
The volatility (variance) is medium (6/10) and the hit rate is 36.8% - that simply means that a winning combination of any value is likely to occur on one out of every three spins.
Joker's Kingdom
This classic slot with a single pay line across three reels - packs a lot of features into the simple design.
After each spin, the Joker puppet moves through the theater to find a treasure.
Whenever the 'Joker finds a treasure' players will be awarded a respin sequence with heads or tails odd/even, a roulette spin multiplier, a Joker Special respin, or a Golden Key.
The mini-game is a picking game with treasure chests. This is opened when the Joker finds a Golden Key.
Like many classic slots, this one has a high volatility index of 8/10 but a hit rate of nearly 40% so you can expect lots of little wins and the occasional 160x bet jackpot.
Wild symbols are present on the reels to help complete three-of-a-kind combinations.
The top base game prize is 40.00 based on a 0.25 bet
Starfall Mission
This 25-pay-line game is played on five reels with four visible positions each. The volatility is medium/high at 7/10 and the RTP is over 95% but under 96% just as the majority of the games are. The hit frequency is 30.43%. The top prize is 10.00 for five Wilds symbols when betting 0.40 per spin.
With each spin, a slim but real chance of a random event occurring is staged. A meteor shower can rain across the reels and impact any of the twenty positions. When that occurs a 'cleaner robot' comes along and transforms the impact sites into blocked wilds before a respin occurs to use the wild symbols.
Three bonus symbols will award a free game sequence. The reels transform into a 3D chamber of the spaceship and a special symbol is introduced on the reels. The Golden Eye symbol only appears in the central position and can transform symbols to the left and right of it into blocked wilds that will stick in place for the duration of the free spins.
Nile Treasure is obviously Egyptian and has stacked wilds and free spins.
Saint Fermin is a favorite with a well-rendered stylized 3D game world celebrating the Running of the Bulls. Look for exploding wilds, a bonus game where you can choose to be the runner or the bull, and two different bonus spin sequences with different locking wilds.
Elsa's Bierhaus has free spins and sticky wilds as well as a darts game for the bonus feature.
Red Queen in Wonderland features transforming symbols and a growing vertical reel during the free spins.
Each of the games has one or more unique elements or twists and all have a certain artistic and fun-centric appeal.
The Final Analysis
While some games did not appeal personally for reasons of mechanics (fixed lines, forced waits between spins, etc.) even a salty and seasoned slots critic like myself didn't mind the inescapable feeling of social games - this, probably because a great percentage of slots released nowadays are designed to appeal to younger gamblers under the age of 25 so we're accustomed to different artwork and features than are traditional.
In fact, Triple Cherry's signature style along with a focus on frequent and fun mini-games may be their greatest strength in appealing to players.
There's enough mix in volatility, and unless you are going to play millions of spins you will probably never notice the RTP is between 95% and 96% on nearly all games.
The mixed volatility, generous hit frequency, and easy-to-achieve bonus games fit perfectly with the fun themes and narrate the gaming experience well.
After a day exploring the games, three favorites emerged - Saint Fermin - for the game world and features; Starfall Mission - for the new game world and Golden Eye in the free spins game, and Tomoe's Sushi Bar for the 3, 4, 4, 4, 3 reel layout, free spins, extra recipe pay lines, and the cooked up multipliers.
If there were one game we would suggest to introduce new players to this young company comprised of seasoned professionals, it would be Tomoe's Sushi Bar.
With the successful proliferation of the games over the Slotegrator and BetConstruct networks, players in most markets should have a chance to try the games for fun or real money play.
Please feel free to leave a note on this page if you agree with any of the elements of our assessment or if you have another conclusion altogether after playing their games.
Triple Cherry Games
Currently, we have

casino games

available to play and over

casino software developers

. Let's get started!
Casino Games
&nbsp
Triple Cherry powered online casinos
Loading...
There are no available casinos for requested criteria.

We're showing casinos that accept Triple Cherry restricted by your country. To remove that condition click here
Something went wrong. Please try again later.