Siru Mobile Online Casinos

Introduction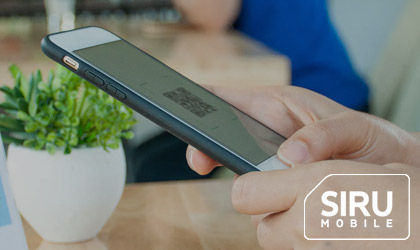 The modern banking world is all about convenience. For years, banking companies have been on a mission to create a payment method that's cost-effective, fast, and easy enough to get around for even the most technologically unenthused users. Of course, many of them have been very successful on this front. While eWallets, prepaid cards, and even cryptos easily fit into this category, one often overlooked option is mobile payment services like Siru Mobile. This quick and easy solution to the age-old problem of making online payments is one for the books. It offers users a chance to pay for various products and services by dialing a number and following simple instructions to finish the job. This payment option has gotten tons of traction in its years on the market, and if you want to learn more about its influence in the online gambling world, we've got you covered.
About Siru Mobile
It might surprise you to learn that Siru Mobile has been around for quite some time. The service was launched in 2011, heralded in by a collective of Finnish entrepreneurs that identified a significant gap in the mobile payment market in Finland. The basis for the service was pretty simple. If users find something they like while browsing through various online retailers, they can call up a number and pay for the item through their phone. The payment wouldn't go through your typical banking channels, instead, it would show up at the end of the month on your phone bill.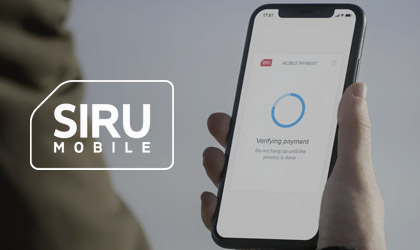 Albeit simple, the idea was hugely successful! Siru Mobile quickly became a coveted payment option in the region, prompting the company to make expansion efforts on multiple fronts. Regarding the payment platform itself, the company added several new features to boost the simplicity of the service even further. This included their first effort of an SMS payment feature, and later, an eWallet service. Both garnered excellent success. The former allows users to pay via a simple text message, while the latter operates as a classic eWallet, making direct payments a possibility.
The company's growth didn't just include adding new features and payment options. As it gained more traction, it also expanded its reach. It opened up a second office in Stockholm while keeping its base of operations in Helsinki. The influx of positive reviews gave it the kick in the butt it needed to try going international, and before long, Siru Mobile breached the UK, gaining access to another massive customer base interested in its unique offer. While it seems the company is now taking its time to figure out what's next, we're sure it's considering opening up to new territories in the future.
Now that we've covered some of the basics of Siru Mobile and its history, it's time to explore the pros and cons of using the service. The biggest pro of using the solution is convenience. Users need to follow three simple steps to complete a transaction – head to the checkout, make a call and confirm the transaction. The entire process takes a few minutes at most and is universally understood. Practically everyone has used a phone in their lifetime, so paying through one is a task no one should have trouble with.
Another massive perk of using Siru Mobile is the lack of registration. Unless you want to use the company's eWallet service, you don't have to bother setting up an account. All you need to do is verify your mobile via SMS, and you're good to go. Of course, this brings with it another big pro, especially for online casino goes, anonymity. Since the service doesn't connect to a bank card or a user account, you don't have to share any private data with third parties. The online gambling space is often full of scammers, and this is an excellent way to avoid falling for their tricks.
Naturally, Siru Mobile isn't perfect. One of the biggest issues users will run into is fees. While they're generally reasonable, their price isn't the issue. The company doesn't disclose the fee amount up until the point of making the payment. This makes it hard for users to calculate the additional charges and decide if they're worth it beforehand. Another issue is the solution's limited reach. While the service is a supported option across many online retailers, service providers, and casinos, it's exclusively available to users in a few specific countries.
How to Start Using Siru Mobile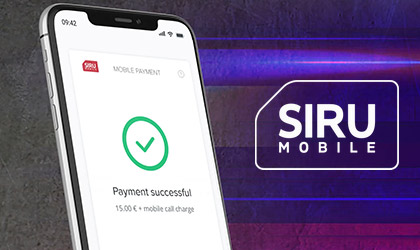 Using Siru Mobile is an incredibly simple process. Since most users go for its traditional mobile payment service, we'll cover that first. Naturally, the first thing you'll need is a mobile device and a phone number based in the supported countries. With these prerequisites out of the way, the entire process of transacting through the payment method only takes a few minutes. If you're going for the classic phone call option, the first step is heading to the checkout section of the retailer. Once there, choose the Siru Mobile option and make the call. Enter the needed information when prompted by the automated voice assistant and confirm the transaction. That's all!
Paying through Siru Mobile by SMS is just as easy. The process is essentially the same as using the call feature, but you'll need to confirm the transaction by sending an SMS instead. After entering the needed info and confirming your payment, it should go through instantly. Something to note here is that for both of these options, you don't need a user account. To use them, you'll need to verify your number beforehand via SMS, which only takes a minute. Send an SMS to activate the features to the corresponding Siru Mobile number on the website, and you're all set and ready to go.
Now that we've covered the classic mobile payment options, it's time to discuss the Siru Mobile eWallet. Unlike the previous services, this one does require a user account. You can complete the setup by visiting the solution's official website and clicking the Siru Wallet button. Here, you'll need to enter your phone number as a user ID and wait for an authentication code to arrive via SMS. Use it to set up your account, Siru Wallet account, which shouldn't take long. Essentially, you'll need to enter personal information to get it up and running.
Once your eWallet is successfully created, you can fund it and use it for all various online transactions. It's worth noting that the Siru Wallet can be accessed online, but it also has a dedicated app. We recommend using the app, as it's much more user-friendly and makes navigating the platform easier. Even if you're a complete newbie to eWallets and how they function, the app will make things much easier to grasp.
Depositing and Withdrawing With the Solution
As we might have already mentioned throughout this text, Siru Wallet is an up-and-coming payment option that's supported by plenty of popular retailers and online gambling venues. It's best to note that while this number isn't huge, you should have an excellent pick of online casinos that offer top-tier, enjoyable content. Before you choose one, do some research. Check out their offers, and licenses, and if you have the time, read a few expert reviews. Doing this can be immensely helpful if you're not sure about your choice. Once you select a venue that fits your needs, here's how to proceed to the depositing step:
Head to the operator's Banking/Deposits/Payment Methods section and click on the Siru Mobile logo
In the pop-up window, enter the desired deposit amount and your phone number
You'll receive an SMS to verify the transaction, and once you do, confirm it
The funds should arrive on your casino balance almost instantly!
As you might have noticed, the deposit step for Siru Mobile in online casinos takes the simpler approach to the options offered by the service. You won't have to make a call to verify or confirm the transaction, instead, everything is done through SMS.
We have some bad news when Siru Mobile withdrawals come into play. Unfortunately, the service doesn't support withdrawals. Even if you're using the eWallet service, this option is unavailable. To receive your cash out, you'll need to choose an alternative method that does support them. If you're looking for suggestions, we recommend going for an eWallet or cryptocurrency. Options like Skrill, PayPal, Bitcoin, and other similar services tend to make the process quick, easy, and fee-free.
Coverage and Restrictions
As we've mentioned a few times, Siru Mobile has a limited reach. While we believe the service is working hard to expand to new regions, there's nothing concrete in the works yet. For now, the service is available in four different territories in Europe. These include Finland, Sweden, Norway, and the UK. It's worth noting that all of the solution's features are available in these locations. Users don't have to worry about choosing either the eWallet or phone payment option separately.
Fees and Additional Charges
Fees can be an important part of a payment method's operation, and unfortunately, this is the case with Siru Mobile. The service attaches a fee to every transaction made with it, but things aren't that simple. Many users have an issue with how the fees for the service are applied. They aren't calculated beforehand, giving users zero insight into how much extra they need to pay. Essentially, the fee calculations happen on the spot as soon as you make the transaction. Sure, you have the option not to confirm the payment, but this still comes after you've already gone through the hassle of setting everything up.
Accepted Currencies
As you can probably guess, Siru Mobile supports the four main currencies used in the countries it operates. These include the euro, UK pound, Swedish krone, and Norwegian krona. Generally, this is more than enough for its loyal users, but it would be nice to see other popular currencies make the list. A feature many users are hoping to see in the future is crypto support. With more people going for digital currencies as their preferred payment method, it will likely increase the popularity of the solution and open the door to an entirely new market.
Customer Support
If you're worried about reaching out to Siru Mobile with issues regarding their service, you have nothing to stress about. The solution offers several means of contact, making it easy for anyone to get in touch with a Customer Service Representative. The best way to get in touch with the service is by phone. You can call its dedicated phone lines and talk with a representative in minutes. Alternatively, you can send the company an email through a form on its website. Replies here are a bit slower, but you should receive a response within 24 hours.
Conclusion
Siru Mobile might not be the most modern payment service available, but it sure is one of the most convenient. By allowing people to make various payments through their phones, it's built up a solid user base that supports it wholeheartedly. Of course, the addition of an eWallet service helps its cause greatly, allowing it to stay relevant and keep up with the latest banking trends. Despite, its many pros, we suggest not overlooking its cons. The service might an excellent choice for anyone seeking convenience, but it does have a limited reach and somewhat unreliable fees.
FAQs
Is Siru Mobile safe?
Yes, it is. Since there's no need to set up a user account to make mobile payments, users retain their anonymity when making online purchases.
Where is Siru Mobile available?
Siru Mobile is currently available in four different countries. These include Sweden, Norway, Finland, and the UK.
Are Siru Mobile payments instant?
Yes, they are. Once you confirm your transaction, the payment will go through in seconds.
Are withdrawals available?
Unfortunately, no. Siru Mobile doesn't allow withdrawals through its mobile payment service or eWallet. Users will need to find alternative means to withdraw their casino winnings.
Are there limits to Siru Mobile Payments?
Yes, there are. The service imposes payment limits for each of the countries it operates. For the UK, the 30-day limit is £50. For Sweden, the 1-day limit is 1000 SEK, while the 30-day limit is 3000 SEK. Finally, the 30-day limit is 300€ for Finland.
SHOW MORE
&nbsp
Online casinos accepting Siru Mobile as a payment method
Loading...
There are no available casinos for requested criteria.

We're showing casinos that accept Siru Mobile restricted by your country. To remove that condition click here
Something went wrong. Please try again later.