Polkadot Online Casinos

Introduction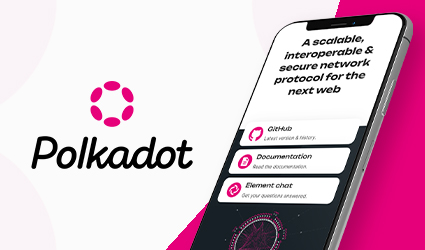 If you're an avid online shopper or a big fan of various digital services, you've probably noticed a rising trend when online banking comes into play. Of course, we're talking about the growing popularity of modern payment solutions! It seems people are getting tired of having to physically carry cards and such, opting for handier solutions they can access through their devices. Of course, that's Polkadot, comes in. This up-and-coming cryptocurrency represents the pinnacle of digital banking. If you're hoping to learn more about it, we'll cover its unique offer in this review!
About Polkadot
Polkadot might be a mystery to most, but it's a pretty well-known name in the crypto world. The digital token was launched in 2017, and since then, it's grown to become a go-to option in several niches. Of course, its mainstream success comes a bit later. The currency is only now breaking through to more mainstream fields, which is where its affinity for online gambling comes into play! With crypto casinos becoming a more common occurrence in the online gambling space, tokens like this one are taking their lead and introducing themselves to a wider gaming audience.
On the surface, this token might not look too different from most of the other cryptocurrencies you've encountered. It's an open-source cryptocurrency based on a proof-of-stake consensus algorithm. Sure, it's had moderate success, raising over 485,000 Ether during its first token sale, but that's not what makes it unique. What gives this token an edge is its support for the cross-chain transfer of data and assets. Thanks to this, users can build DApps that work on more than one blockchain! This is possible with the network's relay chain and its user-generated chains. The former is the key to keeping up these cross-chain relations and helps with the system's overall security.
Now that we've covered some of this token's unique sides, it's time to explore its more common traits. Just because they're common in the crypto world, it doesn't mean these traits are bad, in fact, they're what makes it such a powerhouse option for online gamblers! Polkadot essentially has all the traits of classic cryptocurrencies. To start, this includes incredible processing speeds. Players don't need to wait hours or days for their transactions to go through when using this service. They go through in minutes, thanks to the high-tech networks in the blockchain system.
Up next, we have one of the most important traits this token brings to the table – anonymity. Like most cryptocurrencies, this one is pseudo-anonymous. This means that unless you explicitly tell someone who's behind your crypto wallet ID, it's practically impossible to find out! This is an excellent trait to have in the online gambling space, as it can help protect players from scams and shady websites. Since using cryptocurrencies to deposit and withdraw means keeping your personal information private, hackers and shady businesses can't get their hands on it and misuse it.
Another excellent perk of using cryptocurrencies like this one for online gambling is access to exclusive games and bonuses. Unlike traditional payment methods, cryptocurrencies do come with a bit of an edge in the online gambling space. With crypto casinos becoming a fixture in the space, crypto usage is encouraged through exclusive content you can't access through traditional options. This includes fun and creative games and generous promos that boost gameplay. These offers tend to be better in quality than regular casino offers, so they're a joy to experience!
Now that we've covered the positives of using Polkadot as your primary online casino payment method, it's time to go over some of the negatives. A big con to using this token is its relative novelty in the gambling space. Since it's a new contender, it's not as widely available as other popular crypto options. Players are limited to a few venues, which can be a bummer. Another con you'll experience is obtaining this crypto. Getting your hands on crypto can be somewhat of a hassle, especially if you're new to cryptocurrencies and need to learn more about how everything works.
How to Start Using Polkadot
Polkadot is a cryptocurrency, so from the get-go, using it is a lot different than using a traditional payment option. All of this starts with getting your hands on the token. As you probably already know, obtaining crypto can be harder than it looks. There are several ways to do this, and up next, we'll talk a bit about the most popular routes you can take.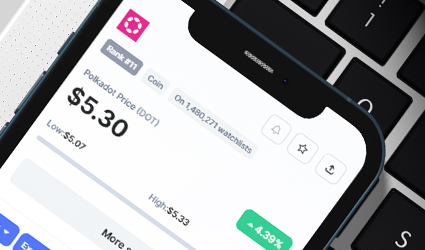 Before we jump into the ways you can get this token, let's talk about the ways you can't. Since it's based on a proof-of-stake consensus, this cryptocurrency can't be mined. Unfortunately, if you're new to the crypto world, you might not know this. There are many scams out there claiming they can help you mine this token if you invest your time and money into their program. Know that these claims are completely false. If a website claims that Polkadot mining is a viable way of obtaining this token, it's most likely a scam.
With that out of the way, we can focus on two trendy solutions you can go for at the moment. The first is crypto freelancing. Here, you perform various tasks and get paid in crypto. It's that simple. Of course, it's good to remember that payouts can vary drastically depending on the jobs you take on. Another potentially viable option is crypto games. These fun games grant users crypto rewards for finishing in-game objectives. While their entertaining nature is a massive plus, it's worth noting that the payouts they generate are pretty small.
The best and easiest way to obtain Polkadot is through crypto trading. With this method, all you're doing is trading in a fiat or cryptocurrency for a different token. It's incredibly easy to do, as all you need is access to a crypto wallet and crypto exchange. Luckily, Polkadot is popular enough to be a viable option on some of the best exchanges out there. These include Binance and Coinbase. Simply make a trade for your desired amount of the token and use your crypto wallet to store your new stash of crypto!
When this is done, you can proceed to use your crypto. The good news, this part is easy! First, head to the checkout and choose Polkadot as your payment option. Next, you'll likely be prompted to log in using your crypto ID or wallet. Alternatively, you may be asked to scan a QR code through your crypto wallet. Whichever route you choose, you'll be sent a confirmation request for the payment. Review it, and if all looks good, confirm the payment. You're done!
Depositing and Withdrawing With the Solution
Depositing with this cryptocurrency is easily one of the best things you can do when online gambling. It comes with tons of perks that make the experience easier, but finding a venue isn't one of them. Unfortunately, Polkadot's novelty in this space does make supported venues harder to find. Players will be limited to a specific few operators, which can be a deal-breaker for some. Thankfully, most of these operators are excellent options with solid offers. After choosing one, here's how to deposit: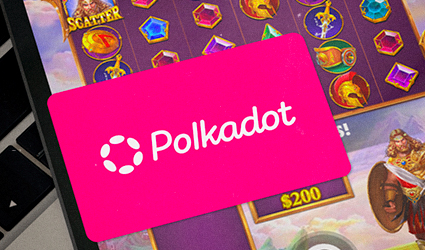 Head to the casino's Cashier/Banking/ Payment Methods page and find the Polkadot logo.
Click on the logo, and once prompted, enter your wallet ID or scan the QR Code.
Enter the desired deposit amount and confirm the transaction.
The money will be transferred to your online casino balance in seconds!
Withdrawing through this cryptocurrency should be just as easy as depositing. Both processes are nearly identical, with a slight role reversal between the player and casino. One of the best things about withdrawing through this token is the processing speed. The only waiting time players are subject to is the withdrawal approval period. This shouldn't be longer than a day or two. Once the operator approves the withdrawal, it will arrive on your balance in a jiff!
Coverage and Restrictions
It's almost impossible to talk about the coverage and restrictions of any cryptocurrency without mentioning the discourse surrounding the topic. Even after a decade since the release of Bitcoin, the first cryptocurrency, many countries worldwide don't understand the tech behind it. Others do, but would rather not engage with it. Of course, some welcome crypto with open arms and use it to further their economy. Essentially, the legality of crypto and crypto gambling is complex, varying drastically on a country-to-country basis.
Some places, like Egypt and China, have banned crypto completely. They implant harsh punishments for crypto users, so it's best to avoid them. Other countries are the complete opposite. El Salvador and Malta are perfect examples of this. Crypto is becoming the norm in these areas, and it seems people are loving the change! Of course, most places fall in the middle. While they don't ban crypto, they do implement regulations that may restrict its use. Such counties include the UK and the USA.
Fees and Additional Charges
Polkadot and pretty much every other cryptocurrency doesn't charge any fees. Of course, this doesn't mean you won't run into additional charges when using this option. Generally, the first fees you'll encounter come from crypto exchanges. You'll likely need to pay a fee to obtain the token, which can vary depending on your choice of platform. Similarly, some crypto wallets may charge a fee for transactions. These tend to be on the smaller side, but they're still there.
Accepted Currencies
Polkadot itself is a cryptocurrency, so this category doesn't apply to it directly. Still, currency support can be crucial when exploring crypto exchanges to purchase it. It's worth noting that most popular crypto exchanges support popular worldwide currencies. These include the euro, US dollar, UK pound, etc. What's more, most also support other big-name cryptocurrencies, such as Ethereum, Litecoin, Bitcoin, and more. While these platforms support tons of different currency options, it's good to remember that no matter your choice, they'll still charge a fee when trading.
Customer Support
Polkadot might not offer a dedicated Customer Support team like most traditional payment options, but it's miles ahead of the crypto curve. The token has a dedicated support page on its official website where it offers resources that might help users when in a pinch. These include guides on getting started, trending topics, and answers to tons of other popular and unpopular questions about cryptocurrency. It's not perfect, but it's often a handy solution to issues you may run into when using this token.
Conclusion
It's easy to see that Polkadot is an excellent choice for any online gambling fan. Its perks make the online casino experience a blast, offering speedy transactions, safety, anonymity, and tons of other perks that stem from its crypto nature. In some cases, you may even run into exclusive content when using this option, which is a massive plus! Of course, it does also have a few issues you should remember. The token is still pretty new to the online gambling world, so your choice of venue will likely be very limited.
FAQS
Is Polkadot safe?
Yes, Polkadot is safe. The platform it runs on uses top-tier SSL encryption tech to keep users safe. The token also offers anonymity for online transactions!
How do I obtain the token?
You can get your hands on Polkadots by visiting a crypto exchange. The token is available through popular platforms like Coinbase and Binance.
Is Polkadot legal?
This depends on your current location. The legality of crypto and crypto gambling varies from country to country, so it's best to check local government sources for more information.
Are Polkadot transfers instant?
Yes, they are. Polkadot deposits and withdrawals are lightning-quick!
Does it have fees?
The cryptocurrency itself doesn't have any fees attached, but related services might. A few examples of this are crypto wallets and crypto exchanges.
SHOW MORE
&nbsp
Online casinos accepting Polkadot as a payment method
Loading...
There are no available casinos for requested criteria.

We're showing casinos that accept Polkadot restricted by your country. To remove that condition click here
Something went wrong. Please try again later.