MiFinity Online Casinos

Introduction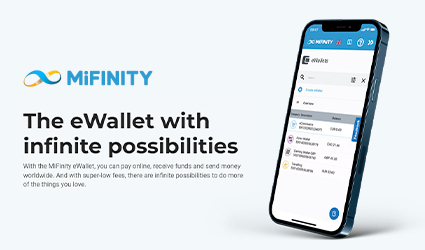 The banking sector has come a long way in the past two decades. With the internet becoming a household staple globally, online shops and services are now the shopping norm for billions of people. Naturally, this has inspired innovation in multiple related fields, including banking and how we transact online. Services like MiFinity were among some of the first to realize the changes coming our way. The payment method launched right amid the online shopping boom, providing users with an easy-to-use solution for all sorts of online payments. Since its release, this service has grown in popularity significantly, and with good reason. Its ability to adapt to rising tech trends has made it a go-to for online shoppers and gamblers who love its updated offer and modern approach. If you want to learn more about it, stick around.
About MiFinity
MiFinity is one of the many services to realize the potential in online shopping early on and offer a solution to make it easier. Launched in 2002, the payment method started pretty humbly. It consisted of an online transfer service that facilitates transactions between your bank account and the various shops and services available on the World Wide Web. As the service grew, it adapted to the fast-changing times. It upgraded its services to include a modern eWallet and prepaid cards, with the former being its flagship product.
The MiFinity eWallet quickly became the company's most sought-after service. In essence, this option isn't too different from other similar contenders on the market. It acts as a digital bank account that users can access through their computers and mobile devices. Of course, there are a few reasons why it's seemingly doing better than many of its competitors. The platform's excellent user interface makes it a joy to have around. It offers a well-rounded way to keep up with your income and expenses, on top of being a convenient option with quicktransfer features.
MiFinity's ability to keep up with our fast-changing world doesn't just apply to the kind of services it offers. The company behind the solution has played it smart on multiple fronts, establishing excellent partnerships that keep it at the top. These include collaborations with other premium payment services like VISA, MasterCard, and even digital currencies like Bitcoin. Thanks to these smart plays, the payment method has expanded its reach to over 70 countries and is used in sectors like travel, tech, insurance, healthcare, and many others!
There are many things MiFinity prides itself on. The service is chock-full of pros that help keep it near the top of the banking food chain at all times. One of these traits is the solution's excellent security. The service is licensed by UK'S Financial Conduct Authority (FCA) and Malta's Financial Services Authority (MFSA). These licensing bodies ensure service providers keep strict consumer protection policies and offer unparalleled security. This should give players some piece of mind, especially if they're keener on using the solution for online purchases.
Safety is just the start of the many perks users can experience with MiFinity. As you can imagine, offering multiple payment options is a big selling point for the solution. Users can choose between an eWallet and prepaid card, both of which come with unique advantages depending on their intended use. Another massive advantage of the service is its speed. Instant transactions are a core part of the MiFinity experience. Users can send and receive payments at break-neck speeds, ensuring they're always on top of things.
Finally, it wouldn't be fair if we didn't mention some of the downsides to using this service. While MiFinity has one of the best platforms you'll run into in the modern banking space, it comes at a price. Users are charged a fee for using the solution, which can be hefty. It's also worth noting that the fees associated with the payment method aren't equal across all territories. They differ from country to country, so it's best to visit the solution's official website for more information on the additional charges in your region.
How to Start Using MiFinity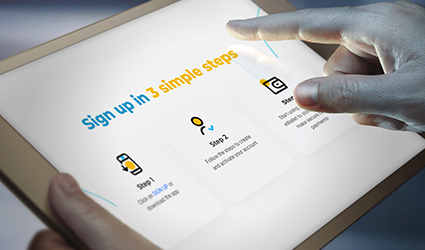 As you might have already guessed, thanks to our previous mentions, setting up a MiFinity account is pretty easy. Still, there is one thing users need to keep in mind before proceeding with the service. To use the eWallet, you need a valid bank card. Naturally, this prerequisite adds a step to the registration process. To ensure you have all of the necessary info to set up your account, we'll start with a short introduction to the process of obtaining a bank card.
The first step to getting a bank card is visiting a bank or financial institution in your area and applying for one. Before you start, we recommend exploring the different card options banks have on deck. They tend to have unique traits, so doing some research is a good idea. Once you've chosen a suitable option, ask the bank clerk for the necessary registration documents. Filling these out shouldn't take too long, but it's good to know what to expect. These forms often require personal information, such as your financial and marital status, to assess your eligibility. Don't worry, this information is kept private.
When you're done with the forms, you'll need to move on to the next step – identity verification. To complete this step, you'll need to provide the bank clerk with a valid photo ID document. Once approved, you should be done! The bank will start working on your card, a process that takes a few days. When it's ready, you'll be notified via phone or email and given a few pick-up options. You can usually grab your card from the bank itself or have it delivered to you by mail.
With your card ready, you can now proceed to set up your MiFinity account. The process of opening an account with the service is practically identical to that of getting a bank card. Of course, the only difference here is the convenience of doing it online. Visit the MiFinity website and click the "Sign Up" button. You'll be redirected to a form where you'll need to enter your details. When you're done, you'll be asked to verify your identity by submitting a copy of a valid photo ID document. That's it, you're done!
Now that your account is live, the last step is attaching a bank card to it. This isn't unusual for eWallets. While some can be funded and reloaded on separate occasions as necessary, others require a bank card to make things more streamlined. The funds available on your card are the same ones reflected in your wallet. With that out of the way, you can use your wallet by following a few simple steps. At checkout, select the MiFinity option and enter your credentials. Once you've logged in, all that's left to do is confirm the transactions. It's that simple!
Depositing and Withdrawing With the Solution
Using MiFinity for online casino deposits should be a breeze. The payment method is accepted in many online casinos, so you shouldn't have much trouble finding one suited to your tastes. When searching for an operator, we suggest your pay attention to expert reviews and licensing. Always check if the casino is properly licensed to avoid scams and businesses with shady practices. Once you find an appropriate online casino, here's how to proceed towards depositing:
Head to the operator's Banking/Payment Methods/Cashier section and locate the MiFinity logo.
Click the logo and sign in to your MiFinity account using your credentials.
Enter the desired deposit amount and confirm the transaction.
The funds should arrive on your casino balance in an instant!
If you're wondering whether withdrawals are a viable option through MiFinity, we're happy to confirm that they are. To withdraw through the service, you'll need to follow the same steps as depositing, with a slight change in step three. Here, you'll need to enter your desired withdrawal amount instead. We should note that withdrawing through the solution might incur a fee, so keep in mind that the amount you receive may be slightly smaller as a result. On the bright side, the processing speed for withdrawals is lightning-quick! Once the operator approves the transaction, the money should arrive on your balance in no time.
Coverage and Restrictions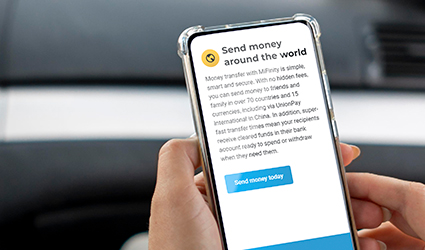 Some users might be surprised by the sheer number of locations MiFinity covers. The service has been around for about two decades now, and in that time, it's managed to grow exponentially. Nowadays, you can find the service in more than 70 countries! Most of these locations support the full scope of services offered by the payment method, but some might be limited to specific features. Still, this number is more than impressive. It includes countries like the UK, and many others across, Europe, Asia, and Africa.
Despite making waves globally, it's worth mentioning that there are a few countries the method doesn't operate in. There's a total of 19 territories MiFinity doesn't support, including North Korea, Sudan, Iran, Turkey, the US, Zimbabwe, and more.
Fees and Additional Charges
As we've already mentioned a few times throughout this text, fees are one of the biggest downsides to using MiFinity. The service does charge fees for transactions, including some purchases and withdrawals. The good news, these fees tend to be on the smaller side. Of course, this doesn't apply to all cases. Since the fees range on a country-to-country basis, some users get the shorter end of the stick, as they're privy to larger charges. If you want to know more about the service's fees in your location we suggest checking its official website for more information.
Accepted Currencies
Players will be happy to learn that MiFinity supports a generous number of currencies from around the world. It currently offers support for 17 different currencies, including popular options like the Euro, UK pound, US dollar, and many others. The good news about this is that users don't have to bother with currency conversion fees if they transact using the options listed previously. If your native currency isn't a part of the supported options, you might need to covert it beforehand, which can incur additional charges.
Customer Support
MiFinity's Customer Support can be a bit frustrating for some users. On one hand, the service retains an excellent Customer Support Team that's ready to assist users at all times. The representatives are friendly, professional, and knowledgeable on everything related to the payment method. On the other hand, there's only one way to get in touch with them. Players can only reach out to the service via email or the contact form available on its website. Both are essentially email options, which means users have to wait a bit before receiving feedback.
Conclusion
MiFinity is one of the best modern payment options you'll run into when exploring the online gambling scene. Not only does it offer a speedy eWallet that makes instant transactions a breeze, but it also boasts a prepaid voucher service for those seeking maximum privacy. There's plenty to say about this service, and the majority is positive. It's safe, reliable, and has a user-friendly platform suited for anyone seeking to give it a shot. Of course, it has some cons too. Mainly, all of the benefits it offers come at the cost of various service fees.
FAQs
Where is MiFinity available?
MiFinity is available in over 70 countries across Europe, Asia, Africa, and other territories.
Does the service have fees?
Yes, it does. The fees attached to using MiFinity are different for different countries, so make sure to check the solution's website for more information about them in your location.
Can I withdraw with MiFinity?
Yes, the service does allow withdrawals. Its withdrawals are incredibly fast, but you might be charged a fee for the transaction.
 Is there a MiFinity app?
Yes, there is. You can find the solution's official app on the Google Play Store and iOS App Store.
Is the service safe?
Yes, it is. On top of using high-end security protocols, it's licensed by UK'S Financial Conduct Authority (FCA) and Malta's Financial Services Authority (MFSA).
SHOW MORE
&nbsp
Online casinos accepting MiFinity as a payment method
Loading...
There are no available casinos for requested criteria.

We're showing casinos that accept MiFinity restricted by your country. To remove that condition click here
Something went wrong. Please try again later.