Ecobanq Online Casinos

Introduction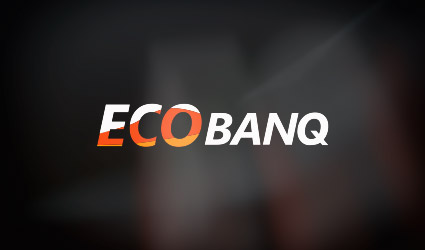 Most people are well-acquainted with the concept of eWallets. These modern payment solutions are a new-generation banking service that makes it easy for users to keep all their banking information in one place and transact online. The convenience of these modern payment methods is unparalleled, which is why they've become some of the most widely used services worldwide! Unfortunately, even the large eWallet brands often have limited reach. Sure, they might be available in locations everywhere, but they don't offer the same features equally across the board. As a result, players in some Asian, European, and African countries have been demanding local solutions to fix this issue, and thankfully, some have come through. Ecobanq is one of these services aimed to serve the Indian market, and if you want to learn more about it, keep reading.
About Ecobanq
It can be hard to talk about Ecobanq without connecting it to some of the other eWallet brands on the market, but we'll try our best. This modern payment solution is a web-based international payment system that's easy to use and highly convenient. It's a recent addition to the list of international payment options, one exclusively available in India. Because of this, it can be hard to find detailed information about it when browsing the web. Don't worry, we've got you covered on that front.
Ecobanq didn't just appear out of the blue. The platform was created as a result of a lack of solid payment options Indian users could choose for online shopping, gaming, and other related services. Sure, options like PayPal and Skrill are dominating the global market, but their features tend to be very limited in specific locations, leaving users underserved and disappointed. This solution is the perfect fix to all of that. With this method at their side, Indian users can transact in the digital space without worries. Naturally, this has made it a popular pick, despite its novelty.
Since Ecobanq is a pretty new player, many are still wary of it. We're happy to tell you there's nothing to worry about. The service closely collaborates with some of the best banks in India. Thanks to this, users can expect some classic bank security features, on top of the eWallet's SSL encryption and high-end security features. If safety is something you're big on, it's also worth noting that anonymity is guaranteed when paying through the service. Being an eWallet, it doesn't share any private user information with the companies on the other end of the transaction.
Another big perk of using Ecobanq is the speed of the transactions. Like most eWallets, this one is an instant transfer service. Users can expect insanely quick transactions, so they needn't worry about waiting long before they can access their online casino balance. On the topic of online casinos, it's good to note that the service launched with online gambling fans in mind! While it wasn't the only thing considered before launch, this niche industry was on the method's radar, as payments related to the activity are often restricted.
Now that we've covered some of the option's greatest strengths, it's only fair we cover some of its weaknesses too. While fees aren't an issue with this service, you might run into them if you try transacting with any other currency than India's native one. The service only offers support for the regional currency, so funding your account or purchasing something online in a different currency can incur conversion fees. Of course, this can limit the method's reach, but only slightly. Generally, you shouldn't have trouble finding local and some international services that support it.
Another thing we should cover about Ecobanq isn't exactly a con, but it can be a hurdle players need to jump over. Since the service collaborates with local banks to foster transactions, having a bank account is a prerequisite for using it. Additionally, getting in touch with the solutions Customer Support can be a bit of a struggle, as it doesn't offer many means of contact. This is a big downside, as it can keep leave players waiting on a response for long periods, making them dissatisfied with the service. 
How to Start Using Ecobanq
Using Ecobanq might be a simple process, but the account setup might trip some people up. Thankfully, it's not too complicated once you have all the information, so it's best to read through this part carefully to grasp the basics. As you might have guessed, the entire process can be completed online. Still, keep in mind that having a valid bank account with one of the supported banks in the region is a must for Indian users, so it's a good idea to open one if you haven't already.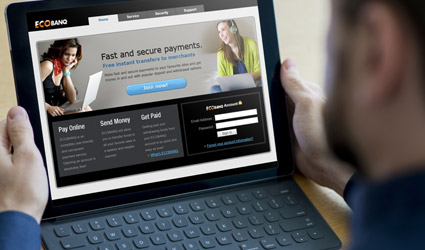 Opening up a bank account is pretty simple. Head to a nearby supported bank and request to open an account. The bank clerk will hand you a few forms you need to fill out with your personal information. The questions on these forms can be somewhat personal, but don't worry, the data remains private, as it's only used to test your eligibility. Next, you'll need to hand in the forms and a valid photo ID. This identity verification process shouldn't take more than a few minutes, and once it's approved, your account will be ready in no time.
With that out of the way, it's time to focus on setting up your Ecobanq account. First, visit the solution's official website and click the Sing Up button. This should redirect you to a form where you need to enter your email address. The servers will send a confirmation email your way, and after opening it, make sure to click on the link and confirm it. After you complete this step, you'll see a form requiring some personal data. Don't worry, you won't need to provide a photo ID to confirm your identity here, instead, your submission is reviewed manually.
Once the Ecobanq team approves your account creation request, you can start using the service almost immediately. Before you do, top up your balance through your bank account, or by adding a credit or debit card. VISA and MasterCard are viable options here, so you should have no trouble doing so. Finally, you proceed to make transactions. To do this, simply select the method at checkout and log in with your credentials when prompted. Enter the required payment amount if necessary, and confirm the transactions. That's all!
Depositing and Withdrawing With the Solution
Since Ecobanq was created to serve an Indian audience, the service is accepted in several online casinos that support the language and welcome Indian users with open arms. Unfortunately, the method is still pretty new, so its reach in the online gambling world isn't as widespread as some of you might have imagined. Still, the options you have on offer are pretty solid. Review their offers in detail and check their licenses. When you're sure you've made the right decision, you can proceed to deposit by following these steps:
Visit the casino's Payments/Banking/Cashier page.
Look for the Ecobanq logo on the list of accepted methods and click or tap on it.
In the new window, enter your Ecobanq login credentials and access your account.
Specify the amount of money you'd like to deposit.
Confirm the transaction, and the money will arrive in your casino balance almost instantly!
The good news about Ecobanq withdrawals is they're supported in nearly all the casinos that accept this payment option. They're pretty quick too, so you won't have to wait long before your cashout appears in your eWallet balance. Of course, things aren't that simple. If you want to withdraw your casino winnings through this service, you must use it as your deposit method. If you don't use Ecobanq to make deposits at your chosen online gambling venue, the withdrawal option will be restricted or completely unavailable.
Coverage and Restrictions
As mentioned a few times throughout this text, Ecobanq was made to give Indian online shoppers and gamblers a more convenient banking experience. Knowing this, it only makes sense for the method to accept users from the region. Fortunately for international fans of the service, it does accept users in other countries! The one thing international users need to remember when using this service is that it only operates in India's native currency. All transactions are handled in this currency, so you might be charged currency conversion fees throughout.
Fees and Additional Charges
One of the best things about Ecobanq is that fees are kept to a minimum. The service intends to make the online banking experience easy, so players won't experience transaction fees when using it for online transactions. While this is excellent news, there is one exception to this rule. Since the service only supports the Indian rupee, currency conversion fees are a concern, especially when making international payments. Additionally, you may also run into these fees when funding your account with a method in a different currency. 
Accepted Currencies
Ecobanq started as an Indian payment option, but it's grown to accept players from all corners of the world. While it is an international service, it only supports a single currency – the Indian rupee. This shouldn't be an issue for Indian users, but international ones will likely experience currency conversion fees that can take away from the overall experience. It doesn't matter if you use a popular option like the US dollar or euro to transact or top up your account, a charge will be attached to the transaction.
Customer Support
Unfortunately, Ecobanq's Customer Support isn't something most users are fond of. While the Customer Care Team is generally knowledgeable and helpful, reaching them can be a hassle. The service offers a single contact option via email, and worse, receiving a response can take a significant amount of time. Late responses aren't uncommon, leaving players dissatisfied and without a resolution to their issues. If you have a chance to fix this from the online casino side of things, we suggest reaching out to their Customer Support instead.
Conclusion
For users located in places like India, where big-name eWallets tend to be a bit more fickle than most users like, Ecobanq is the perfect modern banking alternative to ensure a positive online shopping and gambling experience. The service has all the staples of a classic eWallet, but it aims to serve a niche audience with its support for the Indian rupee. This solution is an excellent pick for online gamers looking to enjoy the best offers, but it's worth remembering that it has a few flaws too. The service's Customer Support is underwhelming, and its reach can be somewhat limited due to its novelty.
FAQs
Is Ecobanq safe?
Yes, it is. The service uses SSL encryption and other high-end security features. It also collaborates with many local banks and offers users anonymity when transacting online.
Where is Ecobanq available?
Ecobank intends to serve an Indian audience, but players worldwide can use it! The service is available internationally, and nearly anyone can sign up for an account.
Are withdrawals available? 
Yes, they are. Something to remember about casino withdrawals with Ecobanq is that there is a prerequisite to using the feature. To withdraw through the service, you need to deposit with the method first.
How can I reach Customer Support?
You can reach out to the Ecobanq Customer Support Team via email. Unfortunately, this is the only option available, and it can take a while until you receive a response.
Do I need a bank account to use Ecobanq?
Yes, you do. Indian users must have a valid bank account with a supported local bank to use the service. For international users, a bank card is more than enough.
SHOW MORE
&nbsp
Online casinos accepting Ecobanq as a payment method
Loading...
There are no available casinos for requested criteria.

We're showing casinos that accept Ecobanq restricted by your country. To remove that condition click here
Something went wrong. Please try again later.