Buck Stakes Entertainment

To visit Buck Stakes Entertainment official website, click here.
About the Company
Buck Stakes Entertainment is a Durbin, South Africa Headquartered online casino slot developer. The firm's trademark is held by Microgaming affiliate Fusion Holdings Limited. Fusion is located about 500 feet from Microgaming's Douglas headquarters in the Isle of Man and has been acquiring and developing software for the online gaming market since 2018.
In a nutshell, Buck Stakes is a Microgaming Studio Partner.
Another South African affiliate or subsidiary of Microgaming is Derivco. Their Isle of Man offices are within throwing distance of Microgaming headquarters and one can easily imagine that Buck Stakes HQ is in or near Derivco in Durbin.
Indeed, all five of the team we have identified come from lengthy careers at Derivco in Durbin.
The talent runs deep here!
The Chief product officer, Janine Lusted, worked her way up the creative chain at Derivco after entering the art department there following a five-year tenure at the former Studio 24.
Senior Technical Designer, Denise Andrews, followed a similar career journey to arrive at Buck Stakes with about a dozen years spread between Studio 24 and Derivco.
Henk Claassen, the Senior Software Developer spent nearly 8 years at the Big D after finding his footing and building drive and character at a couple of smaller studios in the early 2010s.
Technical artist, Christopher Bosch logged a career (about 7 years) at the mother company which spawned all this talent after getting his feet wet in fashion art and other commercial artistic endeavors including character approval with teams responsible for keeping brands like Marvel, DC, Disney, Warner Brothers, and Barbie fresh and relevant.
The Head of operations at Buck Stake is Andrew Guy. In the nearly ten years he was involved in Microgaming he headed up everything from Quality (directly after graduating from Rhodes University in the Eastern Cape province of South Africa) to business analysis to becoming head of both Global Gaming and New Product at the same time.
Guy remains on at Derivco in those roles.
We find the transparency of this partner studio to be refreshing. Many of the earlier 'start-ups' were shrouded in secrecy and required several hours of research to chase down the talent.
That challenge made it possible to find individual artists' portfolios as well as to give credit for maths and mechanics in the greater diaspora of land and online casino games. In this case, it's pretty much...
"Have you seen a Microgaming slot or table game"?
Then you've probably seen at least some of the contributions this team has made in the past.
While we can't fantasize about the direction the arts will go based on early portfolios, we do have published work to set the benchmark with.
Software and Games
Of course, being distributed over the Quickfire aggregation platform and being modern, market-ready games, all will be available for desktop, tablet, and mobile play - that's a given.
Since the studio creates exclusively for Microgaming, and the intellectual property is owned by the same entity that owns that of some if not all other Studio Partners, we can take a stab at the future and predict that eventually, we will see proprietary feature mechanics - even if it's just WOW!Pot progressive, find their way into future releases.
Buck Stakes' inaugural game used features licensed from Big Time Gaming. You guessed it, Megaways!
8 Golden Skulls of Jolly Roger Megaways Firepot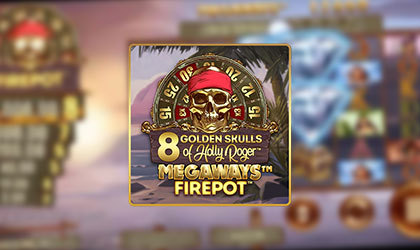 8 Golden Skulls of Jolly Roger Megaways Firepot also uses Microgaming's trademark Rolling Reels mechanic. Of course, they didn't pioneer the feature and it can be found on many other games under names like Avalanche Reels, Cascading Reels, Falling Reels, or Tumbling Reels - but loyal MGS players will recognize the mechanic instantly by name.
"Firepot" symbols are just scatter symbols with payouts but more than one can appear on any single reel. In this game, 3 Firepots award 1.5x bet, and all eight will award 4000x. A Firepot paytable of sorts sits on the left side of the screen and as more scatters are landed, the anticipation builds - especially when 5 have landed because the big factors start coming in at 6 matches.
Along with the phenomenal potential found in any Megaways slot, this one has a killer soundtrack that will rock and reel you in.
Collect Diamonds to trigger a chance to spin the wheel of free spins (up to 30) and a multiplier up to 3x that also applies to the Firepot.
The RTP is 96.03, the volatility is high, and free spins can be retriggered during the bonus game.
Since the other two games "in the works" right now haven't hit a screen near us yet, we'll simply quote the studio for them...
4 Diamond Blues Megaways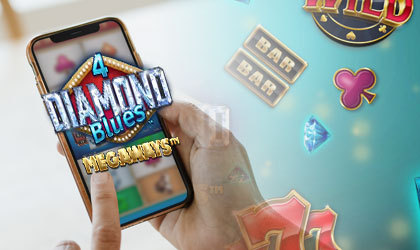 Experience the thrills & rhythm of our classic Blues slot!
Hunt the Diamond Scatters or better yet, instantly Buy the Free Spins Feature! You will soon be singing along when you win big with the Unlimited Multiplier!
Mega Money Wheel
Stand a chance to become a Millionaire! Buckle up & let this wonder wheel take you on a magical ride, -collecting stars and prizes, as you wait on the dazzling night sky to reveal the Mega Money.
The Final Analysis
Buck Stakes Entertainment is positioned to provide top-tier games to the gambling public in regulated jurisdictions.
The five known players would be a dream team for any start-up but the games will be made exclusively for Microgaming. On the player end of the deal, there's not a lot to be excited about beyond a glimpse into the normally faceless creators of our favorite pastime - because- these are, when all is said and done, simply Microgaming slots. As far as we know, they have always put together small teams to oversee and participate in the development of a certain series or set number of games.
On the other hand, whatever level of autonomy the team enjoys might nurture creativity and provide the impetus to blow open entirely new ideas in gameplay.
One thing we feel confident of after closely examining over a dozen Studio Partners is that the days of the Microgaming clone are over. Hopefully, we'll never again see the behemoth slap a new coat of paint on a statistically popular engine and call it a new game just to pump up the volume.
The demise of the single-provider casino, brought on by remote game servers, aggregators, and boutique studios (hastened by Quickfire, mind you) provided the fertile ground needed as well as the competitive environment required for one-of-a-kind unique creations for each and every release.
The fact that there are already far more than 10,000 slot titles on the market, and only so many known mechanics, means that Buck Stakes can strut its stuff like the Dama Dama when they break the barrier with any game they produce.
Buck Stakes Entertainment Games
Currently, we have

casino games

available to play and over

casino software developers

. Let's get started!
Casino Games
&nbsp
Buck Stakes Entertainment powered online casinos
Loading...
There are no available casinos for requested criteria.

We're showing casinos that accept Buck Stakes Entertainment restricted by your country. To remove that condition click here
Something went wrong. Please try again later.