Wager2Go

To visit Wager2Go official website, click here.
The Wager2Go brand name answers the question of mobile play right away.
Wager2Go is a small HTML5 mobile gaming development company with multiple assets and some seemingly yet to be tapped full potential.
The Toronto-based firm was launched in 2008 and is headed up by Jeff Halloran. Halloran has over 30 years experience in telecom and other emerging digital technologies.
Additionally, he is CEO and Director at Class2Interactive, a company focused on online gaming in the Native American gaming industry and is the Managing Director of Nigeria-based Sahara Game Technology - delivering casino, bingo, and poker games as well as sports betting and virtual sports to the largely untapped African gaming sector.
According to company accounts, Wager2Go supplies content throughout the European, Asian, Latin American, and Pacific Rim markets.
Games and Software

Games overview
A quick search found slots and other games deployed at mixed betting sites like TopBet and 5Dimes casinos and sportsbooks. The company's games portfolio includes a table games suite featuring baccarat, single deck blackjack, and other "21" variants, alongside several video poker titles. Many of the games come in 1, 2, 5, and 10 hand versions.
There are more than two dozen slots included in the mobile slots category. Many of the games present with similar game mechanics and bonus features. Look for wild symbols, scatters pays and free spins,  and easy to read paytables and rules.
The official website counts over 50 games but doesn't list several games that appear to come from the same labs, so for now, we'll focus on the games available on the official site.
Software overview
The official site offers demo play, and we are able to view some images and specifications at partner casinos. The games present as rudimentary slots with no known license or RNG certification.
The games and RNG seem to be delivered on a secure platform with minimal interaction with the host casino. This means that customer information is not transmitted. Data exchange appears to be secure and limited to session validation; balance retrieval; place bet commands; update bet commands and a closing of the bets.
The slots and video poker paytables are the same for demo versions and real money play. The games load in a reasonable amount of time over a slow connection and swiftly over 4G without a request for Flash permissions. No iOS or Android apps are needed to play the web browser-based games.

Mobile and desktop deployment is identical. Paytable load-time was about the same as the initial game load. We didn't catch a free spins bonus but might assume that due to the HTML5 framework that the bonus game would need time to load on its own as well.
Slots in Detail
New slots like Tarzan had more advanced 3D artwork than some of the older titles such as Rock Climber. However, sometimes simplicity is best as is the case with Mighty Spins.
Tarzan Slot
Tarzan Slot has 40 fixed paylines with variable stake per line
The wild symbol appears on reels 2, 3, and 4 only
Scatters pay and trigger an increasing number of free spins for 3, 4, or 5 appearing
Reel symbols change during free games
Wild symbols also act as multipliers during free games

Rock Climber Slot
This is the same game as Tarzan and several others, with different symbols on the reels and a different game world (background art, sound effects, etc). Of the six games we looked into at random, all had the same engine.
Mighty Spins Slot
It doesn't always take a 3D animated character jumping off the page to create a thrilling video bonus slot game.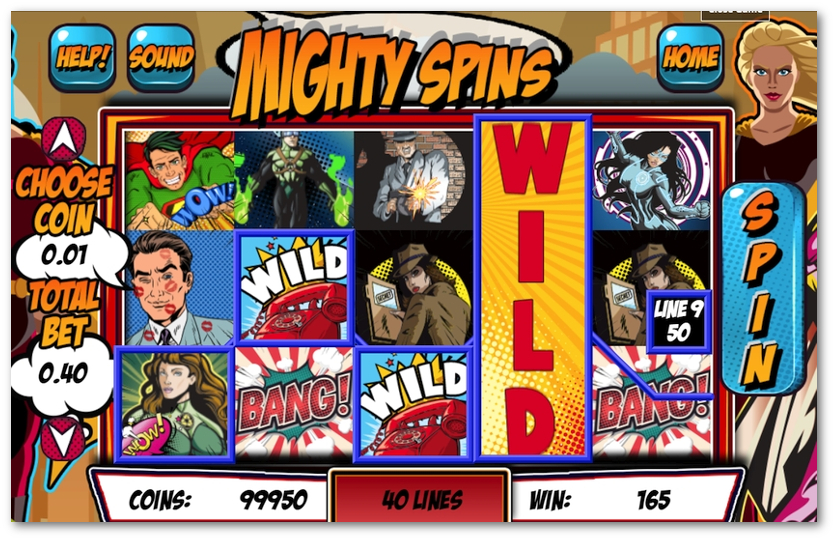 The same game engine, mechanics, and paytable maths can become a very different gambling experience depending on other "wow factors". Behind the math curtains,  Mighty Spins appears to be the exact same slot as Tarzan, yet the artwork, theme, animations, and other nuances make the game world so much more exciting.
Perhaps it's a matter of taste - If you like to see 3D renderings and animation but can't buy a thrill when you play Betsoft slots, and you like the King of the Jungle theme, you'll know which game you might prefer.
Aside from the mandatory delay waiting to spin the reels again while a 'win celebration' plays out, and the fixed number of paylines - which we find annoying on almost any slot, Mighty Spins, taken by itself, is actually a game well worth seeking out.
Blackjack
The blackjack suite contained three games as of review time: Blackjack, Single Deck, and Side Bet Blackjack.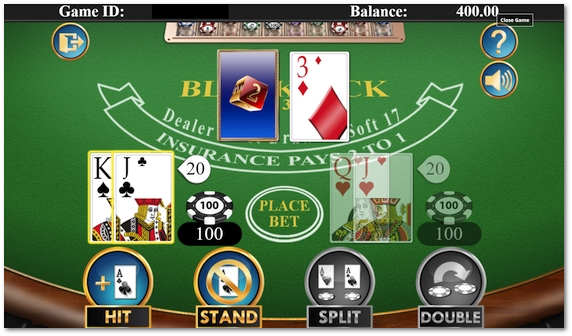 The rules set for single-deck might be all a person really needs.
Single Deck BJ Rules:
One deck of 52 cards
Deck shuffled after each hand
Dealer hits on soft 17
Double down on 10 or 11
One split allowed
No double after split
Decent Rules that put the house edge at around .5%
While side bets can be a fun and occasionally profitable diversion, you give up a lot in house edge. The following side bets are available:
Suit 'Em Up — House edge 3.41%
Pair 'Em Up — House edge 20.58%
21+3 — House edge 3.24%
Perfect Pairs — House edge 6.11%
Lucky Ladies — House edge 13.34%
Lucky Lucky — House edge 2.66%
House edge numbers were taken from Wizard of Odds. More on Wager2Go blackjack, video poker, and baccarat odds can be found here.
The Final Analysis
Wager2Go has been serving the mobile gaming market for over a decade. The single deck blackjack rules are fair and only give up about a half a percent in house edge. The slots have a variety of themes, however, we didn't test enough of them to know if there is really anything different under the hood among all of the games. Mighty Spins appealed to our game reviewer.
While we only find the games at a few sites, many are U.S. friendly. Although we might seek out Mighty Spins, many of the other games don't seem to set themselves apart from the favorite except through theme, artwork, bells, and whistles. They would present a nice diversion from sports betting, and other players may find things we missed in some of the older games.
All in all, the company seems to be well positioned with assets and experience to break out into more markets, and the games are worth a try at a trusted casino.
Wager2Go Games
Currently, we have

casino games

available to play and over

casino software developers

. Let's get started!
Casino Games