SlotVision

To visit SlotVision official website, click here.
About the Company
SlotVision Limited is an online real money slot game developer with offices in Nicosia, Cyprus. Headquartered in Nova Gorica, Slovenia, the privately held company was launched in 2018. The first games in their portfolio were unveiled in August 2019.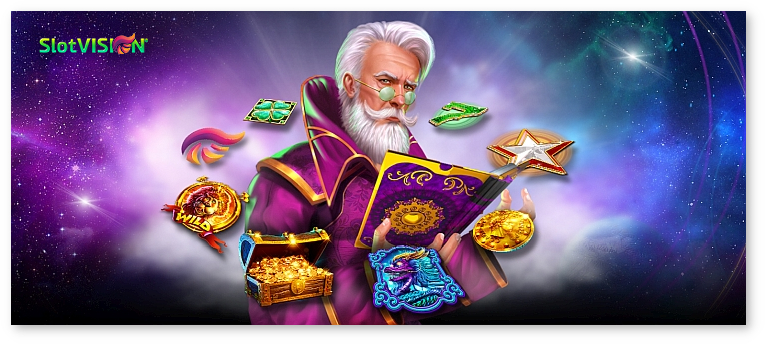 Early strategic partnerships included deals with Slovenian game and platform developer, BlueOcean Gaming and the iGaming Platform. BlueOcean has an aggregated games library of over 2,500 titles and iGP provides games and services to more than 200 online casinos worldwide. 
We find some of the management and much of the known talent at the labs to be located in Bulgaria with many of the team being highly accomplished alum from the University of Sophia. We also find some crossover in talent with GameART, another BlueOcean partner. Unsurprisingly, we find the studio's games alongside titles from Xplosive, GameART, and BlueOcean as well as other CIS and EEU developers at several internet gambling venues.
The firm utilizes talent from around the globe for development and design. This diverse approach results in them being able to render up truly unique offerings with no formulaic approach, rote maths, or overused and tired game mechanics. The company's approach is to offer a complete portfolio of unique titles, rather than simply a few flashes in the pan to attract operators, leaving players with run-of-the-mill games for the balance of the games library.
As of review time, the company had deployed about a dozen and a half games to market with that number expected to increase dramatically as they scale up production to meet demand across new networks.
Software and Games
First impressions matter. While much goes into the making and delivery of premium online slot games, they also need to catch a player's eye and trigger that first click. Brief inviting titles that perfectly relate the theme and content along with iconography and splash screens with well mingled vibrant colors, accented with brilliant focus on key action subjects spark the desire to see more. 
There are plenty of developers who seem to invest more in their attraction art than in the actual working art of their products. That is not the case here. What you see, what draws you in, is what you'll get when you play the game.
A perfect jewel may make it through tumultuous environs smuggled away in a beggar's pocket in lore and fable. But with Slotvision games, the conveyance is a time-tested, cutting edge integration and delivery platform. When a player clicks the image, they want the game to be deployed on time, every time. The iGaming Platform (iGP) does just that.

The games are all transported over the internet in the advanced HTML5 markup language. The framework is stable, reliable, lean, efficient, fast, and unparalleled in the history of internet casino game transmission.
What this means to players is that the games load quickly, are as stable as the receiving internet or other data connection - can carry multiple levels of shading and 3D effects as well as stereoscopic sound, and can respond immediately to any change-in-state such as handheld screen orientation.
Bonus features can be fed into the game bit by bit so there is no delay in taking the next step in the adventure when a trigger occurs.
The iGaming Platform GameHub is just one of their products and it's all that is needed to integrate Slotvision titles into nearly any online casino's offering seamlessly (in most cases at no cost to the operator).
The application programming interface (API) allows seamless to seamless integration. Along with Slotvision, two dozen other providers depend on the IGP to reach players in nearly 90 countries. The games are fetched over the same platform that delivers Microgaming, NetEnt, Kyron, and other leading content to over 250 individual online gaming sites worldwide. It works because it is designed to work... it is time-tested, simple to install and upgrade, and doesn't cause disruption of the system hosting the interface when new games are added. For players, this means no downtime, no hanging games, and no glitches.
The Games
Each game is intended to be an adventure. Look for a vast array of themes from the old-world to the otherworldly. While some of the themes are popular, each title offers a unique perspective and narrative and offers players a one-of-a-kind experience. Do not expect to see new drapes and carpets (images and sounds) covering old themes using the same game engines. Nothing is more disappointing to some players than to try a new game and come to learn through hard play or a look at the paytables, that it is just another clone. Look for each title to be fresh and unique.
Some of the mechanics and features you can expect to see at a minimum include:
Scatters

Expanding/extra/sticky wilds 

Stacked symbols

Multipliers

Mirrored reels

Puzzles

Pick'ems
Please don't think the developers simply throw all of the possibilities into a hat and draw out two or three at random for each game. The engines deliver horsepower and torque through anticipation, excitement, suspense, and reward with each quality intricately woven throughout the narrative and gameplay of each title.
Some combination of intrigue, a sense of danger, sex appeal, and fulfillment all have their places in the bonus mechanics and how they play out with no way for a player to predict the playing journey each game offers. Yes, a look at the paytables can indicate volatility, at least for the riskiest games, and classic slot scenarios can be chosen for the times you simply wish to mindlessly spin the reels and think of other things. But the more complicated games offer a true adventure the serious slots enthusiast.
In-depth, Eastern Lotus Slot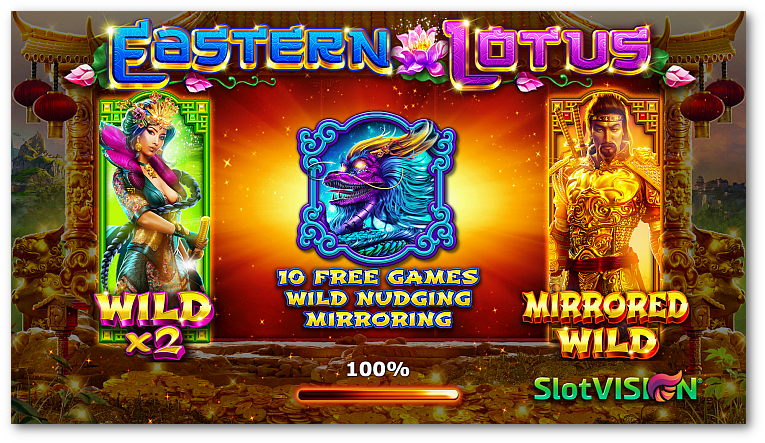 We grabbed a medium-high volatility game at random to analyze it in detail and expose any weaknesses and highlight winning potential. Eastern Lotus has been on the market for quite some time, so experienced players are more than welcome to give their views and thoughts about the following observations.
Our first impression of the game was that it was strikingly well-rendered. The color scheme was vibrant without being garish. Shading through layers in HTML5 created a 3D effect over the game world and some of the icons on the reels were able to overlap, creating a new and subtle sense of depth.
When minor wins were acknowledged including lower paying symbols such as 10, J, Q, K, A the images pulsated slightly and were surrounded by animated golden magical fireworks stars. The more important symbols became fully animated with their own attendant sound effects.
One thing we didn't like was that the "Big Win" celebration seemed to be based more on the amount of money won, rather than a multiplier of the total bet. A spin worth $12.50 triggered a win celebration with a win of only $72.00. While most players may not mind that, this reviewer prefers to not see it. The design's saving grace for me was that I was still able to initiate the next spin while the smaller win announcements were playing out, not wasting my time.
The Good Stuff
Five reels with four positions each set the stage nicely for the big 50 payline Eastern Lotus slot. The only thing we didn't like was that players are unable to reduce the number of paylines, leaving the 'factory preset' volatility unchangeable. The bonus mechanics most likely dictated that lack of manipulability in order to keep the maths sane and achievable. If the game is produced to be med-high variance, that's the game you will play.
Look for two different wild symbols. The Great Warrior resides on all but the central reel and stands in the stead of any other save the Mystic Princess wild (reel 3 only) or scatters. With four reels under his command and the ability to cover all four positions on a reel, this is a powerful symbol.
But it just gets better!
When the warrior covers an entire reel it will mirror itself on the other side of the reel set. If landed on reel one or five, it will also appear on the other. If landed on two or four, it will cover the other as well.
The princess symbol also has the ability to cover her reel entirely but has no other magical powers in the base game aside from doubling any win she is part of.
The blue Dragon is a scatter symbol and he occupies spaces on the last three reels only. This is an interesting mechanic as the scatter does not 'block' line wins by appearing on the all-important first and second reels. It's the little things in these games that matter to some players, and that is one of them. While the maths can be rendered the same in another configuration, the perception that a valuable symbol is not defeating the ability to win on a spin is slightly genius.
Land all three Dragons anywhere on their respective reels to trigger 10 free games and generate a new set of reels with a slightly different ruleset. Wild Nudging occurs during free games... whenever part of a wild appears it will nudge up or down as far as it must to cover the entire reel. Please keep in mind that mirroring is still active during bonus play so simply covering a single position with a wild on any of the four outside reels will result in eight of twenty reel positions being wild. Another single instance on the other mirror would turn every reel position on either side of the central reel wild!
Scatters are still in play and the feature can be triggered from within free games infinitely, at least in theory.
Low Volatility Games as Well
On the extreme left of the volatility spectrum are games like 7s And Diamonds. This particular title is a 5x3, low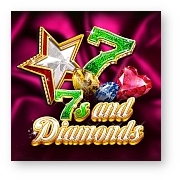 variance, 20 payline game designed for extended playtime with the chance to hit some fairly good-sized wins without the blistering pace and roller coaster ride of the higher risk games in their portfolio.
While simple both mathematically and mechanically, the game still offers nice crisp visuals including glimmering precious stones of many colors. The backdrop is red velvet and the reels are separated by golden-rods, giving the game more than a touch of class.
Again, the number of paylines staked is fixed with no chance for players to increase volatility. This isn't a terrible 'flaw' in execution because there is enough variance from game to game that players can choose all or nothing titles or easy-going games effortlessly.
Features of the game are limited to a wild symbol (7) and scatter pays (Stars). The scatters don't trigger free spins, a picking bonus, or anything else, they simply pay multiples of the total stake for that spin. This is classic slot play with a decent paytable and pretty pictures. Animations are understated and discreet, but the "Big Win" celebration still occurs when the spin result is less than 10x total stake.
Other Games
Fairy's Luck, Glory of Amazons, Majestic 6, Platinum Heart, Nefertiti's Majesty, Secret Temple, Zodiac Magic, and several others are among some of the additional titles coming out of the studios here.
The Final Analysis
Slotvision is aptly named, as the team certainly seems to have a vision when it comes to slot development. All of the titles we tried offered something special. Importantly as well, the icons and splash images representing the games are true depictions of the quality of art found inside the actual titles. Below the lustrous surfaces are complicated and well-reasoned game engines designed to not only capture your attention as a player but to reward you for playing and keep you coming back for more!
SlotVision Games
Currently, we have

casino games

available to play and over

casino software developers

. Let's get started!
Casino Games
&nbsp
SlotVision powered online casinos
Loading...
There are no available casinos for requested criteria.

We're showing casinos that accept SlotVision restricted by your country. To remove that condition click here
Something went wrong. Please try again later.