Shuffle Master

To visit Shuffle Master official website, click here.
About the Company
Shuffle Master is a wholly-owned subsidiary of Scientific Games. The original company was founded in 1983 by John Breeding who invented the first fully functional automatic card shuffling machine.
From the company's birth as a true American success story in 1983 until the 2000 and 2001 releases of their first three slots titles, they focus solely on shufflers and table games.
Ten years into operations, and a year after being listed as a public company, the founder released his first proprietary poker game, Let it Ride. The game was created in an effort to drive more business through his card shufflers.
Breeding continued to invent or acquire intellectual property rights to some of the most well known house-banked poker games out there. In 1993 Caribbean Stud Poker was released and in 1999 Three Card Poker hit the scene.
In 2,000 their proprietary slot operating system was approved followed by the release of Press Your Luck, The Three Stooges, and Let's Make a Deal video slots.
The company continued to perfect its shuffling system and table game components while it acquired several companies prior to being acquired by Bally in 2013. Bally itself was bought up by the lottery and casino games giant, Scientific Games in 2014.
Software and Games
Many of the company's live table games also have an online counterpart: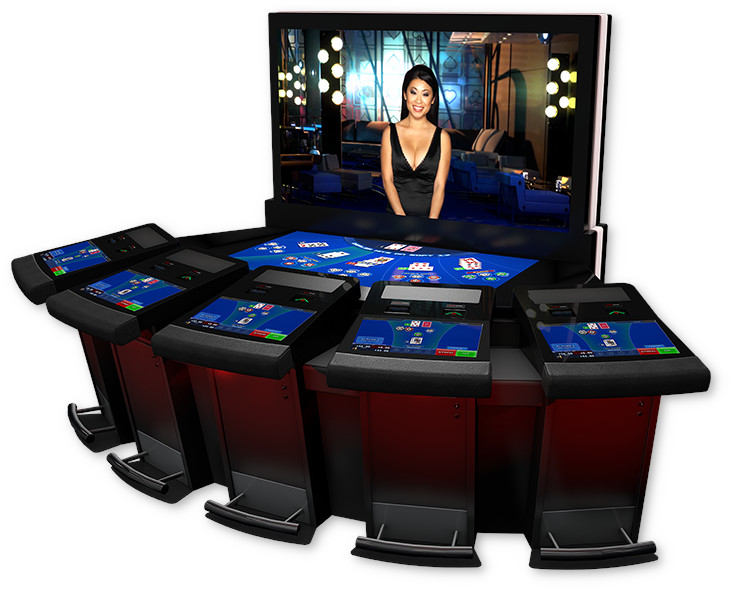 Casino War
Crazy 4 Poker
Four Card Poker
Let It Ride Bonus
Mississippi Stud
Three Card Poker
Ultimate Texas Hold'em
Many of those games have "knock-offs" with slight variations in name and/or gameplay, they are all the intellectual property of Shuffle Master - yes, even Casino War.
We may have played a version of this simple game as children, but the real money version was invented and trademarked by a small Carson City (Reno) Nevada company called Bet Technology in 1993. All of the firm's assets were acquired by Shuffle Entertainment in 2004. In addition to Casino War, this is when they acquired Fortune Pai Gow Poker and Royal Match 21 - a lesser-known game.
Intellectual Property (IP) Rights can be aggressively pursued in the wider public domain when more important titles like Let It Ride, Three Card Poker, or Mississippi Stud are infringed upon, but nearly every online card game developer supplies a version of War and we've never heard of them being sued.
However, litigants were made to litigate and nobody in their right mind would want to go up against Sci-Games or any other company with nearly $400,000,000 in annual net income.
Table games with side bets developed by or otherwise owned by Shuffle Master include Bet the Set "21", Dragon Bonus, Fortune Blackjack, Fortune Pai Gow Poker, and Royal Match 21.
Electronic table games with no online counterpart we are aware of include Table Master, Rapid Table Games, and Vegas Star.
Most popular online table games
Caribbean Stud™, Let It Ride, Three Card Poker, and Ultimate Texas Hold'em are arguably the most popular online table games owned by Shuffle Master.
Caribbean Stud may not be played as often as other games on the list nor by as many people, but it is well known because of the optional progressive jackpot wager.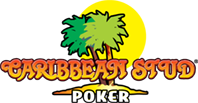 The game rules take only a few minutes to learn and sites like the Wizard of Odds offer tips and strategies. The game can have three separate payouts including the ante bet, the play bet, and the progressive side bet. The last two pay according to an odds paytable (percentages of the pot and fixed dollar amounts) with a Royal Flush taking the pot if you make the optional side bet which is usually just a dollar.
Let It Ride
This game also has a progressive counterpart but we'll focus on the original base game here.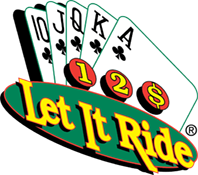 The land version has a dealer or automatic dealer but the element is not missed at all when playing the online version. This game of poker is played against a paytable rather than the dealer.
The game is based on five-card stud and has three bets. Players control two of those bets. Bets include a $1 bonus bet and 3 Card Bonus bet. As the game progresses, players can up their bet or "let it ride" if things aren't looking too good for a positive outcome after making the initial commitment.
You'll need a pair of 10s or better for 1:1 payouts and a Royal will net you 1,000:1. The game is not as popular as it was initially after players began to realize the house edge is a hefty is 3.51% when played with optimal strategy.
Three Card Poker is another stud game but this one offers three ways to bet and four ways to win. The object of the game is to make the highest-ranking poker hand using just three cards.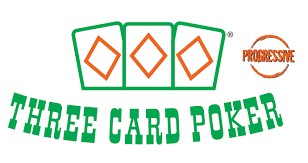 In a departure from most rules, it's possible to simply bet on the pair plus portion of the game even if you don't play the regular poker hand.
Place an ante or a pair plus wager in hopes of getting at least a pair. Receive three cards and decide whether to double your ante or fold that bet. Pair Plus bets pay 40:1 for a straight flush and the ante bonus pays 5:1. If your hand and the dealer's hand together make a royal suit of 9-Ace there's a big bonus too at some casinos.
Ultimate Texas Hold'em
Based on the pot game, Texas Hold'em, this variant sees you bet against the dealer with an optional side bet.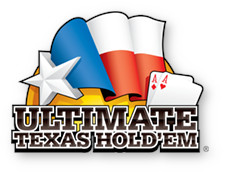 Get trips or better to win the odds 
You'll have to start out big to stay big, you won't be able to increase your bet levels based on potential hand value
Hang in there until all of the community cards are shown before deciding to fold
It's all against the maths because you can't bluff a paytable, but it still takes guts and intuition to bet big on the right hands.
Shuffle Master Online Table Games Conclusion
Anybody who has ever played RNG table games aside from blackjack and roulette has probably played on a Shuffle Master licensed product. The games are cornerstones of most online casino table games suites and known the world over for excitement and engaging play.
Shuffle Master Slots

As we mentioned earlier, the company got approval for its proprietary slots system way back in the day. However, they didn't release many slots games that we're aware of.
It is highly likely that they never nurtured an inhouse development team but jobbed out the creative work to 3rd party developers in Las Vegas.
Additionally, all three of the inaugural games featured branded content - two of them based on television shows that were popular at the times and the third based on the timeless comedy of the Three Stooges.
It's not clear what happened to the IP for these brands, but EVERI released Press Your Luck again in late 2019.
More seasoned Americans may recall the "Big bonus, no whammies" from the original game show, others may know the meme.
Sci-Games still owns the exclusive rights to the Fremantle Media titles like Press Your Luck, The Price is Right, and Family Feud. They entered into a partnership with Everi in late 2019 for rights in certain markets. The firms had worked together on various partnerships since at least 2013.
Newer Shuffle Master Slots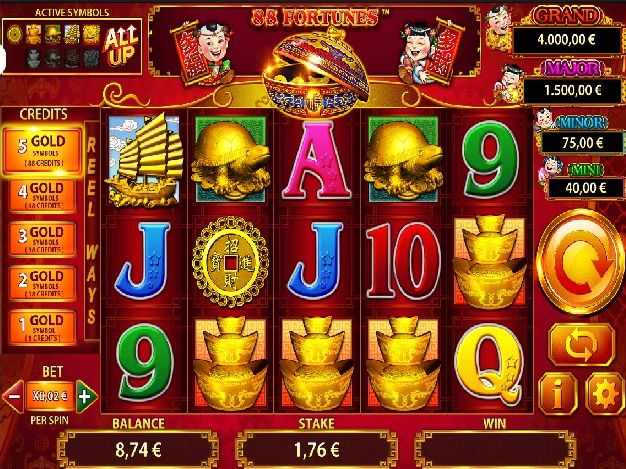 It becomes very difficult to sort the parts, pieces, and finished products and simply call any slot a Shuffle Master creation or even a wholly-owned asset. Sci-Games has simply gobbled up so many iconic companies, and Shuffle hadn't made a slot to our knowledge for over a decade prior to the acquisition by Bally, and later being folded into the wider SG family of companies.
However, the most obvious place to start digging would be in the current library and to compare elements of Shuffle games with those of Bally.
Unfortunately, SG Interactive provides very little information and an always-moving target. We'll look at SG Digital for some answers.
And... that is a dead end.
Back to the drawing board since none of the Scientific Games subsidiaries nor the ain company itself provides information on Shuffle Master slots to the public.
Why should they?
Because we like to know these things!
We can tell you that the games are distributed over the company's NYX OGS Open Gaming System which they have incorporated into their entire digital network and is now simply called The Open Gaming System (OGS).
Following is a list of games attributed to Shuffle Master by trusted sources such as online operators and our own reviewers.
Some titles may only be available in certain markets due to licensing considerations. For instance, you may find the last two at regulated casinos in the US and Canada, but not in Europe though that can change.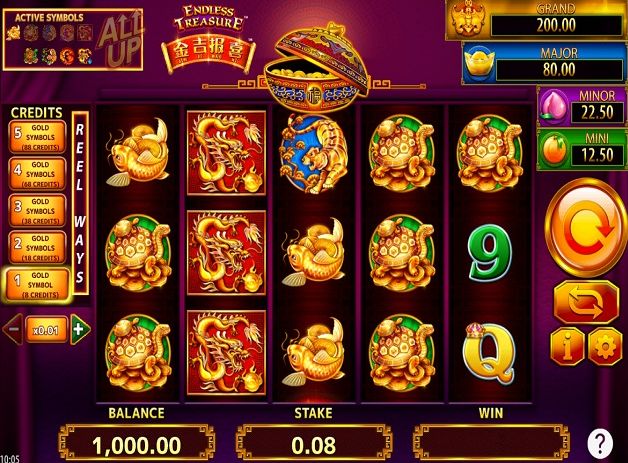 88 Fortunes
Jin Ji Bao Xi Endless Treasures
Dancing Drums
Very Fruity
Eureka Reels Blast Superlock
Monopoly Grand Hotel
We know 88 Fortunes as a Bally slot simply because it sits on so many casino floors in the US and is branded as such. We'll talk about the online version which is essentially the same machine.
A richly rendered gold and red Chinese motif with basic slot symbols and some cultural icons comprise the reel symbols on this 5x3 titles with no traditional paylines and 243-ways to win.
The wild symbol is Fu Bat, a sign of good fortune in China. Simply landing one of the symbols opens up the possibility of bringing down one of the four progressive jackpots.
You can read all about the intricacies and nuances of playing this mystical game of chance in our 88 Fortunes review.
Jin Ji Bao Xi Endless Treasures is a very similar game to 88 Fortunes using 243 ways to win and selectable "reel ways" which are purchased with additional credits per spin. If 88 is Bally, so is this, but that's okay, they are all owned by the same parent corp.
It's no surprise that Asian themed games are so popular. But this mobile-first entry has a different land-based developer in the SG stable. When you play it on land, Dancing Drums is a WMS game. And again, that's okay! Let's see what Scientific Games has to say about the game's features!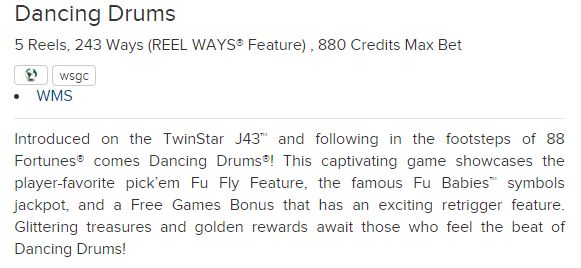 Very Fruity is a game we have never seen on a casino floor, but that doesn't mean we didn't miss it. For our purposes today, all that means is I can't tell you for certain that I have seen the WMS logo on this Shuffle Master branded online slot. While many online operators carry it under the Shuffle or WMS banner, we do not find it on official SG pages.
Please visit the following links to read our in-depth reviews of Monopoly Grand Hotel and Eureka Reels Blast Superlock - two games well worth playing online if you get the chance!
The Final Analysis
Shuffle Master is a true American success story. Founder, John Breeding was tired of his life as a truck driver and had read about problems casinos faced with card counters. He decided to invent the automatic shuffling machine which could handle multiple decks of cards. He succeeded.
Through a series of wise business moves and a bit of luck, his company eventually came to be part of the family at Scientific Games - a huge concern with only one viable rival, IGT, formerly called GTECH/Lottomatica.
Now, players can enjoy the company's games in live casinos or online and they can play slots promoted under the company's brand.
While the company, known briefly as Shuffle Entertainment (SHFL) will most likely never be known as a premiere slot developer knocking at the doors of grandeur, the slots they market are on par with Bally and WMS games, and for good reason.
Our greatest respect for the company will always be in regard to table games but the slots are just fine as well.
Shuffle Master Games
Currently, we have

casino games

available to play and over

casino software developers

. Let's get started!
Casino Games
&nbsp
Shuffle Master powered online casinos
Loading...
There are no available casinos for requested criteria.

We're showing casinos that accept Shuffle Master restricted by your country. To remove that condition click here
Something went wrong. Please try again later.