Rupay Online Casinos

Introduction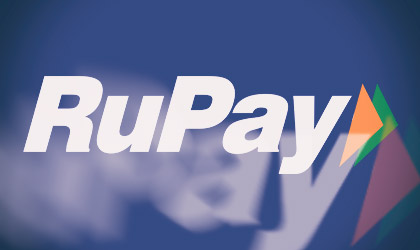 The world of online gambling is moving forward quickly. With new content, operators, and technology hitting the scene daily, players are nudged to keep up with the changes and elevate their user experience. While this is generally good, it can be difficult for plFayers in specific locations. Unfortunately, the lack of solid payment options can be a big setback for some countries, India included. It makes keeping up harder than it needs to be, putting a damper on what's supposed to be a fun time. Thankfully, local brands have picked up on these cues and worked towards bettering the banking system. This is where RuPay comes in. The local Indian brand is a big step in the right direction for online gamblers and shoppers, giving them a chance to make hassle-free transactions at breakneck speeds. If you want to give it a shot, here's what you need to know.
About RuPay
While some confuse RuPay with an online banking platform, this is only partly true. The service does offer users a way to make quick and convenient online transfers, but at its core, it's a bank card solution. RuPay cards are a part of the National Payments Corporation. It's a stellar addition to India's card payment system, and it's been around since 2005! The solution's goal is simple. As the Reserve Bank of India requires a domestic electronic payments system that banks throughout the country can join, RuPay aims to meet it!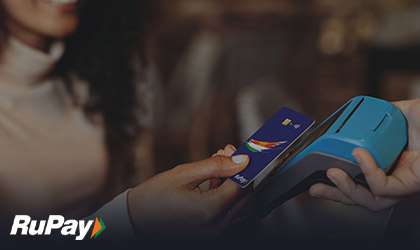 Since RuPay has been on the market for nearly two decades, the system has grown immensely. The service's classic bank cards can be used at about 145,000 ATMs and almost 900,000 POS terminals throughout the region! The solution's list of supported banks accounts for 29 financial institutions. Of course, there's room for growth. All banks in India can join the RuPay network upon request, which means they can issue these cards freely and give more locals a chance to enjoy all the perks of using the method.
We've mentioned that RuPay's method is rooted in traditional banking through bank cards, but it's best to provide more detail on how that works. In essence, RuPay cards aren't too different from popular card brands like VISA and MasterCard. Unlike these global juggernauts, this brand focuses on local operations, primarily serving an Indian audience by allowing them to make physical and online transfers. To do this, the brand offers creditanddebit cards, which are used conveniently with the help of a PIN or OTP.
Now that you know how this service operates, we should cover some of its pros and cons. The pros to using RuPay will sound familiar if you've used a bank card before. First is convenience. Bank cards are convenient multi-purpose solutions that offer a hassle-free experience. To use them, you just need a simple swipe at a POS terminal or less than a minute at checkout online. Their convenience is enhanced by their top-tier security, as they incorporate codes to ensure player safety. Naturally, this part also includes a few safety precautions by banking providers, adding another layer of protection.
Another big pro of using RuPay is the quick transactions. While bank cards aren't always the fastest payment method around, this one breaks the mold in that aspect. The service fosters instantdeposits, payments, and quick withdrawals that don't take days to arrive. This perk is why so many online gambling fans fawn over the service, as it allows the opportunity to cash out their winnings quickly. Of course, it also means your deposits arrive in your casino balance instantly, so you can start playing in your favorite venue right away!
Finally, we'll explore some of RuPay's cons. While the service is easily one of the best local payment methods around, there are a few downsides to using it. One of these downsides is the fees attached to the service. While the method doesn't decide these charges, most of the banks in its networkinclude fees for transactions. They're usually reasonable but an annoyance nonetheless. Another con is the method's reach. Since the solution serves a local audience, it's not as widespread as some hope. Sure, it does foster international payments, but not all local and international shops, casinos, and service providers support RuPay payments.
How to Start Using RuPay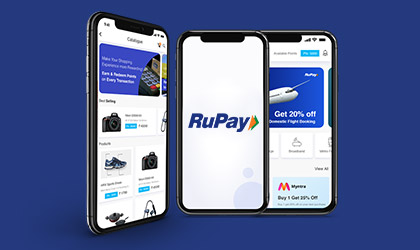 Since RuPay is a classic card system, getting your hands on a card from this brand means banks will be involved in the process. This isn't a bad thing, but it does mean more work in the setup process. Potential users can't get a card from the service online. They must visit one of the local supportedbanks and request one there. Thankfully, this is easier than it may sound. The payment method is popular in the region, so it collaborates with some of the best banks around! It doesn't matter where you are in India, you're likely a stone's throw away from a supported financial institution.
Before you head to a local bank that seems appropriate, we suggest doing some research. Not all banks in the RuPay network have the same offers. Moreover, not all of them have cards with the same benefits! There are several versions of the RuPay card offering different perks, suited to different users. The best way to determine which option is right for you is by visiting the bank's official website beforehand and reading through their card details. This should bring insight into which card to select and can even help you make better financial decisions in the long run.
Once you've decided on a bank and type of bank card, it's time to get the show on the road. First, visit your bank of choice and request your RuPay card from the clerk. You'll be handed a few forms to fill out, which should take a few minutes. Remember that these forms require personal information, such as an address, earnings, and marital status. Don't worry, this information is used to set up your account and check your eligibility. When you're done, hand the forms in and provide a valid form of photo ID along with them. This is part of the KYC identity verification process, and it can be completed using a passport, driving license, etc.
That's about it. The bank will process your request and have your card ready shortly. You can pick it up on the spot or have it delivered by mail. The card will arrive with additional banking information and a PIN to use at ATMs and some POS systems. Something to consider here is funding your card. You can do this by heading to your bank and adding money to your connected bank account. Alternatively, you can transfer money to your account online from a different one you may already own.
Using the card itself is super simple. At ATMs and some POS systems, all you have to do is swipe yourcardnear the card reader or have the clerk insert it. In some cases, you'll need to enter your PIN to confirm the transaction, so make sure to remember it or keep it close by and safe. For online payments, things are just as easy. Select the RuPay option at check out and enter your card details when prompted. You'll also need to enter the card's security code found on the back of it to confirm the transaction.
Depositing and Withdrawing With the Solution
If you've used a bank card, you're already set to use RuPay. The process is identical, so you needn't bother with any additional steps. Of course, finding an online casino suited to your needs is also a part of the process, so it's good to consider your options before choosing one. This payment method is accepted in several local and international online casinos, but its reach is limited. Still, the options available are solid, so you shouldn't have trouble with your pick. In any case, it's best to still check the operator's license beforehand to ensure it's safe. You can also read expert reviews to get more information on its offer. When you're ready, here's how to deposit:
Visit the casino's Payments/Banking/Cashier page.
Look for the RuPay logo on the list of accepted methods and click or tap on it.
In the new window, enter your card details (name and last name, card number, expiry date, etc.).
Specify the amount of money you'd like to deposit.
Confirm the transaction, and the money will arrive in your casino balance almost instantly!
Withdrawing through RuPay is available nearly everywhere the payment method is accepted. The good thing about withdrawing through this service is the simplicity. Cashing out is just as easy as depositing. Follow the steps listed above, with a slight change in step four. Here, enter the withdrawal amount as an alternative. That's the gist of it! Strap in for even more good news. While withdrawing through a bank card tends to take a few days, this service has cut that time down. While withdrawals might not be instant, they're quick enough to let players enjoy their winnings much sooner than usual.
Coverage and Restrictions
One of RuPay's biggest downsides is its reach. The service is exclusively available in India, which means that players from other countries can't access the platform. Since the solution collaborates closely with local banks, this isn't surprising. Something noteworthy that relates to this is the service's international reach. While it aims to serve an Indian user base, the service does foster international transactions. Of course, this reach can be somewhat limited, as not many international retailers support the currency as a payment option.
Fees and Additional Charges
Fees can be a debilitating part of the online gaming and shopping experience, and unfortunately, they're a big part of the RuPay service. While the brand itself imposes no fees, the banks it works with tend to. Most banks add a charge for transactions made with the service, but they can vary depending on the banking provider. This is important. Some banking providers impose much lower fees than others, which can affect your user experience. When choosing a banking provider for your card, check its fees and ensure they're something you're comfortable with.
Accepted Currencies
If you haven't already deduced this, the payment method's name originates from the currency it supports. RuPay stems from the Indian rupee, as it's the sole option players can use for transactions. While this is excellent for instilling a sense of pride in the local currency, it does have some drawbacks. Mainly, users that want to transact with popular currency options like the UK pound, euro, or US dollar will need to convert them into rupees first. As you can imagine, this implies dealing with currency conversion fees, which can reduce your online gaming budget.
Customer Support
Getting in touch with RuPay is pretty easy. The website provides an email contact form users can reach out through, and it usually garners a quick response. Unfortunately, this is the sole option available at the moment. Something to note here is you're better off contacting your bank if any issues arise with your card. Since these institutions issue the cards, their Customer Support Teams tend to be better equipped to handle any issues that might come up. Of course, the quality of the service can depend on your chosen bank, but generally, they're helpful and efficient.
Conclusion
RuPay is an excellent local payment method that combines the convenience of payment cards with modern features available in today's market. The Indian service offers users a plethora of perks to look forward to, including high-end bank security, speedy transactions, online and offline payments, and unparalleled convenience. While the service is an excellent way for local users to reach their favorite online casinos and shops, its reach is limited. Users should remember that their options aren't as plentiful as they would be if choosing a popular mainstream banking alternative.
FAQs
Is RuPay safe?
Yes, RuPay is safe. The service collaborates with some of the biggest and most reputable banks in India, using their top-tier security to protect users and their transactions.
Where is the service available?
RuPay is available exclusively to users in India. To use the service, players need to visit a local Indian bank in the solution's network.
Are there fees?
Yes, there are. While the service doesn't impose any fees directly, the banks that issue the cards charge fees for transactions and usage.
Can I withdraw through the service?
Yes, you can. The bank cards operate like any other bank card. You can withdraw easily from any online casino and directly from an ATM.
What are the supported currencies?
Since the service is local to India, it only supports the Indian rupee. Users transacting in other currencies will first need to exchange them, incurring currency conversion fees.
SHOW MORE
&nbsp
Online casinos accepting Rupay as a payment method
Loading...
There are no available casinos for requested criteria.

We're showing casinos that accept Rupay restricted by your country. To remove that condition click here
Something went wrong. Please try again later.