Players Rewards Card Online Casinos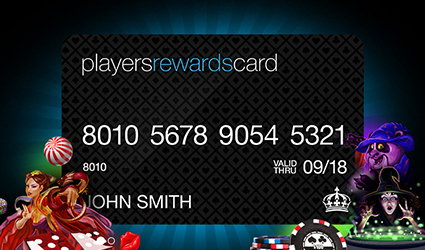 Even though there are many online casinos to join, players from the US are a bit limited when it comes to the payment methods they could use across these sites, and with Players Rewards Card, all of their problems are solved. This is a solution designed with online casino players from the US in mind; it is the solution to all US players' issues when it comes to finding a method to use for safe and convenient online casino transactions. What is Players Rewards Card and why use it over any other across online casinos?
About Players Rewards Card
As introduced, Players Rewards Card (PRC) is a solution available across US online casinos. It was designed in the US, by a team of industry experts and players themselves who wanted to create a solution that would solve the ever-lasting problem US players used to face when joining a casino site. US players used to bump into problems finding a suitable method to choose to fund their casino accounts and cash out their winnings. When Players Rewards Card was launched, this problem was instantly solved. As soon as the solution took off, its potential got recognized by some Australian peers, and it started being offered there, too.
What is Players Rewards Card really? Well, as implied by its name, it is a prepaid credit card first, which can be used for seamless deposits across online casinos. But, it also offers the eWallet service, for smooth transactions. As a solution designed by players for the players, it is a card/eWallet designed for online gambling purposesonly. And as such, it is offered only by a number of partnered online casinos.
There are actually only 20 operators who are offering it as a payment method. This may sound like a blessing for some but a curse for others, but believe us, it is the former. The thing is, since the solution is available across a hand-picked bunch of casinos, first and foremost, you already have 20 casinos to explore. Secondly, you should know that these are all safe and legit casinos, powered by Realtime Gaming, a leading software developer. Thirdly, you should know that thanks to their collaboration, these casinos have joined forces and allow PRC users to get special bonuses and promotions. And last but not least, you can use it for both deposits and withdrawals. This means the solution is perfect for all those of you who wish to get more than you have to play with!
These are not the only reasons why you should consider using Players Rewards Card as your online casino payment method. In fact, when you join any of the partnered casinos, you get to use a 10% Bonus Match from PRC, as a thank-you for your loyalty. Other perks and benefits are available, too, and you can explore the current ones by visiting its official website. You'll learn about one of them in the next segment, so let's go straight to it, to see what is all about.
How to Start Using Players Rewards Card
Players Rewards Card, as mentioned, works both as a card and an eWallet. Let's go with the eWallet service first, as there's more to be explained here. Now, on that perk we mentioned just now in the previous segment, the eWallet comes with two different accounts, the Real Money and the Rewards accounts. The Real Money, as implied by its name, is the account you fund with and cash money from, using the available payment methods. The Rewards, on the other hand, is the account where you receive special bonuses and rewards from PRC itself. For starters, believe it or not, the account is pre-funded with bonus money, which cannot be withdrawn but can be used for making a deposit or claiming a bonus across the partnered casinos! Yes, we know it's unbelievable, but that's how generous this solution is, and how its offering is well-thought-of.
Moving on, to create your eWallet account, you would need to fill out the application form with the required personal details, such as full name, email and home address. Submit the form and the solution will soon send you a confirmation in your email. In a few minutes, after you've confirmed it, the account will be up and ready, waiting for you to use it.
Now, about the prepaid credit card. Players Rewards Card, meaning its tireless team, will use the personal details you provided when creating the eWallet and will start preparing your card right away. In fact, you'll have the card on your doorstep no later than in a few days. When using it across online casinos, just like with any card, you'd need to provide your card details and your transaction will go smoothly.
Depositing and Withdrawing with the Solution
Basically, we covered briefly how the solution will be used across online casinos, but let's go over all the steps in detail. First things first, you need to explore the 20 online casinos at your disposal and choose the one that would suit you most. Captain Jack Casino, Grand Fortune, Royal Ace, Slots Garden and Dreams Casino are some of your options. Visit PRC's official website, and you'll discover them all. These are all carefully selected casinos that offer legit, safe and fun online gambling experience and accept only players of 21 or over to join, abiding by the US and Australian laws and rules.
After you've decided on the casino to join, to make a deposit with Players Rewards Card, you'd need to do the following:
Go to the casino's Cashier/Deposits/Banking page.
Find PRC's logo and press it.
Choose whether you'll use your card, the Rewards or the Real Money account.
If you went with the card, enter the card details, meaning the number and expiry date and specify how much you'd like to deposit.
If using the Rewards or Real Money eWallet account, just specify how much you'd like to deposit.
After you confirm your request, the money will

 

immediately

 

arrive on your balance.
Withdrawals are as easy, and done in the same way, basically, with one difference. You need to look up the solution in the Withdrawals page, and naturally, specify how much you'd like to cash out. After the casino checks for any unmet wagering requirements, and provided everything is in order, it will send the money to your Real Money account in no time.
Coverage and Restrictions
When it comes to coverage, you got that already. The solution is accepted in the US and Australia only. If a player from anywhere else, you won't be able to use it.
As far as restrictions go, you've probably noticed the one already. The solution is only available across 20 partnered online casinos and that's it. You won't find it offered across international online casino sites, so don't even bother. Other than that, you'll find no more obstacles to using the solution.
Fees and Additional Charges
It is definitely the perfect alternative to credit/debit cards, and that's because it charges no fees whatsoever, again as a thank you for your loyalty.
When you go over its official website, you will find no info on any fees or additional charges, so you can rest assured that you'll be using it without having to pay extra for your online gambling transactions.
Accepted Currencies
Again, it is fairly obvious, considering this is a solution available in the US and Australia only, that the US dollar and the Australian dollar are the two default currencies you can use.
However, the casinos that accept Players Rewards Card are also casinos that offer US and Australian players access to their sites, of course. Therefore, you'll be able to play with your own currency, without even having to pay a currency conversion fee.
Customer Support
One of the things you need to explore before you first get started with the solution is its official website. Everything there is explained, so short and sweet, transparently, and user-friendly. All you need to do is go to its FAQs page, and you'll find the most commonly asked questions about the solution entered by its trained Support team.
However, in case you still have something unclear or you're experiencing a problem of some sort, do not hesitate to call the team at the toll-free line 1-844-632-0966, or write them an email at [email protected].
Of course, you can always get in touch with the responsive and friendly teams available across the 20 partnered casinos, too. They'll be more than ready to assist you with anything related to PRC.
Conclusion
Players Rewards Card is definitely a solution to consider if a player from the US or Australia. This is the method that you need, as it was designed with the player in mind. It is fee-free, gives you bonuses and perks, it is accepted for both deposits and withdrawals, it offers both the card and eWallet services, it allows you to play with your own country's currency, avoiding the conversion fee, and it is super easy to use. What else could one ask for?
Sure, the fact that you can only choose from 20 casinos to use it at still stands. However, you can rest assured that these are all cool casinos, safe and secure, and you can enjoy knowing that your sensitive details are in good hands.
FAQs
Are there any limits on the Players Rewards Card Real Money account?
No, not really. You can deposit and withdraw as much money as you want, ergo, have on your account. No limits apply whatsoever.
Can I play in more than one of the partnered casinos with the solution?
Yes. You can play across all of the partnered casinos if you'd like to. This is a solution offered at these sites, so you can use it to play at any or all of them.
Can I use the solution via my smartphone?
Sure thing. This is a solution that can easily be used across all devices. As long as you join a casino via your smartphone, you can use Players Rewards Card as your payment method.
Which payment methods can I use to top up my PRC eWallet?
As you will see when you get started with the solution, you can fund your eWallet account and cash out winnings from it via VISA and MasterCard.
Can I get a new card when my existing one expires?
When your card's expiry date is approaching, PRC will send you a new card. If your Players Rewards Card has expired and the team hasn't sent you a new one, just contact its Customer Support team.
SHOW MORE
&nbsp
Online casinos accepting Players Rewards Card as a payment method
Loading...
There are no available casinos for requested criteria.

We're showing casinos that accept Players Rewards Card restricted by your country. To remove that condition click here
Something went wrong. Please try again later.