Paykasa Online Casinos

The online gambling industry has spread worldwide, but there are still countries whose players struggle when it comes to the usage of payment methods across casino sites. With Paykasa, this problem is solved for players from Turkey. This is a virtual prepaid card allowing users to make instant and safe purchases and payments across so many websites, online casinos included. Being a prepaid card, it is super-easy to use and allows for deposits completed within seconds. Why choose Paykasa as your online casino payment method?
About Paykasa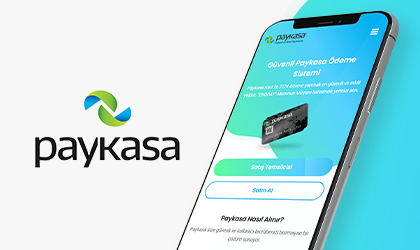 Launched by a private company in 2014 in Turkey, Paykasa is a virtual prepaid card that has received worldwide recognition, due to the convenient service it offers. It is a secure payment system allowing users to transact online without having to share banking or credit card details. It comes in many denominations and can be used across any website accepting prepaid cards, in any country in the world.
This means that it is incredibly suited to be used across online casinos, especially because players are always looking for ways to avoid sharing sensitive banking and personal details with operators. And, it comes in handy for Turkish players to use across international online casinos, since it doesn't matter where the casino is based, Paykasa can be used anywhere where prepaid cards are accepted. This is especially important for players from the country, considering the actions in Turkey taken by the authorities to stop illegal online gambling. Thanks to this prepaid card, Turkish players can gamble online across international online casino sites, without worrying about their transactions appearing on their bank account or credit card bill.
The way the solution works is like any other prepaid card/voucher. You purchase it, get your 16-digit code and use that code to transact online with your card. As easy as that. Since it was designed by an expert team with years-long experience in online payments, chargeback management, card issuing and eVouchers, it has managed to eliminate fees and offer the cheapest and safest transactions out there.
Now, since you've learned the basic info about the prepaid card, let's see how you can get started with it and use it across online casinos. As you will see, the solution is pretty simple to start with, so you'll have your card within minutes. Let's see how the process goes.
How to Start Using Paykasa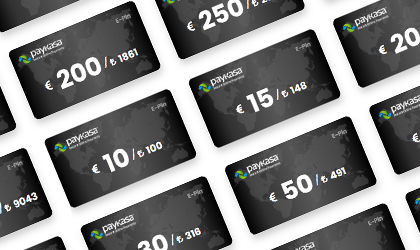 When you go to Paykasa's official website, you will see that the site is available in Turkish. This is okay, considering the solution is available to Turkish users only. And while it took some translating for us to do to get a hold of important information, we gathered the essentials you need to know about the card.
Namely, to get started with the solution, you'd only need to visit the official website and choose the card you'd want to go with, coming in many different denominations, available both in euro and Turkish lira. You have the €10/15/20/25/30/50/60/100/150/200/250/500 and €1,000 cards, and their Turkish lira equivalents TRY100/148/197/247/316/491/584/956/1421/1861/2304/4522/9043. These can vary, like with all prepaid cards, depending on the exchange rate of the day you're purchasing your card.
You'd need to pay using any MasterCard or VISA debit card, and on your email address, you'll receive a 16-digit PIN code you'll be using when depositing with it. You need to keep this PIN code safe, as it will be your only identification when using the card.
As you could notice, another convenient characteristic of this card is that you won't need to create an account with it in order to get your card. This way, you'll avoid the exhausting getting started procedure and you won't have extra passwords and usernames to remember. Therefore, once you receive your card, you'll be able to instantly use it across online casinos, by only providing the card details and your one-time 16-digit PIN code. So, let's see how the actual depositing process would go next.
Depositing and Withdrawing with the Solution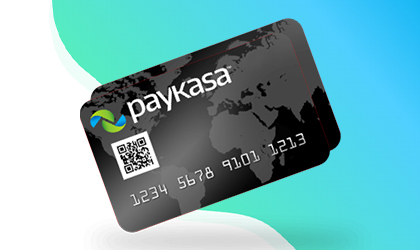 Now that you know how easy the solution is to get started with, it is time to learn how to use it across online casinos. If you've ever used a card, a voucher/gift card to pay with at an online casino, you'd know what to do with Paykasa. But first, we should also inform you that you'll be able to deposit with it at any online casino that accepts prepaid/voucher/gift cards! And since most, if not all, online casinos do, your choices are limitless. All you'd need to do is find a casino that accepts players from Turkey, double-check whether prepaid cards are allowed, and register an account with it.
From there, to make a deposit using Paykasa, you'd need to do the following:
Go to the casino's Payments/Deposits/Cashier page.
Look for Paykasa's logo or the "Prepaid cards" option.
In the pop-up, enter the card number or scan the QR code.
Specify how much you'd like to deposit and enter the 16-digit PIN code.
Within seconds, the money will arrive on your online casino balance.
The best part about this prepaid card, compared to others of its type, is that you can actually withdraw funds with it. The procedure would be quite different from the depositing one, but the good news is that, yes, withdrawals with it are possible. You'd need to enter your personal details and request the amount you'd want to withdraw. Then, you'd need to wait for the casino to check your request and approve the amount you've requested. The operator will then take the funds and deposit them at Paykasa's official website, and you'll be instantly issued a new prepaid card you can redeem for cash!
You must have suspected, though, once you've learned how withdrawals are made, that the solution won't always be accepted for withdrawals, even if accepted for deposit at a certain casino. Due to the inconvenience and the extra miles the operator would need to go through to get your money on a separate, new voucher, most operators simply won't accept the solution for cashouts. Therefore, if you really want to use it for withdrawals, before you choose the casino to go with and register an account with, make sure you double-check whether Paykasa is offered for both deposits and withdrawals or not.
Coverage and Restrictions
You must have gathered by now that Paykasa is a payment solution available to Turkish players only. This is a solution that is offered to the citizens of the country only, even though it can be used all across the internet.
As long as you're a Turkish citizen interested in playing across online casinos, though, you can rest assured that you'll be able to use your prepaid card at any international online casino that accepts prepaid cards, and, of course, players from your country.
Fees and Additional Charges
Since this is a prepaid card, you must have hinted that the solution does not charge fees. You can purchase your card without creating any accounts, so you also save on getting started costs.
And since there's no account, you avoid maintenance fees. The only charge you might have would be if you chose to use the euro instead of the Turkish lira, as the prepaid card will be issued according to the day's exchange rate.
Accepted Currencies
We mentioned this already, but let's be clear. In addition to the native currency, the Turkish lira, Paykasa users can also choose to purchase the voucher in euro.
This comes in handy if you're playing at an international online casino that offers the euro as a default currency. That way, you'll avoid paying currency conversion fees. Other currencies are not accepted.
Customer Support
Paykasa offers a 24/7 Customer Support service, from what we could see, via Live Chat, on-site contact, phone and WhatsApp. This many communication options are rarely offered with other prepaid cards, so we must praise the solution for it.
You'd need to enter your name, last name and phone info in order to receive the Live Chat service. You'd need to reach the representatives using the phone number 0555 004 42 53 via WhatsApp.
Of course, in case you need guidance when it comes to depositing or withdrawing with the solution, you better contact your online casino's Customer Support team. They'll be glad to help you out every step of the way, to make sure you get the best experience while at their site.
Conclusion
Paykasa is the perfect solution to use an online casino player from Turkey. It is a prepaid card that you can purchase easily, without creating an account, and use with only a 16-digit PIN to make instant deposits. The best part about it is that you can also make withdrawals with it. The Turkish lira is the default currency, however, you can also use euros to purchase your card, and avoid paying currency conversion fees across online casinos. Finally, the solution is accepted across most, if not all, online casinos that accept players from Turkey and offer prepaid cards, so you have a huge choice of sites to explore and join. Therefore, try the solution the first chance you get, and you'll see that you'd be more than satisfied by what it has to offer.
FAQs
Can I use Paykasa via my mobile device?
Yes. This is a card that you can use via any mobile and desktop device, since all you need to make a deposit is enter the card details and PIN code, and your transaction will be successful. Of course, you'd need to join a casino compatible with mobile devices, in the first place, so that you can deposit using the card via your mobile device.
Is its official website available in other languages?
No. Unfortunately, as mentioned, the website is not available in English or any other language but Turkish. You'd need to translate the site in order to get information in some other language.
How can I be certain that my funds will be safe with it?
You won't be sharing any banking or credit card details with your operator when depositing with Paykasa, but the solution also implements a 16-digit PIN code to keep your funds safe, as only you'll be the one that has the code and can use the card.
Can I purchase the card using a different payment method?
No. You can only use VISA and MasterCard debit cards to purchase your voucher, and you won't be able to use other solutions.
Must I use all the money I have on my card all at once?
Yes. However, the good part is that you have many denominations, so depending on how much you'd like to deposit at the casino, you can choose the denomination that works for you. Fortunately, the least you can have on your card is €10, which is usually the minimum deposit limit across most international online casinos, so it is a win-win situation with this card.
SHOW MORE
&nbsp
Online casinos accepting Paykasa as a payment method
Loading...
There are no available casinos for requested criteria.

We're showing casinos that accept Paykasa restricted by your country. To remove that condition click here
Something went wrong. Please try again later.