Maestro Debit Card Online Casinos

Maestro Debit Card is a Mastercard product for the international market.
The cards are always connected to a personal bank account and act as a bank debit card. Maestro Everyday Money prepaid cards are also available and either card is accepted at millions of retailers worldwide, as well as quite a few online casinos.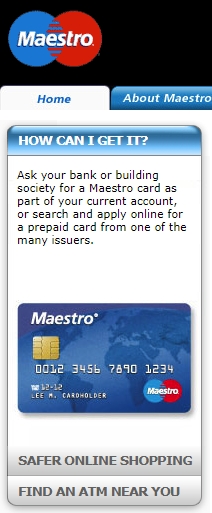 If you see the Maestro emblem in the cashier or deposit section of your favorite online casino you can use it to deposit. All of the gaming sites listed on this page accept Maestro.
The former Switch card in the UK was merged with Maestro in 2002. Some Brits still refer to Maestro as Switch or Switch/Maestro due to Mastercard's decision to continue having transactions processed through Switch Card Services Limited, until 2011 - a brand recognition error to be blamed only on Mastercard.
Maestro cards have become less and less popular since about 2009 in many countries including the UK.
First Direct, HSBC, RBS (including NatWest, Coutts, and Ulster Bank), and Bank of Ireland UK have replaced their Maestro product with Visa Debit. Clydesdale Bank and Yorkshire Bank have migrated their customers to Mastercard debit.
Banks in India stopped issuing Maestro Debit Cards in 2017.
Maestro is now most useful for consumers in Austria, Belgium, Germany, Liechtenstein, Netherlands, Portugal, and Switzerland.
How Does Maestro Work?
Maestro cards, other than the prepaid version, operate much like any other bank-issued debit card. Unless you have overdraft protection at your bank the merchant will not be able to process your transaction if you don't have enough funds to cover the deposit and associated fees, if any.
For some people, the Maestro Everyday Money prepaid card is a better option. This is still available in many markets.
No credit check
Load with cash via bank transfer or at refill location
Not connected to a bank account so impossible to create debt
Check transaction history, balance, and account information online
Use anywhere Maestro is accepted including retail stores, online merchants and casinos, and ATMs with the Maestro logo
How to deposit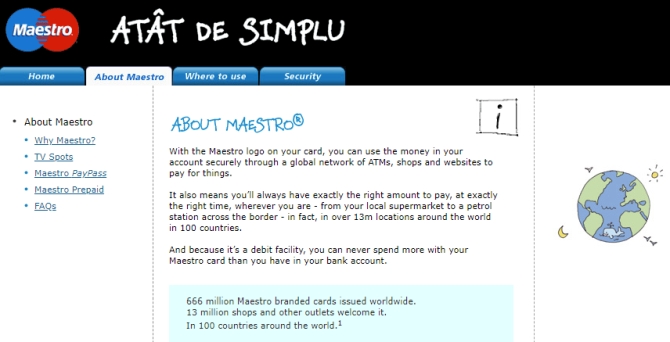 Whichever Maestro card you have, simply navigate to the casino cashier section:
Choose "Deposit"
Visa/Mastercard
Enter your information to register the card with the casino
Provide an amount
You may be asked for a Card Verification Value (CVV) number. It's on your card.
Mastercard SecureCode will activate. It is an integrated part of the Maestro checkout process. You will be asked to provide a password or PIN. If your card is not already registered with the 3D Secure network you'll be asked to create a code.
If the card is already registered you'll simply be asked to provide the proper password/PIN. It works on the same principle as Verified by Visa and is used as an additional layer of protection against fraudulent use of your card.
Press "Submit" or similar and your transaction should complete within a few seconds.
Advantages to using Maestro Debit Card
PIN-based, private access card
Manage and track your spending
Use anywhere you see the Maestro logo
Favorable exchange rates for overseas purchases/deposits
Disadvantages of Using Maestro
All credit and debit cards run the risk of being rejected by online payment processors. If this should occur, simply contact a casino customer service agent and ask if they can assist you in making the deposit.
This may not be possible if you are in certain locations such as the UK or France where you may be required to sign a receipt for Maestro transactions rather than use a PIN. If that is the case, request guidance on the best deposit method for your locale.
A limited number of online operators accept Maestro deposits and withdrawals to the card may be difficult or impossible.
Maestro transactions will be deducted directly from your banking balance. Depending on overdraft arrangements you have with the issuing bank, a small mistake could be costly. A prepaid card may be best if you have experienced this before.
Learn More ABout Maestro Debit Card
To read answers to Frequently Asked Questions about Maestro Debit Card, please go here. 
To read Frequently Asked Questions and answers about Mastercard Prepaid services, you can go here. 
To explore other payment method options and read reviews of casinos that accept them, please visit our Payment Methods page. 
SHOW MORE
&nbsp
Online casinos accepting Maestro Debit Card as a payment method
Loading...
There are no available casinos for requested criteria.

We're showing casinos that accept Maestro Debit Card restricted by your country. To remove that condition click here
Something went wrong. Please try again later.