Mancala Gaming

To visit Mancala Gaming official website, click here.
About the Company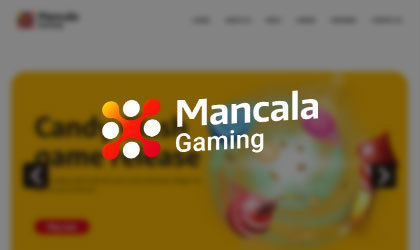 Mancala Gaming burst onto the scene - virtually out of nowhere - with a catalog of about 50 online slot titles and 20 dice games in 2019.
The small yet busy firm hales from Prague, the capital of the Czech Republic. Concepts found throughout the studio's digital literature include fairness, stability, innovation, and re-imagining the iGaming space.
We don't know much about the ownership or management of the privately held company, but representatives are scheduled to appear at important industry trade shows as responsible management allows.
ICE London 2020 in early February gave team members a chance to network with old and new friends, create new opportunities, and secure business deals. However, they attended as visitors rather than as presenters so there's not much public knowledge available.
As the team's ideas came together and they sought a home base for operations, they were fortunate enough to secure a historical building in the city center of Prague. This gave them a central location and hub for the new family to work together on carrying their vision forward.
Gathering clues from all possible corners, we find that it's probably a great place to work, and the reason that matters is that we have found that happy workers make great games. These folks are all pretty much coffee connoisseurs, they get refreshments at work and personal budgets for individual growth, and five weeks of vacation per year.
Soon after establishing themselves, they were well on their way to securing licenses from the Malta Gaming Authority as well as the Gambling Commission of Great Britain.
The studio seems to want to establish a transparent and open business model with presences on all of the major social media sites.
LinkedIn, Facebook, Twitter, Instagram, and Youtube should cover their needs quite well in aggregate so customers and players will be able to keep up with developments on mobile and desktop.
Software and Games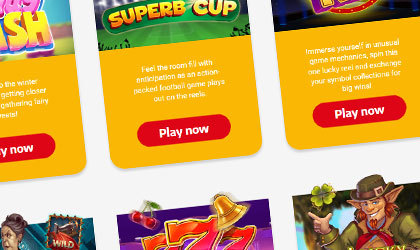 All games are mobile-ready and laptop friendly.
Working through from the programming to animation and HTML5 mobile and desktop game deployment, any and all of the following tech can go into a game:
C #, Linq, .NET Framework, WCF, Winforms, WPF, SQL, Git, OOP, Mysql, MongoDB, RabbitMQ, Spine Adobe After Effects, Flash, Premiere Pro, 3D modeling and rigging, TypeScript, JavaScript, PixiJS, TypeScript-у, git + gitflow, VS Code, NPM, webpack, and Docker.
Now that we know what goes into the sausage and never have to worry about it again, we'll simply say that HTML5 allows richly immersive games to load quickly over low bandwidth internet connections to be played on any handset, tablet, laptop, or desktop machine running a web browser. Android or iOS, Mac, or Windows PC - it's all good.
The games
One thing to note is that the company's portfolio is separated into Classic Games and Premium Games. This distinction is not about slots and dice. We find titles such as Brazil Carnival in the premium category along with Brazil Carnival Dice.
Nor is the distinction between different versions i.e. progressive jackpot mechanics vs regular jackpots.
In fact, we can draw no distinction at all.
In the classic category, we find Casino Nights - a 5x3 slot with 15 paylines.
The game is HTML5 for desktop, mobile, and tablet, has 3 bonus games, and a max win of 3060x bet.
The artwork and soundscape are on par with the games in the premium suite, and their own pages suggest titles from the premium pages as "similar games".
After exploring a few games in each category we were unable to discern any differences on the front end Perhaps operators have more control over one set than the other as far as in-game bonusing or even the RTP setting. It's unclear.
The artwork ranges from rudimentary and stylized to subtly sublime and enchanting. That's not a bad thing. The most basic of game art was not like traveling back in time to the day of Chartwell or Parlay games, but there is a common flavor and feel that runs through all of the titles.
In fact, it's more than a feeling. While it could have been luck of the draw, the first two games we opened - Cosmo Cats slot and Casino Night slot were exactly the same game with different visuals and sounds. From the paytable values to the bonus mechanics and theoretical return to player percentages (RTP) they were virtually the exact same game.
The next two games, chosen at random from the other end of the alphabetically sorted categories of premium and classic games were Vampire's Gold and Snow Antarctic.
Here we found some differences! While the Snow title used all of the internal elements of Cosmo and Casino, the Vampire title had its own configuration. The next step is to look at more games. Perhaps they have 5 or 10 game models to clone, perhaps it is only two.
Let's find out!
Model 1 - 5x3 15 lines max win 3060X, 3 bonus games
Model 2 - 5x3 10 paylines 5000x max line win one wild symbol, a multiplier bonus, no free spins
Model 3 - 5x3 9 lines max win 1010X, Wild, 3 bonus
Model 4 - 5x4 25 lines 2555x bet max win, wild symbol, free spins, and a bonus game (reveal bonus that awards cash or free spins)
Mancala Slots conclusion
After loading and examining well over a dozen titles we determined with reasonable confidence that there are actually 4 slot games with about 50 skins draped over those three models.
Each of the skins seemed to introduce one unique mechanic but some were shared by other games. For instance, the 10-line Adventures is the 10-line Vapires Gold with a different soundscape and imagery
Please see the list of reviewed games below for an in-depth breakdown of what each has to offer.
This reviewer's favorites were the 10-line games with exponentially rising bonus multipliers up to 32x.
While this is just a gambling game offered on random occasions, it adds an element of thrill to the play.
There were no bonus spins, but the wild symbols wield significant power in gameplay and they appear often.
The themes are well executed with interesting animation and art, and modern elements such as "cascading reels", even if win multipliers aren't applied to each successive win add another level of engagement and anticipation.
Dice games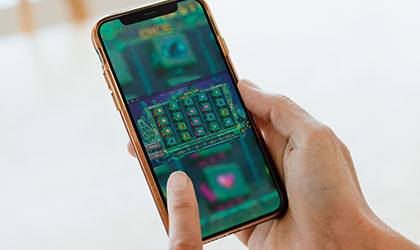 These titles are more of a style than a game type. In short, they use dice icons for slot symbols. Venturing into this category we found the 4th model, 5 reels with 4 positions each.
There are quite a few titles in this category, and again, some of them use the same theme as premium and classic slot titles.
The clever thing about these games is that each reel position holds a die of six sides but the icons are only on one side of the dice. When a winning combination is formed, the icon is animated and fully exposed to fill the reel position.
Artsy!
When you have 4 or 5 five of a kind and multiple line wins, the mechanic really lights up the reels.
In one last attempt to fall in love with another engine, we tried the 5x3, 15-line Space Beat because we like that narrative.
Yes, it was a fairly awesome session and if it had been the very first of their games we discovered at an online casino, we would probably be converts for life.
The Final Analysis
Mancala Gaming may have more models that we missed in our cursory exploration of all titles. However, it is certain that many of the games are clones of 4 prototypes.
As for the prototypes, they're really quite decent game engines and we have no complaints about the artistic quality or game experience of any of their titles. Actually, some of the art and animation are simply amazing. Soundscapes vary but they're all of decent quality.
As more and more studios get their labors of love out into the industry space, we will always run across different business models.
Some developers will cowboy up with Yggdrasil or Microgaming, all will try to get their products out on aggregator platforms, some will make 1 or 2 titles per year, and others will stick to the older model of cloning.
It should be remembered that Microgaming themselves used to pump out new skins on old slots just to keep the numbers up and in the forefront, so it is a time-honored tradition to some degree.
We can more easily imagine these games being successful among players who do not sort and filter slots by the provider name when they gamble. Running across a game icon, watching the title load, and diving into the unique and fairly innovative mechanics, some people may well find a favorite in these games.
Mancala Gaming Games
Currently, we have

casino games

available to play and over

casino software developers

. Let's get started!
Casino Games
&nbsp
Mancala Gaming powered online casinos
Loading...
There are no available casinos for requested criteria.

We're showing casinos that accept Mancala Gaming restricted by your country. To remove that condition click here
Something went wrong. Please try again later.