KoalaPays Online Casinos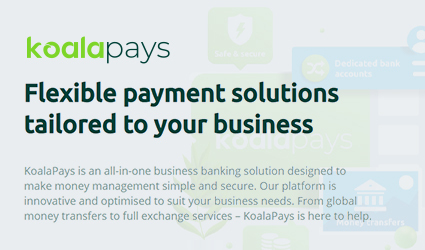 When it comes to choosing a payment method at an online casino, players often get overwhelmed with choices, and if that happens to you, too, you have an all-in-one solution to use to make seamless transactions, KoalaPays. This is a solution offering SWIFT and SEPA money transfers, an exchange service and an eWallet, which is incredibly convenient and easy to use across online casinos. It is completely safe and licensed to offer its services, so you can rest assured that your money will be safe with it. What is KoalaPays and why choose it as your online casino payment method?
About KoalaPays
As introduced, KoalaPays is an all-in-one solution that will allow you to go with the one that suits you most on the spot. It offers the exchange service, SWIFT and SEPA money transfers and an incredible eWallet solution, to allow for an incredible online banking experience.
It was launched in 2020 by a private company based in Brno, the Czech Republic, but its scope does not end with this country. In fact, the company has global expansion strategy plans, and is, in fact, already offered across many countries globally. Even though recommended to players from Europe, as you will see, the solution is global, and the list of countries added keeps on increasing. Considering its partner network never stops going from strength to strength and the solution has already gained global recognition, many financial corporations, and global companies have put their trust in it.
Considering the services it offers are quite attractive to the modern online banking user, and the fact that it allows for all types of money transfers across the world, KoalaPays is becoming a hit across online casinos. The fact that it allows for over 20 fiat currencies and even digital currencies to be used for transacting, and that it offers four different banking services, is what makes it a trend across casino sites. And, the fact that it is regulated by the Czech National Bank and complies with the PCI accreditation protocols only further makes it a trustworthy solution to use across these sites. Add to that that it uses the latest technologies to ensure your funds are, at all times, safe, and you've got yourself the perfect solution to use.
You should know one thing about it, though. If you visit its official website, you will notice that you won't be able to make a personal account with it, but you'll have to create a business account. Considering it was designed to serve companies across the world, and suit the business model with its all-in-one service, the only way to use it is if you're an employee or customer of a company that already has signed up an account with it or you're running your own business. However, do not let this fool you into thinking that the information you share with it would ever be shared with the casino you're playing at; that won't happen, and as long as you have an IBAN account, the company's details won't ever be shared with any operator.
How to Start Using KoalaPays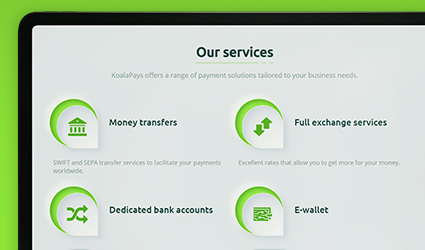 We said that KoalaPays offers four exceptional services, connecting businesses across the globe. And we said that to get started with it, you'd need to create an account with it, to use these four services. You should know that you can actually open multi-currency accounts, and receive and send money anywhere across the world, anytime you need. But since across online casinos, it is most popularly used as an eWallet, we'll focus on how to get started with it to use this service.
You would need to go to its official website and press the Sign-Up button, located at the right top corner of the homepage, or download its app on Google Play Store or Apple App Store, and get ready to provide the required information.
You'd need to create a username and password, and then re-enter that password. Then, you'd need to specify the phone device you're using and your phone number. Next, you'd need to enter your country of residence and your company's full name.
Add the needed company details, like a contact person, the company's full address, ZIP code and city, directors, ultimate beneficial owner and shareholders and its official website. Enter your email address and select the currency you'd like to use. Finally, let the solution know if you're a VAT payer or not, and press the Register button. This is when your account gets ready to be funded. To emphasize this, rest assured that all the company details you've shared with the solution, stay with it, and are never shared with the casino.
You would next need to connect your online banking account and with that, you'll be ready to start transacting with your eWallet. As long as you have an IBAN, an account with any bank in the world, through the standardized numbering system, the bank account will be recognized and your transactions can go through in just a few minutes.
Depositing and Withdrawing with the Solution
Depositing with the solution would be as easy as 1, 2, 3. But first things first, you have to find a casino that accepts it to actually make a deposit with it. Considering this is still a new method, you should expect to find it only across several casinos, not hundreds yet. However, given its growing popularity, we're sure many new ones will add it to their lists of accepted methods. Explore a few options that offer it at the moment, and create your account with one of them.
To actually make your first deposit with KoalaPays, you'd need to go through these steps:
Go to the online casino's Deposit/Banking page.
Look for KoalaPays' logo and press it.
In the pop-up, enter your credentials and log into your eWallet account.
Specify how much you'd want to add to your casino balance.
Confirm the transaction and the solution will transfer the money

 

within minutes.
Depositing with this solution would only take a moment of your time, and the money will instantly arrive in your balance. That's actually one of the main reasons why players choose it; it is so convenient to use, and it transfers money in no time.
As you would assume, withdrawals are also possible with the solution and pretty much as easy. After you choose it as your Withdrawal method, you would actually need to go through exactly the same steps, only specifying how much you'd like to cash out this time. After the casino approves the transaction, the solution will ensure the money arrives in your eWallet or bank account.
Coverage and Restrictions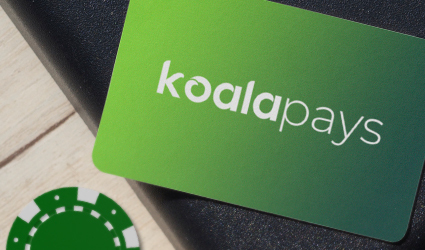 We introduced KoalaPays as a solution with big expansion plans, and we were not kidding. Just take a look at the accepted countries list, upon registration, where you need to select your country of residency, and you'll see. Some of the countries offered are Australia, the UK, and New Zealand. Most of the countries in the European Union are also there.
However, make no mistake, the solution won't let you register an account with it or use it if you're a resident of a country that was subject to CR/EU financial sanctions. The solution explicitly says that users from these countries are not eligible. Therefore, make sure you check whether your country was ever subject to such sanctions.
Fees and Additional Charges
You should know that to register an account with KoalaPays, you won't need to pay a thing. When it comes to registering with the solution, that step is completely free of charge.
However, depending on the service you're using from the ones offered, they come at a cost. You'd need to go to its website to learn all about the fees that apply, depending on the bank account you're using and the country you're residing in.
Accepted Currencies
As you've gathered by now, KoalaPays is a multi-currency solution that you can probably use using your own country's currency, considering you'll be using from an accepted country.
In fact, the solution offers over 20 fiat currencies, among which the Australian dollar, the Czech koruna, the Canadian dollar, the New Zealand dollar, the UK pound, the euro, the Swedish krona and the US dollar.
But, we also said that, through its eWallet service, it offers digital currencies, too. Your crypto options are Bitcoin Cash, Litecoin, Bitcoin, XRP and Ether.
Customer Support
You've probably gathered by now how dedicated the solution is to provide users with the most seamless services. So, naturally, you've probably expected it to provide you with the most amazing Customer Support service, too.
You won't be disappointed, as KoalaPays offers 24/7 Customer Support at your service. When you become a user, you also get a Support representative at your disposal and even a dedicated account manager! Plus, when you explore its official website, you will see that it offers thorough information on how and why to use it. There's even a Blog page you can go through to learn more about it.
Conclusion
KoalaPays, as you could see, comes with pros and cons. To start with the cons, you'd need to share company details with it and pay some fees for using its services. On the plus side, though, any details you share with it are safe with it, and registering with it is free of charge. Add to that the fact that it offers multi-currency accounts, is accepted in many countries and offers all kinds of money transfers globally, near-instantly, and you've got yourself a great method to use across online casinos, for both deposits and withdrawals. So, weigh in the pros and cons, and decide whether this is a method you'd like to use.
FAQs
Which communication means can I use to get in touch with KoalaPays' Customer Support?
You can find KoalaPays on various social media, such as Instagram and LinkedIn, but you can also contact its team via the email address [email protected].
How can I be certain the KoalaPays is safe to use?
In addition to being PCI compliant and regulated by the Czech National Bank, the solution also uses an SSL encryption certificate provided by none other than SECTIGO, so sleep tight knowing that all your data will be completely safe with it.
Will I be required to download any software to use KoalaPays?
If you wish to use it via your desktop device, you won't need to download any software. But, if you wish to use it via your mobile device, you can choose whether you'd go with the site-based version or download its mobile app. The app is optional, so you can still avoid downloading any software if you don't want to.
Is its official website available in many languages?
Given the fact it comes from the Czech Republic, it is fairly obvious that its website is offered in Czech. However, due to its global expansion plans, you'd also expect it to be offered in English, too. And that's right, these are the two languages you'll be able to use to explore its website.
How many casinos offer KoalaPays payment method?
At WorldCasinoDirectory, at the moment of writing, you'll find around a handful of casinos that, for certain, accept KoalaPays as a payment method. New ones will are regularly added as the method grows in popularity.
SHOW MORE
&nbsp
Online casinos accepting KoalaPays as a payment method
Loading...
There are no available casinos for requested criteria.

We're showing casinos that accept KoalaPays restricted by your country. To remove that condition click here
Something went wrong. Please try again later.