Klarna Online Casinos

Klarna Bank AB (Klarna) is a Sweden-based bank that provides payment services that work well for online casino players in regions served by the financial institution.
Founded in Stockholm in 2005, Klarna now serves customers in one capacity or another in Sweden, Australia, Austria, Belgium, Denmark, Finland, Germany, Italy, Netherlands, Norway, Poland, Spain, Switzerland, the UK, and the USA. Casino banking is not supported in some markets like the US.
The company was formed to provide both consumers and merchants with a safer and simpler payment method for online shopping. By 2013 they had captured enough of the Nordic and regional European market to merge with Germany's SOFORT AG.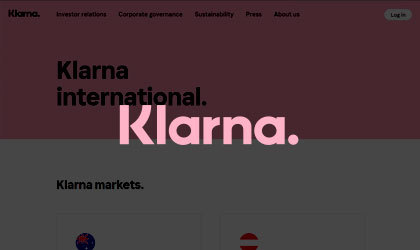 The companies belong to the now larger Klarna Group but offer their services separately. SOFORT is also a good casino banking method for players in Germany and elsewhere.
According to the company's digital literature: "Klarna is now one of Europe's largest banks and is providing payment solutions for 85 million consumers across 200,000 merchants in 17 countries."
With constantly evolving secure technology and 3,000 employees, Klarna handles over a million transactions per day and has about 10% of the market share in Northern Europe.
While Klarna wasn't able to leverage the 40% revenue growth experienced in 2014 to overtake PayPal when it launched in the US, it is still a highly successful company in most regions.
What all this means to players in their serviced markets is this...
Klarna is a safe, secure, and efficient way to do your online casino banking.
How Klarna Works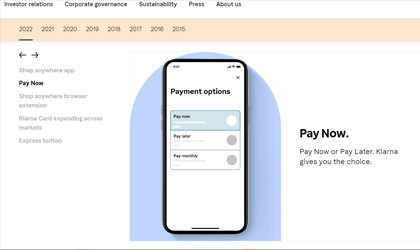 In a nutshell, Klarna lets you make instant and direct payments from your bank account to a casino account. You can also withdraw your winnings from the casino to your bank account but the process takes up to three days and not all operators support two-way transactions.
If you see it as a deposit option be sure it is also listed as a withdrawal option if that is how you plan to cash out your winnings.
Klarna Financial Services
Of primary concern to online players is Klarna Instant Banking. This part of the Klarna financial services was added thanks to the intellectual property assimilated in the SOFORT merger. Prior to that they only offered a Pay Later, and a Split It service. "Pay Now" uses your bank account, debit or credit card to fund a transaction.
With Instant Banking you can protect all of your personal and financial information because you never actually enter these data in the casino cashier. Your normal online banking account, user name, and password are used to authenticate your transactions through online banking.
Deposit with Klarna
After registering a new account or logging into an existing casino account, navigate to the cashier or banking section and click on Klarna Pay Now (or SOFORT instant banking).
Now...
Choose your country and then your bank
Log in to your online banking account using your regular details
Confirm the transfer on the banking page and you are ready to roll
Payments through Klarna are instant so you can go right to your favorite suite of games from the lobby and start playing.
Since you enter your information through a secure portal to your own online banking, none of your personal financial data is shared with the game operator. This adds a level of safety and security because you aren't sharing debit card numbers, your bank account number, or any other information aside from the amount to deposit.
Withdraw with Klarna
The process for retrieving your winnings or other balance is nearly identical to the way you transfer funds from a bank to the casino.
Please keep in mind that you should check to see if this or another convenient withdrawal method is available at your chosen gaming site. While almost all online casinos accepting players in Sweden and most other Nordic countries do support it as a deposit method, not all support withdrawals using Klarna.
Once you decide to withdraw and you have met all wagering requirements attached to any bonus you may have used, simply navigate to the cashier section again.
If you only see SOFORT, but not Klarna at this point, click it anyway as that should open the Klarna portal.
Once you are on the Klarna platform you will repeat the same steps except you'll enter the amount you wish to withdraw rather than to deposit. It will ask for confirmation and a message should appear telling you the transaction was successful
While deposits are instantaneous, withdrawals are not. It can take two or three days for the money to appear in your bank account.
Other Klarna Services
If you can use Klarna with your online banking, we might as well talk briefly about some of the other benefits.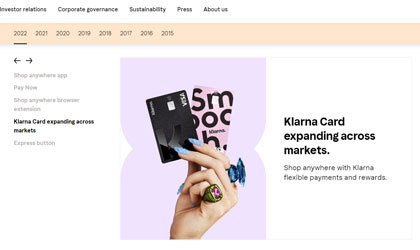 If you have the app on your phone, you can click the menu to open "Pay with Klarna". In addition to instant bank transfer to a casino or other online merchant, you can pay a little now and a little later, or all of the bill later. Obviously, this option does not work for cash-centric services such as casino gambling.
There is also a debit card which is a smart card. It's easy to use. You decide how you want to pay through the app. It doesn't cost anything to access the service and it doesn't cost anything to use it, even when you are abroad. The card also offers a buyer protection program for your online purchases.
The app itself is highly interactive and all about online shopping. You can set up notifications with Klarna partner retailers to send push notices when an item you have saved on a wish list is being offered at a lower price, or set up payment reminders.
The app will take you directly to your favorite online retailer and facilitate a Klarna transaction when you check out with your goods.
Klarna Pitfalls
Klarna has expanded its global footprint, even to the point of having an office in the United States' Colombus, Ohio. However, they are not yet a truly global payment processor. The option is usually only found in Nordic-facing casinos.
The number of sites accepting the method for deposits far outweighs the number that allow both deposits and withdrawals.
Withdrawals take a couple of days to appear in your bank account.
In summary of the method's drawbacks, we find only the limited availability; lack of universal support for withdrawals, and the delay in direct payments to bank accounts.
Klarna Conclusion
Klarna and their sister processor, SOFORT handle untold millions of casino transactions in the regular course of business. Due to the lack of sites offering it as a withdrawal method as well as the delay in receiving funds right away, we can't say it is better than Trustly for those who have that option - especially when Pay N Play is offered.
However, it is an extremely convenient and provable reliable deposit method with the occasional option for using it as a withdrawal method.
A funded online bank account, supported by the Klarna Group, is all you need to use the service. You don't need a debit or credit card or to use any of Klarna's other free and low-cost services. The list of integrated banks is robust, but only includes those in about a dozen countries, most of them in the Nordic region.
Klarna does not charge any fees for deposits or withdrawals, however, the casino might have a processing fee associated with any or some withdrawals.
Since the instant banking service is quick, easy, free of charge, and absolutely secure we don't find any reason for players not to add it to their quiver of options for casino banking.
SHOW MORE
&nbsp
Online casinos accepting Klarna as a payment method
Loading...
There are no available casinos for requested criteria.

We're showing casinos that accept Klarna restricted by your country. To remove that condition click here
Something went wrong. Please try again later.